---
What is a target market?
A target market is a subset of the audience you're aiming to reach (your market). It is made up of a group of customers that have one or more commonalities between them and are most likely to be interested in your products.
These commonalities might be:
Demographic targeting: They all have common features, such as age, income level, family status, level of disposable income, and marital status
Psychographic segmentation: They all hold common interests, values, wants, goals, political leanings or lifestyle choices
Behavioral patterns: They all have common behaviours, such as when they purchase a product or how often they buy
Geographic segmentation: They are all located in the same region or local area
There are other factors that might group your target market's members together, and, more often than not, there might be a blend of multiple factors. Keep in mind that there's also a slight variation if you are looking for B2B customers, as this might include:
Firmographics: The details about the businesses you're targeting, such as industry, company size, global or regional spread
Buying style: The businesses' buying policies, budgets or stakeholder involvement
Company behaviour: How much they purchase and when, their appetite for risk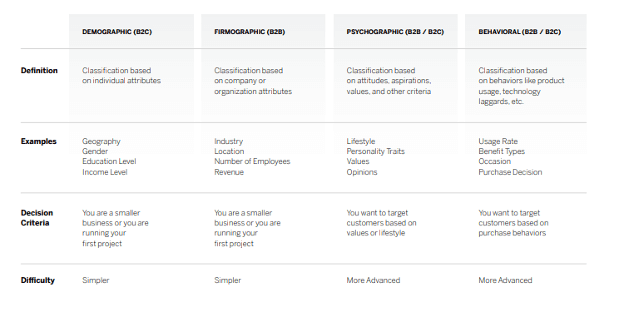 eBook: 2022 Market Research Global Trends
What is target marketing?
Target marketing is the process of reaching out to particular market segments of your potential customers or your existing audience. This target market is defined by their commonality as mentioned above, usually within a range, such as consumers aged 25-45 or those working in the hospitality industry.
Your marketing strategy will be tailored to that particular niche market, and will encompass all the channels that the target audience might use. Your marketing should be based on market research and take into account the needs and wants of that specific group. Ideally, this means that you have data-led insights about your target market to allow you to create digital marketing or offline marketing strategies that work effectively.
What is consumer targeting?
Where your target market is the broader group of individuals that have a feature in common, your target consumers are the individuals you believe are most likely to purchase your product or service. Your marketing efforts for consumer targeting will be aimed at a more specific audience, such as 35-year-olds or hotel managers.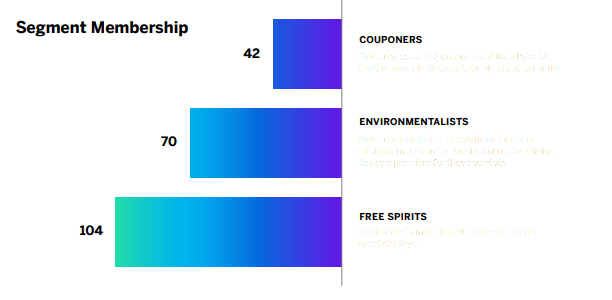 Consumer targeting vs market segmentation
Consumer targeting is the process of marketing to the specific audience you think will potentially buy your products, based on data-led insights on prior sales data and more.
Market segmentation is a broader process, being the general division of your entire potential audience into target markets, based on the features they share or the products and services they'd be interested in.
Both are necessary processes to narrow down the focus of your marketing efforts for the best results.
Why should you create a target marketing strategy?
Creating a marketing strategy for a specific target market has several advantages over a more general approach.
You're more likely to reach an audience interested in your products or services. Having a clear idea of who would be most interested in your offering means you don't waste time marketing to those who are less likely to buy.
You can create a more appealing and effective marketing strategy. Knowing your target audiences' distinct features means you can create a marketing approach that will be more appealing to them.
You'll stand out from the competition. By honing in on your target customers and adapting your strategy accordingly, you'll be ahead of the 76% of marketing executives that don't use behavioural data to target their marketing efforts.
You're able to target and retarget your audience for better outcomes. Comscore found that retargeting customers led to a 1046% uplift in searches for the advertised brand.
You can discover which customers are more likely to pay a premium for your product. Increase profitability and revenue by targeting the target audience with the highest ROI.
How to target market segments
Step 1: Finding your target markets
Whether you're planning on exploring target markets for a new or an established business, market research will be vital to discover the most fertile areas for growth. Here are a few ideas on how to define your target market:
Study your current customers
Your current customers have a wealth of information that can help you create a marketing plan for your ideal target market. By gathering data, either through customer feedback channels such as surveys or focus groups, or by examining operations data such as customer purchase patterns, you can develop a persona that describes your ideal customer. What common characteristics do your biggest spenders have? Start by sending a survey with open-ended questions to a small representative sample of customers, perhaps 300 or more, to understand their values in their own words.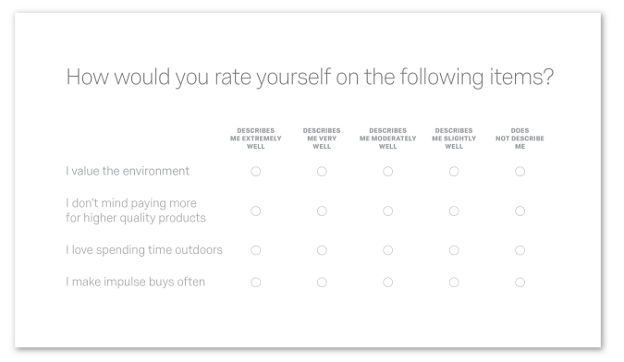 Examine the competition
Your competitors are likely targeting the same audiences as you. Analyse how they promote their product or service, and see how their ideal customer responds. What are they providing that you don't, and what can you give customers that isn't currently on the market?
Understand the motivations for purchase
Your customers are often telling you in their own words how they feel about your offering and why they have chosen your brand—you just need to listen. Use sophisticated listening tools, such as conversation analytics, to understand things such as customer intent, emotion, effort, and motivation. This will help you build a more solid picture of what your ideal target market looks like, and what challenges your offering solves for them.
Identify groups of customers
Your target markets will be made up of groups of ideal customers. What key characteristics link them together? Build a list of target markets, all defined by distinct features that you can target with your marketing efforts.
Create personas
Developing a persona, or a fictional character that embodies the type of customer you'd like to pinpoint, means you can better reach your target audience. Identify their roles, goals, and pain points and understand how they like to communicate. By helping them reach goals, fulfill role requirements and solving their pain points, you can better hone your marketing efforts.
Judge near-term vs longer-term opportunities
Not all your target markets will be worth targeting in the near term, perhaps because of the time of year, their growth projections and other factors. It's a good idea to consider which target market is right for immediate targeting, and which segments are better kept for the longer term.
Evaluate product-market fit and positioning
Where will your value proposition have the most impact? Your product market fit will not be the same for every target market you identify, and sometimes you can position your product more effectively for one market than another. Evaluate which target markets will provide the greatest ROI and focus efforts there first.
Understand how to reach your target audience
Your target market will have preferences for how they want to engage with your brand. Learning how they interact with you by examining internal data and analysing customer behaviour will help you to speak to your target market on the platforms they prefer.
Step 2: Create an effective targeting strategy
There is the option of engaging in mass marketing, creating marketing campaigns designed to reach as many people as possible. However, for an effective strategy, you should forgo the entire market and target only the markets and customers you believe will be responsive.
Consider which marketing strategy will be most effective
Mass marketing is a one-size-fits-all approach that won't have the same impact as targeting a specific audience. Here are some alternatives:
Differentiated marketing: This marketing strategy develops different marketing campaigns for each target market's preferences. This helps to demonstrate your value proposition for each target audience, rather than marketing generally about your products and services. This may require more initial budget, as various marketing campaigns will be needed, but is more likely to have a greater impact on each individual target market.
Niche marketing: Through your market research, you may have identified a particular market where a small target audience has needs that are not being met by the offerings of your competitors. Creating a highly targeted marketing campaign for this specific audience can be lucrative if the gap in the market is not being served and if the potential purchases by this audience will be high in value.
Micromarketing: Even more targeted than niche marketing is micro marketing. Taking a small segment of your already-small niche market, you divide the audience into further characteristics that unite them, such as geographic location. Again, focusing on this hyper-specific target market can pay dividends if their potential spend outweighs the cost of serving them such a specific marketing campaign.
Create an omnichannel strategy with customer preferences in mind
Your market research should have uncovered how your target audience prefers to communicate. Frequently, the purpose of the engagement—to buy a product, resolve a query, find an answer—dictates how customers want to be reached. As a result, it's best to create an omnichannel marketing strategy that can guide audiences on a personalised customer journey.
Step 4. Implement and learn
Once you've established your target market and understand how to reach them, it's time to test your marketing campaigns and targeted advertising, and then learn from the response. Evaluations to consider include:
What drives customers to purchase, and what has less of an effect on buying behaviours?
Which target markets are the most lucrative, and why?
What new market segments could be targeted with similar strategies?
How measurable are the results of your strategies?
How accessible are your strategies to all of your target customers?
Improve your customer targeting with Qualtrics
Enable more accurate customer targeting with in-depth research supported by Qualtrics' range of business tools. The CoreXM platform allows you to collect and collate data for unrivalled insights into your target market for highly effective marketing.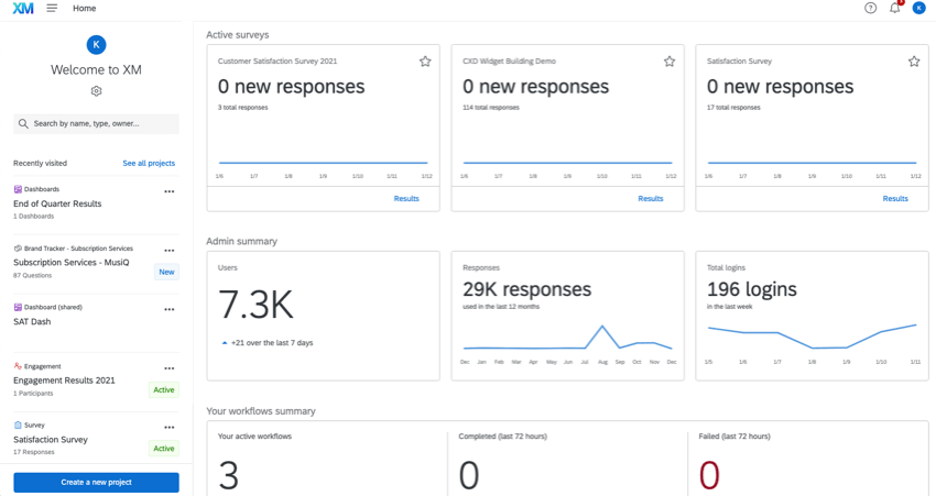 Use AI-powered analytics and embedded machine learning to evaluate structured and unstructured data. Best of all, access all your data and insights that make an impact all on one platform.