---
What is contact centre experience?
The contact centre experience encompasses every touchpoint your customer might have with your customer service team. Whether calling for a refund, asking for help using an item via a chatbot, or reaching out through social media direct messages to make a complaint, your contact centre experience is the treatment your customers have when engaging with your brand's customer service, and this experience can happen across every channel. From online, on the phone, chat, email, or website support.
This specific customer experience might include:
How long you take to answer queries and close support tickets
What channel options you provide for contacting your customer service team
What self-service solutions you offer
The user experience of your website, app or other platforms
Try Qualtrics' Contact Centre Analytics
The difference between contact and call centres
A contact centre is an omnichannel hub for communications between customers and the customer service team. Rather than just providing customer service over phone calls, modern contact centres offer multiple ways for customers to get in touch. Even more important given the rapid digital transformation seen in recent years.
For example, ways in which customers might reach out include:
Telephone calls
Social media
SMS / text
Chatbots
Mobile apps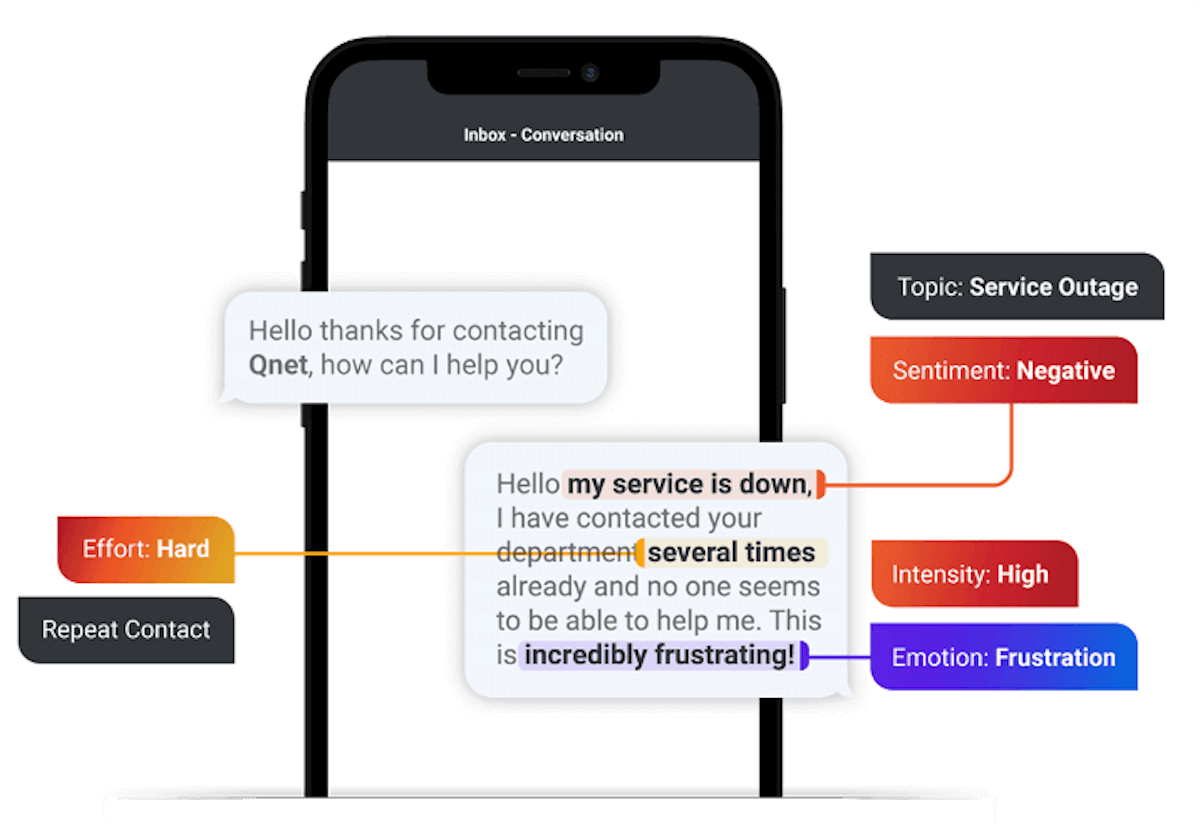 Call centres, on the other hand, focus only on traditional telephone calls. Any good call centre agent will be highly trained in how to handle customers' queries over the phone, but that's just one part of the puzzle. For call centres to really perform, they need to hit a few key marks…
What makes for great call centres?
Low wait times
One of the most important parts of keeping customers happy in a call centre environment is not keeping them on hold. In order for customer calls to be handled quickly and efficiently, each call centre agent should be working with intelligent tools that can help them speed things along. The best contact centre software can also help customers self-serve or get answers digitally – freeing up agent time for priority cases that absolutely need a human touch.
Empowered agents
Every call centre agent should be equipped with the right tools for the job. That means call centre software that can provide customer context and history, alongside intelligent, real-time script prompts and tips on how to best serve the customer in the moment.
A connected customer experience
Nowadays, any customer who phones a call centre will expect customer service reps to know if they've experienced an issue before, or if there's a dialogue already happening in another channel, without having to repeat themselves. Getting that right requires software that can bridge the gaps between customer service departments, with insight and customer history information traveling between social, chatbots, phone calls, email, and more.
The telephone will always be an excellent option for customer support as people will always see value in speaking to a real human being to solve an issue. However, as we become an ever-more digitally-focussed world, call centres that lack a more omnichannel, cross-medium approach may see the customer experience suffer as a result.
That's when call centres become contact centres.
Why does contact centre experience matter for an organisation?
Contact centres are truly the heart of an organization, and the experiences your customers have with your contact centre agents can be the difference between a customer leaving and a positive recommendation for your brand.
It's not just about resolving problems – it's about building and strengthening the relationships your customers have with your company. At a time when competition for share of wallet is hotting up, trust and loyalty is a powerful combination for attracting and retaining customers.
There are several ways in which focusing on contact centre experience can help your business. Below are the main ones:
Great contact centres improve your customer relationships
Customers are looking to resolve their queries quickly and completely. Statista reports that 27% of US customers cite lack of effectiveness and lack of speed as the most common cause of their frustration with customer service.
By focusing on the experience your customers have when getting in touch with your contact centre, you can begin to streamline your customer service department. How do customers want to contact you? What do they expect from you? How do they want you to contact them? How do their experiences on your website, app, etc. affect repurchases and recommendations?
thinkJAR found that it's six to seven times more expensive to attract new customers than to retain an existing one. By meeting customer experience expectations, you're able to improve existing relationships and lower costs.
Great contact centres reduce your cost to serve
Fully joined-up contact centres, with agents given the full picture (what customers want, insight into their recent interactions with you, and a customer profile that informs next steps) can help to get customers to the answers they need faster and more efficiently, and reduce their need for a repeat conversation.
Insight from data can make this possible, as can tools, for example, Interactive Voice Response (IVR) enabled text, chat, and call services that direct customers to the right solutions or a live contact centre agent if deemed to be necessary.
It offers customers the opportunity to use self-service, reducing the cost-to-serve for your business and handling customer inquiries more effectively.
Great contact centres generate positive feedback and recommendations
With 72% of consumers sharing a positive experience with six or more connections, and 13% of consumers telling 15 or more connections if they're unhappy, you can't afford to risk a negative experience. Making sure that your contact centre interactions are satisfactory or better yet, memorable, can help to ensure that your current customers are talking about how brilliant your business is.
Try Qualtrics' Contact Centre Analytics
Types of contact centres and the experiences you can provide
There are several types of contact centre infrastructure to choose from, but all will likely require insights into the customer experience to be effective. Here are the main types, as well as advice on customer expectations for the experience.
Inbound contact centres
When you think of "call centres", most people are thinking about inbound call centres. In this facility, customer service is provided by telephone, with customers making phone calls into the centre to resolve their queries. Call centre software might include Voice over Internet Protocol (VoIP) or an IVR system to funnel customers to the right call centre agents.
In this instance, using contact centre technology such as Interactive Voice Response can help to direct customers to the appropriate phone support, reducing the chance that they need to explain their problem or query multiple times to different agents. However, in terms of experience, customers would likely expect a quick process and short waiting times, with a person on the end of the line who can provide a speedy resolution.
Outbound contact centres
Outbound call centres are almost the opposite of inbound call centres. Rather than waiting for customers to reach out, businesses can proactively make outgoing calls to increase sales. This type of centre might do telemarketing via cold calls, follow up with customers, upsell when completing transactions, and more.
To be successful in terms of experience, your outbound call centres should examine customer data to understand which audiences will most likely respond to outreach, as well as why and how they'd prefer to be contacted. The sales team shouldn't be more intrusive than it needs to be – and with meticulous records on lead generation, customers won't be bombarded with inappropriate sales calls on topics that don't interest them.
Multichannel contact centres
Rather than relying on voice calls alone, multichannel contact centres allow customers to use whichever communication channel they'd prefer to reach out. Digital channels such as social media, apps and websites etc. provide options for customers to use at their own convenience, while the more traditional phone option is available for those who prefer it.
In terms of experience, customer behaviour and feedback will indicate which channels they'd prefer to use, and customer queries can be handled across multiple channels with dedicated centre reps. However, speed and efficacy in handling queries and problems will need to be standard for customer satisfaction. Multiple departments will need to manage customer data and provide personalised solutions for the best customer experience.
Omnichannel contact centres
This centralised call centre option can handle any avenue on which customers interact. From chatbots to SMS, social media messages to emails and calls, omnichannel contact centres operate across multiple channels in a unified way. Businesses might use virtual contact centres or cloud-based contact centres to help connect all the potential avenues a customer might reach out.
In terms of experience for this type of contact centre, a deep understanding of customer engagement will be necessary to provide a seamless experience cross-channel. Rather than assuming customers will use only one of many communication channels, a successful omnichannel approach uses customer data to meet experience expectations and respond when customers want, where they want.
Insightful quality management for your contact centres
Best practices for creating positive contact centre experiences
Collect, listen and take action on customer feedback
Solicited feedback through customer surveys and unsolicited feedback through tools such as XM Discover can help you to understand what customers expect and to chart the pain points in their customer journey. Rather than assuming what customers are experiencing when they interact with your customer service representatives and your brand, you can understand the views of your customers in their own words.
However, listening to feedback is only part of the process of optimising your contact centre experience. You'll need to take action, based on data-led insights, to ensure that your customer experience consistently meets and exceeds expectations.
Example:
Your customers are reporting that your call times for your contact centre are far too long, resulting in negative feedback and customer churn. Despite adding further call centre agents, the problem persists. You decide to use AI-driven contact centre software to detect the main reasons customers are calling and implement a chatbot that can respond with the right answers to lower the pressure on your contact centre and reduce the long wait.
Track contact centre performance
Your contact centre performance needs to be monitored with sophisticated analytics to ensure that your team is able to detect issues and optimise your customer experience quickly and easily. By listening to every customer, and  tracking their emotion, sentiment and effort when interacting with the contact centre across the customer journey, you can identify areas that are working and what areas need improvement. By adding in operational data such as call data, agent performance, sentiment analysis and more you can get an even deeper understanding of how your contact centre is performing, and how to improve.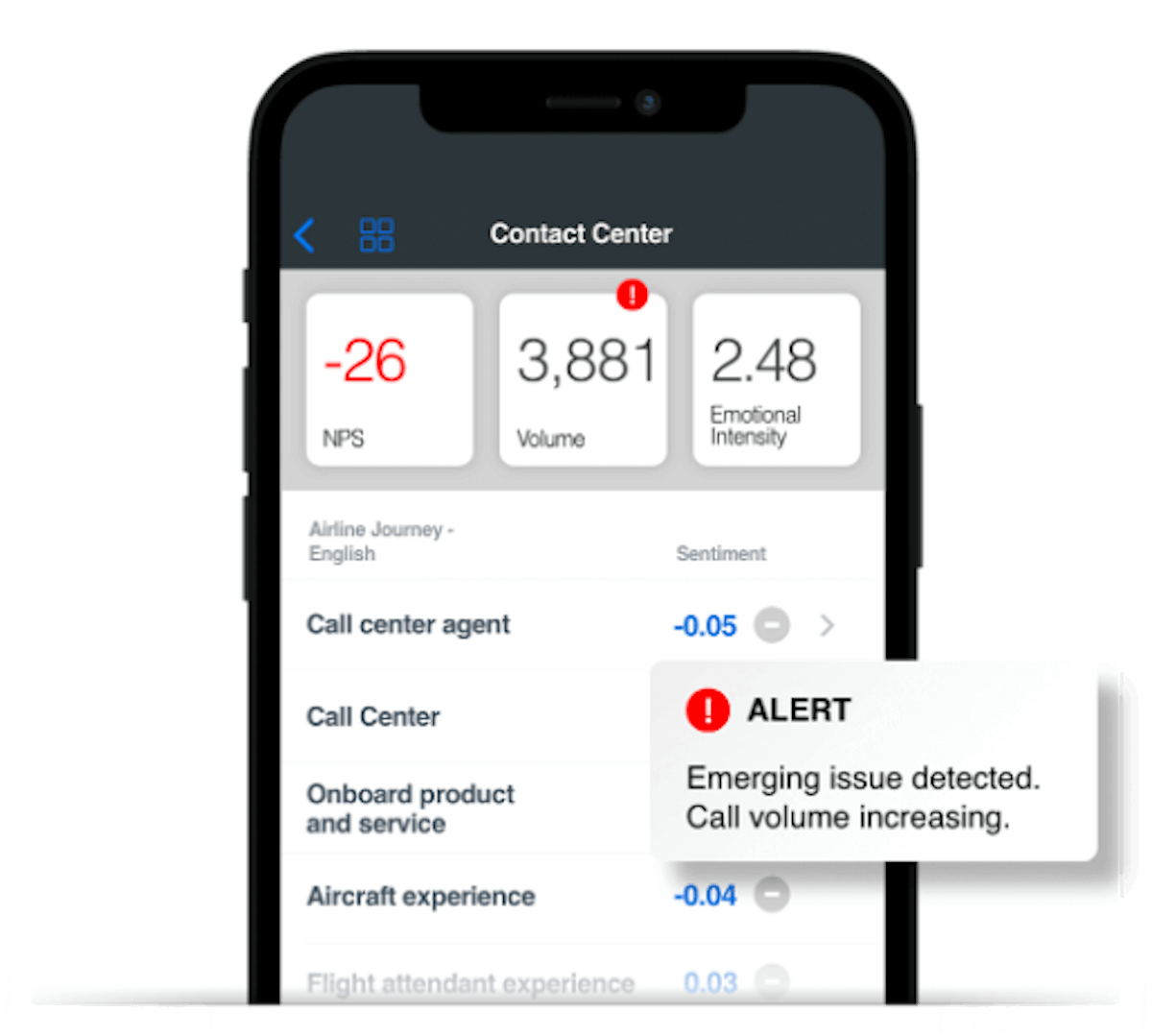 Using AI to make your contact centre more effective
Example
Let's say your mobile phone upgrade experience is broken because the button is unresponsive, by tracking the emotion, effort, and sentiment of your customers, wherever they are, you can quickly understand that A) there's an issue, B) understand the effect it is having on your customers and the potential damage it is causing.
This feedback might be direct, on social media or a review site. By collating real-time feedback, and mirroring that with additional metrics like conversion rates, purchases, page views, NPS, and CSAT, you can take action to resolve the issue swiftly.
Take centre agents' feedback into account
Your employees' feedback can help you to get better insights into why a particular customer experience is not meeting expectations. Contact centre agents are on the frontline and have daily interactions with your target audiences. They are best placed to tell you why a contact centre might be seeing the results they're experiencing, as they have the most contact with the customers you serve.
Example:
As a B2B provider of machinery, you have one client that has newly reported negative experiences with your business. Your customer service agents are able to feedback and tell you their views on why customers are less happy with your product than they were before (needing an in-office visit to resolve problems, rivals' options look better in terms of design, the customer themselves is difficult to satisfy etc.). With customer service agent insight, you're able to understand which action to take to help improve the customer relationship.
Why focusing on an omnichannel contact centre experience matters
A traditional call centre might be able to handle customers reaching out directly if that's what the customers are looking for, but it isn't always the best way of responding, both financially and in terms of experience.
A call centre could answer a bank balance query, for example, but it might be far quicker, easier and cheaper for the business and the customer to solve via an app – an option that leaves frontline call centre agents free to work on higher priority issues.
That's why it's never been more important to build your contact centre experience around an omnichannel strategy, where customers can get in touch using whichever medium or touchpoint suits them best. And, importantly, ensuring that customers can start a conversation on one platform and finish is on another.
This isn't about relegating call centres. It's about improving the customer experience across the board. And it turns out that's pretty important from a business point of view.
Gartner, for instance, suggests that companies focusing on the customer experience enjoy 60% higher profits than their rivals, while Sarocks found that for every cent you spend on customer service, ROI can be anywhere from 34 to a whopping 400%.
What's more, positive or negative customer experiences tend to spiral in their respective directions. Did you know that dissatisfied customers will tell 22 people about a bad experience? That's a dangerous word-of-mouth proposition – especially when you consider that satisfied people will tell 9 about how great things were.
Ultimately, modern businesses need to build customer service solutions in which a call centre agent is one of many vital tools in a much larger arsenal. Contact centres utilising the right tools can provide a customer experience that spans touchpoints and platforms as if they're all one and the same.
Those tools, in turn, will help every contact centre agent in your team prioritise, gain empathetic superpowers, stay compliant, and do their best work.
Focusing on customer experience through customer interactions
To provide customers with the best contact centre experience that will increase your revenue and reduce customer churn, you'll need to invest in contact centre software that can pull together all the relevant data and give you actionable insights.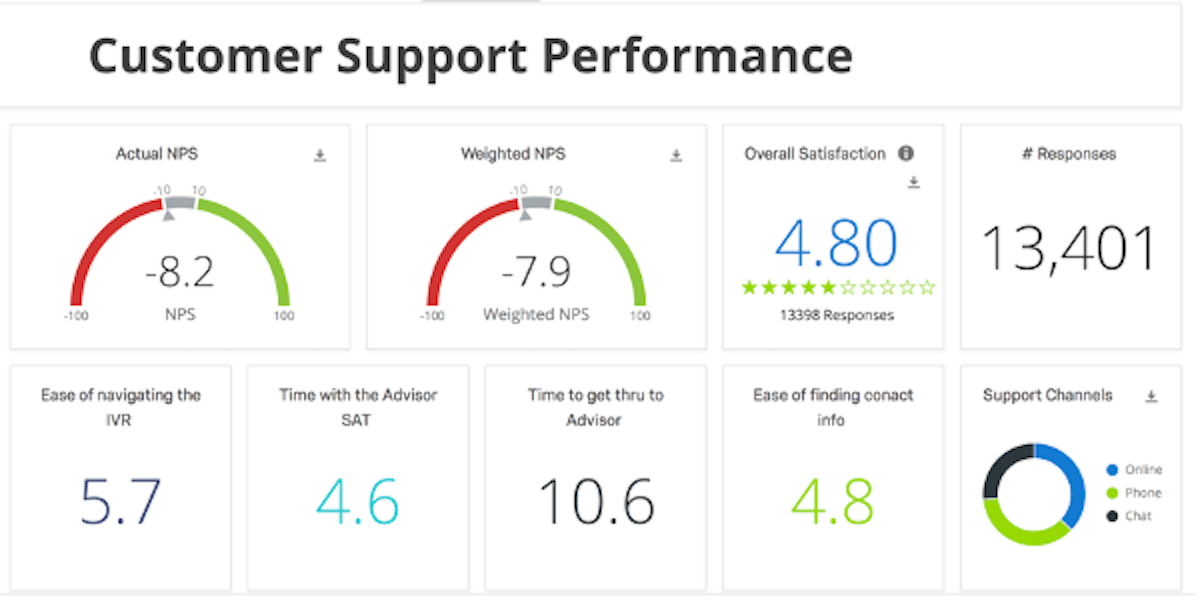 Qualtrics' contact center analytics solution is able to turn your contact centre from a business-as-usual expense into a significant loyalty driver. Using AI, Natural Language Understanding and more, it identifies the key drivers of satisfaction and measures contact centre performance quality and provides predictive insights into how to improve your service.
Try a demo to see how we can help you to:
Build customer surveys based on industry expertise
Understand customer emotion, sentiment and intent so you can listen to and understand what people are saying about your company, wherever they're saying it.
Utilise role and channel-based dashboards to deliver real-time insights to the right teams
Use Predictive Issue Resolution to get ahead of problems
Integrate your analytics and suggested actions into 150+ business tools
Automate processes to help your contact centre agents focus on customer experience