---
It may be an obvious statement to say that the world is becoming more and more digitally focused, but it's a truism in the world of customer service that brands would do well to fully understand.
To today's customers, support and aftersales service is now an omnichannel mesh that spans touchpoints and mediums – it's as much about Tweets, texts, and chatbots as it is about speaking to a human over the phone.
Brands looking to offer digital customer service that really shines need to not only understand that mindset shift, but put their best foot forward on digital channels so that they can complement human agents with proper parity, rather than as an afterthought. Here's everything you need to know about digital customer service, and how to improve it.
Free eBook: The digital experience playbook
What is digital customer service?
Digital customer service is the support and guidance you offer customers across your digital channels. Any time a customer can solve a problem or answer a question without speaking to an agent on the phone or walking into a physical store, they'll have used some kind of digital customer service solution.
Digital customer service describes customer interactions that happen over a range of channels, often with the customer jumping between them in a way that suits their needs – and ideally without having to keep repeating the details of their query.
These digital channels include:
Email
Text messages
Live chat
Chatbots
Social media
Online FAQs and repositories
Online forms
Generally, you can group digital customer service options into two categories:
Human-driven
Any digital customer service channel that requires a human response fits into this category. Non-automated channels like email, live chat, and social media platforms are key examples.
Self-serve
If they're provided with the right tools, customers can often find their own solutions – and in some cases they prefer to. This might be an AI-powered chatbot that can solve billing issues, for example, or a simple, searchable online FAQ section.
Why is digital customer service important?
Digital customer service isn't about replacing humans and minimising service costs – although they can definitely help to do that. Instead, it's about supplementing and supporting human agents to prioritize the cases that need them most, while also allowing customers to get help on their own terms – and on their schedule.
Increasingly, that's exactly what consumers want and expect. Research shows that millennials much prefer live chat over speaking on the phone, for example, while 69% of consumers will try and solve their issues via self-serve means before making any proactive communication.
When customers do reach out, they expect digital customer service channels to be able to streamline things. 90% expect an 'immediate response', while 71% say that a quick response can 'drastically' improve the overall customer experience.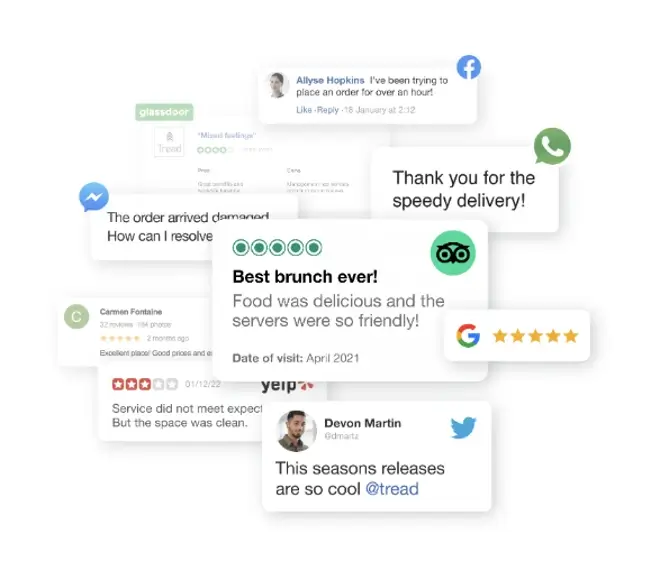 And, perhaps most importantly, people expect that their customer data is linked up between all these different channels. A recent Salesforce study shows that 75% want a consistent experience no matter which channels they use to get in touch. At the same time, Zendesk suggests that 70% of consumers feel like they shouldn't have to repeat their inquiries across channels.
"Customer service should not be a department.
It should be the entire company."
– Tony Hsieh, Entrepreneur
Ultimately, great digital customer service is great customer service, period.
And getting that right is important. Hubspot research shows that some 68% of consumers will pay more for products from brands known for their customer service, while Salesforce suggests that a huge 89% are likely to make repeat purchases from those same brands. Zendesk, meanwhile, has found that almost 60% of consumers think that great customer support is a key driver of brand loyalty.
Offering a full, omnichannel customer service solution is key to delivering a best-in-class overall customer experience, which in turn will have a positive impact on core CX metrics like customer satisfaction and customer loyalty.
Examples of digital customer service
Ok, so how does this work in person? Let's take the digital channels we listed at the top of this article and explore a real-world example for each one…
Email
A customer has been billed twice in error, so they make a note of all the relevant order reference information and send an email to the customer support team. Ideally, they'd receive an automated response to say that their issue is being looked into alongside an estimated response timeframe. A human agent will look into the support ticket and get back to the customer.
Text messages
If a customer needs help understanding an app feature, they might use a dedicated SMS number to ask their question – maybe while waiting for a bus. They'll receive an automated response, and then an agent will pick up the thread – the customer may then choose to dip in and out throughout the day, following things up when in the moments that suit them best.
Live chat
A customer wants to upgrade their phone plan but isn't sure of their options. With live chat baked right into their network operator's app, an agent can discuss phone and tariff options with them at a pace that suits the customer, and help them right through to ordering – all without leaving the chat window.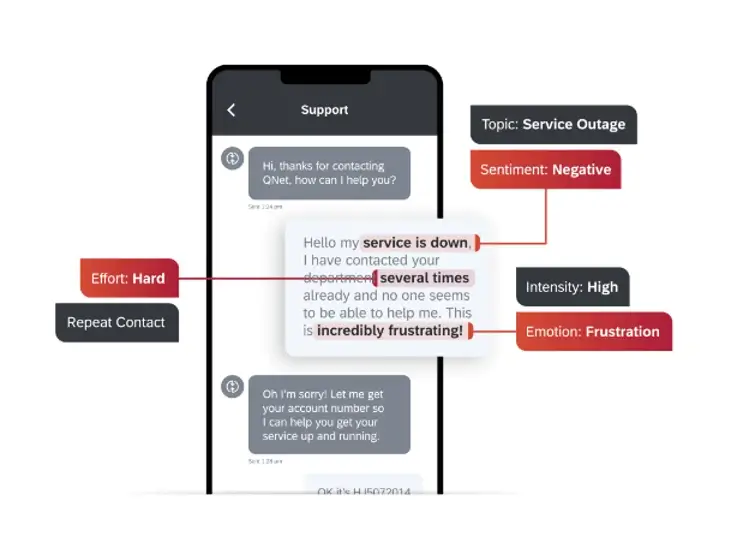 Chatbots
A recent Global Web Index survey found that almost half of consumers prefer to use automated customer service options to solve their problems. This can be for a variety of reasons. Sometimes it's about solving potentially embarrassing issues. A hotel concierge chatbot, for example, can help customers with things they might not feel comfortable talking to a real person about
Social media
Consumers expect brands on social media platforms like Twitter and Facebook to be able to reply to them as quickly, if not quicker, than more traditional platforms. Today, if a customer's flight has been canceled, they're just as likely to tweet the airline about the problem as they are to send an email. The onus is on businesses to have a strategy for what happens next.
Online knowledge base
If a customer is using a new digital accountancy product but isn't sure how to add an invoice, their first port of call will usually be the online FAQ or knowledge base where they can search for their problem and find a pre-written guide or video walkthrough.
Online forms
If a customer has a suggestion for how to improve a product or service or simply wants to share their thoughts, then they should be able to fill out an online form without having to speak to a support agent. Forms and surveys are a great way for companies to solicit feedback and learn where experience gaps lie, without taking up support agent time.
What's important here is that there's often interplay and overlap between these channels. A customer might start a live chat with a support agent on their way to work, then pick up the phone when they have a bit more time, or jump from a Twitter thread over to email to continue their query.
How to improve digital customer service
Your digital customer service strategy should be all about minimising customer effort and maximising the efficiency of customer inquiries – no matter how they come to you. Importantly, success comes from making your customers feel heard, and acting on what they say.
Here are five ways to bring true digital transformation to your customer service efforts:
1. Put a focus on personalisation
The beauty of digital customer service is that it's a field full of opportunities to collect and use customer data in ways they'll love. If you use digital customer experience software to collect a rich history of data for each customer and segment across channels, you can use that to build personalised experiences that make an impact not just when customers have issues, but also when you're looking to retarget them for future business.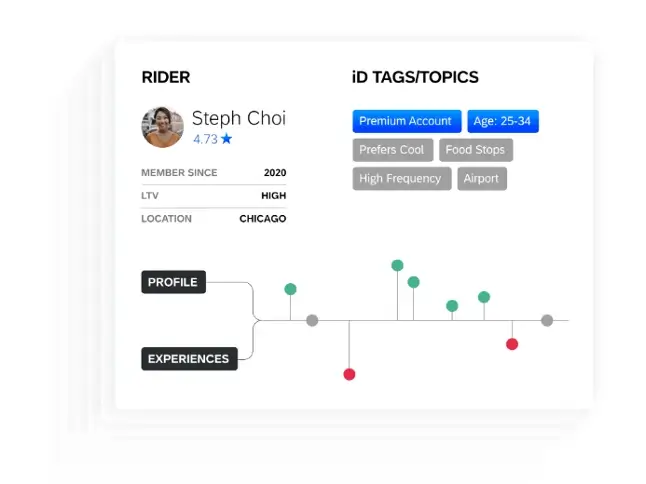 2. Listen at scale
Your customers are talking to you and about you all over the web and on every digital customer service channel – both directly and indirectly. Success in this space relies on utilising software that can absorb all that information, pool it, understand it, and put it to work. It's only when you have the full picture of what's happening that you can act on issues, react with empathy, and make customers feel like they're being understood by giving them the experience they need and expect.
3. Understand sentiment, effort, and emotion
Customer effort and emotion are tricky things to understand in large volumes. To do so, you'll need a customer experience suite imbued with natural language processing that can parse every incoming email, call, text, and Tweet, and understand exactly what the sentiment behind each message is. Qualtrics Omnichannel Customer Analytics, for example, can use AI to uncover the root causes of customer friction and deliver real-time insights to your frontline as a result.
4. Act on what you learn
It's no good uncovering issues if you don't act on them. Understanding the ins and outs of the digital customer experience – and the causes of customer inquiries – can turn your digital channels into a powerful engine for positive change. When you turn complaints into action, you'll ensure that your customers feel like you're actually listening to what they have to say.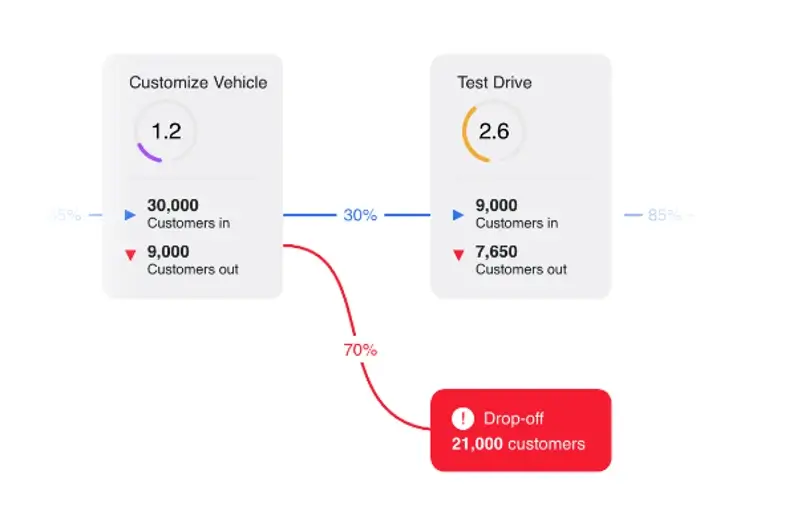 5. Treat digital as part of a wider journey
It's time to think: contact centre, not call centre. Digital customer service is just one part of a wider whole, in more ways than one. For one thing, customers don't see a difference between digital customer support and making a phone call, but more importantly, driving parity across multiple channels (and encouraging self-service where possible) can help reduce costs and increase agent capacity for the customers who most need to speak to a human being.
When all these channels are working in harmony, the overall customer journey improves. In other words: the customers win, and so do the teams serving them. So the more you can do to create a seamless handoff between your digital and humans, the better for your customers and business.
How Qualtrics can help
Building a truly connected customer service experience means busting down siloes between traditional channels and digital ones – as well as between the many digital channels themselves. It means adopting meaningful digital transformation to enable seamless handoff and information exchange across all those touchpoints.
Qualtrics' digital customer experience platform is built to enable exactly that. Our tools, designed with frontline customer service teams in mind, enable businesses to capture every customer signal from every touchpoint.
Our tools help you analyse that data for sentiment, use it to build rich customer histories and thread the resulting insights through to agents exactly when they need them – either as prompts, offers, or coaching opportunities. That kind of all-encompassing assistance is the best way for modern customer support teams to enable deeply personal experiences, deliver timely responses, and promote empathetic, human communications.
Alongside all that, we can also help teams drive meaningful change by turning behavioural data into suggestions for how to optimize every customer journey – both on individual and segmental levels – to boost customer satisfaction and drive retention.
Qualtrics CX tools are built to help provide the digital customer service that today's customers need, want, and expect – and drive customer satisfaction as a result.