---
Providing customer support solely through your phone channel isn't enough to meet the expectations of today's audiences. A well implemented omnichannel customer service strategy not only allows you to comprehensively respond to and solve customer queries but also optimises your contact centre costs.
But how do you go about implementing such a strategy? Read on to find out more on the benefits and challenges of an omnichannel approach to customer service, as well as strategies to get started.
What is omnichannel customer service and why is it important?
Omnichannel customer service is the provision of customer support across all potential channels, offering a cohesive and fluid journey that links experiences from one channel to another.
Rather than offering a disjointed service that is siloed to individual channels, omnichannel customer service accounts for each step between channels that a customer might choose to take. Using customer data, brands can optimize their customer support for better customer experiences.
An example might be a customer initiating a query with a social media message, which then directs them to a live chat function on the brand website, with a further phone call to a customer service rep to resolve the problem and a follow up email to check the solution has worked. An omnichannel customer service strategy will be able to retain data from all these interactions and create a seamless experience.
Omnichannel customer service is in increasingly high demand – 69% of customers want personalised, consistent customer experiences across multiple digital and physical channels. However, many businesses struggle to start and maintain a truly omnichannel customer experience, instead aiming for a multichannel approach that doesn't quite hit the mark.
Shape an unforgettable customer experience with the Qualtrics Contact Centre
Creating an omnichannel customer service strategy
Designing a seamless experience for your customers requires a strategy that can incorporate the monitoring of various communication channels, the awareness of customer outreach preferences and a deep knowledge of your support team's capabilities.
1. Smart Channel Containment
When talking about customer service, channel containment refers to the resolution of a customer interaction or query on a channel without customer service agents needing to be involved.
But too many organisations are struggling with balancing automation (IVR, Chatbot, VoiceBots) with the customer experience. Launching automation without the right level of intelligence and insight can quickly lead to frustrated customers and increased call volumes from failed self service attempts. To prevent this, here are some best practices that are customers have seen to successful.
2. Map out your customer journeys to understand where you need to be
Where does your customer service need to be available? Mapping your customer journey across multiple channels will help you to understand where you need to offer your customer service and where your customers will find a prompt most useful. For example, if you are an ecommerce brand primarily focused on social media channels, it makes sense to offer the option to direct message for help as well as email or call.
You should:
Map out potential customer journeys based on past data: Where do your customers encounter your brand, and at what stage do they most often need assistance?
Work with your team to map out any new journeys that might occur: Targeting a new audience demographic? Make sure you understand where they might need customer service prompts in their specific journey.
3. Understand where your customers are and where they'd like you to be
The quickest way for your omnichannel customer service strategy to fail is to try and do everything, rather than to do what makes the most sense for your particular customer audience. Understanding which communication channels your customers would like to use to seek out help is a great first step to a solid strategy.
You should:
Consult your team on their insights: From your support teams to your marketing and sales managers, where do your team believe your customers (and your support staff) need the most support?
Look at your existing data: Where do your customers come from when they begin their customer service journey with you? Are they traveling from different channels, or do they have a clearly preferred channel?
Research and segment your audience: For your specific customer demographics, what does market research say will most appeal? Segmenting your audience will help you to offer each type of customer the experience they're looking for, rather than offering a one-size-fits-all approach.
Ask your current customers what they think: Poll your current customers to find out what they would prefer and add that to your strategy. What's the most convenient way for them to reach out? How do they want to resolve their potential problems?
4. Create a central data hub
Collating all of your data on your customers in one location means your support team has all the information at their fingertips, no matter the channel your customers use to reach out. This can also help to refine your self-service options across multiple channels.
You should:
Invest in technology that supports centralised data: Your contact centre needs to be able to harness and process data from multiple locations, with details on prior customer conversations, interactions with support, demographic data and more provided to your customer service reps instantly on contact.
5. Constantly learn and refine
With your data held in a central location, you can quickly start to see if approaches to a particular channel aren't working, or if your customer experience is suffering at specific points in the customer journey.
You'll need to:
Evaluate in real-time and in an ongoing fashion: With the right tools behind your team, you're able to evaluate issues and smooth friction points in real-time. Instead of evaluating your processes once a quarter or once a year, you can continually judge the efficacy of your approach and make quick recommendations to your team.
The benefits of an omnichannel customer service approach
There are several key benefits to offering an omnichannel customer service to your customers. Here are a few:
You can meet your customers where they are and where they prefer
Customers have preferences for devices, digital and non-digital channels, methods of help and more. For example, our own research has found that 51% of consumers prefer self-service via digital means (computer, mobile phone or web chat), rather than meeting someone in person or phone calls.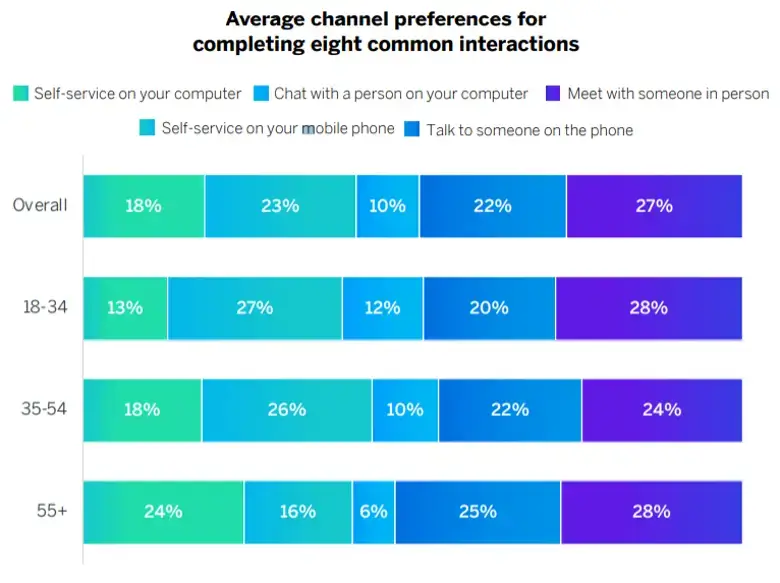 Demographic factors can greatly affect your customer's willingness to resolve issues by phone, chat, email, social media message or other avenue, meaning you need to be able to handle all online and offline channels to meet expectations. An omnichannel customer service strategy means you can meet your customers where they are, rather than asking them to come to a specific channel that might not suit them for help and advice.
Your customers feel like they're getting a personalised service
Omnichannel customer engagement takes into account the multiple interactions your customer has had with your business across all channels. A consistent experience with context built in means when your customer speaks to a customer service agent, they know who they are, what they've already flagged and where they've interacted with your brand before.
Personalisation can improve customer attraction significantly. Epsilon consumer research has found that personalisation is appealing to 90% of consumers, and those consumers who think personalized experiences are very appealing are ten times more likely to be the most valuable business customer (making over 15 transactions in a year).
Exceeding expectations improves customer satisfaction and your bottom line
Our Global Consumer Trends report has found that 62% of consumers believe brands need to care more about them in their customer relationships, with 60% of consumers willing to buy more as a result of feeling that care.

By offering a personalised, context-driven customer service experience with your brand, customers are more likely to be satisfied, which drives further purchases. Customers who label an experience 5/5 stars are more than twice as likely to buy again, with 80% of satisfied consumers spending more.
You can build a complete picture of your customer
Customer data can be disjointed, with information siloed on each particular communication channel your customer has used. An omnichannel support strategy means you can draw all your data together into one information hub or customer service software platform to give your support team a more complete picture of customers' history with your brand.
Better yet, you'll get a more comprehensive view of your customer, with data added into a customer profile that is rich with insights on preferences and buying trends.
You can contain costs by deflecting appropriate customer journeys to lower cost channels
Omnichannel customer service examples
Spotify
Music streaming platform Spotify makes sure to meet its customers where they are, offering several channels for contact. Better yet, they streamline their avenues of support to ensure that the right messages get to the right support team contacts. For example, on their Twitter, they segment messages by issue type: "For tech queries, let us know your device/operating system. For payment queries, drop us a DM!"
With a community set up for music lovers, a specific social media handle just for dealing with issues, and email options, the company understands that its customers don't want to communicate by telephone – and so they don't offer support via phone calls. By giving customers multiple ways in which to reach out according to their preferences, the brand is able to keep their costs down and reserve their customer service agents' time for the interactions that need the most attention.
Zappos
Shoe retailer Zappos is renowned for its customer service, both online and offline. Their approach is to provide a personalised service that satisfies every time – and the fact that their revenue comes from 75% of returning customers illustrates just how successful that strategy is.
With options to reach out including Twitter, text and telephone, Zappos customers are able to get help 24/7. As the founder Tony Hsieh puts it:
"On many websites the contact information is buried at least five links deep, because the company doesn't really want to hear from you…We take the exact opposite approach. We put our phone number (it's 800-927-7671, in case you'd like to call) at the top of every single page of our website, because we actually want to talk to our customers. And we staff our call centre 24/7."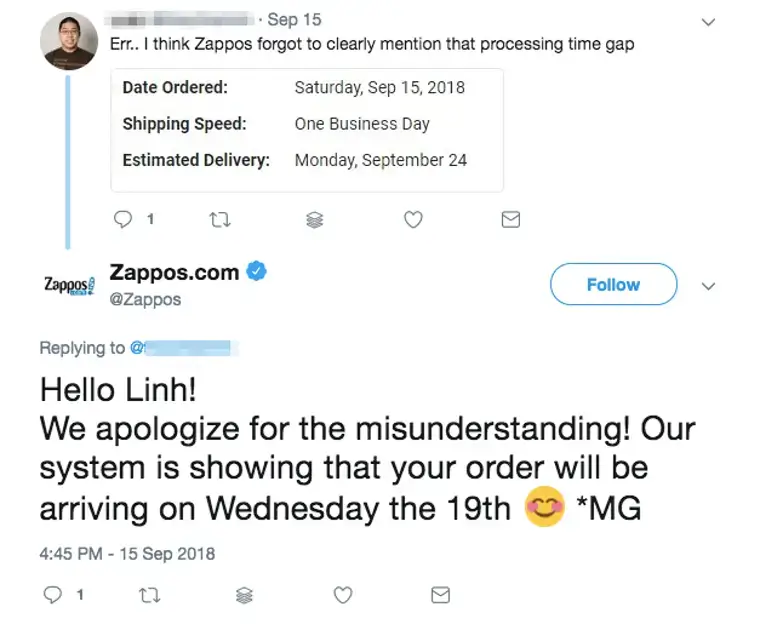 By offering excellent customer service that is hyper-personalised – even to the point of sending flowers to a grieving customer who hadn't managed to send a return back in time – the brand is able to generate unwavering customer loyalty.
Leverage your customer data for brilliant omnichannel customer service
Customer loyalty can be built and customer relationships repaired effortlessly with the right service and the right technology behind it.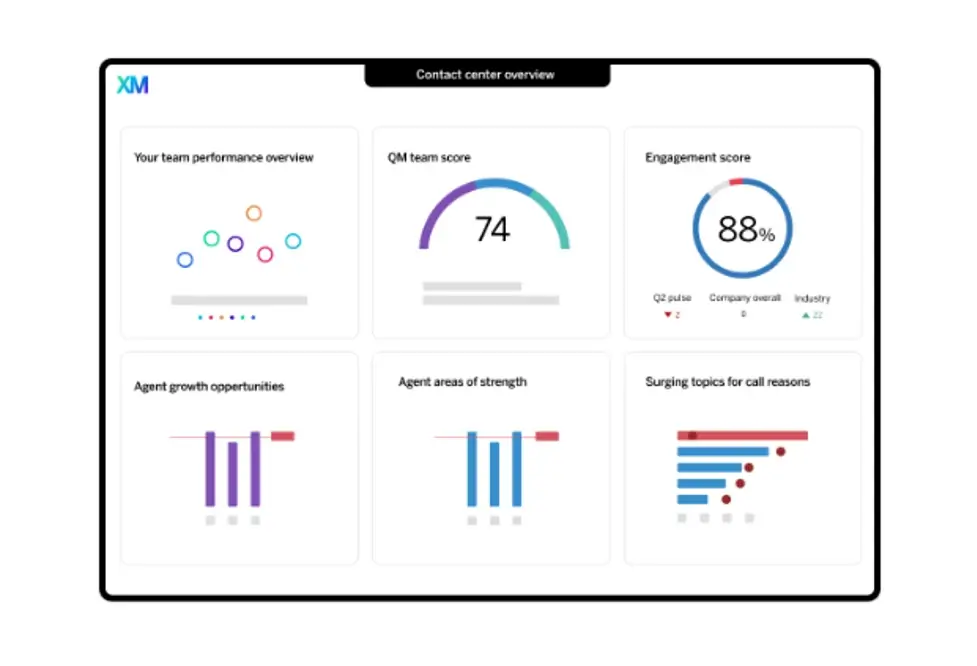 Offer omnichannel customer service through a responsive system powered by artificial intelligence and automation. Hear every customer on every channel, and deliver omnichannel customer support with game-changing real-time insights.