XM for Customer Frontlines

Digital

Root out friction in every digital experience, super-charge conversion rates, and optimize digital self-service

Care

Uncover insights from any interaction, deliver AI-powered agent coaching, and reduce cost to serve

Locations

Increase revenue and loyalty with real-time insights and recommendations delivered straight to teams on the ground

XM for People Teams

Engage

Know exactly how your people feel and empower managers to improve employee engagement, productivity, and retention

Lifecycle

Take action in the moments that matter most along the employee journey and drive bottom line growth

Analytics

Whatever they're are saying, wherever they're saying it, know exactly what's going on with your people

XM for Strategy & Research

Research

Get faster, richer insights with qual and quant tools that make powerful market research available to everyone

User Experience

Run concept tests, pricing studies, prototyping + more with fast, powerful studies designed by UX research experts

Brand

Track your brand performance 24/7 and act quickly to respond to opportunities and challenges in your market

XM Platform

Explore the platform powering Experience Management

Teams

For Digital

For Customer Care

For Human Resources

For Researchers

All Teams

Industries

Healthcare

Education

Financial Services

Government

All Industries

Customer Experience

Employee Experience

Employee Exit Interviews

Net Promoter Score

Voice of Customer

Customer Success Hub

Product Documentation

Training & Certification

Community

XM Institute

About Us

Careers

Partnerships

Marketplace

X4 Summit

The annual gathering of the experience leaders at the world's iconic brands building breakthrough business results, live in Salt Lake City.
Customer Experience
Consumer trends to watch out for in 2024
AI-powered transformation, economic uncertainty, changing consumer behavior - there's a lot to unpack as organizations plan for 2024. Our Global Consumer Trends Report sheds light on the top consumer trends that will shape the year ahead and provides expert advice on how to navigate them.
What's the current state of consumer experience?
As we look back on 2023, the consumer landscape has changed dramatically around the world. A shift that requires businesses to reset for the year ahead and turn their attention to what really matters to consumers right now.
Consumer behavior
The past 12 months have made many consumers more conscious than ever about who and where they buy from, and businesses are feeling the heat - turning their attention to retaining existing customers as acquiring customers gets harder. This puts businesses in a tricky spot as they balance the need to provide a far better customer experience to meet rising consumer demands, with doing so as efficiently as possible to successfully battle tough economic headwinds. With experience and operational efficiency both equally important, getting the balance right is key.
Brand loyalty
To succeed, businesses need to know their consumers deeper than ever, and make smart decisions that build deep, lasting connections that drive brand loyalty.
Get the full 2024 consumer trends report
Consumer spending
And those that get it right will be rewarded. Because customer loyalty isn't dead after all. In fact, despite many predictions to the contrary, we found consumer confidence and consumer spending to be improving. With likelihood to purchase up from 2023.
Consumers will spend if you get the experience right.
75% // +1.5% pts YoY (Trust)
73% // +1.9% pts YoY (Likelihood to recommend)
71% // +2.7% pts YoY (Likelihood to purchase more)
What are the 2024 consumer trends?
Based on responses from more than 28,000 consumers surveyed across 26 countries, our 4th annual Consumer Trends Report reaffirmed just how valuable personalized connections really are.
But here's the catch - understanding how to make those connections is getting harder. Customer feedback preferences are evolving, consumer behavior is changing, and expectations are at an all-time high.
So what can you do about it? We've outlined the top 4 trends and priority areas that every business, in every industry around the world needs to know, including the opportunities and risks ahead and expert advice on how to navigate the findings.
Get the full 2024 consumer trends report
What's included?:
The four consumer trends shaping 2024
What it means for businesses, including the opportunities and the risks ahead
Expert advice on how to navigate the findings
Check out a preview below.
Trend 1 – Human connection is the foundation of a winning AI strategy
As AI set off a flurry of excitement this year, every business became urgently aware of the need to understand what it means for them and how they would integrate it into their strategy. It's undoubtedly one of the leading trends of the year.
We wanted to help break through the noise and provide businesses with a clear understanding of how consumers feel about AI, what they're concerned about and where they think businesses can use it to improve the customer experience.
We found that consumers are on the fence about AI, with 48% of consumers comfortable interacting with an organization's AI. What's driving that uncertainty is clear. A fear that it will replace humans.
Consumers' top 3 concerns about AI:

So when thinking through the AI strategy for your business, be deliberate in where and how you implement it. Don't just roll out another chatbot, because while it might make operations more efficient, it's not always what consumers want and there are other ways to maximize the impact of this technology. Instead, think about how it can empower your frontline teams to improve the entire customer experience, across your digital and human channels.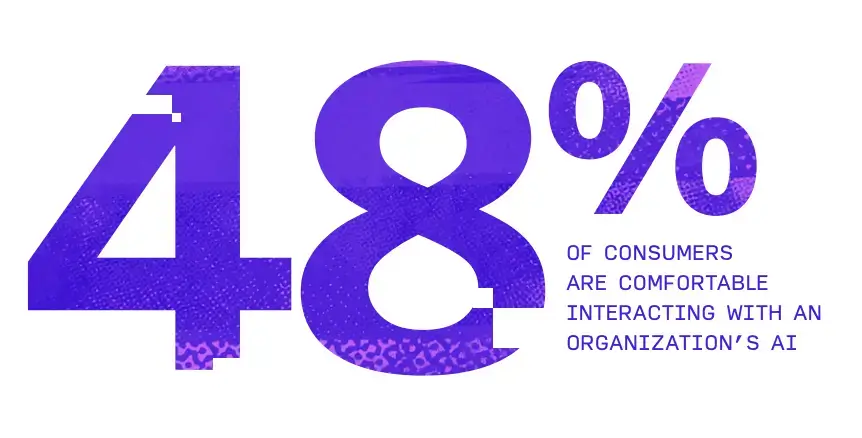 AI offers tremendous opportunities to organizations that implement it thoughtfully,  but if customers detect a pure cost-saving attempt they will leave in droves.  So AI interactions must build confidence — trust from customers comes with consistency, accuracy and convenience.

- Leonie Brown, Qualtrics
 Get the full reveal, and so much more in our 2024 global consumer trends report, including insight from industry experts and world-renowned brands.
Trend 2 – Great service beats low prices in the battle for brand loyalty
Take note, you'll need to go beyond low prices to increase consumer spending in 2024 because there's more important things to consumers than saving money. That's right, low prices are not the primary differentiator for consumers when making purchase decisions.
Our research found organizations with a great reputation for customer experience are best positioned to win share of wallet, even in a down economy. Product quality and customer service ranked 1st and 2nd, respectively, while low prices ranked 3rd.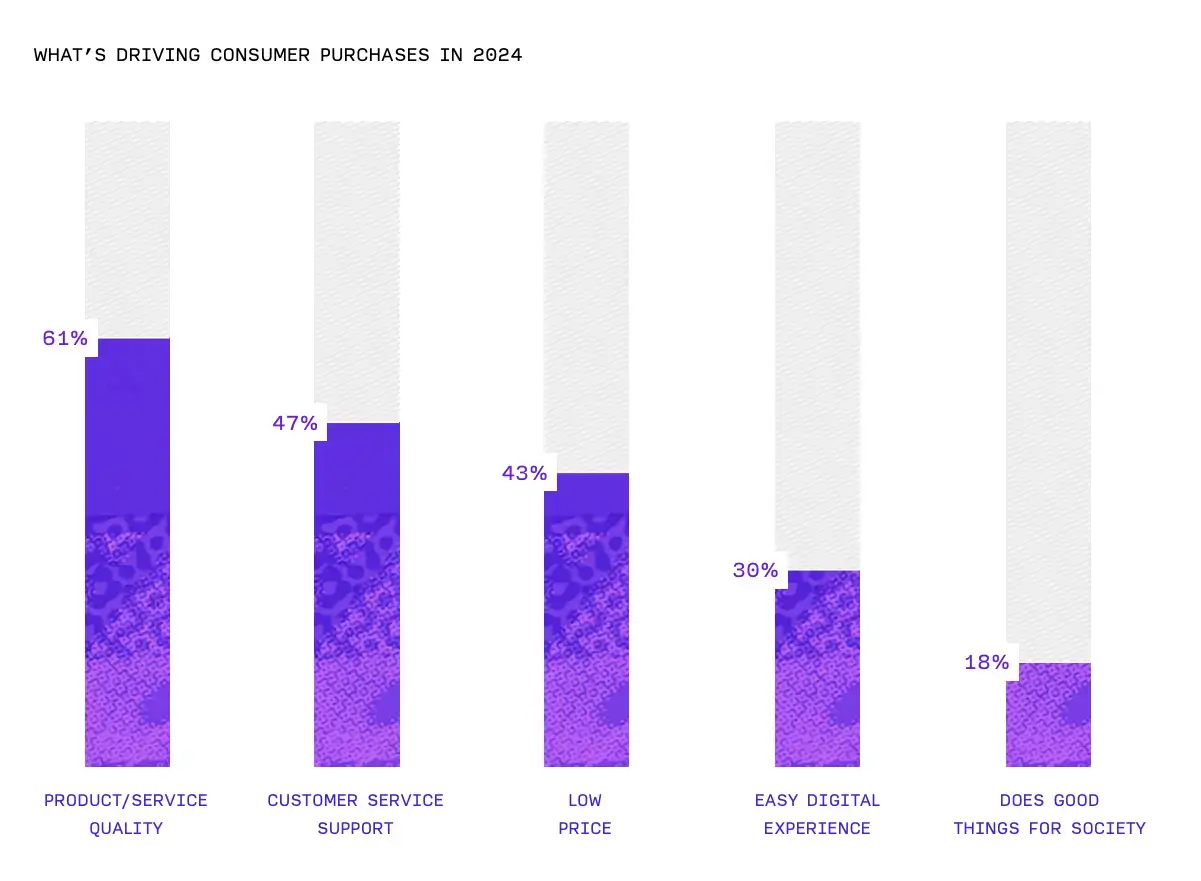 If you want great customer experience, you need to start by focusing on the needs of frontline employees. Customer service interactions are where people have strong emotions, so they tend to be experiences they remember for a long time.

- Bruce Temkin, Qualtrics Head Of XM Institute
Hear how Delta is doubling down on customer experience
Trend 3 –  Digital support is the weakest link in your customer journey
As customer journeys get more complex and consumer interest, shopping behaviors and expectations change, it can be really hard to understand what's working for you and your customers, and what's not.
Our report uncovered the hotspots across the customer journey from sourcing information, to purchase to receiving support. We compared how satisfaction varies by channel (digital and human) as you go through the journey and the results were astounding.
The investment in incredible digital experiences from digital native brands has raised the expectation for all brands.

- Max Venker, Qualtrics Product Marketing Manager
What became clear is that digital support is the weak link in the customer journey, but it also poses the biggest opportunity if you get that experience right. That's because while digital support had 64% satisfaction (the lowest across every channel and journey type), it also has the highest upside, with consumers 2.7x more likely to return after a positive digital support experience.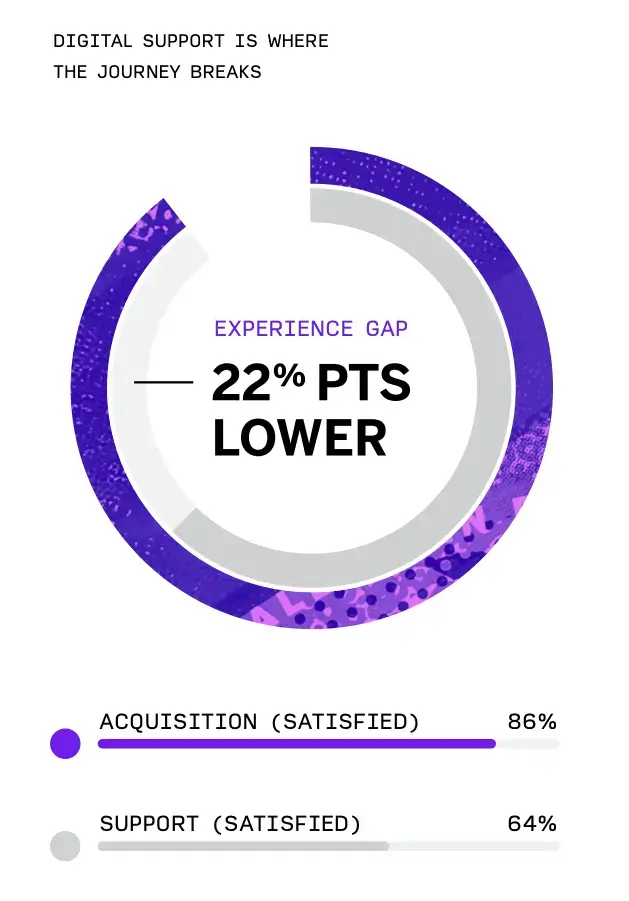 Why does this matter? Because for the past few years, digital leaders have been doubling down on acquisition, focusing on getting customers through the door, but less concerned about what happens when they get there. And that support experience is suffering as a result.
Our research shows that digital leaders have an opportunity to increase their value to the organization, becoming an engine for retention and loyalty by focusing on the pre- and post-purchase digital journey.
Trend 4 – Consumers don't give feedback like they used to… so companies must listen in new ways
How and where consumers provide feedback is changing, which risks putting the legacy listening systems that so many companies rely on in the dark.
That's because the most prevalent shift in behavior is the continuation of a long-term trend of consumers providing less direct feedback. In fact, our research shows two-thirds of consumers will no longer tell you when they've had a bad experience.
Even when customers don't give feedback, they are talking to you in other ways - by spending less, visiting less frequently, and stopping mentioning you. The question is, are you tuned into those cues?

- Leonie Brown, Qualtrics Principal XM Scientist, CX
This is alarming considering 1 in 2 consumers reduce or stop spending after a bad experience, putting a huge amount of revenue at risk simply because they're not aware those bad experiences are happening. To truly understand the voice of the customer, companies will have to adapt and expand their listening capabilities to meet consumers where they are – review sites, social media platforms, chats and calls – to capture that all-important feedback.
What matters most to consumers in 2024?
Our research showed that by navigating these evolving trends, businesses can be optimistic that there is opportunity and success out there – even despite the continued economic uncertainty and rising costs. But the organizations that succeed will only do so by understanding what their consumers want, and creating incredible personal experiences that attract new markets and retain their existing customers.
When we asked consumers what they wanted from businesses in 2024, for the second year in a row, one theme became clear. Consumers want genuine, meaningful connections with the businesses they buy from. And they value this above all.
We see this in their attitudes towards artificial intelligence (AI), their channel preferences, and how much consumers value great customer service.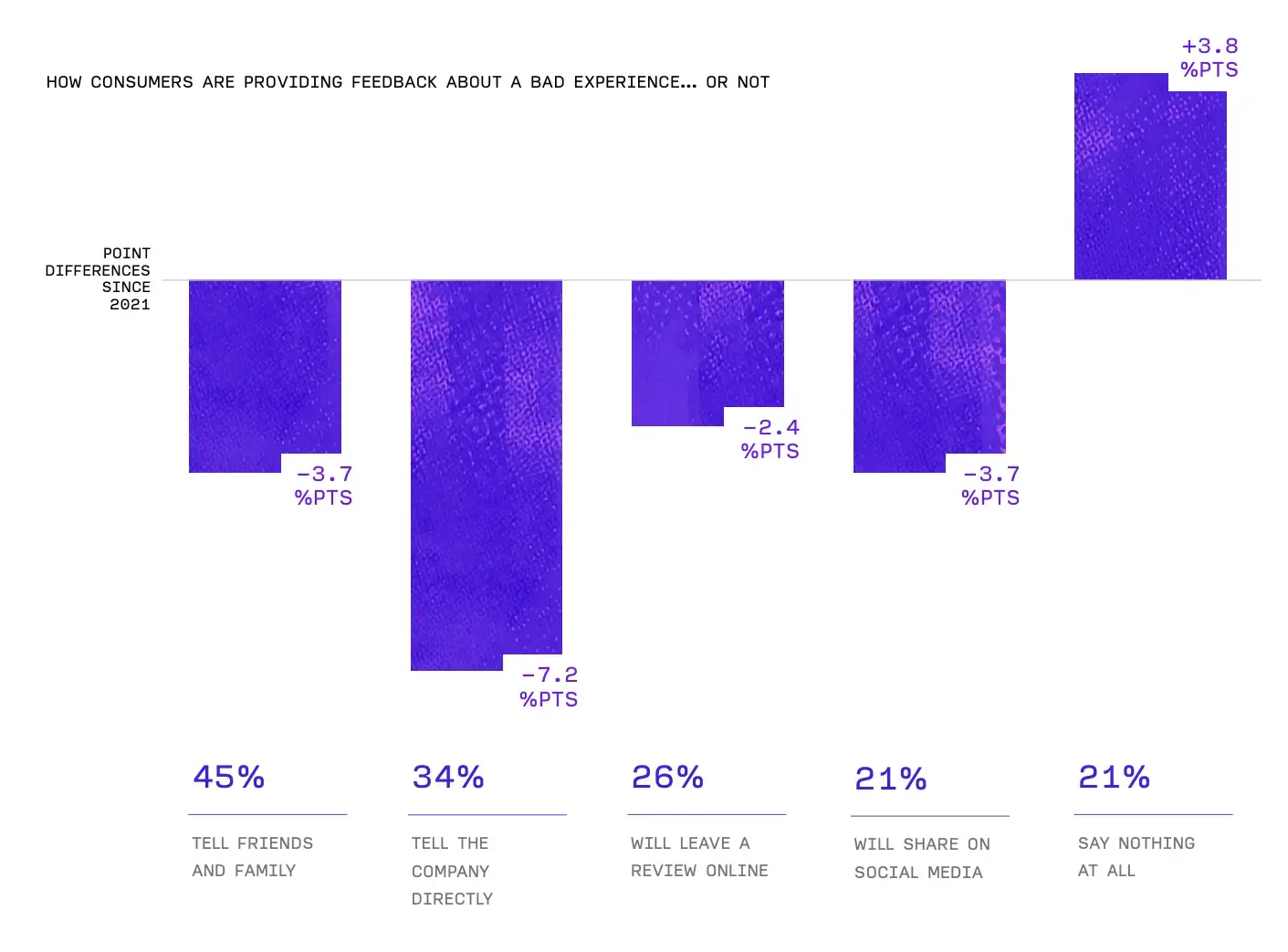 But this goes beyond 2023 and 2024 trends. The desire for human connection is an innate feeling, one that humans have always longed for. We all like to feel wanted, listened to, and appreciated, And we expect brands to understand this and rise to the occasion.
And while technology will continue to transform our lives, businesses mustn't lose sight that its purpose is to empower and enable humans and help us meet our wants, needs and desires.
For CX professionals the task is clear. Providing personal, human experiences across your frontlines - in store, on the phone, and online - is mission critical to driving satisfaction and increasing customer loyalty.
How technology can help you get closer to your customers
As consumer trends evolve, businesses need to adapt with them. Fortunately, technology can do a lot of the heavy lifting. Here are the key benefits:
With more listening tools at your fingertips, you can go beyond surveys to meet your customers where they are to hear how they really feel. With today's consumers giving less feedback directly, diversifying your listening tools is vital to staying in touch with your customers. Otherwise it's just guesswork.
Automatically turn that feedback into insights so you can understand every customer on a deeper level – what they want, how they feel, what they like and don't like. Empower your frontline teams with the tools, time, and insights to build stronger connections with your customers.
Keep track of the end-to-end journey, no matter how complex it gets, so you know what's working, what's not - and where to focus your efforts to keep customers happy, and your frontlines running as efficiently as possible.
If you're unsure how to get started, our Future of CX ebook outlines where to begin so you can begin to realize the opportunity in front of you.
Dive deeper into the 2024 consumer trends