---
As the pace of change accelerates, it's crucial to have a change management protocol that helps your IT services remain flexible no matter how many curve-balls life throws at your business.
Why? It's important to manage changes to technology services because bad change can disrupt work, leading to loss of productivity and frustration. Repeatedly bad change management diminishes the employee's confidence in the organisation and can lead to stress and attrition.
How? Capturing experience around change management can occur in multiple ways – a pulse survey following a change, where people can be asked about their experience with the change – did they feel consulted/communicated with; did they feel the change improved their ability to get work done; would there be anything the IT department could have done better. Or measure change overall as part of a broader technology assessment.
What? Major system implementations are changes, and can be well-served by a deeper, multi-touchpoint study, where the experience of the implementation team business leads, and end users are captured before, during and after implementation.
In this article, we'll cover the fundamentals of ITIL change management, as well as how the Qualtrics ETX solution integrates seamlessly to help transform technology experiences across your organisation.
What is ITIL change management?
Change management is the art and science of making changes to large organisations and their processes as smooth and easy as possible, both from a technical point of view and from the perspective of employee experience.
When it comes to IT services, change management is an important part of making sure IT delivers business value.
ITIL stands for Information Technology Infrastructure Library. As the name suggests, ITIL is focused on the field of information technology, and it's a best-practice framework widely used to help organisations keep their technology infrastructure working well and serving business needs over time.
Change management is only one aspect of ITIL, which deals with IT service management (ITSM) generally. However, it's a very important element – changes happen every day in business IT and require a robust process to handle them efficiently, taking into account risk management and impact assessment.
See the change in your IT organisation with Qualtrics ETX
Why is change management so important to businesses?
The thing is: the top-line challenges for organisations haven't changed — agility, cost reduction, driving transformation.
However, organisations are also having to combat unique changes in both the employee and customer experience, from increasing demands and business priorities to burnout and new ways of working.
We've quickly moved from process transformation (business process reengineering and ERP) to infrastructure transformation, digital transformation and now we are in the era of experience transformation.
Thus, the question for many organisations right now is "how do we win more and bigger through our digital workplace experiences?"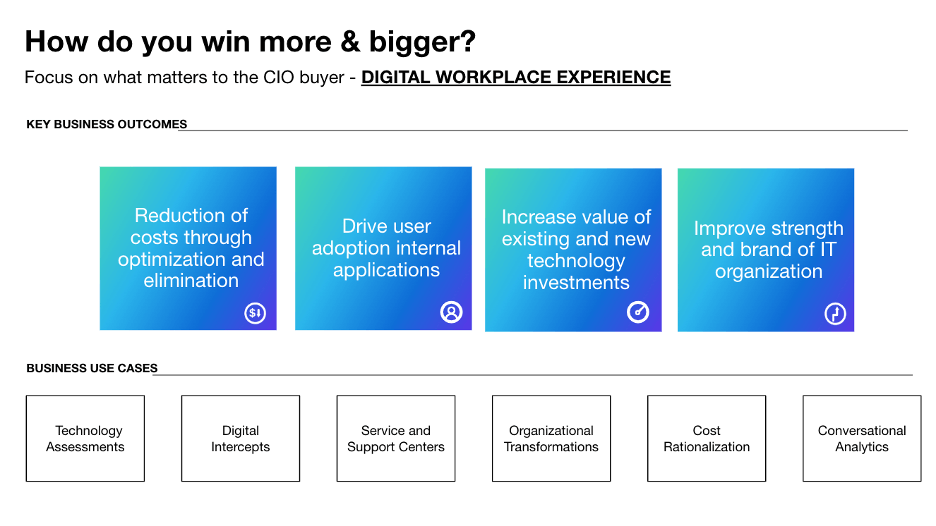 Subsequently, many organisations are simply having to change their approach to the way they do business, adapting core infrastructure, processes and solutions to effectively meet both the needs and requirements of tomorrow. And this is especially true of the overall technology experience: an area under increasing scrutiny.
As the leaders in experience management, we know the employee experience is deeply connected to the technology experience: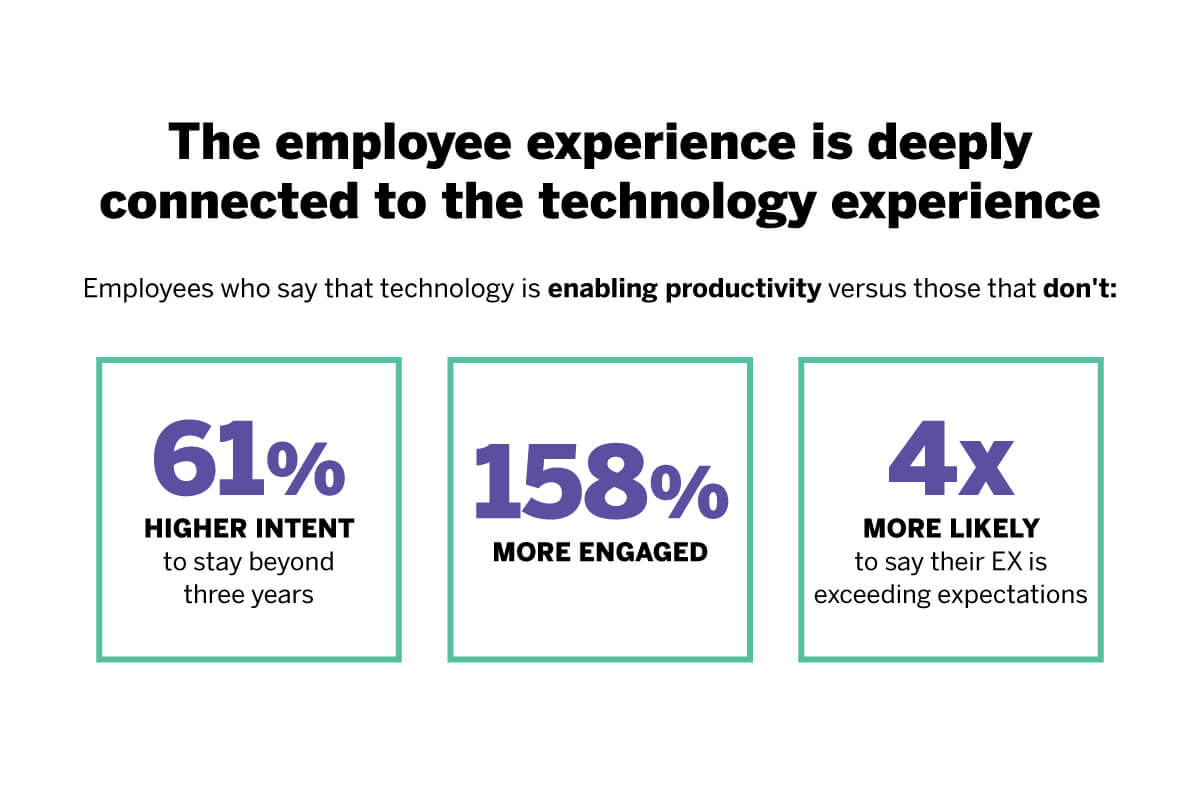 But…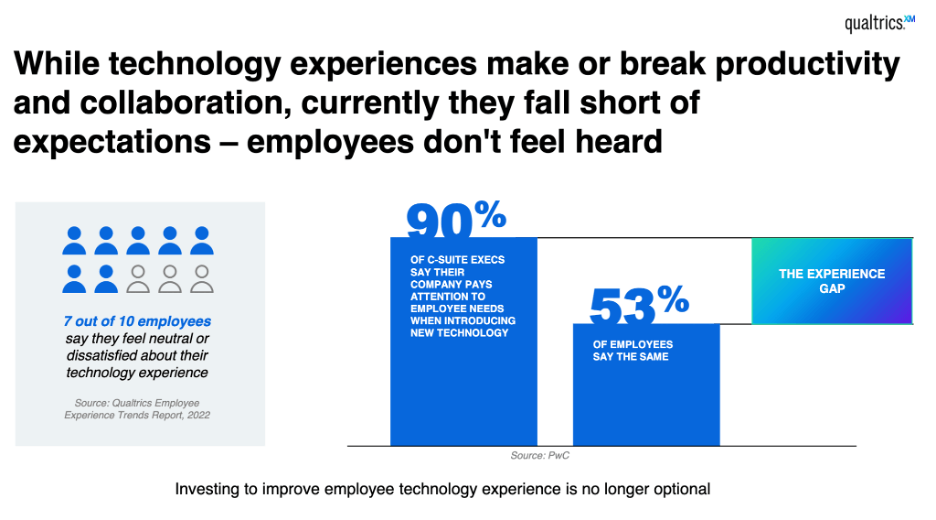 Clearly, the digital workplace experience is now one of the defining factors of business success, and ITIL change management is just one part of the process.
When organisations have a robust and effective technology experience, they can:
Reduce costs through technology optimisation and elimination
Drive user adoption of internal applications
Increase value of existing and new technology investments
Improve strength and brand of the IT team
Attract and retain new talent in today's hybrid world
This is why technology experience and ITIL change management are so crucial — to remain competitive, organisations must adapt faster than the changing trends, as well as customer and employee experiences.
The ITIL IT Service Lifecycle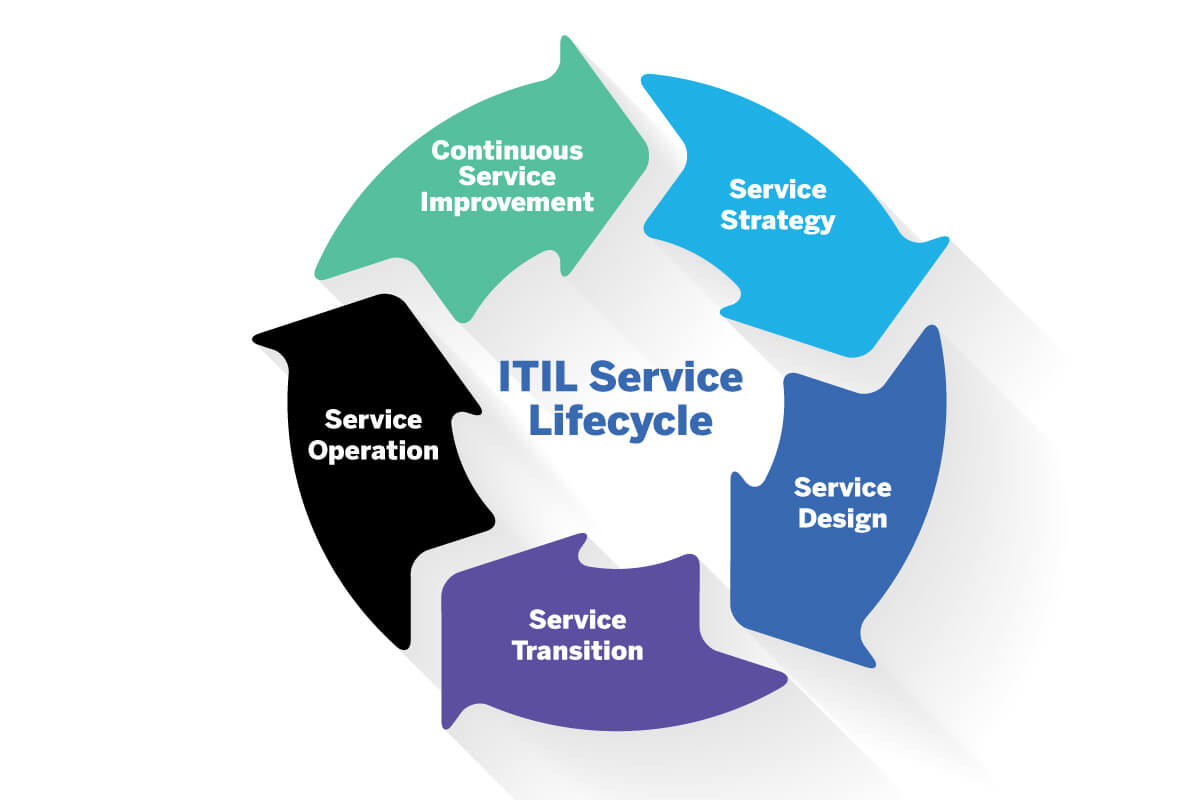 ITIL is based around a framework called the IT Service Lifecycle. It has 5 stages, which can be undertaken one by one or as an entire process depending on the needs of the business. They are:
Service strategy
The DNA of an organisation's IT infrastructure, including financial budgets, goals, requirements and constraints. It outlines the IT operations that are in scope for the IT department, and may contain detailed policies or principles that establish standard procedures.
Service design
Covers the operational requirements of IT infrastructure needed to carry out the IT strategy. This includes human resources details, such as roles and responsibilities.
Service transition
Here's where the IT infrastructure intermeshes with business projects and adapts to them. It involves testing and exploring the strategy and design aspects to make sure they're fit for purpose.
Service operation
The IT infrastructure and IT services are up and running. This phase of the model helps make sure they're sustainable and consistent in a range of conditions and circumstances.
Continuous service improvement
This part of the model focuses on continual feedback and iteration to help make sure the other four steps are working optimally.
Where does ITIL change management fit in?
As we've mentioned, change management is a central feature of ITIL. Primarily, change management sits within the service transition part of the ITIL IT Service Lifecycle, although it's also an important driver in other areas, such as service operation and continuous service improvement.
ITIL categorises changes on three levels:
1. Standard changes
These are pre-authorised changes that pose a low level of risk to the business
2. Emergency changes
An emergency change is an urgently required change, e.g. in response to a crisis event
3. Normal changes
A bucket category covering everything not classified as a standard change or an urgent change. Within the normal changes category, changes may be subdivided into major, significant or minor, depending on whether they represent a high risk to the business.
These categories and the criteria for what fits into them are extremely important since each category requires different actions from change management teams and other stakeholders, some of them requiring significant time and effort, others only a light touch.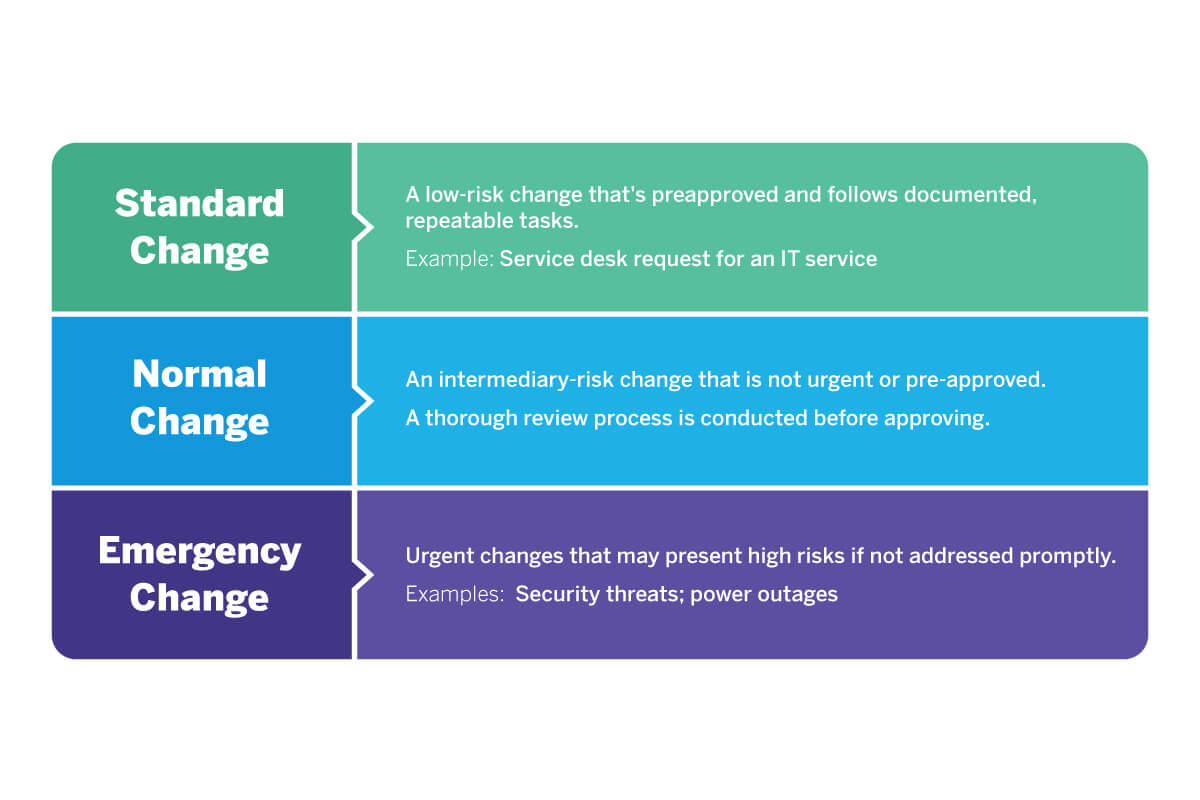 ITIL change management process and roles
ITIL recommends a well-structured protocol with roles and procedures defined in advance.
Change managers and other stakeholders are identified within a business, as are their roles in managing change. These change management roles are defined in a change policy.
The ITIL change management process depends on the category of change. The idea is that the majority of changes will require minimal processing, in order to save time and prevent employees being caught up too often in making changes happen. For this reason, standard changes should make up the majority of changes a business experiences.
If a standard change is required, there's no need for a lengthy approval process, since standard changes are by definition pre-authorised.
However, if a normal change or emergency change is required (a non-standard change), the person or team requiring it will issue an RFC (request for change), also known as a change request.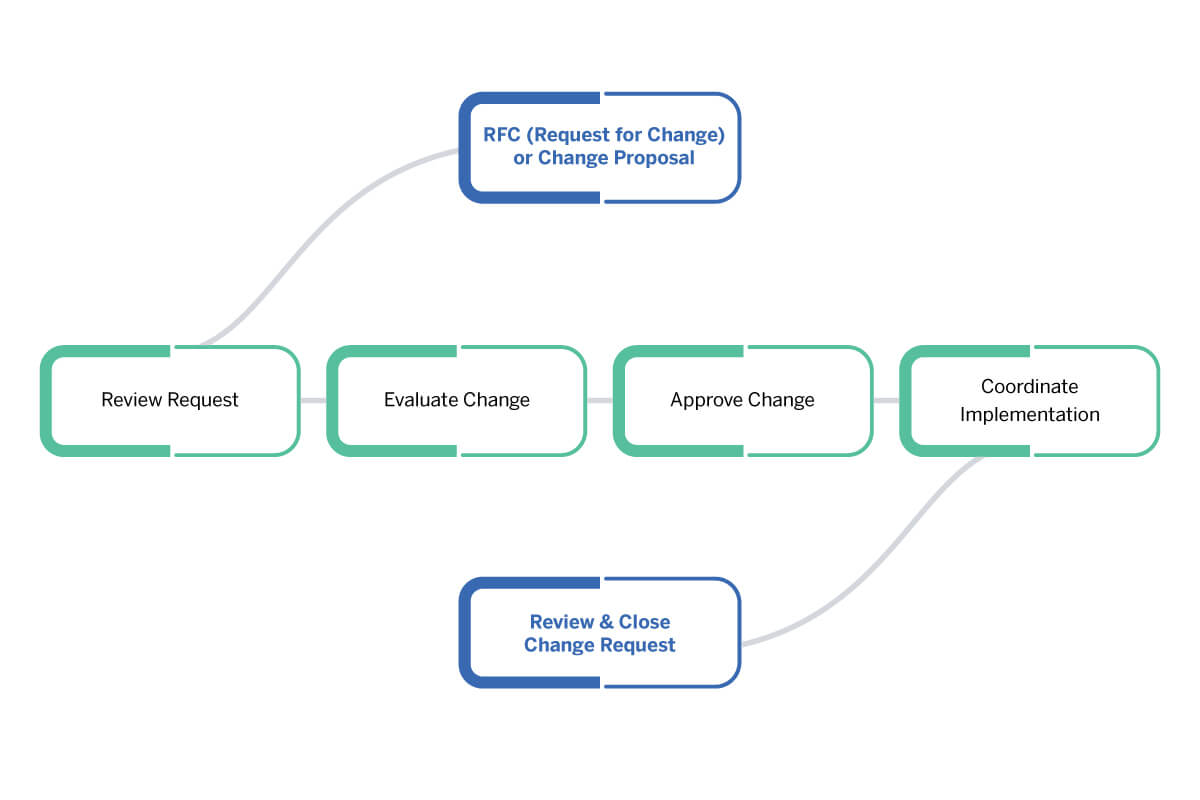 The change requests are considered by people in pre-defined change management roles.
These might include:
Change manager
The change manager is responsible for leading the change management function overall, and must have a strong knowledge of the change management framework. They may have an ITIL change management certification or another similar qualification. Their work involves both setting the strategy and process around change management, and supporting change management as it happens, such as by approving change requests.
Change advisory board (CAB)
The change advisory board is a group of senior people who may be drawn from different disciplines, including those outside IT, to support change implementation. They work with the change manager to make decisions about change requests. Other aspects of the role are making sure the appropriate checks and tests are carried out before high-risk changes go ahead, and documenting where required.
Emergency change advisory board (emergency CAB)
The emergency CAB operates in a similar way to the regular change advisory board, but focuses exclusively on high-risk changes that need urgent change implementation. It typically operates as a sub-ground of the CAB.
Change management team
There may be multiple change management teams spread across different teams or departments. Within a change management team there are a few typical roles, including:
Change requestor – a person designated to draw up and deliver change requests, gathering the necessary information from stakeholders involved.
Change owner – the owner of the change request across its lifecycle, from inception to action and resolution.
Change approver – the first-line responder to the change request. The change approver decides whether the change request should go on to the change manager and change advisory board for consideration.
Transforming ITIL with XM
While ITIL change management helps organisations to move away from simple delivery functions to more experience-based outcomes, the reality is that systemic change at scale requires careful, considered planning.
At every opportunity, it's vital that organisations can measure the impact of the implementations they make — both for IT teams and employees. When organisations can measure, design and improve employee technology experiences in this way, it makes it easier to drive adoption, bolstering productivity and engagement whilst reducing costs.
But the problem is that many organisations are missing the necessary experience data — and therefore the insights they need — to deal with barriers to action and make real change.
However, the Qualtrics ETX solution enables organisations to listen and improve experiences across all stages of service delivery, from strategy and design to operation and transition. Fundamentally, it drastically improves IT and EX benefits and fits into existing ITIL change management processes, not just expanding but also improving the steps.
IT operational benefits of ETX
Maximise employee technology adoption
Reduce incidents, disruptions and ServiceDesk costs
Improve compliance and risk management
EX benefits of ETX
Increase employee productivity
Bolster employee engagement and intent to stay
Ensure consistent experiences no matter where people work
With Technology Experience Assessments, for example, you can identify the key drivers of the technology experience and key performance indicators to achieve an overall view of specific technologies.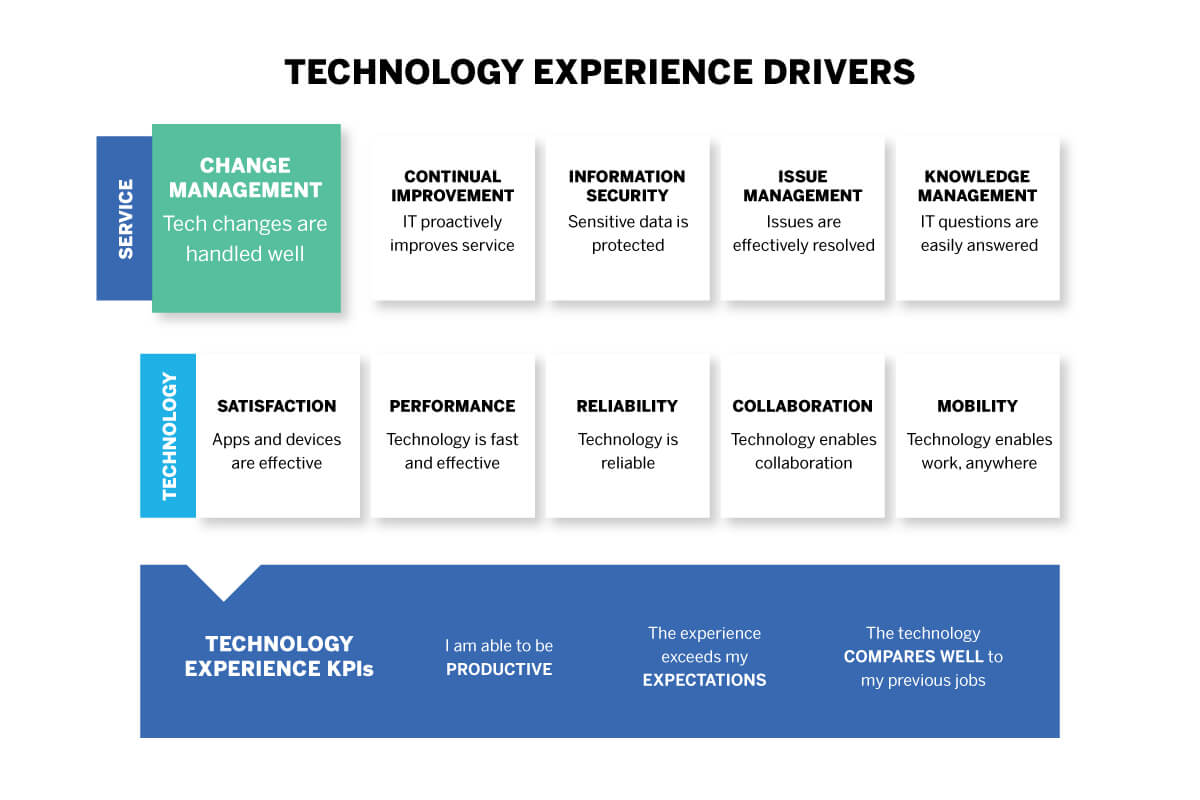 From there, organisations can start to track KPIs and drivers to achieve a holistic view of the overall technology experience — and where the opportunities for success are.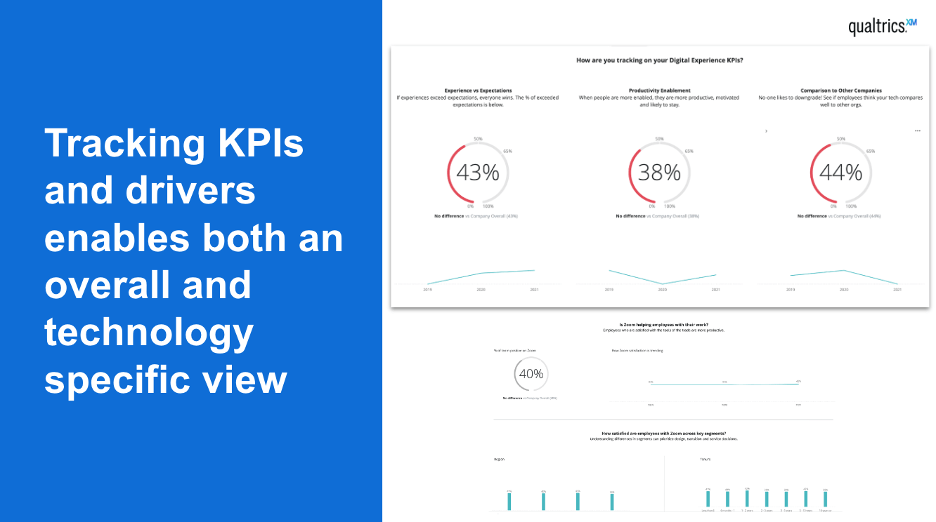 As we can see, implementing and maturing technology experience and listening programs provides clear benefits to the entire organisation. Typically, the journey is broken down into these key areas:
PHASE 1 — INVESTIGATE
Organisations usually start in the investigation phase. Here, they're getting signals on the perception of technology through operational data like sales level agreements (SLAs) met, conversations with the business, HR surveys, or maybe a question or two on technology and service ticket satisfaction surveys.
This kind of data provides a certain level of insight but is difficult to action and requires a lot of guesswork. What's critical at this juncture is that organisations implement the right dashboards and analytics to get insight from the data that they can act on. This way, they can come away with new perspectives on what technology issues are most affecting employees. It's all about being more intentional with your experience programs and tech data so that you can act with confidence.
PHASE 2 — INITIATE
At this phase, organisations carry out technology experience assessments to get insights on where to focus future listening efforts and take action. This phase is all about getting intentional and targeted with technology experience data so that leaders can act with confidence.
PHASE 3 — MOBILIZE
Once leaders and IT teams know where the challenges are, the next phase is to start expanding listening programs to support all stages of service delivery. For example, a technology portfolio assessment (or IT asset management) to get a better understanding of the specific devices and functions within the ecosystem, and which ones are in most need of attention.
Or it could be a tech rationalisation to help consolidate a burgeoning tech stack before it becomes redundant. Similarly, in-app feedback programs on key applications are also something organisations can use to get a more regular pulse. Whatever the requirement, this phase starts to deliver organizations with more data to uncover critical insights and drive real change.
PHASE 4 — SCALE
Next, it's all about regular, ongoing measurement. Here, organisations start to manage ongoing pulses, standardised listening incorporated with major deployments and, perhaps most importantly, cross-program analytics.
In a digital workplace context, cross-program analytics is all about taking technology experience feedback to discover relationships with other listening programs in employee or customer experience. At this point, organisations begin to reduce costs and increase adoption as they're able to respond quickly to employee feedback and focus on the drivers of specific outcomes thanks to cross-program analytics.
PHASE 5 — EMBED
The last stage is when measuring and acting on technology experience is embedded into the organisation. Here, everything operates seamlessly and in unison to help organisations build incredible technology experiences, while teams take ownership of the employee technology experience and use it as a primary decision driver.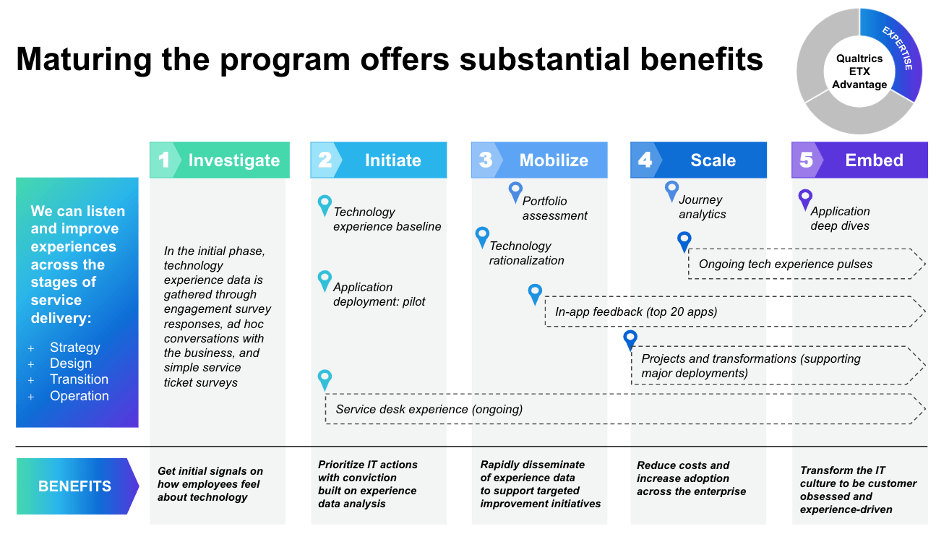 Qualtrics ETX shifts IT from a responsive, service-led function to a proactive, human-centric and experience-driven catalyst within an organisation. Suddenly, with the insights gathered through continuous and robust listening concerning the employee technology experience, IT teams become strategic partners for HR, as they too understand the employee experience and can help drive positive outcomes.
And that's not all, IT teams also now have insight into the customer experience too, and cross-program analytics to clearly identify how technology changes influence customer and employee outcomes.
Guiding principles for Qualtrics ETX
Start where you are
Iterate, iterate, iterate