---
Survey research is the process of collecting data from a predefined group (e.g. customers or potential customers) with the ultimate goal of uncovering insights about your products, services, or brand overall.
As a quantitative data collection method, survey research can provide you with a goldmine of information that can inform crucial business and product decisions. But survey research needs careful planning and execution to get the results you want.
So if you're thinking about using surveys to carry out research, read on.
Types of survey research
Calling these methods 'survey research' slightly underplays the complexity of this type of information gathering. From the expertise required to carry out each activity to the analysis of the data and its eventual application, a considerable amount of effort is required.
As for how you can carry out your research, there are several options to choose from — face-to-face interviews, telephone surveys, focus groups (though more interviews than surveys), online surveys, and panel surveys.
Typically, the survey method you choose will largely be guided by who you want to survey, the size of your sample, your budget, and the type of information you're hoping to gather.
Here are a few of the most-used survey types:
Face-to-face interviews
Before technology made it possible to conduct research using online surveys, telephone, and mail were the most popular methods for survey research. However face-to-face interviews were considered the gold standard — the only reason they weren't as popular was due to their highly prohibitive costs.
When it came to face-to-face interviews, organisations would use highly trained researchers who knew when to probe or follow up on vague or problematic answers. They also knew when to offer assistance to respondents when they seemed to be struggling. The result was that these interviewers could get sample members to participate and engage in surveys in the most effective way possible, leading to higher response rates and better quality data.
Free eBook: Learn how to increase response rates to your survey
Telephone surveys
While phone surveys have been popular in the past, particularly for measuring general consumer behaviour or beliefs, response rates have been declining since the 1990s.
Phone surveys are usually conducted using a random dialling system and software that a researcher can use to record responses.
This method is beneficial when you want to survey a large population but don't have the resources to conduct face-to-face research surveys or run focus groups, or want to ask multiple-choice and open-ended questions.
The downsides are they can: take a long time to complete depending on the response rate, and you may have to do a lot of cold-calling to get the information you need.
You also run the risk of respondents not being completely honest. Instead, they'll answer your survey questions quickly just to get off the phone.
Focus groups (interviews — not surveys)
Focus groups are a separate qualitative methodology rather than surveys — even though they're often bunched together. They're normally used for survey pretesting and designing, but they're also a great way to generate opinions and data from a diverse range of people.
Focus groups involve putting a cohort of demographically or socially diverse people in a room with a moderator and engaging them in a discussion on a particular topic, such as your product, brand, or service.
They remain a highly popular method for market research, but they're expensive and require a lot of administration to conduct and analyse the data properly.
You also run the risk of more dominant members of the group taking over the discussion and swaying the opinions of other people — potentially providing you with unreliable data.
Online surveys
Online surveys have become one of the most popular survey methods due to being cost-effective, enabling researchers to accurately survey a large population quickly.
Online surveys can essentially be used by anyone for any research purpose – we've all seen the increasing popularity of polls on social media (although these are not scientific).
Using an online survey allows you to ask a series of different question types and collect data instantly that's easy to analyse with the right software.
There are also several methods for running and distributing online surveys that allow you to get your questionnaire in front of a large population at a fraction of the cost of face-to-face interviews or focus groups.
This is particularly true when it comes to mobile surveys as most people with a smartphone can access them online.
However, you have to be aware of the potential dangers of using online surveys, particularly when it comes to the survey respondents. The biggest risk is because online surveys require access to a computer or mobile device to complete, they could exclude elderly members of the population who don't have access to the technology — or don't know how to use it.
It could also exclude those from poorer socio-economic backgrounds who can't afford a computer or consistent internet access. This could mean the data collected is more biased towards a certain group and can lead to less accurate data when you're looking for a representative population sample.
When it comes to surveys, every voice matters.
Find out how to create more inclusive and representative surveys for your research.
Panel surveys
A panel survey involves recruiting respondents who have specifically signed up to answer questionnaires and who are put on a list by a research company. This could be a workforce of a small company or a major subset of a national population. Usually, these groups are carefully selected so that they represent a sample of your target population — giving you balance across criteria such as age, gender, background, and so on.
Panel surveys give you access to the respondents you need and are usually provided by the research company in question. As a result, it's much easier to get access to the right audiences as you just need to tell the research company your criteria. They'll then determine the right panels to use to answer your questionnaire.
However, there are downsides. The main one being that if the research company offers its panels incentives, e.g. discounts, coupons, money — respondents may answer a lot of questionnaires just for the benefits.
This might mean they rush through your survey without providing considered and truthful answers. As a consequence, this can damage the credibility of your data and potentially ruin your analyses.
What are the benefits of using survey research?
Depending on the research method you use, there are lots of benefits to conducting survey research for data collection. Here, we cover a few: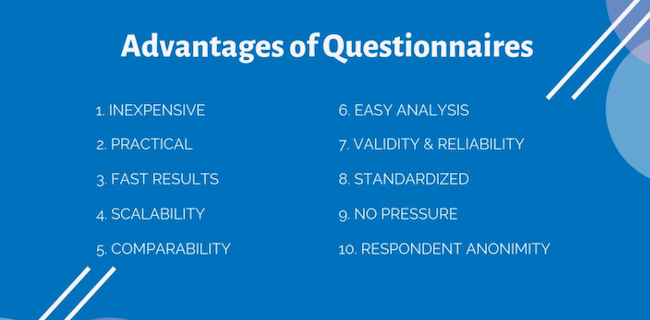 1.   They're relatively easy to do
Most research surveys are easy to set up, administer and analyse. As long as the planning and survey design is thorough and you target the right audience, the data collection is usually straightforward regardless of which survey type you use.
2.   They can be cost effective
Survey research can be relatively cheap depending on the type of survey you use.
Generally, qualitative research methods that require access to people in person or over the phone are more expensive and require more administration.
Online surveys or mobile surveys are often more cost-effective for market research and can give you access to the global population for a fraction of the cost.
3.   You can collect data from a large sample
Again, depending on the type of survey, you can obtain survey results from an entire population at a relatively low price. You can also administer a large variety of survey types to fit the project you're running.
4.   You can use survey software to analyse results immediately
Using survey software, you can use advanced statistical analysis techniques to gain insights into your responses immediately.
Analysis can be conducted using a variety of parameters to determine the validity and reliability of your survey data at scale.
5.   Surveys can collect any type of data
While most people view surveys as a quantitative research method, they can just as easily be adapted to gain qualitative information by simply including open-ended questions or conducting interviews face to face.
How to measure concepts with survey questions
While surveys are a great way to obtain data, that data on its own is useless unless it can be analysed and developed into actionable insights.
The easiest, and most effective way to measure survey results, is to use a dedicated research tool that puts all of your survey results into one place.
When it comes to survey measurement, there are four measurement types to be aware of that will determine how you treat your different survey results:
Nominal scale
With a nominal scale, you can only keep track of how many respondents chose each option from a question, and which response generated the most selections.
An example of this would be simply asking a responder to choose a product or brand from a list.
You could find out which brand was chosen the most but have no insight as to why.
Ordinal scale
Ordinal scales are used to judge an order of preference. They do provide some level of quantitative value because you're asking responders to choose a preference of one option over another.
Ratio scale
Ratio scales can be used to judge the order and difference between responses. For example, asking respondents how much they spend on their weekly shopping on average.
Interval scale
In an interval scale, values are lined up in order with a meaningful difference between the two values — for example, measuring temperature or measuring a credit score between one value and another.
Step by step: How to conduct surveys and collect data
Conducting a survey and collecting data is relatively straightforward, but it does require some careful planning and design to ensure it results in reliable data.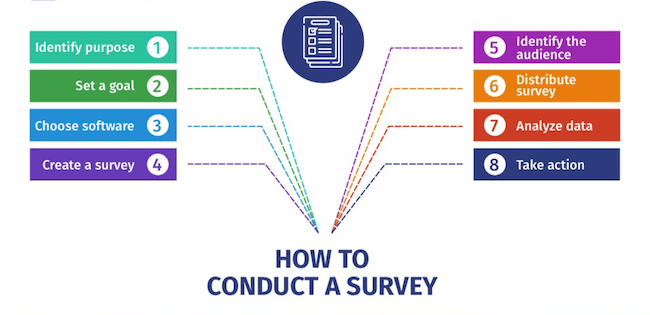 Step 1 – Define your objectives
What do you want to learn from the survey? How is the data going to help you? Having a hypothesis or series of assumptions about survey responses will allow you to create the right questions to test them.
Step 2 – Create your survey questions
Once you've got your hypotheses or assumptions, write out the questions you need answering to test your theories or beliefs. Be wary about framing questions that could lead respondents or inadvertently create biased responses.
Step 3 – Choose your question types
Your survey should include a variety of question types and should aim to obtain quantitative data with some qualitative responses from open-ended questions. Using a mix of questions (simple Yes/ No, multiple-choice, rank in order, etc) not only increases the reliability of your data but also reduces survey fatigue and respondents simply answering questions quickly without thinking.
Find out how to create a survey that's easy to engage with
Step 4 – Test your questions
Before sending your questionnaire out, you should test it (e.g. have a random internal group do the survey) and carry out A/B tests to ensure you'll gain accurate responses.
Step 5 – Choose your target and send out the survey
Depending on your objectives, you might want to target the general population with your survey or a specific segment of the population. Once you've narrowed down who you want to target, it's time to send out the survey.
After you've deployed the survey, keep an eye on the response rate to ensure you're getting the number you expected. If your response rate is low, you might need to send the survey out to a second group to obtain a large enough sample — or do some troubleshooting to work out why your response rates are so low. This could be down to your questions, delivery method, selected sample, or otherwise.
Step 6 – Analyse results and draw conclusions
Once you've got your results back, it's time for the fun part.
Break down your survey responses using the parameters you've set in your objectives and analyse the data to compare to your original assumptions. At this stage, a research tool or software can make the analysis a lot easier — and that's somewhere Qualtrics can help.
Get reliable insights with survey software from Qualtrics
Gaining feedback from leads is critical for any business, data gathered from surveys can prove invaluable for understanding your products and your market position, and with survey software from Qualtrics, it couldn't be easier.
Used by more than 13,000 brands and supporting more than 1 billion surveys a year, Qualtrics empowers everyone in your organisation to gather insights and take action. No coding required — and your data is housed in one system.
Get feedback from more than 125 sources on a single platform and view and measure your data in one place to create actionable insights and gain a deeper understanding of your target customers.
Automatically run complex text and statistical analysis to uncover exactly what your survey data is telling you, so you can react in real-time and make smarter decisions.
We can help you with survey management, too. From designing your survey and finding your target respondents to getting your survey in the field and reporting back on the results, we can help you every step of the way.
And for expert market researchers and survey designers, Qualtrics features custom programming to give you total flexibility over question types, survey design, embedded data, and other variables.
No matter what type of survey you want to run, what target audience you want to reach, or what assumptions you want to test or answers you want to uncover, we'll help you design, deploy and analyse your survey with our team of experts.