---
What is brand architecture?
Brand architecture is the structure of a brand, often illustrated with a diagram, that helps to explain the relationships between a company's master brand, sub-brands, products, and service lines.
Establishing brand architecture helps brands to manage the perception of their business, their growth potential, and their relationships within their business. Building a house of brands is an effective way to expand – but without a solid brand architecture and a deep understanding of the relationships therein, it can be difficult to make the right choices.
Perfect your brand experience by measuring it with our free guide
Why is brand architecture important?
Understanding, visualising, and explaining your brand architecture can help you to manage your brand portfolio more effectively. Whether it's from a marketing perspective or a business growth angle, documenting your company's brand architecture can help you to tell a more compelling brand story.
Outlining your brand architecture can help you to:
Clarify your brand identity: What does your master brand stand for, and how does that affect your brand extensions?
Solidify corporate hierarchy: How does the parent company relate to its brands? What priorities do separate brands have?
Enable accurate customer perception: How do your customers see your master brand and sub-brands? How are the audiences different? How will your master brand provide validity to brand extensions?
Expand product or service lines effectively: Which product or service lines are more appropriate for which corporate brand?
Perhaps the most useful part of establishing a brand architecture is generating brand equity. Brand equity is the value that a company gets from being recognisable, being perceived as of a higher value than a generic product or service provided by an unknown brand. Better brand equity leads to:
Customers choosing to do business with that brand over competitors
Customers being willing to spend more on that brand, or on other brands that are related underneath a parent brand or umbrella brand (explained below)
Brands being able to ask for a higher price for products and generate a better profit margin than competitors without the equity
What are the key components of brand architecture
There are several components to brand architecture. Outlined below are the key features of each component, and their relationship to one another.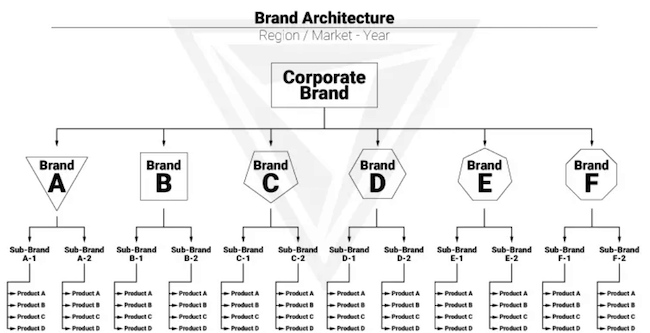 Master brand
This is the main brand for your business and is likely the most recognisable of the brands for customers. It might be the original brand, or it might be from a parent company that took over a brand. It is usually visible as a logo on all products and services being provided to customers, and it will usually be the name of the company. The sub-brands it has will likely be able to cross-sell between their audiences.
Master brand example: Apple
Apple is the master brand for several sub-brands: Apple Music, Apple TV, iPhone, and more.
Sub brands
These are the brands that sit beneath the master brand in the brand architecture. They usually contain the master brand's name but will show their distinction with their full title. They typically share values with the master brand.
Sub-brand example: Toyota Prius
Toyota, the master brand, has a sub-brand named Toyota Prius, recognisable on its own but always within the context of its parent company.
Parent brand
This type of brand is at the top of the hierarchy in the brand architecture, but its sub-brands and the products they sell do not have to be within the same category.
Parent brand example: Mondelēz International (formerly Kraft Foods)
This parent brand owns several FMCG brands, such as confectionery brand Cadbury, cookie company Belvita, cough drop brand Trident and powdered drink brand Tang.
Umbrella brand
This brand is the overarching brand, but it doesn't necessarily share its identity with the brands beneath it. It does share the type of product theme, however. This might mean that there is competition between the brands beneath it.
Umbrella brand example: Coca-Cola
The Coca-Cola umbrella brand has many brands beneath it: Sprite, Fanta, Schweppes, and many more. It also has the Coca-Cola, Coke Zero, and Diet Coke sub-brands as well. The brands underneath the umbrella brand are all beverages of some kind.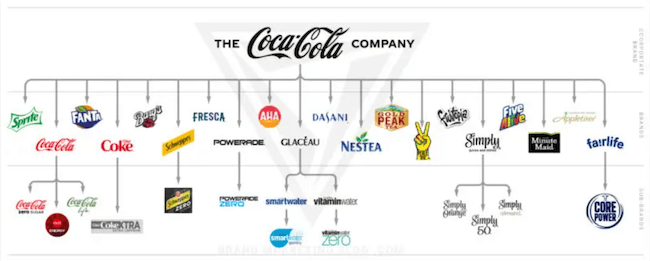 Types of brand architecture
There are multiple types of brand architecture approaches, each with its own benefits and drawbacks. Depending on the brand strategy, the approach taken will differ.
A branded house
Within a branded house, all the brands in the portfolio share values with the master brand and share their name. It's also likely that the sub-brands don't work independently of one another. This style means all brands within the house are consistent in terms of look and feel, marketing messaging, and more.
Branded house example: FedEx
FedEx, the parent brand, has several sub-brands within its house. FedEx Express, FedEx Freight, and FedEx Ground are just some of them.
Endorsed brands
An endorsed brand architecture model involves the parent or umbrella brand giving their endorsement to other brands that fall beneath them in the structure. Their brand identity lends the endorsed brands legitimacy and authority, often indicating that the other brands are of the same quality. All the brands will likely be within the same sector but have different audiences, offerings, and identities.
Endorsed brand example: Marriott
Hotel brand Marriott offers its customers a range of brands for different tastes and price points, such as Residence Inn by Marriott and Courtyard by Marriott.
A house of brands
Under a house of brands, there are multiple brands that work independently of one another, are likely in different sectors, with varying audiences, products, and identities.
House of brands example: Unilever
Unilever's house of brands contains several different brands, including personal care brand Dove, food company Ben & Jerry's, and drinks brand Lipton.
Brand architecture strategies
Each of the above structure types requires different strategies for sales, marketing, legal and more. Deciding on which one will be most effective for your brand or brands will require a thorough understanding of your reputation and growth potential.
Branded house strategy
This type of brand architecture approach can easily solve cost problems for brands looking to consolidate their resources. With one brand identity offering multiple sub-brands, you're able to market one set of values across all products, with competition remaining minimal for the audiences you're targeting. Customers are much more willing to try your other sub-brands' products and services with the knowledge that the master brand offers quality and reliability.
However, should that master brand's public perception become negative, all the sub-brands are likely to be affected. If the parent brand loses its appeal or doesn't perform as well, this will likely have a detrimental effect on the sub-brands as well.
There's also the question of what the master brand is. Google, for example, started off as a search engine, became a master brand for a suite of tools (Google Drive, Gmail, etc.) and then branched off under a parent company (Alphabet) that also looks into areas such as human health (Calico) and drug discovery (Isomorphic Labs). Though Google's parent company rebranded to Alphabet in 2015, most customers still see it as "Google" – and its forays into different sectors can confuse the messaging.
Endorsed brand strategy
One advantage of utilising an endorsed brand strategy is that it can provide brand equity to an independent brand. This strategy allows for the endorsed brands to innovate and be distinctive, without the added difficulty of marketing a completely unknown brand to customers.
However, there are downsides to taking this approach. It might be an overly costly approach for a smaller brand portfolio, given that each endorsed brand will need distinct products, marketing, sales, and more to function.
There is also the question of whether the endorsing brand and the endorsed brands marry well together. If there is little connection, customers will find it harder to believe the endorsement is genuine or useful to them.
The main issue with having one endorsing brand is that all the brands are at risk of reputational damage if there is a PR crisis, financial issue, or other public problem.
House of brands strategy
The benefits of choosing a house of brands strategy are that it allows you greater distinction between brands and flexibility in how each brand within the house develops. The parent or umbrella brand is able to maintain a distinct identity, while also being able to create a roster of products and services that reach a wider demographic under its other brands. The ability to develop new offerings or weather reputational storms without being concerned about the effect on the other brands is also another advantage.
However, brand management across these varying businesses means it can be difficult to maintain a consistent brand architecture. It is likely to be more costly to provide different services and products under each brand, and the parent or umbrella brand doesn't offer assistance in terms of brand equity. There can also be consumer confusion over the role of the umbrella or parent company in the other brands, both internally and externally.
Hybrid brand strategy
Often, very large corporations maintain a hybrid brand architecture to balance the needs of all the brands they manage and perform with maximum efficiency. It is more than likely that this type of corporate brand is the result of the expansion of an existing brand over time. Coca-Cola, as mentioned, has several sub-brands but also has stand-alone brands under its umbrella.
Brands are more frequently considering hybrid brand strategies as hierarchical models prove limiting when flexibility is needed. An approach that uses multiple strategies allows for brands to more easily build brands, undergo a brand extension, or protect existing brand equity by divesting brands.
Start collecting brand experience data now with a free Qualtrics account 
How Qualtrics makes brand management simple
Brand management requires effective data collection and analysis, with insights that can help to develop a brand architecture strategy that serves the best needs of customers and the company. By understanding precisely what customers desire – both what they say they want and what they actually want – your brand is better able to hone your value proposition and generate profits.
Qualtrics CustomerXM™  can help you to:
Manage your brand's reputation with brand tracking
Understand what feels authentic to your customers
Meet your customers' expectations and deliver on brand promises
Protect your brand equity with customer experience metrics and relevant insights
Highlight what is distinctive about each brand you manage