---
What is contact centre AI?
What role can artificial intelligence play in contact centres? Put simply, it's an enabler for smarter, more empathetic, and data-driven customer interactions at scale.
AI can make agents more productive, empowered, and efficient at their jobs. It can automate the rote parts of contact centre work, allowing contact center agents to focus on tasks and interactions needing human intervention. It can free up agents to deliver a more personal and effective customer interaction – which in turn can improve customer experience and customer satisfaction.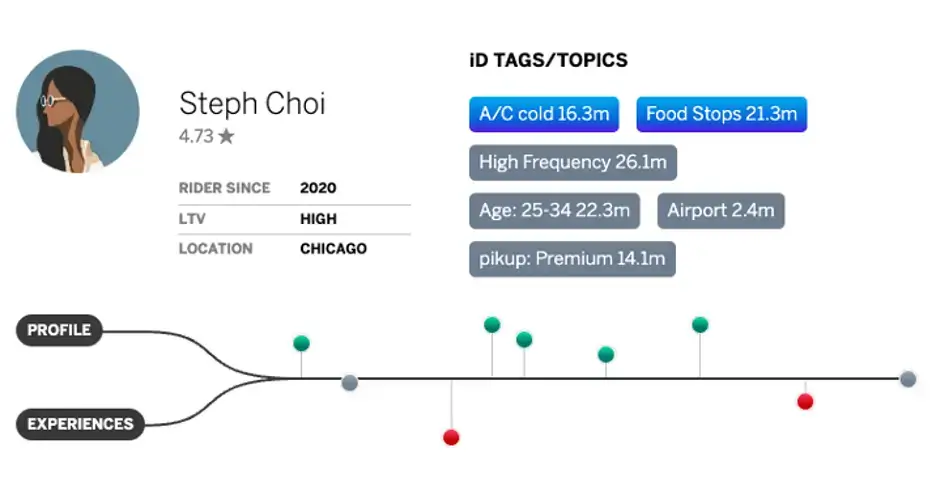 Whether it's by augmenting intelligent chatbots, offering voice assistant interactions or using predictive analytics to understand customer behaviour, AI can transform the modern contact centre and improve agent responses. Whereas historically tasks like understanding customer history, post-call work, and agent scoring needed to be done manually, AI enables businesses to streamline operations at a previously impossible scale.
Learn how AI listening can empower your agents
What are the benefits of contact centre AI?
AI offers huge business benefits for both the customer and the business implementing it. Here's some top reasons to utilise contact centre AI:
What are the benefits of contact centre AI?
Our research shows that 63% of consumers said companies need to get better at listening to their feedback, while 60% of consumers would buy more if businesses treated them better. In today's business environment – where omnichannel interactions are the norm – that can only really be achieved by augmenting human customer service agents with AI. For example, when TXU Energy deployed Ivy, an automated customer care AI solution, it increased CSAT by 11%, and call containment by 18%.
Your contact centres' efficiency increases
By using AI to handle simple, repetitive queries, your agent efficiency improves dramatically, as they're able to devote more time to work on more complex or priority cases. This will mean that average handle time improves, CSAT improves, and agents are happier.
In our industry research, one bank was struggling to meet its promise of responding to its 25,000 daily customer emails within 48 hours, with only 10% of issues resolved in the first email interaction. What's more, 60% of its initial email routing had to be re-routed due to employees misunderstanding customer intent. By instituting an AI-driven email and call routing process, the bank routed 90% of the emails correctly on the first try.
You reduce your costs while maintaining 24/7 contact capability
Your human agents can't always be available all the time without your cost to serve increasing dramatically. With an AI-driven contact centre, you're able to use advanced virtual agents, predictive analytics and more to not only improve operational efficiency and lower costs, but to maintain 24/7 contact capabilities. You can exceed customer expectations across the entire customer journey while also keeping overhead costs down.
How AI is changing existing contact centre systems
The contact centre industry is rapidly changing as communication technology evolves. AI as a fundamental part of contact centre operations is fast becoming the main driver of customer satisfaction, because it can enable the frontline to do their best work in powerful new ways. It improves agent productivity, giving them the tools for quicker and more efficient decision-making, and creating more time by reducing or eliminating repetitive tasks. This helps your brand to provide exceptional customer experience and helps contact centre service delivery run smoother.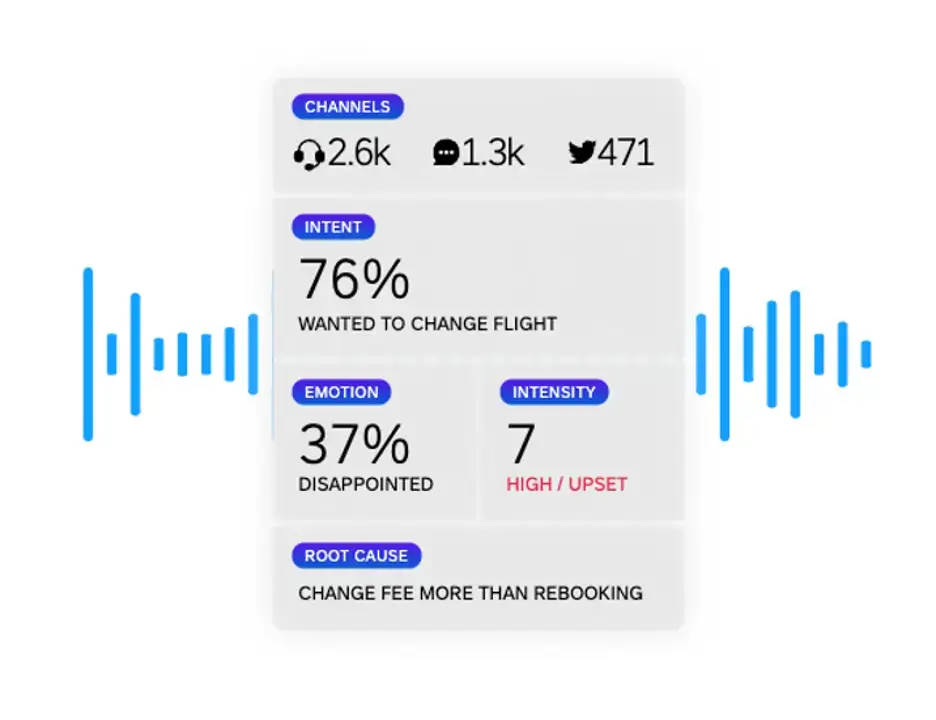 Machine learning NLP capabilities – like the kind on offer from Qualtrics XM Discover – can understand customer intent and customer sentiment in previously impossible ways, scanning calls, chats and SMS for meaning, and even knowing the difference between the same words used in different emotional and operational contexts. This is how you can help turn customers into long-standing, loyal fans.
AI capabilities include helping agents in calls with real-time guidance and support, reducing after-call work, improving call resolution and automatically flagging regulatory, compliance or QA concerns. For example, AI can not only help to identify opportunities for self-service, but it can also flag which customer interactions are priority cases that need human agents' input to prevent customer dissatisfaction or churn.
As machine learning, automation and AI become even more efficient and more effective, the nature of a contact centre AI platform will also evolve for maximum operational efficiency. It's the best way to keep on top of fluctuating customer expectations and market changes, as it constantly evaluates data in real-time.
Implementing contact centre AI
There's certainly an appeal to providing real-time AI solutions to your customers and your employees – but implementing an AI-powered digital transformation solution takes some forethought.
You'll need to consider:
Choosing the right vendor: Your contact centre AI platform needs to be comprehensive, powerful and data-driven – so choosing the right vendor is key to create digital change that doesn't disappoint. Your platform should have all the key features (as we've listed later on) that improve both your customer and employee experience.
Integrating AI with existing systems and processes: Any good digital transformation process takes what's currently working and improves upon it, rather than throwing the good out with the bad. Integrating your new system with any existing tools and human-only functions should be a priority.
Training your agents to work with AI solutions: Real-time insights can greatly help your customer service team to provide better experiences – but you'll need to train your human agents to work with your new technology. Your contact centre leaders will also need to know how to interpret the insights and drive change.
Challenges of implementing contact centre AI
There are also challenges to implementing AI-powered customer experiences. For example:
Data privacy and security: As you will likely be collecting customer data on a new scale, you'll need to consider how your new platform will protect this information. When you choose your contact centre AI platform, ensure that your data protections are built-in.
Ethical concerns: The details that you gather on your customers, such as emotion and intent, can generate ethical concerns. How are you using customer information to target them? Make sure you deal with any consent issues before launching.
Employee concerns: Naturally, any contact centre AI technology that can potentially replace an employee's work can create areas of concern for your staff. Ensure your employees are on board with new additions to your technology stack and assuage concerns during onboarding.
What to look for in contact centre AI systems
Here are the main features your contact centre AI system should possess for maximum efficacy:
1. Natural language processing
Your customers don't always know exactly how to articulate a problem, which can be an issue at scale even for empathetic human agents. AI can track every interaction across a multitude of touchpoints – including voice and text, on owned and third-party platforms – and discern effort and emotion. It can even help in identifying intent. AI can then route calls to agents and flag that full, holistic history, letting you know who's most in need of assistance, and what their issue's been about.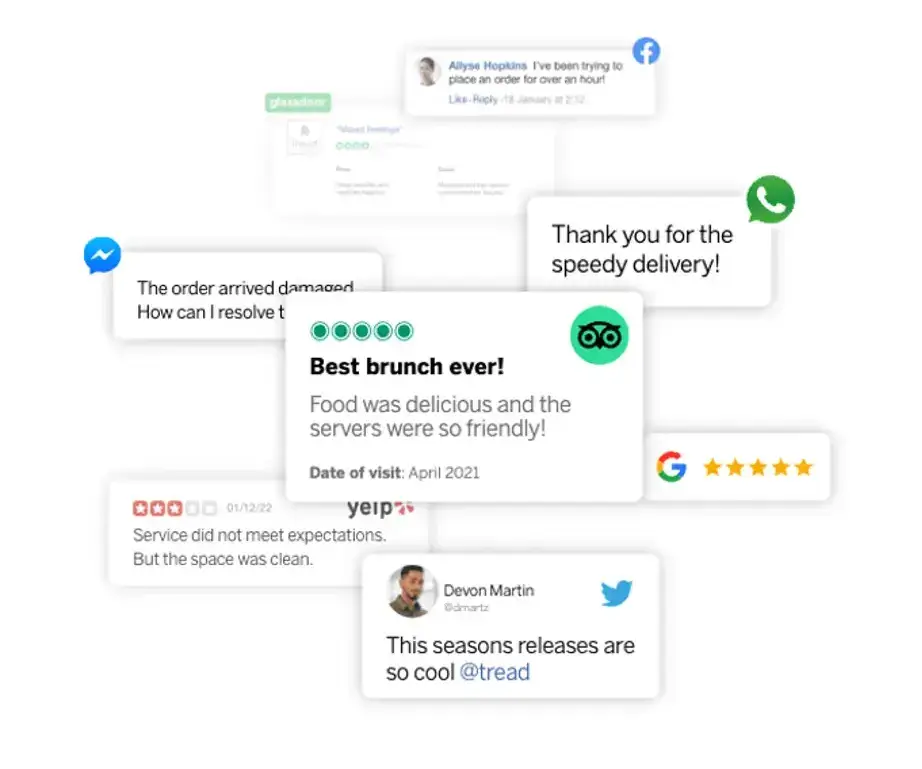 2. AI-powered customer service
Customers are now looking for more ways to self-service for faster issue resolution. AI with natural language processing powers best-in-class virtual agents with emotion and sentiment analysis built in. Your chatbots and interactive voice responses will feel more intelligent and useful, rather than frustratingly impersonal. Customer service is provided faster, with conversational AI able to handle rote queries without needing live agents. Customer issues are handled more effectively, improving customer satisfaction and lowering cost to serve.
3. Predictive analytics with centralised data
One of the key features of an effective contact centre AI platform is a predictive analytics function, with data centralised in one location. Rather than your customer data being spread across multiple siloed areas of your business, all interaction, financial, preference and demographic data can be held in one repository that delivers forward-thinking insights instantly to your team. You're able to increase agent efficiency by giving them information right away and providing predictive insights about customers' next moves.
4. Automatic call routing
Predictive routing of calls and contacts can help to provide continuous support in contact deflection to your contact centre, empowering agents to handle key interactions. Your customers are able to use interactive voice response (IVR), conversational AI-empowered chat and more before picking up the phone to contact a human agent. This helps you to better reach contact centre goals of reduced wait times, increased first contact resolution and decreased speed to answer among others.
5. Automated quality management and coaching
Without conversational AI, monitoring agent performance through manual call listening becomes a labor-intensive, time-consuming job that relies on too-small and often out of date sampling. Many sampling measures only evaluate agents on 1-3% of their interactions. Quality managers may even focus on shorter-duration calls in order to meet review quotas, missing out on longer, more complex calls that have vital information.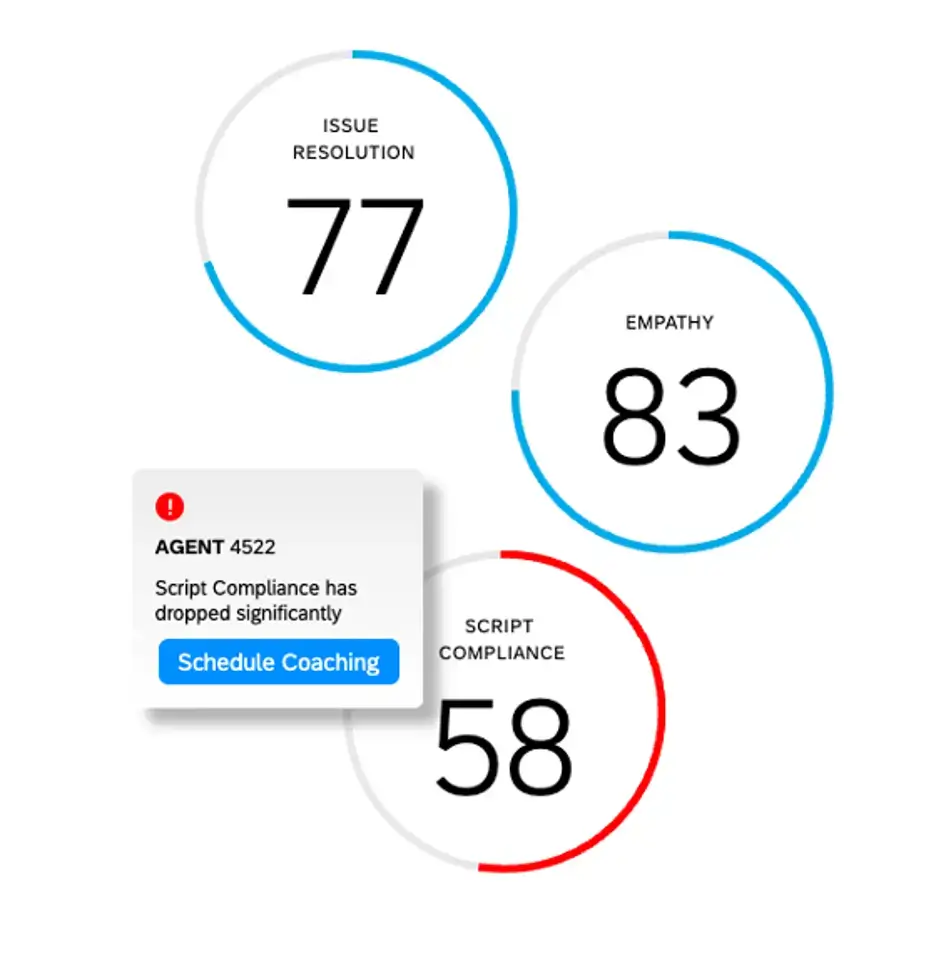 AI in the call centre can automatically track and score agent performance, successful resolutions, and script compliance while also coaching your employees.This improves service quality and the agent experience by providing more objective, holistic insights into performance and coaching opportunities.
An AI-driven contact centre platform with built-in analytics
The Qualtrics XM Platform™ – with inbuilt contact centre analytics tools – is the easiest and most powerful way to bring AI into contact and call centres, and empower agents to do their best work.
Our contact centre AI platform transforms contact centres from siloed, single-channel outposts to opportunities for transformative customer experiences across multiple channels. AI-driven customer service, predictive analytics, automatic employee coaching and more features are all built in to offer your brand unrivalled power over your customer service.