---
What is product feedback?
Put simply, product feedback is opinions shared by your users about their experience and level of satisfaction with your product. You can gather this type of feedback in a variety of ways, including: digital feedback surveys, user interviews, customer support tickets, one-on-one calls, reviews, social media, and so on.
Organizations typically capture product feedback at every stage of the development process, from the initial product concept (to ensure it meets strategic, business, and customer goals) to the final product and beyond. For example, products launched to market are constantly subjected to quality assurance tests to ensure its suitable for and meeting customer needs.
With this approach, organizations can create products that are truly reflective of what they set out to achieve and solve.
Collecting product feedback
When it comes to collecting product feedback, it will always fall into one of two categories: solicited or unsolicited.
Solicited feedback is the feedback that a company has actively asked for or tried to obtain. For example, feedback captured via customer feedback surveys, NPS reviews, customer interviews, and focus groups. 
Unsolicited feedback is when customers share their thoughts and opinions on a product or service without having been prompted or asked by a business. For example, customers might choose to leave short posts on websites like TripAdvisor, Yelp, Facebook, or Google.
It's important for organizations to leverage both forms of feedback in unison as they can uncover valuable insights that would have otherwise been missed.
Why is product feedback important?
It might seem like all you're doing is collecting endless amounts of data to no end. However, proper use of product feedback performs a few functions for a business:
Identify aspects of your product that need improvement
While you might know your product inside out, your proximity to its development (and vested interest in its success) might cause you to overlook some of its issues and imperfections.
Users of your product are best placed to test (at every stage of your development cycle) your products and highlight problems, either existing or potential. By bringing them into the product feedback loop and incorporating their suggestions, you can start to create better, more customer-oriented products.
Keep your customers front of mind
When creating new products, it's essential to not just design for current customers but for potential ones as well. The reason for this is simple: if you create products based solely on your existing base of users, you run the risk of missing out on new capabilities that attract a broader market and therefore new customers.
Overall, products should address a need. These needs are surfaced through feedback and innovations and are built for the purpose of meeting them. Sure, sometimes products are designed to leverage new manufacturing capabilities — but just because organizations can, should they?
Indeed, as you go through the development process, it's easy to lose sight of the initial goal and the customers you are trying to solve for. Especially if you don't include them in the testing and review process.
This is why product feedback is so potent and essential; it keeps target customers involved in the product development process, from start to finish. Also, as you can capture product feedback online, you can rapidly scale the feedback process to gather more insights from specific target customer groups.
All in all, product feedback ensures that the final product fits customer needs, making it more likely to attract customers, generate sales and deliver a great return on investment.
Customers feel more valued
If the business is seen to collect customer feedback regularly and act on it, then the customer's perception is that their views are valued and respected. Engaged customers are:
More invested in the outcome of the product, increasing their customer loyalty,
More likely to purchase the product as they know their views have been taken into consideration into the final one, and
More willing to share the product with friends and family, acting as a brand ambassador on its behalf.
You can find out how satisfied your customers are by using our free Customer satisfaction (CSAT) survey template or net promoter score (NPS) survey template in your research.
A great product experience improves the customer experience
If there is a focus on the quality and validity of the product or service for users, then the product itself will provide a good product experience for the user.
If this is combined with optimized sales and marketing campaigns, effective post-sales support, and continued engagement throughout the customer journey life-cycle, then this provides a great customer experience.
A customer that has a good experience has high customer satisfaction levels, and in turn, gives the company excellent customer loyalty by returning to buy from the brand over and over again.
If you're interested in learning more, see which services could help you.
Methods to collect customer feedback
Researchers can gather feedback from customers in several ways, both solicited and unsolicited:
Product feedback through surveys
Surveys are a quick and cost-effective way for researchers to collect customer feedback at scale. Try to keep your surveys short and not ask too many questions. The more questions there are, the more likely it is that people will speed through it, minimizing the quality and reliability of your data.
Also, try to include (or start with) open-ended questions so that respondents can truly explain how they feel about your product or service.
Qualtrics offers free survey templates you can download and use immediately to support product research and improvement:
If you want to streamline the product feedback process, consider using Qualtrics DesignXM.
Qualtrics DesignXM™ enables you to incorporate product feedback into every decision, as well as analyze market trends, track competitors, prioritize product features, and build a data-driven product roadmap — all on a single platform. When it comes to product feedback, you can build and send surveys at scale and then analyze and share feedback the moment you get it.
Product concept testing
Product concept testing is an early market research method that helps you to identify your most promising product ideas. With concept testing, you share early iterations of your concepts with your target audience and get direct feedback from them without bias.
This process helps you to identify areas of opportunity, highlight blind spots and fix existing problems.
If you want to come up with the best product concepts, the  Program is exactly what you need. Test new product concepts, prioritize new features, usability, pricing and more with ease.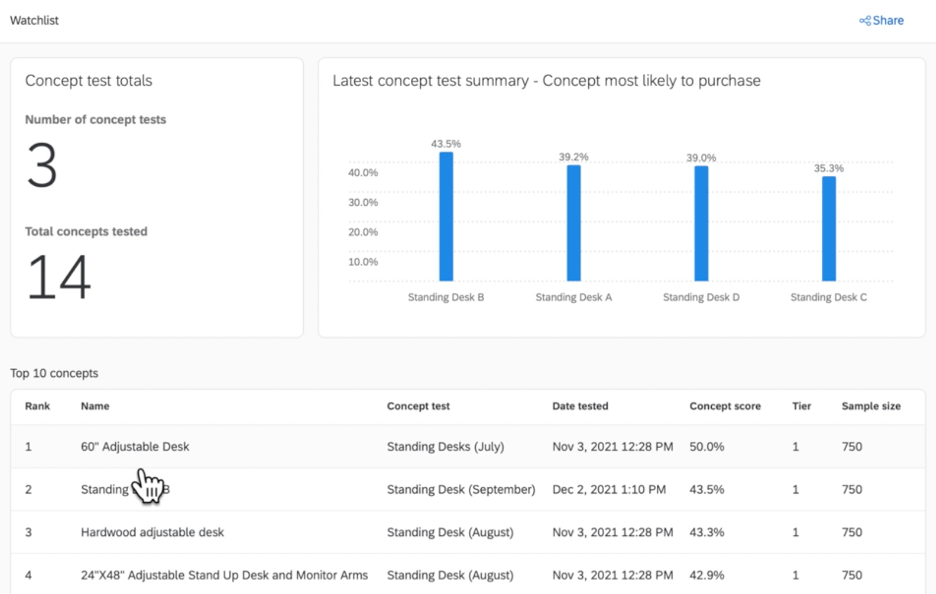 You can even break down the performance of your concepts by purchase intent and more, as shown below.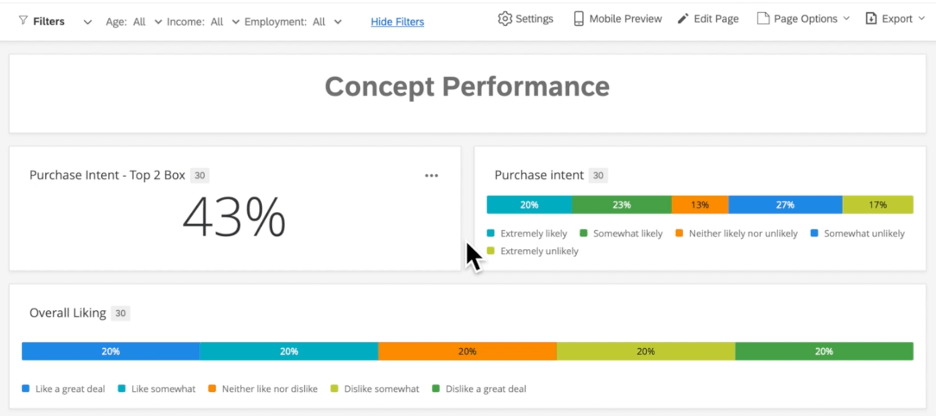 Customer interviews
If you want to collect qualitative product feedback and understand how customers truly feel about your product or service, interviews are the way to go. Either via phone or in person.
Through customer interviews, you can get to the "why" behind the "what", providing much-needed context for the feedback customers give in surveys (unless you include open-text responses so that they can elaborate). In this way, customer interviews can help to validate or further explore some of the trends you see in your product feedback.
Online reviews
As 93% of customers say online reviews have an impact on their purchase decision, it's in your best interest to know what's being said about your product online.
Online reviews on websites like Feefo and Trustpilot, for example, are typically unsolicited and provide a level of detail (and authenticity) that's difficult to achieve through a standard survey without open-text response options.
These reviews usually include information on how brands can improve their products — from addressing design flaws and potential new features to price optimization and positive aspects.
However, one of the most effective ways to capture this kind of unstructured feedback is through tools like Qualtrics XM Discover. Designed to help you understand what people are saying about your brand and products, wherever they are, you can hear and analyze every voice without having to ask.
XM Discover combs through every platform to capture and analyze feedback. It uses natural language processing to assess the subtleties of human language — including emojis — to uncover the emotion, intent, and effort of every interaction. It's the tool for capturing unstructured feedback at scale.
Find out more about XM Discover.
Support requests
As users interact with the product, they may have issues or experience pain points that they want resolved. Customer support teams can look at the customer support tickets as valuable product feedback, bringing deeper insights to light.
For example, a customer might highlight how difficult it is to set up the product, so if customer support teams share these insights with the product development team and product management, they can add features and collateral to improve the onboarding process.
Ultimately, utilizing customer feedback to build better products increases customer satisfaction overall. It's crucial that brands leverage insights across platforms to create great products.
Our three top tips for collecting the best product feedback
There are several ways to collect and utilize feedback, but here are some of the fundamentals to put into practice:
Aim for a continuous feedback loop
Product feedback loops close experience gaps. If you can achieve a holistic view of every stage of the product lifecycle and how product testers (at the concept stage) and customers feel about your offering, you can make the most meaningful and impactful changes.
But that's not all, a feedback loop provides continuous insights on tap, meaning that even after you finish and bring a product to market, you can leverage the opinions of customers to enhance existing solutions or develop new ones.
Having this kind of process in place also benefits your customers and potential prospects; customers feel heard and understood (increasing their satisfaction and overall sentiment), and new prospects can see just how capable your brand and offering are.
Ask the right questions
If you want to get detailed product feedback and customer feedback, it's crucial that you ask the right questions and use a mixture of open and close-ended questions. Both together are recommended to provide a holistic view of customer behavior, thoughts and actions.
That said, open-ended questions give survey respondents the opportunity to elaborate on how they feel — giving you much-needed context.
Consider starting with open-ended questions to get qualitative feedback. You should also endeavor to keep your surveys as short as required so as not to bore respondents or risk them not completing the survey.
You can always validate survey findings through more in-depth methods, such as focus groups and customer interviews, but surveys provide you with a cost-effective way to carry out product feedback research at scale.
Read more about which survey questions to use in our free eBook: The Qualtrics Handbook of Question Design Understand sentiment at scale.
Evaluating qualitative and quantitative product feedback can be tough when there are several analytics platforms to manage and lots of subjective data sources to compare.
Qualtrics provides a number of qualitative research analysis tools, including Text iQ – a powerful machine learning tool that uses natural language processing to analyze open-text responses at scale and uncover the sentiment buried in them.
How can Qualtrics help you collect product feedback with ease?
Having a product feedback tool that gives you a great management experience and provides you with crucial features is hard to find. Qualtrics DesignXM is designed by experts to help you gather customer feedback easily and share it with internal teams.
The Qualtrics product experience management software includes:
Want to find the ideal name for your new or existing products? With XM solutions product naming, you can quickly validate how your market feels about each name you consider.
Find out how to price your products for maximum profitability. Featuring a powerful survey design for pricing studies (with advanced logic and data visualization) and conjoint studies, you can run all your pricing research on a single platform.
Validate your best product ideas with concept testing. Test every aspect of your product concept — from features and branding to messaging and appeal — to set your product up for success.
Use conjoint analysis to optimize your product configurations, including what packages and prices will have the greatest impact on your business.