---
What are survey applications?
Want to capture feedback at scale? Look no further than survey applications. Used by researchers, product developers and managers alike, survey applications are digital tools that help capture feedback from prospects, customers and employees, wherever, whenever.
In today's world, digital survey applications (also known as survey tools) are vital for creating and distributing surveys, collecting responses, analysing results, and uncovering insights. And with the right tools, you can build massive repositories of information that provide a holistic picture of those you wish to engage.
Ultimately, with a nuanced understanding of what prospects and customers want to buy, as well as how employees feel about their jobs and professional development goals, you can take more meaningful actions to create breakthrough experiences. Having this kind of information is what sets organisations apart and empowers them to continue delivering great change.
Start creating surveys that bring results & traction to your business
So, what can online survey applications do for your business?
As the world shifts to more digital interactions and hybrid ways of working, it's becoming increasingly difficult for brands and businesses to capture critical insights. Digital survey tools help to bridge that gap by providing an always-on method for extracting meaningful information and driving the right actions. Real-time feedback is no longer a nice-to-have for stakeholders. It is mission critical.
The question, however, is: how can online survey applications help your business? Simple solutions offer a tool to create and distribute surveys with minimal analysis, but enterprise-grade platforms surface insights at scale, across all your products and categories, while centralising findings and data-rich profiles for a 360-degree view of your most valuable segments.
Here, we outline just a few of the benefits of survey applications:
Reduce costs and time to insight
One of the biggest challenges for organisations is getting access to deeper and more meaningful insights faster. Across the globe, market research teams are increasing their investment in research technology to capture, analyse and use insights effectively. With the right online surveys, you can drastically reduce the cost of conducting research and get to critical insights faster.
Help you to achieve feedback at scale
Best-in-class survey applications not only cut costs and time to insight, they also empower you to reach the right people. Now, you can get feedback from your target audiences in hours or days rather than weeks or months.
Engage your audience
As it says on the tin. Survey applications allow you to customise and personalise your surveys depending on your target audience. Through more personal surveys, respondent engagement you can increase engagement and therefore response rates. In other words, more customers taking and completing surveys online. 
Centralise data to build profiles
Ever wanted to build a rich profile of your customers and prospects and integrate their feedback into your most critical decisions? Well, with tools like Qualtrics CoreXM, you can. While some survey tools allow you to distribute to select audiences, CoreXM goes one step further and empowers you to build customer profiles with a single data warehouse for every interaction. The result? Faster insights, lower costs, and higher response rates.
Improve data quality and consistency
Rather than using a variety of tools to create, distribute and analyse survey findings, a single survey application can manage the entire process. Furthermore, enterprise-grade survey applications are capable of connecting the solutions you already use, meaning you don't have to change any of your infrastructure to create data repositories with a holistic view of respondents and findings.
Empower anyone to carry out research
Most survey tools include drag-and-drop modules and other capabilities that make them easy for anyone in the organisation to use. This uses technology to incorporate advanced survey methodologies or complex coding. With everyone equipped with the right tools and standardised on the same approaches, insights are now on tap for every stakeholder and can consistently fuel any business initiative.
What key functionalities should you look for in a survey application?
Now that you're familiar with the general benefits of robust survey platforms, the real challenge is identifying the key features you need. For example, do you need customisable reports and dashboards to highlight specific responses? Do you need built-in natural language processing to automatically analyse open-text survey options and surface important topics? Or what about survey optimisation tools to ensure that you build the best and most appealing surveys possible?
Whatever your use case, here are the main capabilities you should look for when browsing survey sites:
Full customisation
For example, customisation options for delivering surveys to different devices, language options for international/regional surveys and the option to  and in different formats (like a chatbox)
Built-in analytics
If you want to analyse survey findings in real time and redistribute them to specific teams, you need built-in analytics. This'll also save you time and effort as data is analysed on the platform.
User-friendly dashboards
How will you present information to certain teams? The reality is that not everyone will need to see the specifics of the research study and are instead interested in the insights gleaned from it. With this considered, you need a solution capable of setting up different dashboards for teams so they can see the most pertinent information.
Smart automation and workflows
Rather than settle at just gathering insights, what if you could take action on them by utilising smart automation and workflows? For example, if you carry out an employee satisfaction survey and find out that employees would like better onboarding processes, what if your survey tool could automatically flag that to the appropriate teams and highlight the best course of action? The best tools, can.
Support options
Alongside survey technologies, some companies offer market research services to support you in creating and deploying research, as well as analysing findings so you can uncover insights and opportunities. These services are usually flexible, meaning you can request as much or as little support as necessary.
Templates
Some survey applications provide templates for you to get started, ensuring you spend more time capturing insights than creating the perfect survey.
If you're interested in a library of pre-built, expert-designed survey templates to help you get your research underway, check out our marketplace.
Integrations
Rather than using separate disparate tools for your market research, some survey apps are designed to work alongside — or integrate directly with — existing solutions. This enables you to continue using your current infrastructure but bolster it with new research capabilities.
Qualitative and quantitative capabilities
One of the most powerful capabilities offered by the top survey apps is the ability to carry out both quantitative and qualitative research in the same platform. This includes everything from simple quantitative surveys to including open-text responses and video feedback.
AI-powered insights
What if you want to pull insights directly from feedback you've received and assign topics so that you can perform sentiment analysis and truly understand how prospects, customers and employees feel? With tools like Qualtrics Text iQ, you can read all of your survey responses at scale, analyse them, and then uncover deep, meaningful and actionable insights. Utilising machine learning and native language processing, Text iQ uncovers trends, brings the most important topics to light, and integrates information into reporting functions for easy tracking.
What if you want to collect insights offline?
Whether you're running field events at trade shows, conferences, retail stores or even on the street, with the right mobile survey app, you can carry out quick surveys on the go.
Online survey apps with offline capabilities extend give you greater flexibility over how and where you want to run your surveys. You can collect information in the moment and then upload and sync that information at a later time once you have access to the internet.
Take a look at the Qualtrics offline surveys app, for example. The Qualtrics Offline Surveys solution is a downloadable application available for Android and iOS that enables you to administer surveys on your mobile device or tablet without an internet connection.
You can find out how to set up the mobile app here.
The Qualtrics CoreXM solution and how it compares with others
While there are so many survey apps to choose from, few survey companies deliver a solution that is as seamless, scalable and easy to use as Qualtrics CoreXM.
Qualtrics CoreXM is a survey application by over 16,000 brands, designed to empower you and everyone in your organisation to capture insights and take action.
It offers hundreds of customisation options, powerful analytical tools through the iQ suite, and great mobile support. It also provides advanced automation, integration, dashboard and reporting.
And if you're still not sure, we've compared CoreXM with some of the best survey apps using G2 Crowd, a leading peer-to-peer review platform. It allows users to compare the best business software and services based on user ratings and social data.
Here are the results:
Qualtrics CoreXM vs. Medallia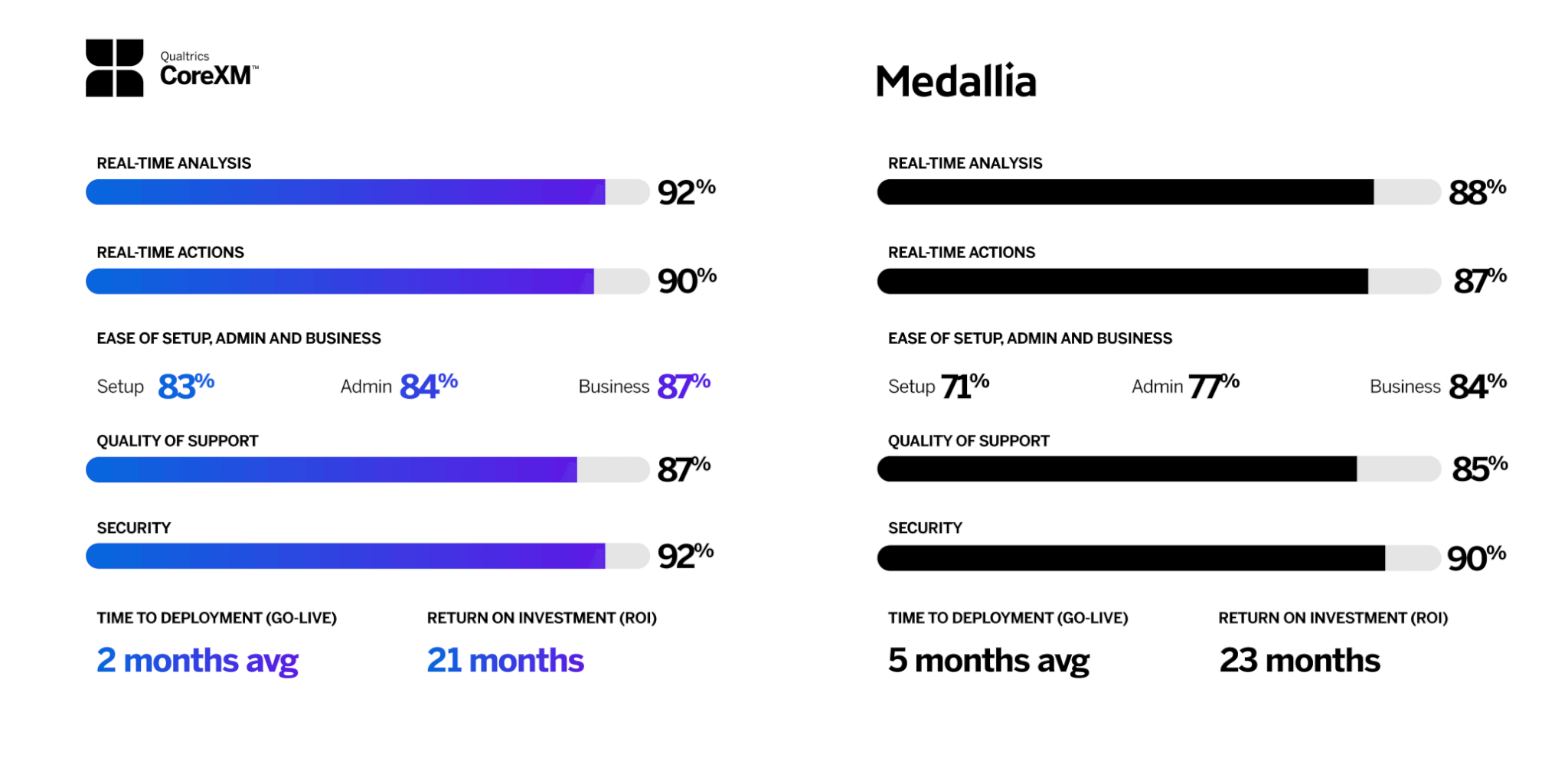 Read the full review here.
Qualtrics CoreXM vs. Alchemer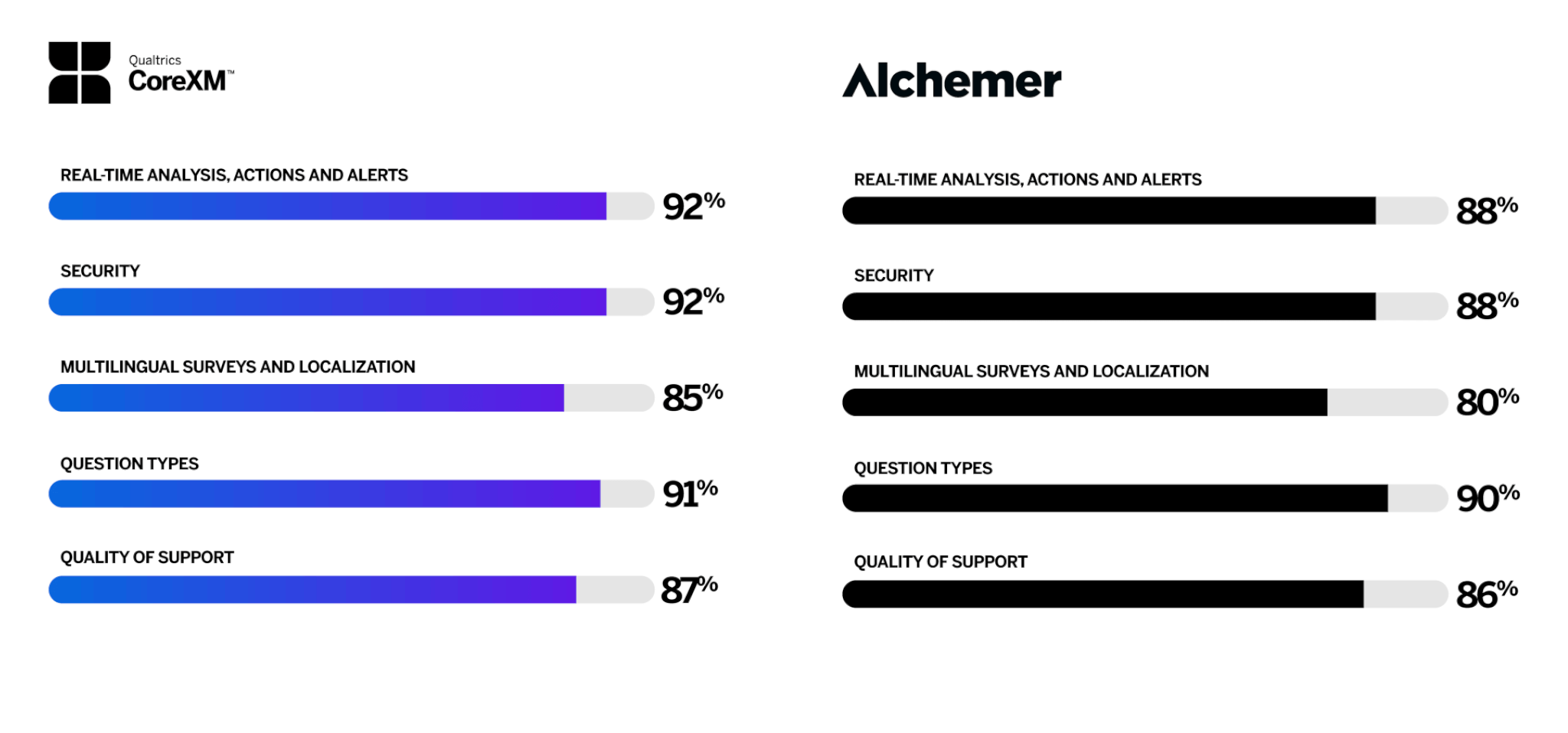 Read the full review here.
Qualtrics CoreXM vs. Glint

Read the full review here.
Not ready for the demo?
If you want to see Qualtrics CoreXM in action, why not book a demo?
We'll guide you through the full range of functionality and tailor your demo to your industry and usage.
If you're someone who prefers to learn by 'doing', sign up for your free account to Qualtrics so you can see and play around with the solution.
And if you want to get your surveys up and running as soon as possible, we have a bunch of templates designed by experts to ensure you get the responses you need.
For more information on how to create a survey with the best mixture of questions, view the Qualtrics Handbook of Question Design