---
Why is patient feedback so important for healthcare providers?
According to the Qualtrics Benchmarking Study, almost 75% of prospective patients will choose one physician over another because of negative feedback. But patient feedback doesn't just affect whether potential patients use your health services or not – for healthcare providers, understanding the patient experience is critical for quality improvement, patient safety, and overall satisfaction.
Here are a few reasons why patient feedback is vital:
Capturing feedback from patients and families is critical for delivering a seamless, compassionate healthcare experience
The voice of the patient helps the organisations in the industry understand how patient needs, emotions, and levels of satisfaction change throughout the healthcare experience. This allows healthcare providers to identify where experiences are falling short, enabling them to implement the people, processes, and technology improvements required to deliver the personalised experience patients want and deserve.
Without obtaining patient feedback and measuring health care quality effectively, healthcare providers aren't able to see where the services they deliver are failing, or how the experience of their patient services helps the overall customer experience. Effective, rather than rote, data collection and analysis are key for forming a powerful healthcare experience.
Using patient feedback strategically can increase referrals, elevate patient loyalty and identify new growth opportunities
Many healthcare organiSations will ask patients for feedback as part of their strategy for improving patient satisfaction. While it's an approach that has arisen largely as a result of Centres from Medicare & Medicaid Services (CMS) mandates, healthcare has also seen customer experience programs' success in consumer industries that have focused on driving loyalty and revenue by improving satisfaction.
Investing in patient experience – particularly led by feedback – can pay dividends.According to our research:
95% of patients who rated an organisation's customer experience as "very good" were likely to recommend it to others
94% of those giving a "very good" patient experience rating report were "very likely" to return for future care needs
75% percent of patients were "very likely" to forgive an organisation for a mistake if they thought it delivered "very good" customer experience
In the healthcare sector, great customer experience translates into connected patient experience, engagement, and loyalty, as well as advocacy.
Gathering feedback can help to secure vital funding – but taking action makes the most difference
Every healthcare provider likely has a patient feedback system such as CAHPS. In many cases, funding and reimbursements depend on positive feedback about patient experiences. Though monitoring the patient experience is vital for this purpose, gathering patient feedback is about more than just seeing the status quo.
Sophisticated healthcare providers realise that collecting patient feedback data isn't enough – acting on insights with a forward-looking view helps with quality improvement and the provision of patient care. Retroactive measurements are useful for reporting, but not for enabling the predictive insight and actions required to deliver a seamless, compassionate, and high-quality patient experience.
The key benefits of acting on patient feedback
Maintain positive scores for designations, accreditations, reimbursement programs, and rankings by collecting and actioning on patient feedback in real-time
Personalise patient experiences and provide empathy at scale to improve patient retention, loyalty, and trust
Predict what patients want and redesign services to attract new patients and expand market share
Optimise your impact by aligning resources to improvements and care activities that are most meaningful to those you serve
Learn how Qualtrics helps you act on patient feedback
How to collect feedback from patients
Creating a sophisticated survey program with additional analysis is the most effective way of gathering patient feedback, but also understanding how those in your health services believe the quality of care can be improved.
Here are the key factors to consider when obtaining patient feedback:
Gather information across the continuum of care
Gather patient experience feedback across every touchpoint to build a comprehensive picture of your patients' healthcare experience. This feedback can be solicited through preferred channels such as text or email, or extracted from the places people are already engaging, like call centres, websites, apps, or social sites.
Sources can include:
Core operational data, such as revenue, patient numbers, etc.
Employee feedback and observations
Operational data from your website/app, such as user or visitor numbers, dwell times, and more
Third party review site data
Survey responses (email, text, in-app)
Email engagement rates
Comment cards
Interviews
Focus groups/panels
Patient stories

Use an omnichannel approach for patient experience surveys
Gathering patient feedback will likely need to take place across multiple channels to be accurate and effective, with digital being a key area on which to focus. Using digital searches to find healthcare providers drives nearly three times as many visitors to hospital sites as compared to non-search visitors – which means that there are plenty of opportunities to survey your patients' views of your healthcare services.
You can deliver patient experience surveys at multiple touchpoints across the patient journey to gather feedback. For example, you can serve:
Email surveys after a patient's appointment with a primary care physician
Pop-up digital surveys when a patient is browsing your website for information
In-app surveys after an appointment are booked through your app
Social media surveys on your social channels
Phone surveys after a patient call
Ideally, you'll be able to listen to patients on their terms by triggering automatic feedback requests at the right time and on the right channel. From websites to mobile apps and offline, you'll get a complete understanding of the moments that matter most and what you can do to improve them.
Consider conversation analytics to hear what your patients aren't saying (or are saying offline)
Organisations need to move beyond just surveys to ensure that they're able to capture patients' views, online and offline.
For example:
But how do you analyse these types of conversations that don't directly involve you? Using a patient feedback tool powered by artificial intelligence (AI), machine learning, natural language processing, and algorithms, you can use conversation analytics to understand what customers are saying to you indirectly. Analysing posts, phone calls, chat transcripts, and more, this software is able to understand the patient sentiment and find patterns to help you better understand the patient experience.
Ask your employees for their feedback to understand both sides
It's not only your patients that can provide vital information that can be used for quality improvement. Your employees have a unique insight into patient engagement and experience.
A systematic review of how your healthcare provider teams view the current patient experience and how they believe it can be improved can help you to see pain points in the patient journey that impact both patients and employees – and discover key actions to take to resolve them.
With employee feedback, you'll be able to see the impact that frontline staff and providers have on patient experience. Using patient signals, caregivers will be able to offer more personalised care across the patient journey.
Not only that but showing your staff that you value their feedback helps to raise their engagement levels, which in turn helps to improve patient outcomes and financial results.
Taking action on patient feedback
Turn patient feedback into data-driven insight and action
The process of improving the patient experience requires action. Don't just review patient feedback – your process for improvement needs to include a system of action that can respond to real-time insights across your organisation.
You'll need to:
View all data and insights in one place
Using disparate systems means that valuable data, analytics, and insights can be lost across siloed programs. Use dynamic dashboards that can analyse on a role or location basis to see all you need to know to create useful plans of action. This can also help you maintain CAHPS data and meet regulatory requirements more easily under one centralised system.
Drill down into why problems are occurring
Use software powered by artificial intelligence and machine learning to automatically generate insights into problem areas. Compare feedback from different locations, services, and roles to understand where performance is being affected and why.
Automatically trigger action
Create automatic triggers to ensure your teams and systems take action to improve the experiences that matter most to your patients and community at large. Automating specific actions means that change can happen at an organisational level without putting the burden on specific teams to monitor and manage this change.
Make rapid changes for quality and patient satisfaction improvement
With real-time insights, you're able to make swift changes to improve patient outcomes and satisfaction. Use dashboards and instant reporting to automatically deliver the right insights to the right people across the organisation so they can act quickly.
Respond to feedback promptly
A key part of gathering patient feedback is to show appreciation for your patients' time and effort to respond.
On a smaller scale, this response should include an automated reply that thanks patients for their input. On a larger scale, it's about demonstrating that patient feedback has been acted upon and that the patient experience has been improved as a result.
Responding to solicited feedback is important – but you'll also need to provide a resolution to unsolicited feedback. This type of feedback can significantly influence potential patients' decisions about choosing your health services.
The best approach to both positive and negative feedback, both solicited and unsolicited, is to:
Respond quickly: Time is of the essence, no matter whether your review is positive or negative. Patients should feel valued.
Say thank you and/or apologise: Even if the patient feedback is negative, thank the patient for taking the time to respond. Even negative feedback is useful for improvement.
Offer a resolution to their issue: In the case of negative feedback, it's important to offer a resolution to the issue they've flagged. This helps to demonstrate that your organisation is capable of change, and make potential patients aware that they'll be cared for.
Take the conversation to a private channel: Further negative commentary is not desirable on a public channel. Where appropriate, take the conversation offline or to a private channel.
Here are a few examples of how you could respond to patient feedback:
Automated survey response: Thank you for taking this survey on our online appointment scheduling process. We use this information to improve our patient experience, and we value your feedback. If you'd like to learn more about how this data will be used, click [link].
Negative review: Thank you for your feedback – we're sorry to hear you did not receive the service you expected during your appointment. Your feedback fuels our improvement, and we'd value further insights into your experience. Please contact [service department] on [telephone number] if you would like to discuss this experience further with our team.
Use patient feedback data to discover new opportunities
The patterns and trends you can discover using patient feedback can help you tailor services to specific populations or make predictions about the wider market. With in-depth analysis, you can spot new opportunities based on gaps in the current patient experience, allowing you to create new services, products, and more to meet new or pressing patient needs.
How Qualtrics translates your patient feedback into informed action
Qualtrics has developed a suite of useful tools within a centralised framework to help you deliver the best in patient care while also maximising your potential for revenue.
Using our system, you can:
Use a centralised platform in which you can analyse both CAHPS regulatory survey results and real-time patient feedback from key touchpoints across the entire patient journey to create a complete overview of the patient experience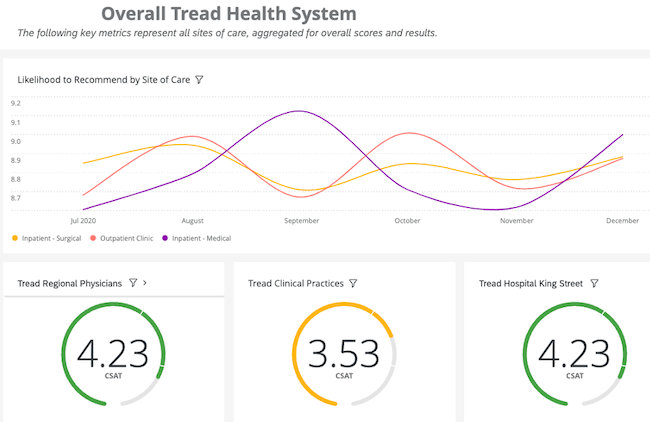 Use validated, short, and standardised templates for capturing real-time, post-care feedback across critical service areas, such as acute care, medical practice, ambulatory surgery, and outpatient care to increase response rates, decrease survey fatigue, and generate insights to help you improve patient satisfaction at each location
Share the voice of your patients and their families across your organisation from executive leaders making strategic decisions alongside the board to frontline workers providing care at the bedside
Automate workflows to alert the right person in the organisation at the right time so they can take the appropriate action to provide service recovery to address negative experiences and improve satisfaction
Utilise powerful analytics built into the Qualtrics platform to uncover meaningful insights, without requiring an expert understanding of statistical analysis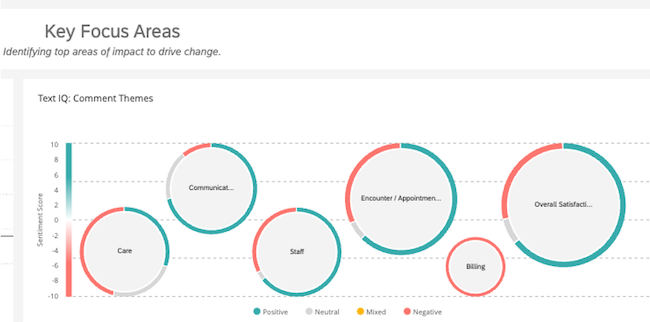 Easily surface insight into where to focus to improve patient satisfaction and CAHPS ratings all while providing the best patient experience