XM for Customer Frontlines

Digital

Root out friction in every digital experience, super-charge conversion rates, and optimize digital self-service

Care

Uncover insights from any interaction, deliver AI-powered agent coaching, and reduce cost to serve

Locations

Increase revenue and loyalty with real-time insights and recommendations delivered straight to teams on the ground

XM for People Teams

Engage

Know exactly how your people feel and empower managers to improve employee engagement, productivity, and retention

Lifecycle

Take action in the moments that matter most along the employee journey and drive bottom line growth

Analytics

Whatever they're are saying, wherever they're saying it, know exactly what's going on with your people

XM for Strategy & Research

Research

Get faster, richer insights with qual and quant tools that make powerful market research available to everyone

User Experience

Run concept tests, pricing studies, prototyping + more with fast, powerful studies designed by UX research experts

Brand

Track your brand performance 24/7 and act quickly to respond to opportunities and challenges in your market

XM Platform

Explore the platform powering Experience Management

Teams

For Digital

For Customer Care

For Human Resources

For Researchers

All Teams

Industries

Healthcare

Education

Financial Services

Government

All Industries

Customer Experience

Employee Experience

Employee Exit Interviews

Net Promoter Score

Voice of Customer

Customer Success Hub

Product Documentation

Training & Certification

Community

XM Institute

About Us

Careers

Partnerships

Marketplace

X4 Summit

The annual gathering of the experience leaders at the world's iconic brands building breakthrough business results, live in Salt Lake City.
Customer Experience
Patient experience drives trust and advocacy
Today marks the beginning of Patient Experience Week. This week is a globally recognized event that celebrates the healthcare workers who impact patient experience every day. It is a week near and dear to Qualtrics always, but especially so since we surveyed our employees this time last year and learned that over 2,000 of our family members work on the frontlines of healthcare.
After over a year of our healthcare workers battling the global pandemic, it is particularly important that we take a moment to pause to honor the sacrifices, courage, and commitment of this extraordinary workforce around the world.
Given this important week, we want to celebrate those dedicated to patient experience and share new data on how patient expectations have changed over the past year. We gathered our latest healthcare insights from a recently completed global study. The research, conducted by Qualtrics XM Institute, examined the behaviors and attitudes associated with a number of different industries across 18 countries.
Patient experience ratings across 18 countries
Using a five star rating mechanism, we asked consumers across 18 countries to rate their recent experience with 17 different types of organizations, including a hospital or medical clinic. When we examined the healthcare data, we found that:
On average healthcare providers received a 4.1 star rating, ranging from a high of 4.4 in the UK and India down to a low of 3.7 in Japan. US healthcare providers were third on the list of countries, with a 4.3 rating.
On average, 43% of consumers gave their medical experience a five-star rating, ranging from a high of 61% in the UK to a low of 22% in Japan. US healthcare providers were third on the list of countries, at 52%.
On average, 25% of consumers gave their medical experience a rating of less than a four-star rating, ranging from a low of 11% in India to a high of 43% in Japan. US healthcare providers were tied for fifth on the list of countries, at 20%.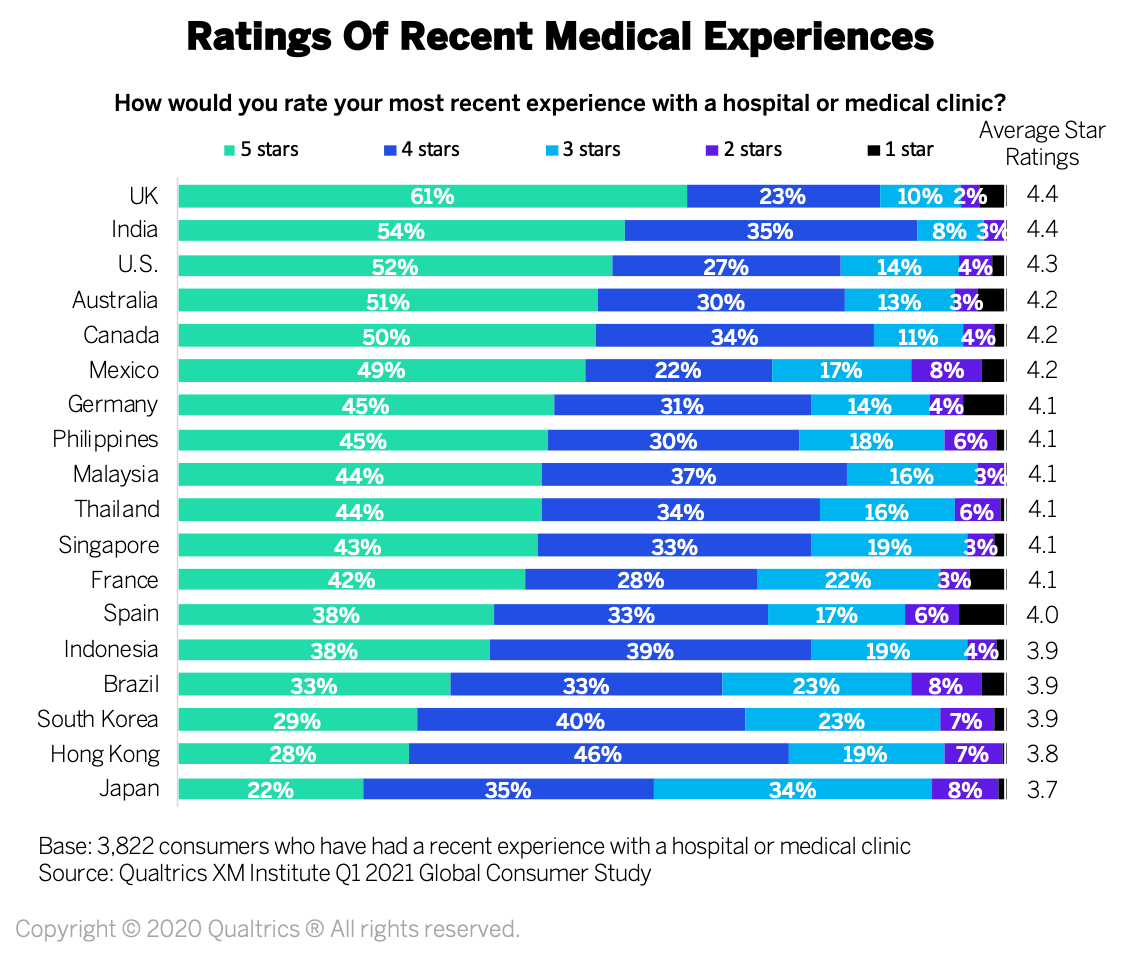 Patient experience impacts trust and advocacy
We also asked consumers the degree to which they trust different organizations and their likelihood to recommend those organizations to their friends and relatives. Our analysis of the healthcare data combined across the 18 countries uncovered that:
Healthcare experiences correlate to trust. Ninety-two percent of consumers who give a five-star rating for their most recent healthcare experience are likely to trust their medical provider. These highly satisfied patients are more than 4.5 times more trusting than those who gave their experience one star.
Healthcare experiences correlate to advocacy. Eighty-eight percent of consumers who give a five-star rating for their most recent healthcare experience are likely to recommend their medical provider to a friend or relative. These highly satisfied patients are more than five times more likely to recommend than those who gave their experience one star.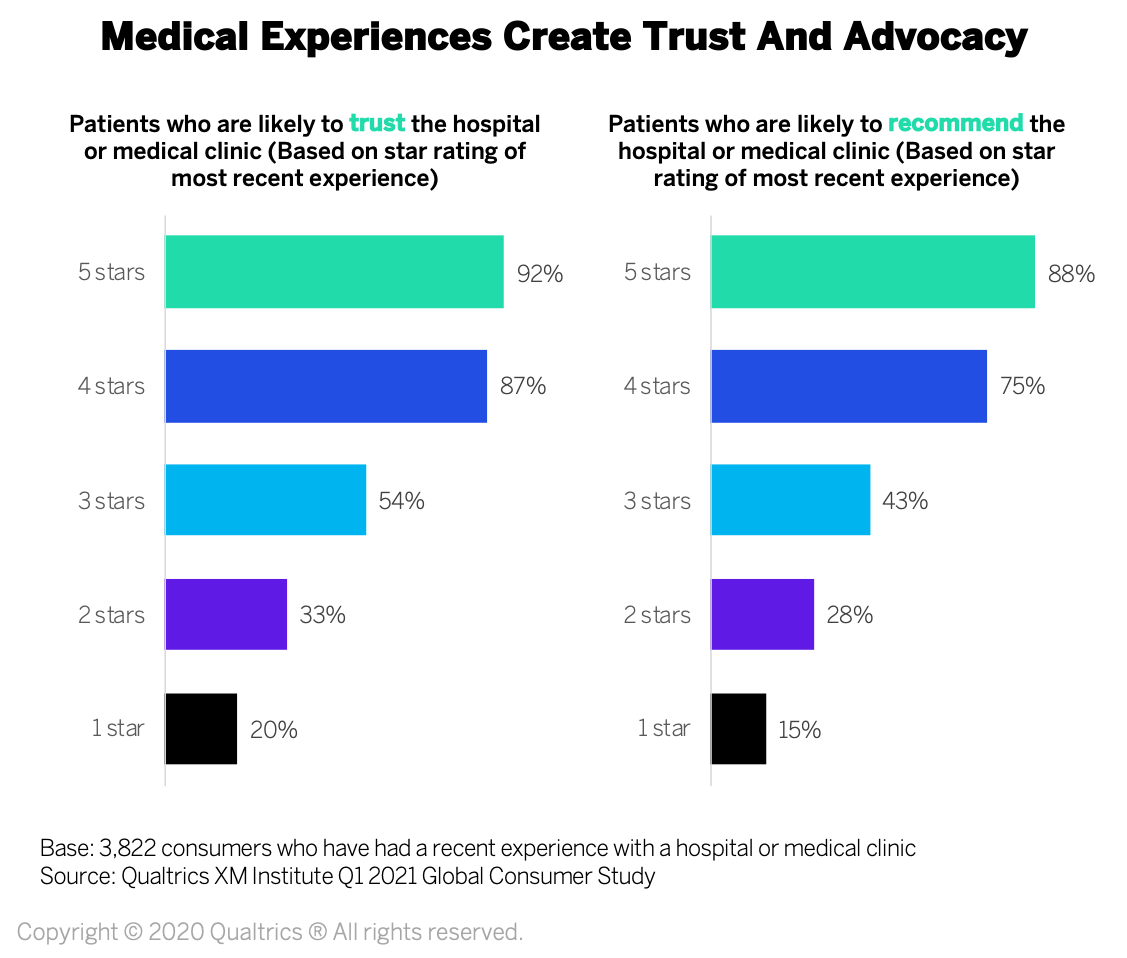 How can patient experience programs drive more action?
As healthcare organizations look to deliver higher quality care, improve patient outcomes, and implement real-time service recovery, trust and advocacy are critical. Trust improves the chances that patients will listen to and engage with their providers, leading to better adoption of their care plan and likelihood to return for future care needs. And advocacy, on the other hand, helps sustain and expand the ongoing flow of business. Word of mouth is one of the loudest amplifiers in communities about the best place to receive care. Every healthcare organization needs a strong patient experience program that fosters trust and advocacy with patients, families, staff, providers, and communities.
However, most patient experience efforts are confined to legacy feedback and reporting structures that don't inspire change or organization-wide action. Qualtrics has helped several healthcare organizations like CHRISTUS Health, Community Health Network, and more to establish a more action-oriented experience management (XM) program. It is critical to build the capability to design and improve experiences for every stakeholder—including patients and families, staff and providers, and the communities you serve—on an ongoing basis.
As healthcare organizations move to modernize their XM programs, they will become increasingly responsive to the needs of all human beings throughout their ecosystem. That's because XM establishes three essential capabilities:
Continuously learn. XM enables organizations to discover and interpret signals about how all of the people throughout their ecosystem are thinking and feeling in an ongoing fashion. In healthcare, it is critical that we build programs that increase our capacity to listen across the entire continuum of care, which expands far beyond the four walls of a single care experience.
Propagate insights. XM enables organizations to share relevant, actionable insights with people across an organization. We need to ensure that the voice of patients and families is widely shared throughout organizations, from the executive leaders making strategic decisions with the board to frontline workers providing care at the bedside.
Rapidly adapt. As the flow of actionable insights increases, XM efforts empower organizations to quickly and meaningfully act on that information. Healthcare has fallen short in this arena. We've listened, but haven't taken action to improve at a rate that our patients and families, as well as our care teams, expect and deserve.
Four ways to modernize your patient experience program
As we think about the future of healthcare experience, we must map a path towards a truly modern XM program that is built on dynamic instrumentation, actionable intelligence, and adaptive processes.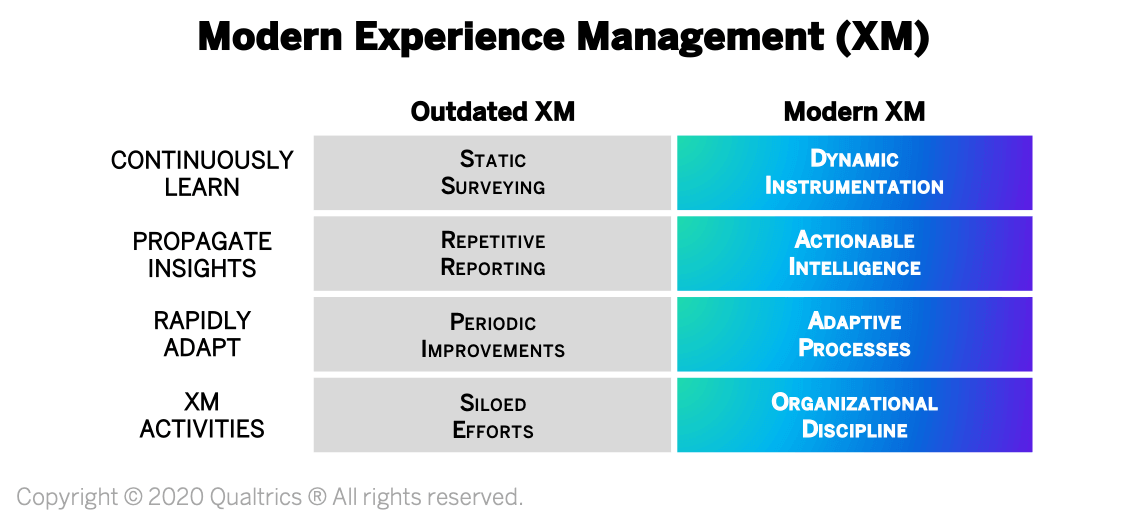 Here are four ways to start on the path to a modern XM program for patient experience:
Map the patient journey. It is important to start with a clear picture of the current state. Create an inventory of where you are listening across the continuum of care. Once you have mapped the full patient journey, you will easily spot gaps in your listening strategy. Healthcare has traditionally been confined to regulatory surveys that happen after an episode of care. This leaves a lot of gray space before, in between, and after care where we don't have enough data to make informed strategic decisions.
Expand how you listen. Once you have identified gaps in your listening strategy, you can begin to expand how and where you listen. Patients are engaging with your organization across multiple channels, and it is critical to ensure you build the right mix of solicited and unsolicited listening posts across all channels. For instance, your patients are interacting digitally with your organization now more than ever. They are appointing, checking in, paying bills and even receiving care online. Organizations need to increase how they are listening during these digital touchpoints in order not to lose critical insight into the full experience.
Deliver timely insights. Rather than periodically sharing HCAHPS scores, now is a great time to begin transforming how your organization distributes actionable intelligence driven by the voice of your patients. Think about combining wait time data and patient feedback to identify specific times of day and medical conditions that are causing severe patient distress. Now imagine if you could deliver this insight to a provider at the end of the day about their visits from that day… versus waiting weeks (or months) for generic reports.
Focus on improvement. Stop talking about data and start closing the experience gaps. Healthcare service recovery has traditionally only been at the bedside; as providers struggle to follow up or even know when things are off track in other settings of care. Once you have expanded your listening strategy, use technology to facilitate immediate recovery through automated workflows. For example, if a discharged hospital patient responds to a simple text survey stating she does not understand her medication instructions, the team can be empowered to respond quickly with an alert including all of the necessary follow-up details -- ensuring this patient has a safe transition home.
Learn how patient experience leaders are making bold moves in healthcare