How to Improve Customer Service at Your Company
---
Providing great customer service is more important than ever and companies that are investing in their employees and technology are seeing big payoffs. According to the Temkin Group, a modest improvement in CX  generates an average revenue increase of $775 million over three years for a company with $1 billion in annual revenues. Consumers are willing to spend more money with companies that deliver excellent service, and they stop doing business with companies who provide poor experiences.
Clearly, companies must continually improve customer service to earn a bigger share of wallet and retain their customers.
Invest in technology
Companies globally are using technology to provide better customer support. Without automation, it would be near impossible to gather and analyse the data you need to make fast decisions and follow-up with customers before they churn. By investing more in technology, you can help customers get their questions answered faster and have a seamless experience.
Experience Data (X-Data)
Understanding
customer service
X-data metrics
like customer satisfaction (CSAT), Net Promoter Score (NPS), and Customer Effort Score (CES) is a crucial element to understanding customer satisfaction and increasing loyalty.
Customer e
xperience management software
allows you to engage with customers at their convenience and get feedback in real time, so you can make necessary adjustments. The best
customer experience management programs
track every customer interaction and analyse the data to close the gap between what customers expect and what the experience currently being delivered.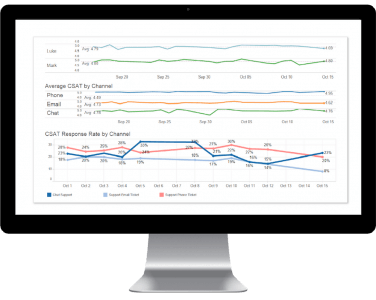 Operational Data (O-Data)
Service desk management and ticketing software programs are helpful to track service levels and set goals for your customer service team. You can track metrics like first response time, customer ticket volume, and average resolution time.
Research
has shown that shorter wait times have a direct impact on customer satisfaction. In addition, using one system for your call center, live chat, email, and knowledge base, you'll have a seamlessly integrated omnichannel solution.
Close the feedback loop
Once you've gather X-data feedback, it's important to
close the loop
with every ticket and make sure your customer's issue has been resolved. Since it can be near impossible to keep track of every ticket manually, you can operationalise the process with ticket followup. Acting on feedback quickly can turn detractors to promoters. With automated ticketing, root cause analysis and resolution tracking across the web, SMS, Slack and many more, you'll be able to act fast to resolve issues and reduce customer churn.
Providing self-help content
If your customers can answer questions without contacting your customer service agents it will save your company time and money. Investing in knowledge base software solutions like Zendesk and Confluence, or opensource solutions like WordPress, allow you to create a comprehensive FAQ and self-service system. Often, customers would rather find the answer themselves instead of contacting you, so it's a win-win for both parties.
---
---