---
What is customer service?
Customer service is the practice of providing help and support to both new and existing customers. It can take place before, during, and after a sale. It is an essential part of the overall customer experience.
The traditional image 'customer service' conjures is most likely a customer service representative with a headset, solving problems over the phone. While the call center is still an integral part of customer service offerings, it's actually just a small part of the bigger picture.
Customer service happens on every digital channel, as well as in person. Customer service is replying to social media outreach and greeting customers as they walk into a store. It's solving issues after a sale, but it's also informing people still considering your product.
Customer service also isn't just human to human. AI-driven chatbots and automated self-serve platforms are a vital part of successful customer service, as is streamlined UI design. In essence, customer service is as simple as it sounds: it's everything you can do, in any capacity, to help serve your customers.
Free eBook: 2023 Global Contact Center Trends Report
Why is great customer service important?
Your customers are the lifeblood of your business, so it's crucial that they always feel valued, assisted, listened to, and confident when they interact with you.
There's an oft-repeated stat in business circles that it costs a lot less to keep existing customers than it does to attract new ones. In general, some 65% of sales tend to come from existing customers, which makes an obvious case for ensuring that those customers continue to choose you over your competitors. Salesforce, for example, found that 80% of customers believe that the overall customer experience is as important as products or services.
Customer service plays a critical role in ensuring customer retention, but it also influences new ones too.
Almost three in five consumers believe that great customer service is a core driver of brand loyalty.
Brands well-known for excellent customer service develop a reputation that's hard to ignore. If you know, for example, that the process of returning a product that isn't quite right is a seamless one, or that you're going to receive great after-sales care, it'll help sway your decision when you're in the consideration stage of the customer journey.
Beyond all of this, having great customer service also shows you know how modern customers think. Today's customers bounce from one touch point to another and head back and forth around channels at the drop of a hat. If you can be there for them no matter how chaotic that omnichannel journey may be, you'll demonstrate that you know how they tick, and that will drive customer satisfaction.
Get it wrong at your own peril. It has never been easier for consumers to jump ship and switch to your competitors.
What are the principles of great customer service?
Great customer service and customer support rely on a business-wide focus on the people that matter most: the customers. But keeping that focus also means empowering your customer service representatives, knowing which customer service channels you need to work on, and utilising tools that can provide a personal edge.
These are the principles that underpin good customer service interactions:
Empowered customer service representatives
Every customer service representative, whether it's someone on the end of a phone or a member of staff in-store, needs to be given the tools and training they need to do the best work they can. For frontline agents in a contact center, that means providing the tools that allow them to fully understand a customer's history, problem, emotions, and intent and the ability to respond effectively.
Contact centre software that's augmented by AI and natural language processing can do all of that and more.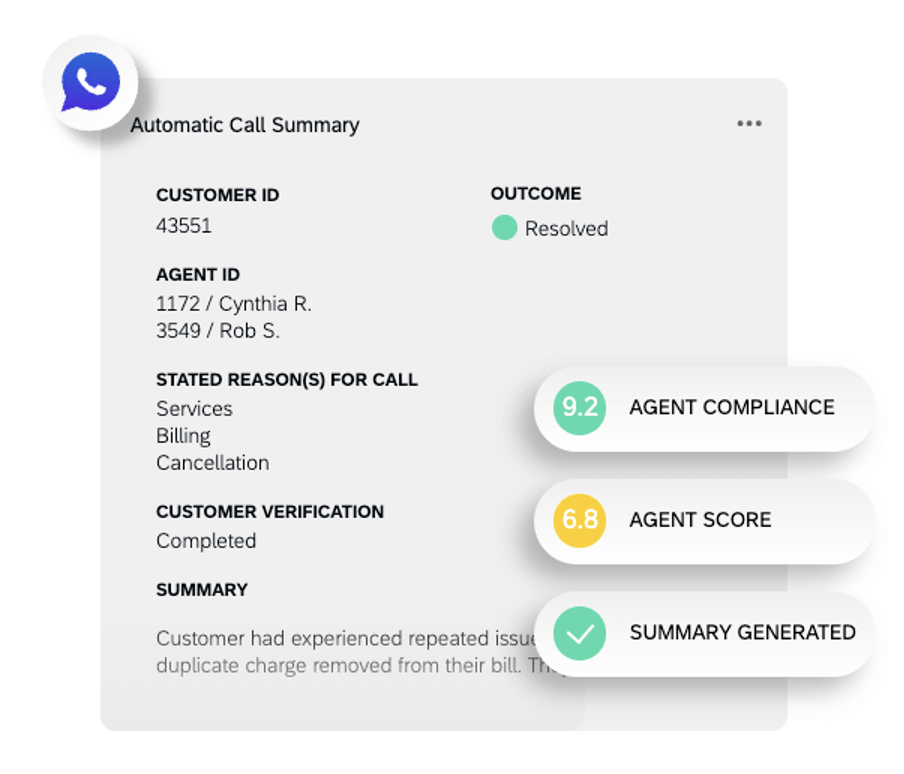 An omnichannel focus
Customer satisfaction can be directly affected by how long it takes for customers to receive a reply to a question. In fact, HubSpot suggests that 90% of customers state that an instant response to a customer service question is important.
In practical terms, that means maintaining a fully omnichannel approach to customer service, where your customer service strategy is unified across each touchpoint. Listening across channels is one part of this, but so is consistency in approach. You need to be fast, sure, but customers should feel as though they're getting the same experience and level of customer service regardless of the channel or medium.
The ideal customer service experience allows your teams to carry conversations between channels, without the customer having to repeat themselves when they move from one to the next.
A personal approach
As McKinsey puts it: 71% of consumers expect companies to deliver personalised interactions. And 76% get frustrated when this doesn't happen. But what does a personal approach to customer service mean? While you shouldn't expect an in-store representative to be clairvoyant in knowing people's names and needs, you can, where possible, take the effort away from people seeking help by getting to know them better.
How? Software. Any good customer service and contact center software should be able to build a vivid picture of each and every customer, while the really smart ones can layer in information about their preferences, needs, and desired outcomes. That can help customer service representatives smooth over previous struggles with a sincere, context-rich response, for example, or it can help you offer a personalised discount on a product line you know that customers will love.
You've probably experienced poor customer service before, right? It's impersonal, and cold and adopts a blanket approach. The opposite, then, is customer service that speaks directly to the individual in a meaningful way.
Tips for customer service professionals
If you're working in a customer-facing service role and want to excel in your work, these are for you.
1. Practice active listening
Behind every customer, a service call is a real human who has a question or concern that needs to be answered. The person needs to feel understood, heard and served. Active listening is a key skillset you can develop by practicing daily with your co-workers and family. First, you should approach each conversation to learn something and focus on the speaker. After the customer is finished speaking, ask clarifying questions to make sure you understand what they're actually saying. Finally, finish the conversation with a quick summary to ensure everyone is on the same page.
By practicing active listening, you're not only going to possess the ability to become a truly exceptional customer service agent, but you'll also improve your relationships outside of the office.


2. Learn to empathise with your customers
Empathy is the ability to understand how the customer is feeling and where they're coming from. While some people seem like they're born with this trait, it's a skill that can be acquired. When listening to the customer, try to see the problem through his eyes and imagine how it makes him feel. This is an important customer service skill because the customer will be more receptive if they feel understood by you. It can also de-escalate a conflict and create a more enjoyable interaction with your company.

3. Use positive language
When attending to customers' problems, using positive language takes the stress away from the situation. Words are powerful and they can create trusting relationships with your customers. Verbs should be used positively. For example, instead of saying "don't hit the red button" say "the green button is the best option." The future tense is also positive as it doesn't dwell on the customer's past issues. Phrases like "Great question, I'll find that out for you!" and "I'd love to understand more about …" can keep the customer in the present moment. Also, remember when speaking to customers to make sure you're authentic, positive, memorable, and to stay calm and positive, even if the customer is angry.

4. Improve your technical skills
Customers may come to you with all types of problems and they want their questions answers fast. If you don't know how to properly implement a service ticket, you'll be wasting their valuable time. Before interacting with customers, you should fully understand how to use your live chat and ticketing system and learn to type fast.
5. Know your products and services
To help the customer, you must have a deep knowledge of your products and the way they work. It's recommended that each customer service agent spends onboarding time with a seasoned product specialist so he can ask questions and fully understand the ins and out of the product. This way, you'll be able to help customers when they're troubleshooting issues, and you'll know product tips and tricks you can share to make the product easier to use.
6. Be human
Live chat, email, or even telephone communication can seem impersonal because you can't read the other person's facial expressions and body language. Consumers want to feel connected so look for common ground to make a quick connection.
Learn how to humanise your customer experience
7. Communicate Clearly
The ability to clearly communicate, both verbally and in writing, is essential in excellent customer service, especially if you are speaking to someone who has a different native language. Answers to your questions should be clear, concise, and in your natural tone of voice.
Customers want an explanation, but they don't need to know all the details. If they ask for more details, you can share, but most people want their issues resolved quickly. Always end each conversation with the question, "is there anything else I can do for you today?" so they have one more opportunity to ask another question and you know you've done everything you can to resolve the issue.
Also, be sure to communicate hold times if you put them on hold while you pull up their account or talk to your manager. On live chat especially, you mustn't do idle too long.

8. Be solutions-focused
Contact center work can be emotional, and sometimes you'll be dealing with people who are frustrated or angry. For your sake and theirs, it can be helpful to adopt an approach that keeps you focused on the bigger picture and helps you stay resilient and determined to reach a good outcome. Make it your mission to find solutions and help your customers move from a problem-focused mindset to a more positive one. This approach is even more successful when the customer is in a good frame of mind, to begin with.
9. Admit mistakes
If you've misunderstood a customer's needs, made an error that's cost them time or money, or failed to do something you said you would do, be transparent. It happens – everyone makes mistakes, and admitting to them is often the quickest way to resolve the situation positively.
If the mistake is on the part of the business rather than something you've personally done, you can still take the customer's points on board and be clear about what you'll do to help them rectify the situation. Be clear that wherever the problem originated, you are committed to finding a solution for them to the best of your ability.
10. Be willing to learn
Tom Brady didn't learn to be a great football player in a day. It took years of practice and he was even a backup quarterback before he earned the starting position. And now, even though he's a Super Bowl-winning quarterback, he continues to eat nutritious food, watch game tapes, and receive feedback from his coaches.
Great customer service is no different. To be a world-class customer service representative, you must be willing to work on these customer service skills and learn from your mistakes.
Customer service tips for management and operations leaders
Leading a team or department, or making decisions about how to provide excellent customer service in your organisation? Read on for tips on developing your team's essential customer service skills.
1. Provide first-class training
Customer service representatives are the front-line of any business, so it's critical to support them with the best possible training. Whether it's a formal course, an easily-accessible wiki or online reference tool, ongoing mentoring and coaching from more experienced staff members, or a combination of approaches, do what it takes to make sure your staff feels confident and clear about how to do their jobs well. Improving the agent experience is worthwhile – the more engaged your customer service representatives are with your company and their career, the better their dedication to customer satisfaction.
2. Set your standards high
Make sure your staff understands how valuable their role is and how seriously you take their contribution and customer service skills. Set standards for what is expected and be clear about why it matters that staff are – for example – always courteous, punctual, positive, and supportive of other team members. Setting clear expectations will help staff members to feel confident in doing their jobs well. Here are some inspirational customer service quotes that will help your team to understand the value of the work that they do.
3. Have a clear escalation pathway
Inevitably, customer service teams and contact center agents will come across customer questions and problems they can't solve on their own. Be prepared for this eventuality by formulating and communicating an escalation plan for each person's role, so that everyone knows who they should reach out to with a customer question that goes beyond their remit.
4. Align your customer journey touchpoints
Every customer service experience is part of a larger story. Customer journeys can involve touchpoints from all over your business, from a customer seeing a billboard by the highway to their experience of finding and downloading a smartphone app. Consider your customer service offering in the context of a whole customer journey and you'll have better insights into how much customers know, what their goals are, and what interactions they may already have had with your business.
5. Create a culture of excellence
Happy employees make for happy customers. When your EX (employee experience) and CX (customer experience) goals align, you can begin to build a culture around a customer experience that has employees feeling fully engaged and committed to their work. Good customer experiences should be not just "what we do" but also "who we are".
6. Be smart about automation
Chatbots and self-service tools can be an invaluable way to help customers with straightforward questions and challenges. They lighten the load on contact center staff and save customers from waiting on hold. But overwhelmingly, customer feedback tells us that when it really matters most, only a human conversation will do. Use automation and chatbots selectively, and always provide clear signposting for how a customer can bail out of an automated interaction and connect with a human agent.
7. Use tools that boost speed and efficiency
You could have the best customer service staff on the planet, but if they're stuck with slow, laggy, or unintuitive systems, or if they can't get the information they need when they need it, the result will be a poor customer service experience. It's crucial to choose customer relationship management and contact center tools that support fast resolutions and stress-free experiences for your customers and your employees. Look for a platform that offers complete integration with your other business systems and provides real-time data from across your business, so that your staff has the details they need at their fingertips. It's all part of developing an agile workforce that can flex and change according to need – and for better customer service experiences.
8. Measure and analyse customer feedback
The best way to understand if your customer service is top-notch is to ask your customers. Use surveys to track top customer service metrics individual performance and ask service agent-specific survey questions, such as, "How knowledgeable or unknowledgeable would you say our service team member was?" and "How effective or ineffective would you say the service team member's communication was?" Once you understand which areas you excel at and which ones you need to improve, you can focus on specific skills.
9. Use closed-loop feedback
How you receive customer feedback is important. What you do with it next is absolutely crucial. With closed-loop feedback, a business makes a practice of following up with customers, especially those who have been dissatisfied, to let them know how their feedback has been implemented and how it has changed the company's approach for the better. Doing this sends a clear message to the customer – we hear you, we value you, and we make use of the knowledge you provide.
10. Listen, understand and take action
The process of listening to customer feedback and customer service reps' feedback is important but more vital is taking action. Demonstrating to your customers – and your customer service professionals – that their feedback has value and that you are listening to them will help you to deliver good customer service (or even great customer service!). It'll help to improve customer loyalty, but also help you to foster stronger relationships with your team as well.
The two key ingredients to excellent customer service
Above all else, it's worth remembering two key factors that make for excellent customer service:
1. Empathy
The real secret to great customer service is being able to empathise with everyone who seeks help and to do so earnestly. That can be a challenge when you're operating at scale, but it's not impossible. The solution is to supplement your customer service agents' innate sense of empathy with technology that can layer in context and understanding.
We're talking shout conversational intelligence, that – no matter the platform customers talk to or about you on – can clue you in on what they need and how they feel.
Using natural language processing, conversational analytics, and intelligence can give customer service teams a shot in the arm by scouring customer conversations from every touchpoint (including third-party review sites), and score effort, intent, and emotion to present a much clearer view of how they're feeling.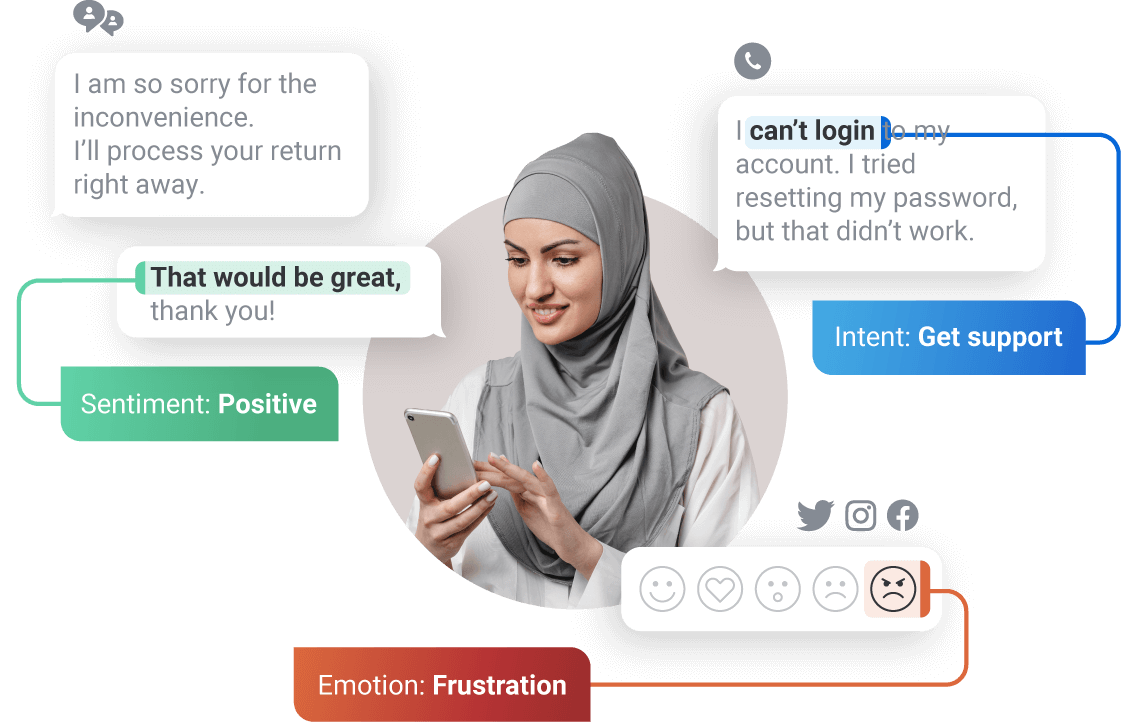 Any customer service representative empowered with this information is better prepared to deliver exceptional service, and with the right contact centre technology, you can go even further.
Solutions like Qualtrics XM Discover can also monitor conversations in real-time to check things like agent script compliance as well as how a call is going, and provide on-the-spot actions that can help steer things in the right direction.
The result of using this kind of customer service and customer support technology will be customers who feel listened to and understood and agents who can exhibit a real sense of empathy. That'll mean an uptick in customer satisfaction and, crucially, retention.
2. Prioritisation
All customer issues should be focused on with unilateral urgency, but when you have limited staff resources it pays to be able to prioritise. This means going beyond just defaulting to first-come-first-serve. If a customer has had a bad time trying to resolve an issue, you never know what length of wait might be the final straw.
It's also important for agents to stay on task, focusing on the most meaningful interactions. When tedious – but important – work like post-call write ups or logging follow-ups contributes extra time and effort, any time you can give back to your frontline agents can go a long way.
This is especially important as post-call work contributes to agent burnout with one in five agents (20%) thinking about quitting every week, according to Qualtrics research.
That's why we've just announced Automated Call Summaries – a new feature that enables customer service agents to focus on customers while our AI-enabled software delivers instant, accurate automated call recaps that include all relevant details discussed during the call.