---
What is organisational culture and how does it relate to employee experience?
Company culture means having shared values, goals, ethics, expectations and beliefs at work. Personal differences notwithstanding, the culture is created and maintained by everyone in the company.
In this sense, culture has a close relationship with employee engagement, since engaged employees feel high levels of personal commitment to their work. This seems more likely to happen when there are shared values and beliefs.
Daniel Coyle, the author of The Culture Code, defines company culture as an active process.
"Culture is a set of living relationships working towards a shared goal. It's not something you are, it's something you do."
A company's culture often starts with the founders or leaders and extends to the employees as the company grows. It can be consciously built and nurtured, or it can evolve spontaneously through employee behaviors over time, or through leadership decisions and role models.
Want to enhance your employee experience for results? 
Company culture and employee experience
Gartner defines employee experience as: "the way in which employees internalise and interpret the interactions they have with their organisation, as well as the context that underlies those interactions."
Deloitte noted in 2017 that "A productive, positive employee experience has emerged as the new contract between employer and employee," framing employee experience management as a minimum requirement for anyone intending to hire a workforce of any kind.
When it comes to employee experience, culture has a significant impact on what it's like to work somewhere, for better or worse. Organisational culture affects day-to-day interactions, relationships between employees and managers, and even the physical workplace environment.
For example, if workplace culture is all about creativity and self-expression, it's likely that employees will have spaces at work to collaborate, such as breakout rooms, quiet rooms and lounges, and that they will feel comfortable dressing however they like at work.
On the other hand, if a company culture prioritises tradition and professionalism, employees are more likely to dress formally. There may be a clean-desk policy and a classic open-plan layout or cubicle system with meeting rooms.
In many ways, employee experience, along with its close cousin employee engagement, is a product of company culture. But the relationship works both ways. You can strategically workplace culture by enhancing some of the drivers of employee experience, such as employee engagement. We'll provide some suggestions on how to do this later in the article.
How does culture impact employees?
Company culture influences the employee experience at multiple points in the employee journey.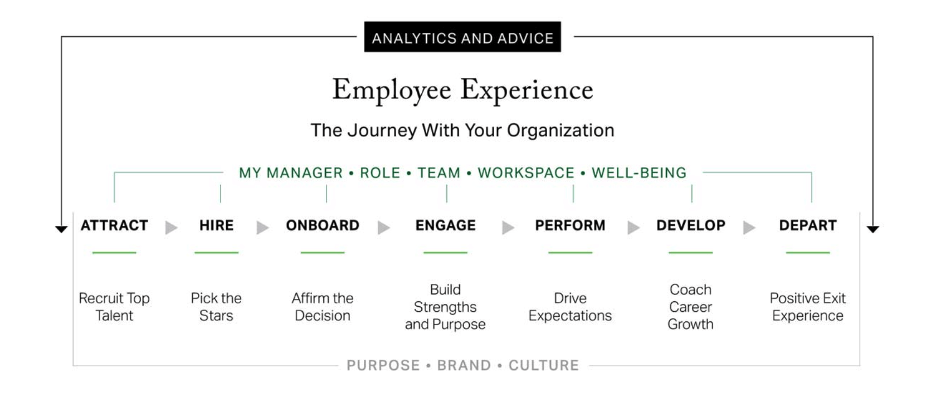 Recruitment phase
Workplace culture is highly prized as a differentiator among employers, especially during the current climate of high employee turnover. As we navigate the Great Resignation, it's clear that organisations with a distinctive and well-defined culture are strong at attracting highly talented employees.
Hubspot, which was ranked second in Glassdoor's 2022 Best Places to Work list places culture as one of the core components of an employer brand, alongside leadership and values.
When an organisation takes care of its culture, it tends to be implied that it also takes good care of its employees. A culture that is valued tends to be one that's positive, which means the employer cares about creating a great place to work and a great employee experience.
The proof of a great culture comes from the employees themselves, who are more likely to have high levels of employee engagement and may offer testimonials and good reviews of their employer. They will speak positively about their employee experience to friends and family, even to the point of referring them to apply for a vacancy – a behaviour you can measure with eNPS (Employee Net Promoter Score).
Onboarding process
The all-important employee onboarding process, where new hires get settled in their roles and form their initial impressions of the company, is strongly impacted by an organisation's culture. We list it as one of the 5 'C's of employee onboarding, along with connection with others, clarification of expectations and roles, compliance – routine paperwork, and checking back with milestone meetings to make sure an employee's settling in well.
One of the reasons culture is so important during the employee onboarding process is that employees are experiencing the company's culture with fresh eyes. As they assimilate into the new environment they will be naturally attuned to differences between their new workplace culture and their previous one.
Whether the comparison between former and current company cultures yields a smile, a frown or a 'hmm' depends in part on the fit between a new employee's values and those of the employer. However, it's safe to say that nobody wants to work for a business with a culture of negativity. A positive culture and a positive employee experience tend to go hand in hand.
Retention stage
To retain talent and to have as many engaged employees as possible, an organisation must find the right balance between dynamism and sustainability in its culture.
A great organisation creates a sustainable working life for employees, preventing them from burning out by maintaining a strong work-life balance and prioritising well-being. At the same time, it must provide enough challenges and growth opportunities to engage employees and make sure they feel they are making progress.
And when the time comes for employees to depart, a positive company culture will help make sure their departure is an opportunity to look back constructively, cement ongoing connections and leave with a sense of gratitude and optimism.
What's the ROI of strong workplace culture?
To understand how your company culture moves the needle on your bottom line, you need to be able to measure and analyse the right kind of data.
Employee surveys are invaluable in understanding and measuring your culture, and the employee feedback data they provide can help you track cultural KPIs such as employee engagement against financial and operational signals like revenue, profit, growth and sales.
Thanks to advances in technology, relationships between business performance and culture can also be gauged by computational linguistics, as described in HBR's 2020 article 'The New Analytics of Culture.' The authors assessed employee reviews and written communications using natural language processing, revealing rich data on corporate culture.
Every company has its own approach, but a good deal of research highlights the powerful influence of company culture on organisational success:
Research at UCLA found that 46% of a company's profits could be attributed to a positive company culture
The ADP Research Institute found that employees who feel seen and valued at work are 75x more likely to be engaged than those who don't
88% of employees believe that a defined company culture is key to business success, according to Deloitte
How to improve company culture through employee experience
Employee experience is a complex phenomenon, bringing together emotional, practical and interpersonal aspects of the employee journey. Our EX25 framework identifies 25 important drivers of a positive employee experience, many of which directly influence culture.
Your employee experience strategy can be used to tie employee experience and company culture together, making your culture resonate at important touchpoints across the employee life cycle.
Adding culture to the employee experience at recruitment
Recruitment is a point where culture can really shine through. Make the employee experience come to life by emphasising culture as you communicate your employer brand on job ads, marketing materials and at events like careers fairs. Include testimonials from your people about their employee experience, showing rather than telling potential candidates about your levels of employee engagement, well-being and inclusion.
When candidates meet your hiring managers and HR professionals during the screening process, make sure those employees are empowered to speak honestly about their own employee experience, rather than just communicating on behalf of the company.
You can use feedback from candidates at this stage to assess how your culture is coming across and whether the recruitment process accurately reflects the employee experience.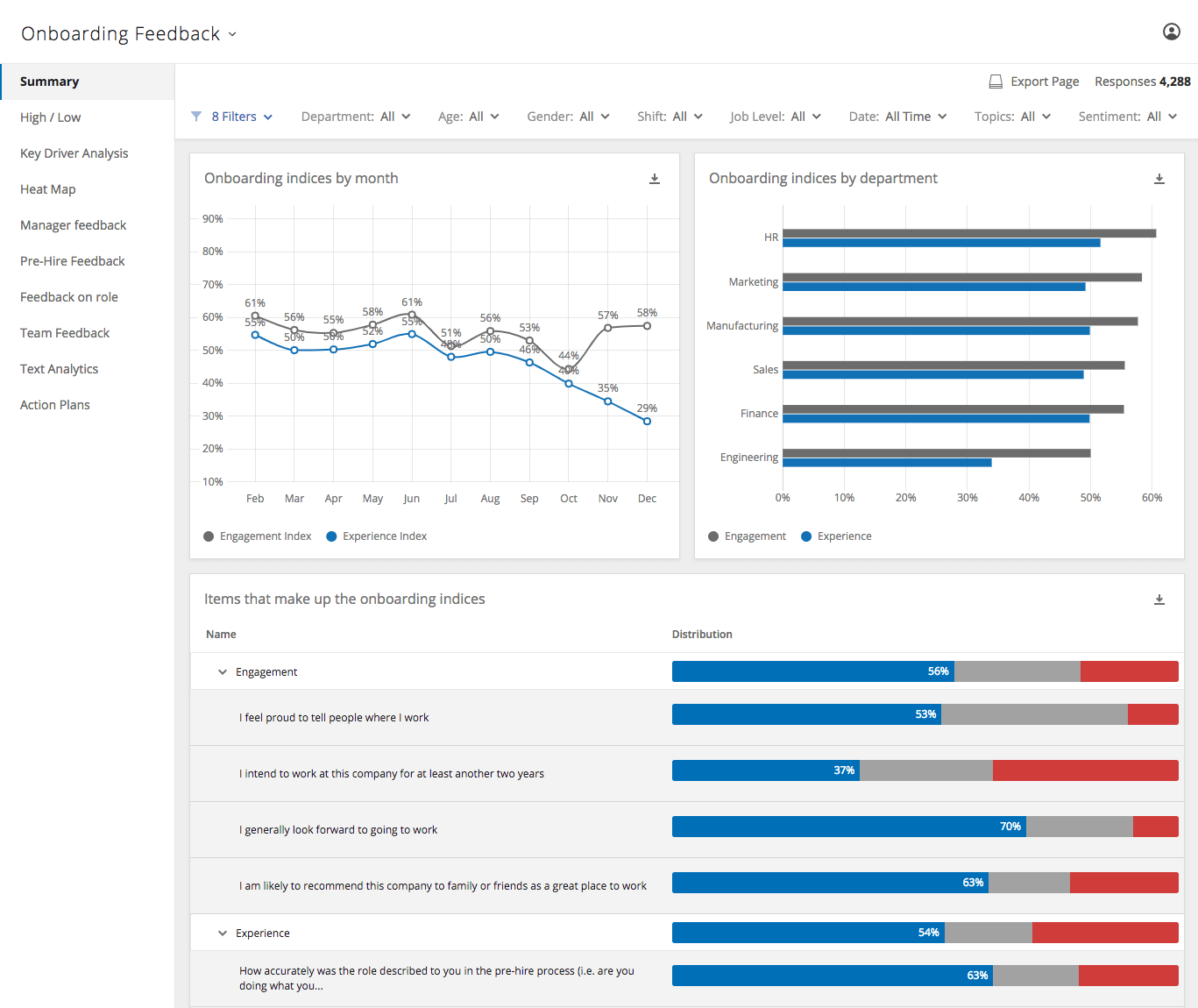 Employee experience and company culture during onboarding
At the onboarding stage, the new employee is living your culture, not just learning about it. It's helpful to have your company values visible and accessible, whether through induction materials, branding in the office and remote work environment or more organically as part of discussions with managers and HR professionals.
Remember that unless you've spent time thinking about and nurturing your culture as part of the employee experience, your employees may not be as aware of it as your new starters. It may be helpful to identify a person the new employee can talk to, such as their manager, to discuss the culture and how things are done. This can also be a great opportunity to gather employee feedback.
Employee experience and culture in development and training
The way you approach employee development and training depends heavily on the culture of your organisation. Culture informs how much you invest in employee training, whether you opt for self-directed professional learning or a more structured process, the role of management practices and manager relationships in development, and whether employees feel that they are in control of the direction of their careers.
Take time to make sure your employee development program reflects your culture and values, and that you can clearly draw a link between the approach you're taking and the things you believe. For example, if your company culture centers around initiative and empowerment, this might be reflected in a policy of giving employees a training budget and full autonomy on what to learn.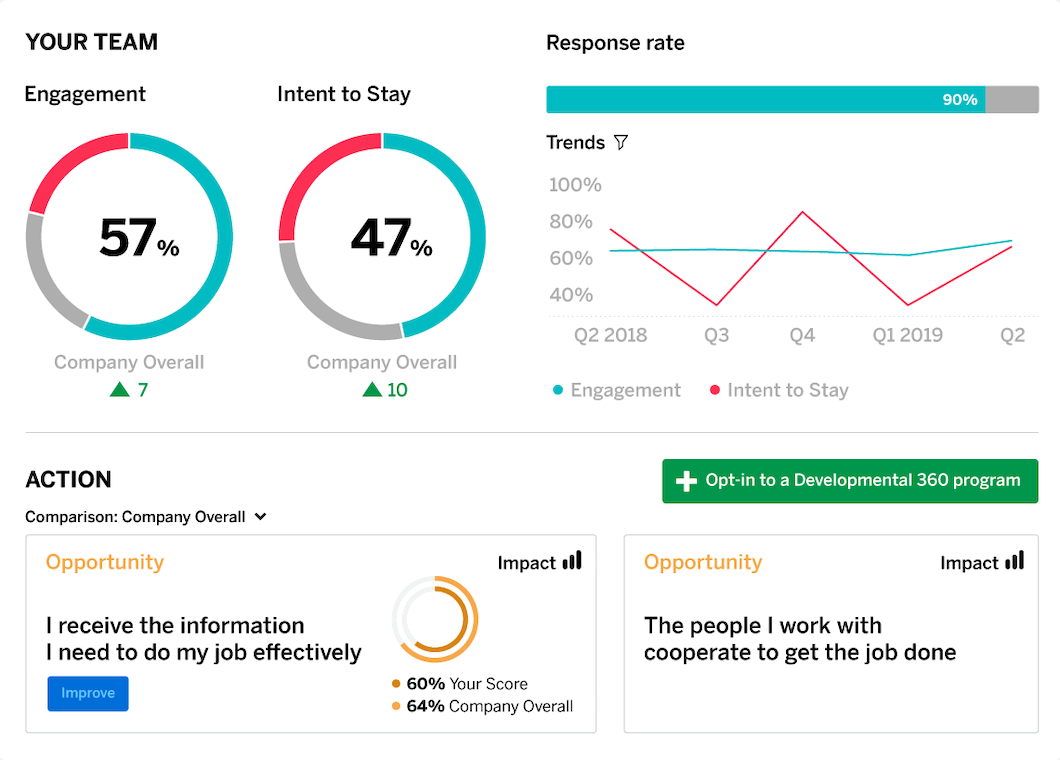 Ready to start levelling up your employee experience?
With Qualtrics EmployeeXM, gather continuous feedback from every employee experience to take the right actions to improve engagement, support talent planning, bolster productivity and drive innovation. Take advantage of:
Ultimate listening
Whether employees are in the office, on job sites, or working remotely, hear every voice in your organisation with a listening engine that's always on and ready to help you take action. From relational census and pulse to multi-rater and always on feedback, you'll have the tools you need to listen, understand and design unique employee experiences.
Predictive analytics
Take action before problems become widespread with advanced statistical and human language tools that automatically model your experience and operational data 24/7 to surface key areas to focus on. 
Automated actions
Using guided manager action planning and real-time automated workflows, you can ensure that no experience goes neglected. Use our tools to automate actions for frontline managers in real-time and implement feedback loops for every employee experience.