---
What is competitive benchmarking?
Competitive benchmarking analysis seeks to understand your brand's success against others within your industry. You might evaluate their business strategy, their practices, or the products and services they offer to see whether you compare favourably or unfavourably. Using key performance indicators, you can create a set of benchmarks for yourself to match up to others in your sector and understand where the gaps are.
Competitive benchmarking is a useful tool for understanding where you can go next with your brand strategy, and to see where you could be servicing your customers more effectively. It can help you see why your audience might choose a competitor over you, and work on strategies to attract them to your offering instead.
Typical competitive benchmarking includes metrics such as:
Start your free 30-day trial of DesignXM today
Types of competitive analysis
Competitive benchmarking can be divided into three types: performance benchmarking, strategic benchmarking, and process benchmarking.
Performance benchmarking is where you compare your brand's performance across revenue, brand awareness, social media engagement, and more to see how you fare against others in your industry. What results do you generate, and how could you improve against your competitors?
Strategic benchmarking is where you evaluate how your brand goes about its business in comparison to competitors. What business models do they use? What planning and execution style does your company use, and how does that compare to the market leader's approach? By taking a deep look at how you plan for and carry out your strategy, you can become more effective at implementing change and improving.
Process benchmarking is the analysis of how well your current processes work within your business. Evaluating how your processes work in comparison to your competitors can help you to see the differences between your business and the next, allowing you to take inspiration from competitors or work on providing unique selling points to your customers. Becoming more efficient is a key reason to benchmark in this way.
One of the main advantages of breaking down competitive benchmarking in this way is that your overall business strategy can be overhauled in a manageable way. Rather than solely focusing on performance, you can also evaluate the processes and strategies that lead to performance results.
Competitive benchmarking metrics
Before you can create or use competitive benchmarking metrics, you'll need to gather data and determine what key performance indicators will form the basis of your benchmark.
Gathering data
Before benchmarking yourself against your competitors, you'll need to complete some thorough research to define your key performance indicators. These will help you to develop some specific metrics to measure yourself against now and in the future.
You might try finding data by doing:
Business research: What is their annual revenue? How many people do they employ? What are their online reviews like?
Brand research: What is their share of voice or share of wallet in your sector? What are their online reviews like?
SEO research: How do they fare in search engine results? Are they using paid social marketing to reach their audience?
Survey research: How do they survey their customers? How often do they ask for feedback?
Social media research: What level of social media engagement metrics do they generate? How do their social media metrics compare against your own?
User experience research: Are their digital platforms mobile-optimised? Are their sites easy to navigate? Is it easy to understand their product and service offering, and make a purchase?
Content analysis: What content do they produce, how much, and when? Does it get high levels of engagement?
Of course, completing this research and creating competitive benchmark metrics without the available data can be difficult. That's why since 2019, Qualtrics' XM Institute™ has completed its annual XMI Customer Ratings  – Digital, a cross-industry, open-standard benchmark that provides a much-needed reference point for companies who want to compare their digital customer experience (CX) against their industry competitors.
See how our new Digital Experience Metrics can help you benchmark more effectively
Completing competitive benchmarking analysis with metrics
Qualtrics' in-depth research into brands' relationships with their audiences led to the definition of three critical aspects of a customers' digital experience:
These three elements form the basis of Qualtrics' DX3 metrics methodology. It is Qualtrics' simplified approach for measuring meaningful digital experiences and understanding the drivers of conversion, loyalty, and improved customer lifetime value.
Brands often complete CSAT and CES scoring to create internal benchmarks for comparison over time. However, these metrics can be difficult to incorporate into your competitive benchmarking, as the results are often private data.
Qualtrics' BrandXM™ provides you with insight into your competitors' performance, and helps you to create data-led strategies for improvement. Unlike other competitive benchmarks, Qualtrics solutions take into account DX3 metrics methodology, which measures economic value alongside other typical indicators of success.
The DX3 metrics in practice
DX3 metrics are able to tie business outcomes directly to increases or decreases in the measurements brands use to benchmark their success, either against themselves or against competitors.
Our latest findings:
As customer satisfaction (CSAT) improves, customer spend increases by up to 37%
As customer effort decreases, customer spend increases by up to 23%
Successful task completion isn't a useful metric
This means there isn't a strong relationship between the completion of a task and the amount customers spend. Most customers are able to complete a task – meaning that if they can't do so on your site, you're falling behind your competitors significantly.
Positive sentiment and low effort scores drive loyalty
Digital loyalty – or the likelihood to return to a brand's site – is significantly increased when customers have a positive sentiment toward the brand and find it easy to complete their tasks.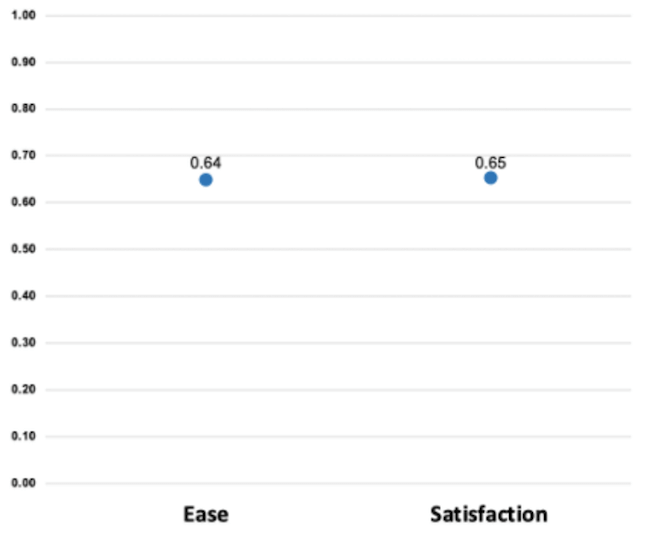 Brands that don't focus on improving these two factors may well find themselves falling behind as consumers turn their digital loyalty to immediate competitors and industry leaders.
Gaps in Emotion, Effort, and Success reduce potential revenue
For eCommerce industries, gaps in emotion, effort, and success have a negative impact on potential revenue to be generated.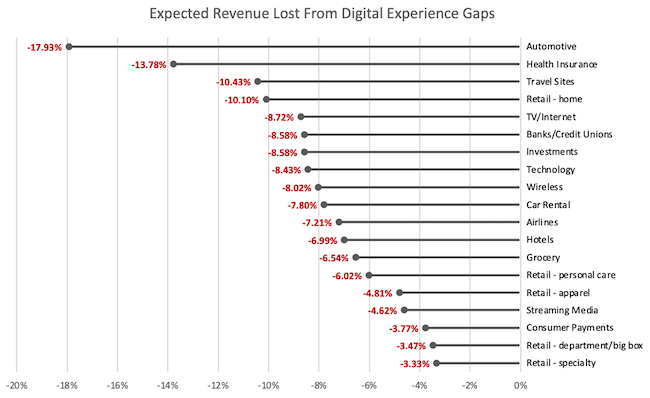 For businesses that sell their goods and services online, one way in which they can improve their bottom line above their competitors is to invest in their digital experience. Given that brands are failing to satisfy or make their experiences low-effort, this is an easy win for brands looking to get ahead.
Creating a strategic benchmarking approach
Using the DX3 metrics methodology as a guide, your strategy to outdo your competition becomes more sophisticated and increases ROI on your efforts. Rather than limiting your efforts to improve using only internal benchmarking, Qualtrics can provide you with competitor analysis and business strategies for improving your market position.
Developing a brand experience strategy using DX3
Rather than aiming to merely increase engagement or a site's performance, using DX3 metrics alongside traditional competitive benchmarking can help you to develop a more rounded strategy for improved brand experience.
Here's how you can use Qualtrics BrandXM with the DX3 methodology to develop your brand into an industry leader.
Improve the brand experience
Your brand experience should not only meet customer expectations, but exceed them. Brand sentiment and brand perception can go a long way to influencing a customer to choose you over the competition – make sure you invest in a strategy that not only measures this but creates insights-led action to tackle weaker areas. Customer satisfaction plays a large role in this, so make sure you're developing a sophisticated survey program to understand precisely where pain points and successes lie.
Reduce customer burden
If there are obstacles in your customers' way, they're not going to choose your experience over your competitors'. It's not enough to just meet best industry practices – you'll need to be exceptional in making the digital customer journey a smooth process to stand out.
Assume completion is the minimum
Your customers should be able to do what they intend to do when interacting with their brand – fix the pain points in your processes to make sure you're meeting the baseline for the competition.
The best tool for competitive research
Understanding your brand's current position in the market and seeing how you stack up against the competition is key for improving your business outcomes.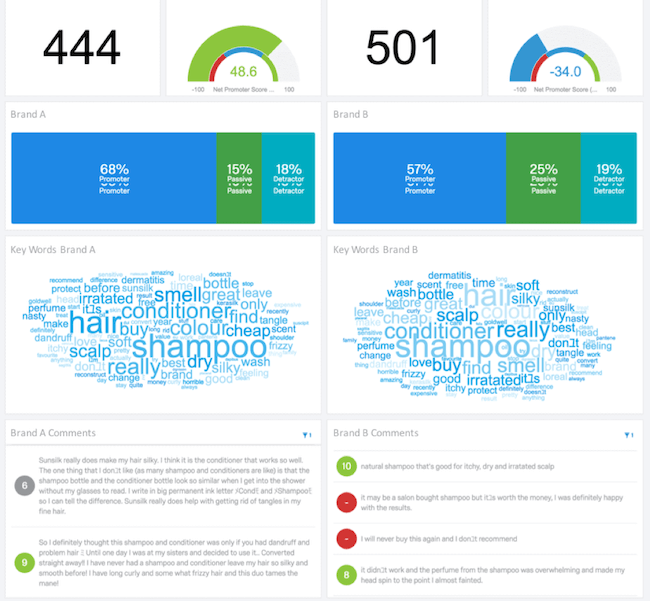 Using Qualtrics, you can better:
Understand how you compare to competitors in your industry
Identify where you can leverage strengths and bolster weaknesses
Find top areas for improvement to keep you ahead of your competition
Create a cohesive brand strategy for a winning customer experience
Improve your customer experience and brand renown
Qualtrics CustomerXM helps you to prioritise customer feedback, ensuring that you make changes that will drive the highest business impact.