Programa de compromiso del empleado
Información sobre el compromiso del empleado y planes de medidas en tiempo real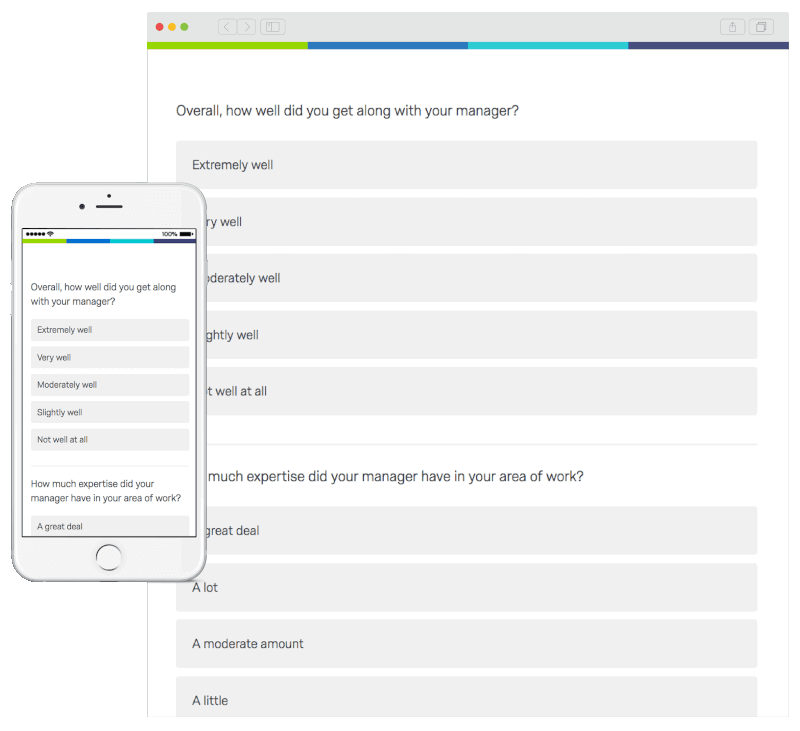 Permita a todos los responsables de su organización mejorar el compromiso del empleado al proporcionarles información en tiempo real que les muestre en qué aspectos deben centrarse exactamente para aumentar el rendimiento de los empleados.
La plataforma de compromiso del empleado de Qualtrics hace que sea muy fácil identificar los factores que impulsan la experiencia, el compromiso y la productividad, lo que le permite tomar medidas en tiempo real para crear una cultura empresarial de talla mundial.
Aumente el compromiso del empleado en toda la organización
Resuelva problemas rápidamente basándose en datos en tiempo real
Compruebe el impacto que tienen las medidas en la productividad de los empleados y en los indicadores clave de rendimiento de la organización
Proporcione a los responsables datos y planes de medidas
Reduzca el indeseable y costoso desgaste
Descubra una estrategia de compromiso innovadora
Personalice la experiencia
Conozca las experiencias importantes para sus empleados y envíe automáticamente a los encargados información en tiempo real para que puedan tomar medidas. La opinión del empleado se integra automáticamente en el organigrama de la organización para que todos puedan ver la información que más les interesa.
Obtenga opiniones de empleados a escala
Permita a sus empleados dar opiniones cuándo y cómo quieran para establecer un sistema digital de puertas abiertas. La escalabilidad de nuestro programa para empleados, que incluye encuestas y materiales diseñados por expertos, le permite recoger la opinión del empleado de forma regular para impulsar cambios en la organización.
Consiga información práctica que genere resultados
Convierta la opinión del empleado en mejoras reales gracias a análisis pensados para impulsar medidas. A medida que llegan los datos a la plataforma, irá viendo en qué factores clave necesita centrarse para lograr un mayor impacto sobre el compromiso. Además, podrá monitorizar sus mejoras gracias a las herramientas de planificación de acciones y las Pulse surveys de seguimiento.
Puede que su organización sea compleja, pero su programa de compromiso del empleado no debería serlo.
Deje que hagamos el trabajo duro por usted: nuestra herramienta patentada de organización jerárquica adapta la información automáticamente a la estructura de su empresa, sin importar lo compleja que sea. Los paneles y los resultados preconfigurados proporcionan los datos adecuados a todos los responsables y encargados de la organización, no solo al Departamento de RR. HH. Los responsables disponen de más de 20 filtros con los que profundizar en la opinión del empleado y encontrar conductores clave del compromiso en todos los niveles de la organización.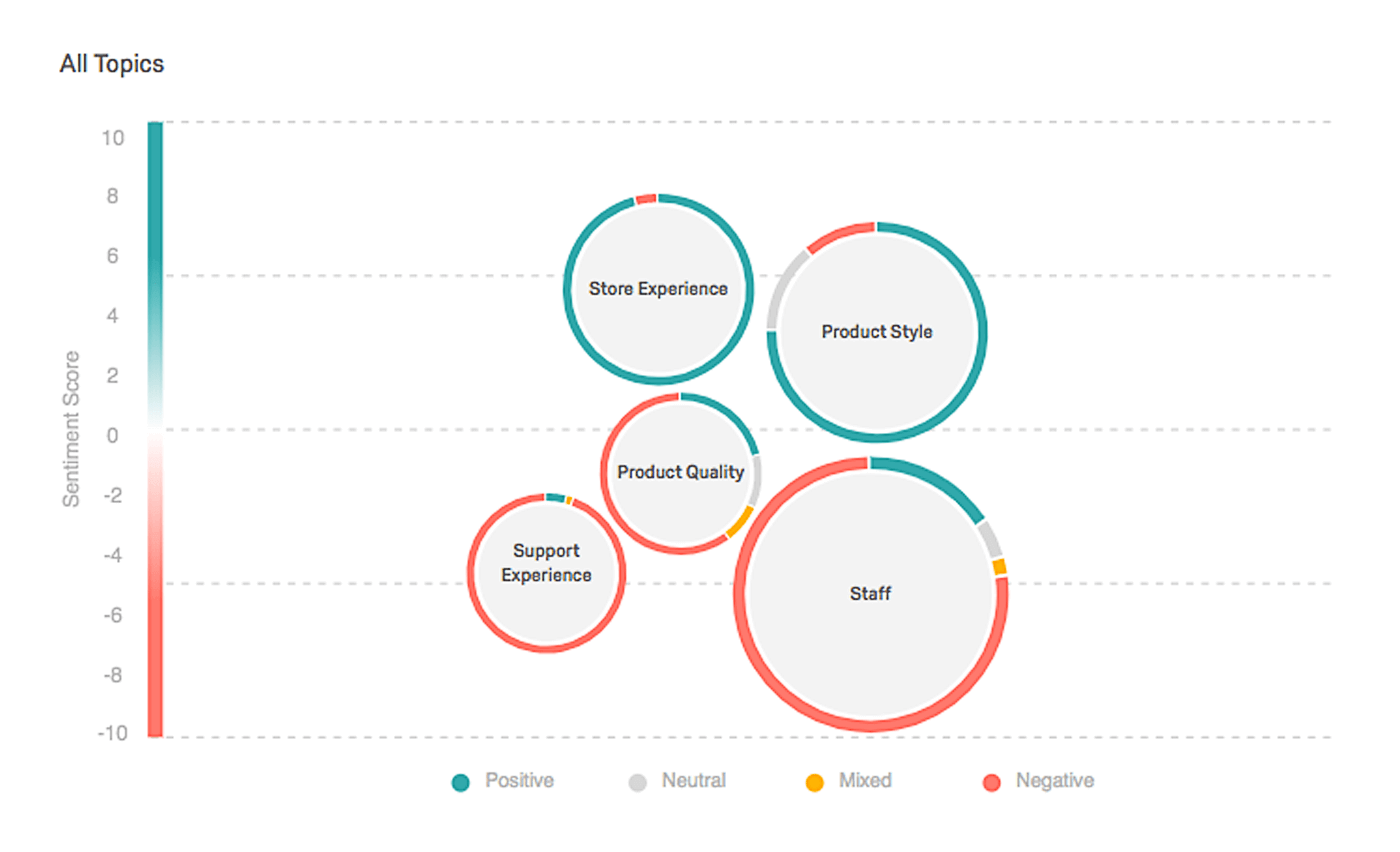 Análisis inteligentes de compromiso del empleado
Nuestro motor de inteligencia predictiva, Qualtrics iQ, revela la información que esconden las opiniones de los empleados aplicando la inteligencia artificial y el aprendizaje automático a sus respuestas en tiempo real.
Identifique temas y tendencias en las respuestas de texto libre con los análisis de opinión y de temas de Text iQ.
Más sobre Text iQ (EN)
Establezca vínculos entre los resultados del compromiso de los empleados con solo un clic gracias al sofisticado análisis estadístico de Stats iQ.
Más sobre Stats iQ (EN)
Detecte los problemas a tiempo gracias a alertas de riesgo automatizadas para cuestiones críticas, como el desgaste, con Predict iQ
Experiencia en el compromiso del empleado lista para ser utilizada ("Out of the Box")
Ponga en marcha una estrategia de compromiso del empleado innovadora en pocos minutos con Certified XM Solutions: un paquete de contenido preparado por expertos que incluye encuestas, flujos de trabajo, automatización y planificación de medidas integrada directamente en la plataforma.
Más sobre XM Solutions (EN)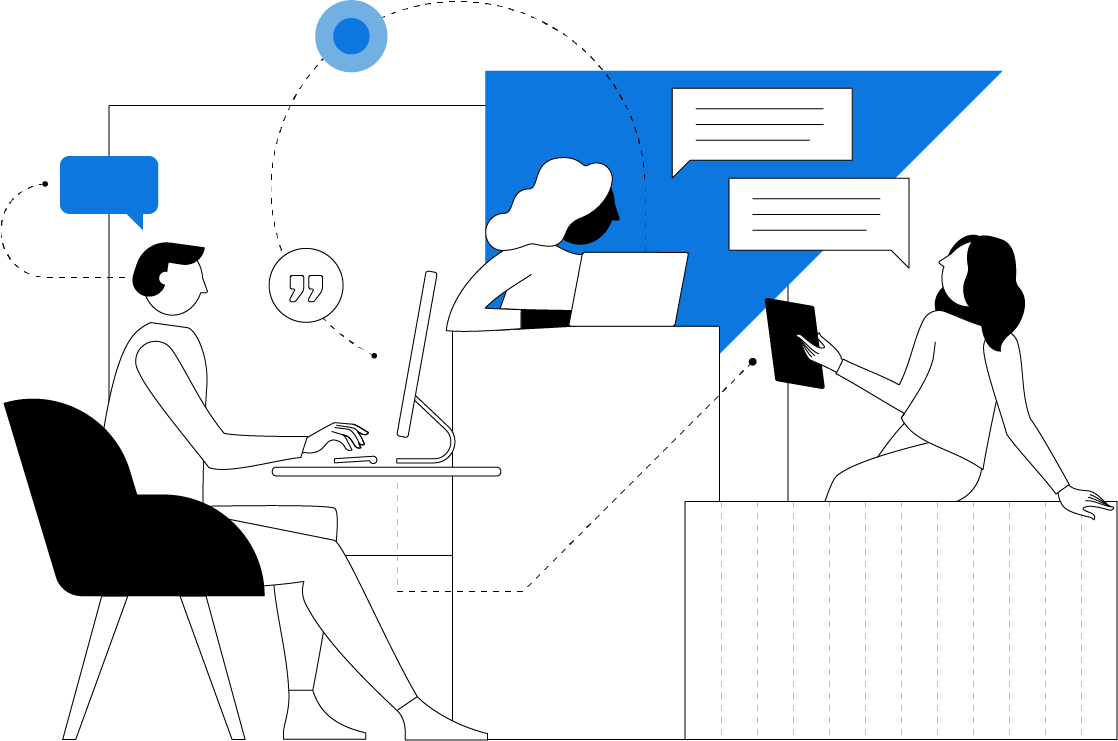 ¿Qué es el compromiso del empleado?
El compromiso del empleado se refiere a la actitud de una persona en el trabajo, es decir, lo que piensa, siente y hace para ayudar a su empleador a alcanzar sus objetivos. El compromiso del empleado es una forma integral de evaluar los sentimientos de los empleados hacia su empleador y su puesto. El compromiso del empleado puede tener en cuenta su satisfacción, felicidad y empeño por ayudar a su empleador a alcanzar sus objetivos. Los empleados comprometidos con habilidades y puestos adecuados ayudan a sus compañeros y a sus empresas a cumplir y superar sus objetivos.
Está comprobado que un programa de compromiso del empleado aumenta los ingresos, la calidad, la productividad y la satisfacción del cliente. Solo el 30 % de los empleados están comprometidos con su trabajo, por lo que es más importante que nunca evaluar y mejorar su compromiso. Ahí es donde entramos nosotros. El programa
Qualtrics Employee Experience
le ayuda a descubrir qué medidas debe tomar para aumentar el compromiso del empleado. Y lo hace en tiempo real.