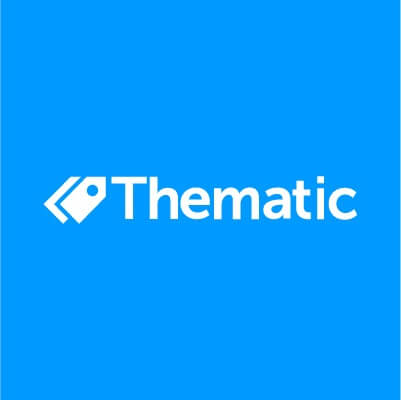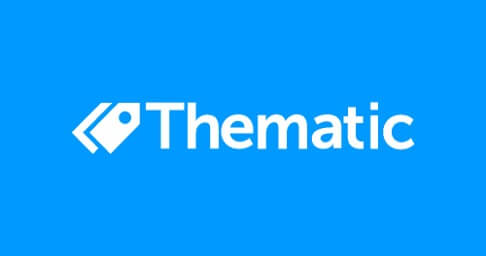 Integration
Thematic
Thematic transforms all your feedback into customer understanding, with AI-driven analysis, giving everyone the deep insights needed to make confident decisions faster.
Core Experience
Customer Experience
Thematic transforms unstructured and structured feedback across channels into rich, actionable insights in minutes. Works with your survey data, social media, online reviews, operational data and more.
Understand what matters to your customer and why from all your feedback sources, with no coding or data training. An essential tool to find the opportunities to grow your business and respond to issues faster.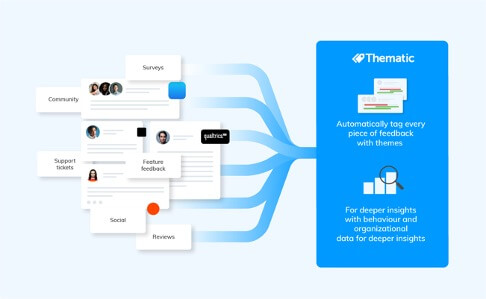 Outcomes Delivered
Get a rapid and rich understanding of your customers' needs

Automatically find what matters across all feedback sources, across all customers, key segments or channels.
Thematic AI uncovers themes from the data set itself. You can verify and refine the analysis at any time, via the no-code editor in the product interface.

Confidently plan and prioritize your roadmap

Understand and quantify each customer pain point to ensure you build the right things first.
Validate hypotheses for growth or churn experiments. Easily find and share relevant customer stories to give user context to engineers.

Respond to product and service quality issues faster

Discover issues and granular reasons for new customer feedback.
Identify bugs, UX issues and operational bottlenecks as soon as they happen.
Set up notifications for immediate triage and resolution of emerging issues before they become a bigger problem.
Track and quantify progress in the size and impact of themes after addressing issues.
Category Tags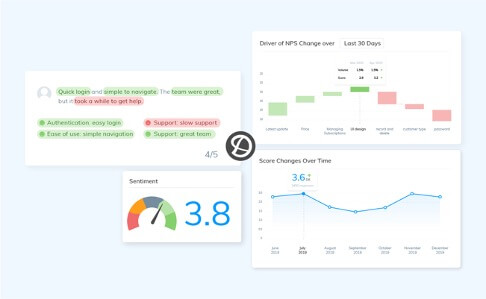 Ensure no pain point or opportunity goes unnoticed
Thematic categorizes text feedback into themes automatically, while giving you the capability to quality control and refine the analysis. It's the fastest way to uncover pain points, so you can solve issues before customers churn.
Continuously discover granular reasons for new feedback and changes in scores, with emerging themes. Be alerted to any opportunity or issue, so that your business can stay ahead of the curve.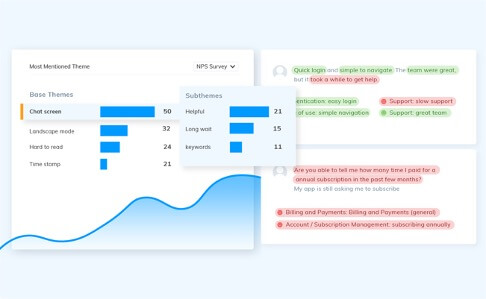 Validate ideas and features, without the painstaking manual work
Answer questions like "How are my churned users different from my power users in their pain points?" Quantify the impact of feature requests, UX issues or experiences on NPS score or ARR.
Get a high-level overview of your data and drill down into a specific issue. Share relevant customer stories to illustrate an issue and give user context to engineers.
Solution Details
Required License: Qualtrics Developer Tool / API license
If you're an existing Qualtrics customer, contact your Account Executive. If you do not know your Account Executive, please request a demo at https://go.getthematic.com/get-started/.
Already have the integration and are looking for help? Then visit Thematic's support at https://getthematic.com/contact-us/
Languages
English
Category Tags
Not a Qualtrics XM Customer?
Qualtrics Experience Management Platform™ is used by the world's most iconic brands to
optimize the four core experiences of business.