---
According to research, 58% of organisations have a formal employee onboarding process in place, but only 29% have a formal employee offboarding process.
Clearly, more effort goes into inducting new employees into a business, than bidding those at the end of their employee lifecycle farewell. But organisations that give little thought to employee offboarding are missing out: not only on the opportunity to foster good relationships with departing employees (and all their contacts – friends, family, future co-workers) but also on keeping the business less exposed to security risks.
Perhaps this emphasis on employee onboarding rather than employee offboarding stemmed from a competitive labor market where the goal was to attract top talent and retain them, rather than being too concerned about leavers.
In a recessionary economy, people tend to be wary of leaving their current employer and heading somewhere new. However, as organisations strive to cut costs and optimise their workforce, we are seeing signs of increased numbers of employees being let go. When an employee leaves an organisation due to redundancy, it is more crucial than ever to support and care for that individual, by offering them an efficient offboarding process.
What is the purpose of employee offboarding?
Employee offboarding is your opportunity to show the leaving employee you care about them, and ensure that they leave with positive feelings as an advocate of the organisation. Employees who have a positive offboarding experience, leaving with dignity and goodwill, are more likely to be advocates.
A successful offboarding process also ensures a smooth transition for the departing employee, their teams and the organisation by ensuring all necessary tasks, responsibilities, and knowledge are transferred to the right people at the right time. This helps keep productivity and continuity of work going, and other employees knowing what's going on.
As we've seen above, best practices in employee offboarding also safeguard the organisation against security breaches and threats, legal issues, non-compliance, and damage to company reputation.
What is the employee offboarding process?
The employee offboarding process is a series of administrative procedures that triggers when an employee leaves, either voluntarily or involuntarily. Done well, the departing employee leaves  with goodwill towards the organisation, and the organisation's security, integrity and functions remain intact and working seamlessly.
A good employee offboarding experience can be compared to that of a top university sending its graduates out into the world:
They're enabled to make a success of their next career step
There's an alumni program to keep in touch with the organisation, friends and colleagues, and network at future events.
Alumni can be the future customers, suppliers, boomerang employees, brand ambassadors and mentors
One report found that around 30% of alumni remained connected with their corporate alma mater as clients, vendors or partners. And that around 15% of new hires come from alumni themselves or recommendations.
A poor employee offboarding experience may be little more than contractual paperwork to fill in and sign, and a brief exit interview. An exiting employee experiencing a poor offboarding process may find managers uncaring, even rude. They may be treated as disloyal, even traitorous, by colleagues and bosses. This is hardly conducive to wanting to stay in touch with former colleagues and recommend the organisation as a good place to work.
And dangerously, when an exiting employee feels they have nothing to lose, they're more likely to be at best careless with company property, company assets, and sensitive company data, and at worst, intentionally fraudulent with it.
Research by Zippia  found that 76% of IT leaders strongly agree that offboarding is a significant security threat, and 20% of businesses have experienced data breaches connected to former employees.
An effective offboarding process, therefore, needs to have two parts to it:
1. Procedural
These are the standard procedures organisations must have in place, and include:
Notification
Notify the employee and their relevant managers of the reason for their departure, and the date that they'll leave.
Paperwork
Departing employees leave a substantial paper trail in their wake. Obtain the signed paperwork:
resignation or termination letter
non-disclosure agreement (NDA)
reference letter
tax documents
continuing benefits documentation such as retirement plans, unused PTO, bonuses, commissions or salary owed.
Recover company assets
All company equipment must be returned: vehicle, laptop, mobile phone, company credit cards, security and ID badges, keys.
Revoke employee access
This is one of the most important steps in the employee offboarding process. For security reasons, compliance and to avoid a data breach, you must revoke the employee's access to company systems and accounts, including:
Email and online calendars
Cloud storage and file sharing
VPNs and remote access services
Company intranet and internal communication channels
Project management and collaboration tools such as Slack and Asana
Human resources and payroll systems
Learning management systems (LMS) and training platforms
Customer relationship management (CRM) and sales software
Any other software or apps containing sensitive or confidential information
To do this effectively, and in a timely manner, the IT department or HR department need to:
Identify all the accounts the outgoing employee has access to
Deactivate or delete the accounts or software
Change passwords and other security settings for shared devices and accounts
Delete all work-related and personal data, and clear browser history from the devices and accounts
Confirm that the leaving employee can no longer access any systems or data
Tell everyone
It's disappointing for a client or customer to be told after the event that their account manager or favourite salesperson has left. Similarly, team members and coworkers need to know in a timely way that their team dynamic is going to change somewhat with an employee's departure. For the sake of good employee relations and employer brand reputation, it's important that you communicate a change when an employee is about to move on.
Knowledge transfer
Whenever an employee leaves, they take with them skills, experience, ideas and institutional knowledge that they've acquired during their tenure at your organisation. Knowledge transfer is important because it:
Maintains the quality and continuity of work
Prevents organisational knowledge loss
Supports the organisation's culture and values
Reduces risk of error
Prevents inefficiency and delay
You'll need to have in place a knowledge transfer process that:
Identifies who owns the knowledge
Assesses any knowledge gaps
Puts in place the best methods and tools for transferring that knowledge
Draws up a knowledge transfer timeline, with milestones
Monitors and evaluates the knowledge transfer
Gathers feedback on the effectiveness of the process to ensure future exiting employees transfer their knowledge effectively
Replacement
This applies less  in the case of redundancy and involuntary attrition, where a job role may be lost (although some responsibilities may be redistributed among remaining team members). But when an employee chooses to leave, you'll need to find and train a replacement as soon as possible.
And with time to hire varying enormously across industries and sectors, (for example, a job in government may take 54 days, while a bar or restaurant job, just 10 days) it's a process you need to start the moment an employee's departure is announced.
2. Experiential
Employee experience is an essential part of a modern organisation. When a person leaves, it has an effect on the experience of everyone they work with: team members, co-workers, managers, customers, clients, vendors – even the brand itself.
Capturing that experience is an essential part of making business more human. And when business is more human, your employees become brand advocates.
A well-structured offboarding process will include, and make full use of…
Exit surveys
Exit surveys and exit interviews with HR are essential parts of your EX program. Taking the time to give a departing employee the opportunity to share their feedback on their experience is important because that individual is free to highlight anything that they feel they need to. This is valuable feedback you can take on board and action so you don't repeat the same mistakes that may have led to this employee leaving.
After years of working with customers, at Qualtrics we have learned there are several key reasons why people decide to leave their organisation:
Development opportunities
Support
Enablement
Reward
Workload
Values
In order to get the best from your exit survey, we recommend that you incorporate these six areas into the exit interview questions and gather feedback about them specifically.
You can then use the survey data to improve the experience for existing employees and future employees, to increase employee retention and reduce unwanted turnover.
Watch demo: Employee exit interview survey software
Alumni
Induct the departing employee into your alumni program so that they can keep in touch with their former employer, and maybe become future clients, partners, referrers – even boomerang employees.
15% of employees have boomeranged back to a former employer, and 56% of HR professionals and 51% of managers say they give high or very high priority to boomerang job applicants who left in good standing.
Leaving do
Organise a farewell event to thank the former employee for their service and contributions, and give everyone who wants to, the chance to say goodbye too. This is also a good networking event when offboarding employees can make connections that will be mutually beneficial in the future.
How long does it take to offboard an employee?
The length of the employee offboarding process varies depending on the organisation's size, complexity, and the circumstances of the employee's departure. Factors that can influence offboarding time include:
Notice period
Role complexity
Deactivating technology and systems access
Knowledge transfer
Administration processes in various departments: HR, finance, payroll, legal
Exit interviews and exit surveys
What NOT to do when offboarding an employee
Although it can be frustrating to lose a high performing employee, it's important to support them in the next step of their career. After all…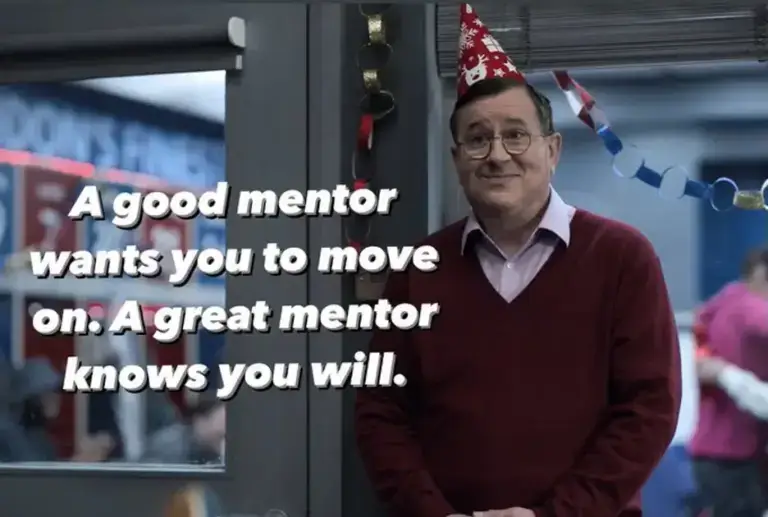 Maybe we should all be more Leslie Higgins. Make sure to be supportive of the employee's decision rather than regretful.
Don't give menial tasks
It's understandable that during the employee's notice period you want to avoid getting them started on new and interesting projects. However, don't fill their remaining days with boring, menial tasks. That will leave them with a negative impression of the work they did at your organization.
Don't hold back news of a departure
When someone leaves, this can often unsettle the team for a while. Holding back the news can sometimes feel like the right thing to do. It's better not to do this as it's stressful not being able to speak openly  with colleagues, it steals time away from transition work, and having time to say their goodbyes.
Don't overwork the notice period
Departing employees need space to be able to make sure their work is in order, write handover documents,  inform customers, and successfully transition work to other people. Avoid filling an employee's notice period with lots of work.
Your employee offboarding checklist
 Notify the employee and relevant management of the departure
 Gather relevant signed paperwork
 Communicate the change of staff to co-workers, clients, partners and vendors
 Begin knowledge transfer
 Ask for all company property to be returned
 Revoke access to company systems and accounts
 Wipe data and personal details from returned devices and equipment
 Conduct an exit interview and exit survey
 Settle up compensation and benefits
Organise a leaving do
 Connect with corporate alumni
How Qualtrics® can help with your exit interviews
Understand why your top performers leave, and inform actions across the whole organisation to reduce unwanted attrition. With real-time employee exit insights, you'll  have the data you need to retain top talent and build a happier, more engaged workforce who will need less offboarding.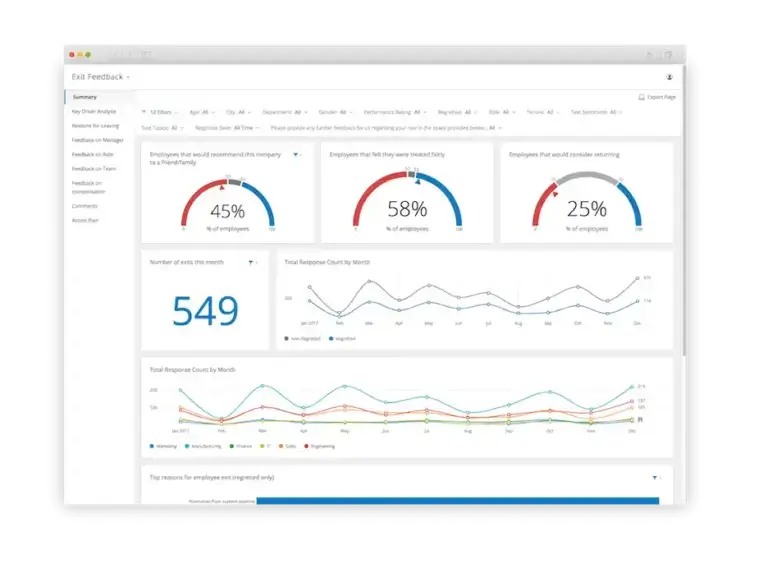 You'll be able to:
Automate your exit feedback with integrations into your HRIS system, to capture open, honest feedback so your HR team can focus on turning exit feedback into improvements
Embrace the power of intelligent analytics and step in early to prevent employee departure
Make connections between feedback at different stages along the employee lifecycle and understand when to intervene, so you can have the biggest impact on reducing attrition.
Understand the impact of every interaction on the whole employee experience, with all your employee feedback on a single platform.