Employee Experience
New XM Institute Research: The State of EX Management Programs 2020
The XM Institute has just published a new report, The State of EX Management Programs, 2020. The report examines a survey of 250 HR executives from North American organizations with 2,000 or more employees. We found that:
Comparing EX Leaders With EX Laggards
As part of our survey, we asked respondents to complete XM Institute's XM Competency & Maturity Assessment, which examines Six Experience Management Competencies: Lead, Realize, Activate, Enlighten, Respond, and Disrupt. We split the respondents into two groups based on their overall results. Companies with higher levels of maturity we called "EX leaders," and those with lower levels of maturity we called "EX laggards." We found a number of differences between the groups.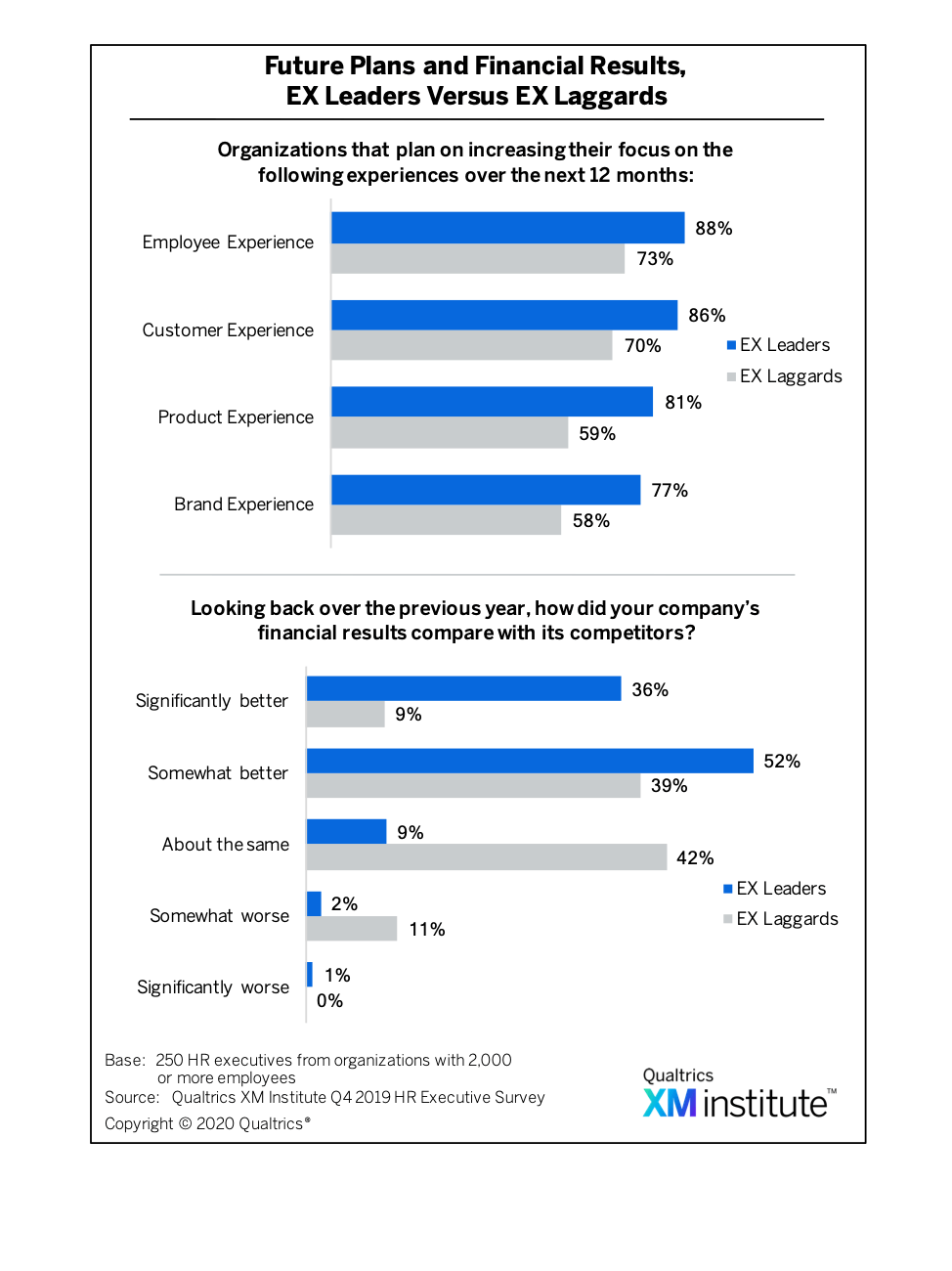 When compared with EX laggards, we found that EX leaders:
Outperform their peers. Eighty-eight percent of EX leaders report delivering better financial results than their competitors, which is 42-percentage-points higher than XM laggards.
Collect more employee feedback. Ninety-eight percent of EX leaders measure employee engagement at least annually, and 46% measure it more than once a year. Only 28% of EX laggards measure employee engagement more frequently than annually. They are also much more active users of employee pulses, 360-degree feedback, and unsolicited employee feedback.
Struggle the most with inconsistent buy-in. EX leaders most frequently reported inconsistent buy-in among the leadership team and inconsistent buy-in among middle managers as their top two obstacles to EX success. The top issue identified by EX laggards is limited funding.
Focus more on customer experience. Ninety percent of EX leaders report that they deliver better CX than their competitors, compared with only 57% of EX laggards. That's probably what's motivating them to invest more. Eighty-six percent of EX Leaders plan to increase their focus on CX, compared with 70% of EX laggards. We also found that HR organizations in EX leaders work more closely with their CX peers.
Download the Free Report: The State of EX Management Programs, 2020