XM for Customer Frontlines

Digital

Root out friction in every digital experience, super-charge conversion rates, and optimize digital self-service

Care

Uncover insights from any interaction, deliver AI-powered agent coaching, and reduce cost to serve

Locations

Increase revenue and loyalty with real-time insights and recommendations delivered straight to teams on the ground

XM for People Teams

Engage

Know exactly how your people feel and empower managers to improve employee engagement, productivity, and retention

Lifecycle

Take action in the moments that matter most along the employee journey and drive bottom line growth

Analytics

Whatever they're are saying, wherever they're saying it, know exactly what's going on with your people

XM for Strategy & Research

Research

Get faster, richer insights with qual and quant tools that make powerful market research available to everyone

User Experience

Run concept tests, pricing studies, prototyping + more with fast, powerful studies designed by UX research experts

Brand

Track your brand performance 24/7 and act quickly to respond to opportunities and challenges in your market

XM Platform

Explore the platform powering Experience Management

Teams

For Digital

For Customer Care

For Human Resources

For Researchers

All Teams

Industries

Healthcare

Education

Financial Services

Government

All Industries

Customer Experience

Employee Experience

Employee Exit Interviews

Net Promoter Score

Voice of Customer

Customer Success Hub

Product Documentation

Training & Certification

Community

XM Institute

About Us

Careers

Partnerships

Marketplace

X4 Summit

The annual gathering of the experience leaders at the world's iconic brands building breakthrough business results, live in Salt Lake City.
Brand Experience
Introducing Brand Impact Simulator
Redefine how consumers see your brand
In the digital-first world of today, consumers have more purchasing options than ever. From ordering groceries to booking flights, there's now a plethora of ways — further accentuated by growing digital channels — for consumers to get what they need.
If one brand can't deliver, the answer is simple: on to the next.
Yet despite the ever-growing competition and the clear shift in purchasing power, many brands simply miss the mark.
According to our research, just over a third (34%) of brands resonate with potential customers, resulting in lost businesses before they can even begin.
As a result, for many today, the fundamental challenge is breaking through and creating experiences that matter. To succeed, businesses need to choose the right strategies, communication methods, and marketing tactics to reach and resonate with their target audience.
(This guide can help you to work out how to do it)
But some simply aren't in a position to do so (sometimes due to limited resources) or don't know exactly where to begin. They don't know how to identify the right mix of brand attitudes and strategies to improve key outcomes such as customer acquisition, website traffic, or subscriptions.
For these brands, a lot of the process is a guessing game and often reactive rather than proactive when consumer preferences and expectations change.
"Organizations need a modern approach to brand experience to help them quickly adapt to the constantly changing preferences of consumers," says Paul Sheets, General Manager of BrandXM™ at Qualtrics. The principal focus must be on not just improving the brand experience, but taking it to the next level.
Introducing Brand Impact Simulator — available on Qualtrics BrandXM
What if you could identify the key drivers of purchase consideration across your organization? What if you could — with forensic accuracy — see how specific scenarios, such as improving your returns policy, could affect your lead generation?
All of this, and more, is entirely possible with Brand Impact Simulator.
What is it?
Brand Impact Simulator is a self-service feature (available on Qualtrics BrandXM) that allows users to prioritize the brand attributes that have the greatest likelihood of converting prospects into customers.
For example, using Brand Impact Simulator, a marketing insights manager can run a drivers analysis to see what key brand attributes (e.g. "ease of use", "for people like me", "flexible return policy") have the most influence on conversions. Then, having compiled that information, they can simulate changes within the tool to see how an increase or decrease in one of those attributes affects an overall brand KPI, such as brand consideration or equity.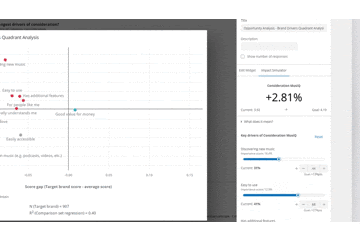 All of the variables are quantifiable, with a clear percentage showing how even the slightest of alterations to a key attribute can benefit the organization.
(Find out more about managing your brand during times of change, here)
How does it work?
Brand Impact Simulator uses a proven methodology — Johnson's relative weight analysis — to understand the relationship between correlated variables. The simulator shows how each of the independent variables (i.e. your key drivers) identified in the key drivers analysis correlate with dependent variables (i.e. brand equity or brand consideration score).
For any insights manager, the software is incredibly easy to use and can be run quickly for any specific segment. For example, you might want to look at brand consideration among 18-24-year-olds versus 25-36-year-olds. There's no need to go back to an agency each time you want to perform the analysis and you get the insights in real-time.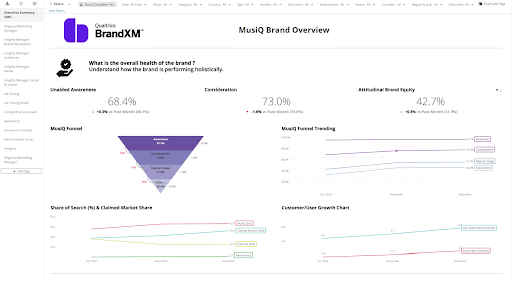 Why Brand Impact Simulator?
Traditional approaches to this kind of analysis are costly and time-consuming. Sure, you could outsource the work to an agency to analyze the data and come up with insights, but just how long will that take?
The thing is, brands need to move from being reactive to proactive. They need to anticipate needs and drive action at the point of insight. They need to be able to set smart, measurable goals that align with customer expectations in the future.
Brand Impact Simulator, on the other hand, empowers managers with real-time insights that can be accessed at a click of a button. You can perform analysis as needed for different segments (or key drivers) and take action before the insights are outdated. This allows you to keep ahead of the competition and anticipate customer needs and expectations.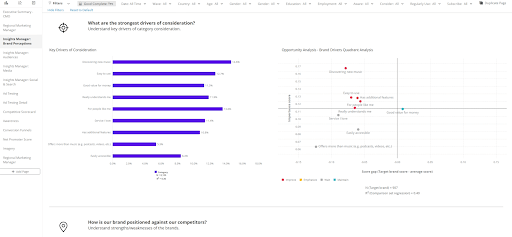 (Here's a great read on how to maximize your brand value in an era of rapid change)
How Brand Impact Simulator has empowered other organizations
But don't just take our word for it — the National 4-H Council, America's largest youth development organization (empowering nearly six million youths with critical life skills every year) uses Brand Impact Simulator to attract and engage new families.
The National 4-H Council has been a leading organization in the U.S. for over a century, but it has struggled to generate awareness of its other programs, notably STEM and workforce development, due to brand perception.
As a non-profit organization, its main challenge was maximizing its resources: "We want more families to benefit from all of 4-H's life-changing programs, especially during these unprecedented times," said Danelle Sabathier, National 4-H Council Vice President of Digital Strategy, Multi-channel, Marketing & Media.
Using Brand Impact Simulator, the National 4-H Council is able to focus on what matters to families and build and pivot plans to reach new audiences and advance their mission. With Brand Impact Simulator, they've grown their brand awareness by 22% among new audiences, delivered a new brand strategy 35% faster, and saw a 12% increase in online community members over the last year.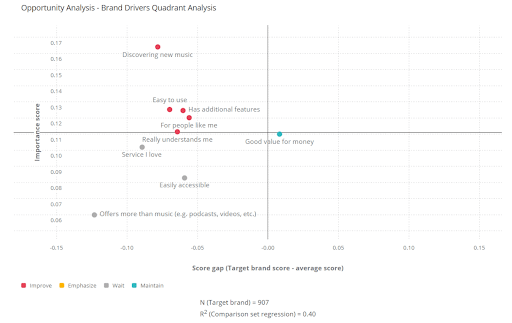 See it in action
For brand and insight managers, Brand Impact Simulator provides an unrivaled capability to anticipate how key brand metrics — from consideration and equity through to sentiment and awareness — can be affected by shifting the perception of specific brand attributes.
No other software vendor offers a comparable self-service feature, and — as mentioned — while traditional agencies offer this capability, it is often costly and time-consuming.
If you want to anticipate your prospects and customers' needs, reach new audiences, accelerate growth and supercharge your brand, why not check out Brand Impact Simulator for yourself?
Discover The Brand Impact Simulator In Action
**P.S. Existing customers can access this feature if they have the Brand Drivers Analysis Quadrant Chart widget on their dashboard.
Related Articles