---
What is product development?
Product development is the umbrella term used to describe all of the stages that help a product idea come into reality and be released into the market.
Traditionally, product development used to represent only the 'development' part of the product development cycle, however, it is now widely accepted that product development covers the complete process. This starts from ideation and goes through the entire product journey – market analysis, strategy, production, market testing, go-to-market planning – until the product is launched to the market.
During each stage, many teams may be involved, including a product manager, research and development, and management. There may also be a number of outputs at each stage, such as a product concept, prototype or product development roadmap.
While product development is the general term that covers new ideas and the regeneration or improvement of existing products and services, new product development is a closely related term that covers the generation of new products that are designed to ensure product market fit. In new product development, there is no certainty that the future product will generate revenue as the existing product does. Product concept testing and gathering insights from target customers about pain points are especially important right from the start.
Due to this, measuring and tracking product market fit throughout the new product development process is stressed. This is so user feedback can be gathered and acted on quickly, if necessary.
Free eBook: 16 research methods to maximize product success
Why should businesses care about product development?
Consulting firm McKinsey says more than 25% of total revenue and profits across industries come from the launch of new products.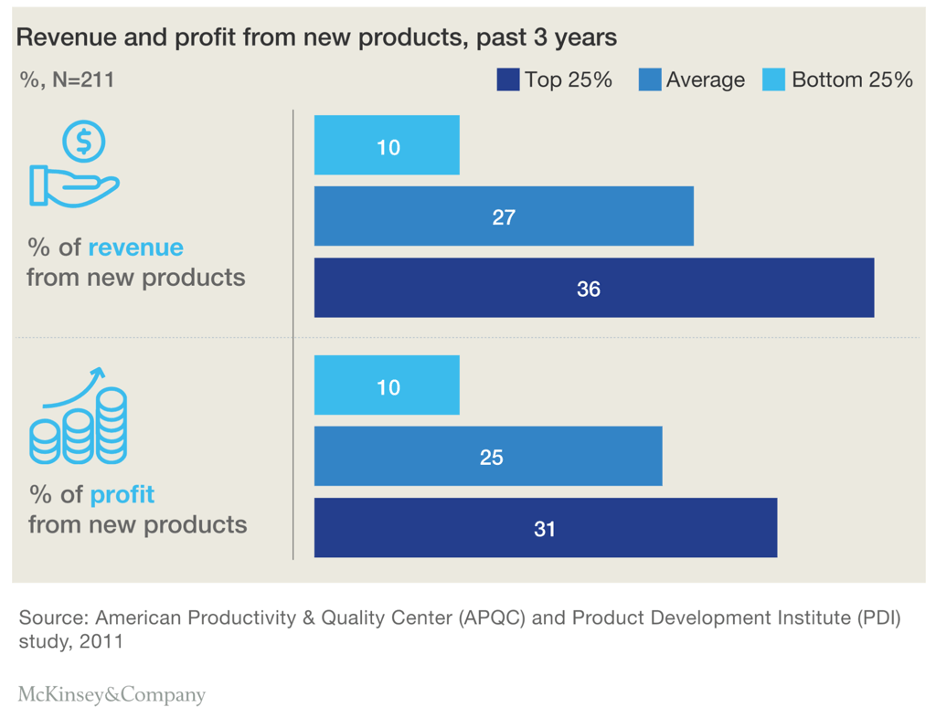 There's no guarantee that product development ideas will be successful. For example, for every 7 product ideas, research finds that 1.5 ideas launch and only 1 succeeds (McKinsey Global  ).
On top of having a strong new product development process, a strong organization from a product team or dedicated product managers is key. This can reap great financial benefits – a product manager working at an optimum level can increase company profits by 34.2%.
There are other reasons why businesses invest in product development:
It provides crucial checkpoints along the product development process to ensure that new product ideas are still serving a purpose and useful.
Product development reduces waste or overspending by carefully planning out resources and time at the start.
There is user research built into the start of the product development to investigate the real customer needs, which helps provide evidence of positive target customer feedback to support the decision to continue with the product development process.
Having a product strategy and planned approach to new product development means your business has a stronger position in the market, keeps its competitive advantage, reacts fast, and can bring products to market faster.
Idea generation and existing product development improvement are being invested currently. A 2022 Statistic survey shows that 29% of tech companies are choosing to invest in new product development following the Covid 19 pandemic.
You can read more about how the global pandemic completely disrupted how consumers interact with products in our free product development eBook: The ultimate guide to product development in times of change
What is the product development process?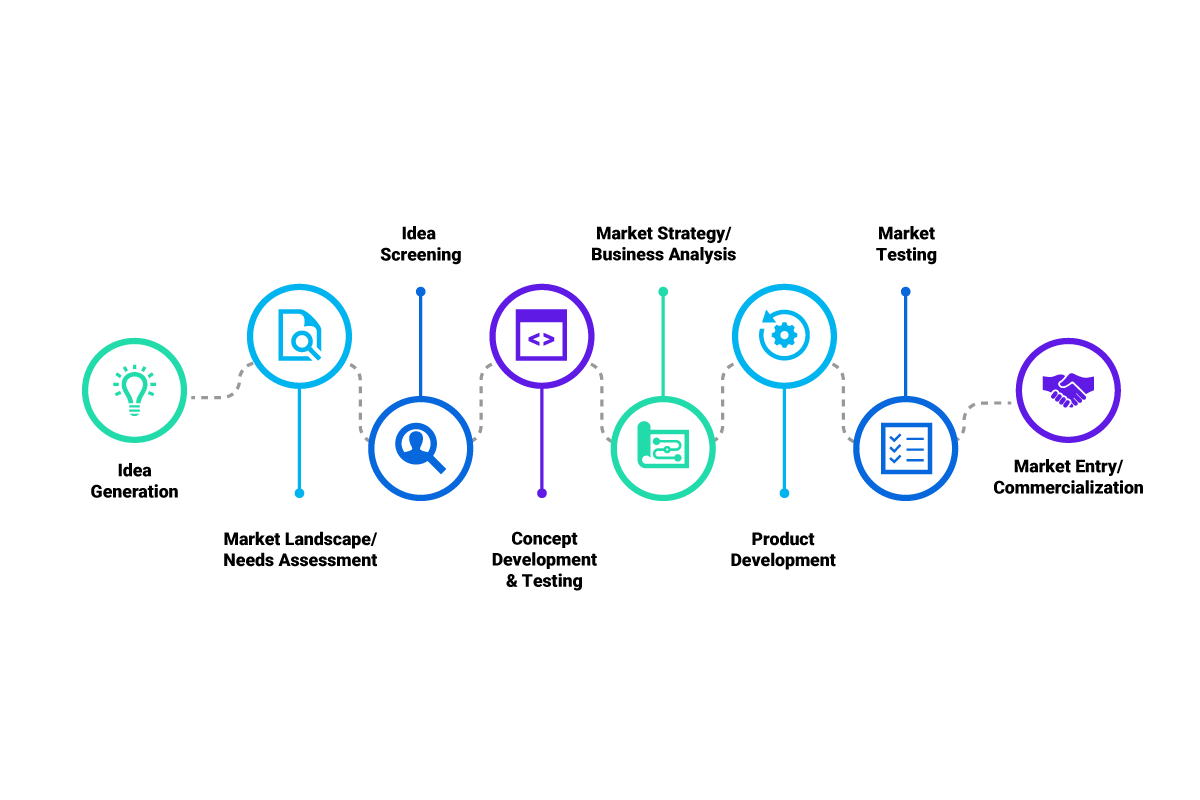 There are several stages to the product development process:
1.   Market Landscape Assessment: Identify the market need or problem
In the first stage of product development, development teams must identify what the customer needs are or the customers you'd be selling to. This helps understand your customer better and ensures your product aligns to solve customer needs. You can do this by conducting interviews or online surveys that can ask for insights and identify usage patterns or problem areas.
Using tools like Qualtrics Market Landscape Assessment — you can understand the market landscape and inform your organization's strategy by uncovering potential opportunities.
It's particularly useful when you are looking to:
Identify category gaps, unmet needs, and changing consumer preferences
Inform future product, customer, and brand strategies to stay relevant and ahead of the competition
Find answers on which segments to target, which channels to focus, and how best to reach people
2.   Idea Screening: Quantify each opportunity
Once you have identified potential areas that need support or improvement, you can qualify these opportunities, by these questions:
How big is the opportunity?
Is this opportunity one that addresses all customers, or just some?
What is the total potential revenue that could be gained by creating an improved product that solves this problem?
This will help you to see what has the biggest return on investment, based on time and money, allowing you to narrow down the ideas into one.
For a more comprehensive evaluation of your ideas and opportunities, consider using the Qualtrics Idea Screening solution.
The Idea Screening XM Solution is a guided project that can help you to understand your customers' product preferences. It simply asks for a high-level description to provide context around your set of ideas, then asks for a simple text description of each.
This solution targets early-stage innovation efforts to help ascertain which ideas and product lines have the most potential before investing further in their development.
3.   Concept Testing: Ideation and validation of a product concept
Once you have your idea, you can work on the concept development to make a product concept, which answers these questions:
What is the idea?
What will it look like?
Who is it for?
Why are you doing it?
And why will people buy it?
This helps people understand the idea at its most basic, and can help you get buy-in or feedback from internal teams at an early stage. Through this validation internally, this could stop the idea here, or it could help you fill in gaps and progress this further.
If you want to identify your most promising product concepts, ensure you check out the Qualtrics Concept Testing tool. Used by over 16,000 brands, the Concept Testing tool helps you to validate product ideas and identify which offer the best market opportunities. With it, you can test every aspect of your product concept — from features and branding to messaging and more.
4.   Planning and building the product strategy
You have been able to verify that the product vision is a good idea. At this stage, you'll want to build this out further. This may result in:
5.   Developing and testing a minimum viable product (MVP)
A minimum viable product is a basic version of the product without any bells and whistles. It is a working prototype that allows for learning from the product development process itself.
By sharing the MVP with the intended customers, this can give research and product teams a chance to test it with customers and confirm that they're on the right track. Crucially, this is a great check-point to see if the basic version of the product is still desired by the customers and still holds their interest.
6.   Ongoing product development cycle of product building and testing until the final product is reached
The product development team can continue the build process. Working on the product in agile iterations means that the final product will be based on solid customer research, fulfill your business goals and be built to a high-quality level.
7.   Commercialization and launch
While the product is finalized, business support teams like the marketing team, product team, and sales team can carry out the product marketing and communications strategy. The goal is to make a smooth and impactful launch into the target market.
Areas like pricing, promotion, sales placement (channels and distribution networks) and product description are considered key factors that can influence the uptake of the product at launch.
There may be hold-ups, delays, or changes to the product that needs to happen. Only 55% of all product launches take place on schedule, according to Gartner's 2019 product manager survey.
When the product has been launched, continuous monitoring and tracking need to happen to help pivot activity or do more product development, if needed. According to research by Catalina, it takes an average of 28 weeks for a new product to reach 75% of its highest distribution.
You can read more about the 7 stages of product development in our product development process guide.
You can also leverage Qualtrics product pricing research software to tailor products and your marketing to your customers. Featuring marketing segmentation software, you'll know exactly what works (and what doesn't) for every customer segment. In addition, access:
Streamlined Van Westendorp Pricing
Understand how much customers are willing to pay with the optimal price point and acceptable price range to help you meet your sales targets.
Launch new products with confidence knowing you've set the optimal price customers are willing to pay. Find the relationship between price and demand and uncover the best price point to maximize revenue.
Find the features your customers will love, set optimal price points, and know which tradeoffs are your best bets — all with just a few clicks and no expertise required.
Make new product development research easy
Having an iterative approach to building products, from idea generation through to market research and product launch, means you can be agile in your decisions and actions.
Through the new product development process, business analysis and customer needs research have been gathered at various stages, to ensure that the new product vision is likely to succeed.
Research teams or management can ask qualitative and quantitative questions that help them understand the values and opinions of customers, which you can leverage to drive business, product and revenue growth.
With Qualtrics' product research and market research services, you have all the tools for business analysis to create products that customers love and refine existing ones.
The Qualtrics product experience management software includes:
Use them to help complete your product development project or your new product development process in a strategic way by combining them with a Qualtrics solution.