---
It's well known that organisations with a diverse workforce that includes people of various races, nationalities, cultures, religions, gender identities, sexual orientation, ages, experiences, physical and mental ability, and ways of thinking are more resilient, adaptable, profitable, and industry-leading. These diversity-rich organisations embrace the different and brilliant thoughts and ideas that their people contribute. Diversity gives them the competitive edge that sets the company apart.
According to research by Limeade, when employees feel included, they:
Are 28% more engaged
Enjoy 19% greater well-being in their lives
Have 43% more commitment to their company
Are 51% more likely to recommend their company as a great place to work
Intend to stay with their company typically 3 times longer
And, according to Deloitte, when companies have inclusive cultures, they are:
Eight times more likely to achieve better business outcomes
Six times more likely to be innovative and agile
Three times as likely to be high performing
Twice as likely to meet or exceed financial targets

But not all companies support a sufficiently inclusive workplace or inclusive culture that make all employees feel they belong.
This is where diversity training comes in; an employee training program designed to create an environment free from unconscious bias, racial biases, and sexual harassment — all of which are very bad news for business.
What is diversity and inclusion training?
Diversity training helps every employee embrace and celebrate all the unique things about a diverse workforce, and work together harmoniously. It goes way further than token 'political correctness' and into the arena of embracing difference and valuing the unique perspective of every employee. At the very least, diversity training sessions will help employees:
Be more aware of workplace diversity issues, such as those affecting underrepresented groups, in their daily interactions
Explore and challenge their own beliefs and unconscious biases about diversity, and acknowledge discrimination
Understand what motivates (and demotivates) their co-workers
Learn interaction and collaboration skills that help them work more effectively with people who have different qualities from their own
Stand up to discrimination such as racial bias or sexual harassment
Contribute to an inclusive workplace culture where comprehensive diversity is the norm
Free eBook: How to apply DEI to your employee experience program
What is the return on investment (ROI) for diversity and inclusion training in the workplace?
The investment you make in diversity and inclusion training to create a culture of belonging will be returned — and then some — in a surprisingly comprehensive array of measurable outcomes:
1. Employee engagement
Employees who feel they belong and are included report a more positive employee experience. For example, 83% of millennials are actively engaged when they believe their organisation fosters an inclusive culture, compared to 60% of millennials who are actively engaged when their organisation does not foster an inclusive culture.
2. Employee retention
When there's increased diversity amongst senior management, there's increased retention of employees of colour. For example, Black men who had senior leaders of color were 15% more likely to stay with their company than those who did not.
3. Attraction of talent
An inclusive workplace is considered an important factor when choosing where to work. A report by Deloitte found:
80% of respondents said inclusion is important when choosing an employer
39% of respondents said they would leave their current employer for one that was more inclusive
71% of respondents would prefer a company that demonstrated inclusive behaviours but inconsistent inclusion programs over one that demonstrated high-quality inclusion programs but inconsistent inclusive behaviours
23% of respondents said they've already left their employer for a more inclusive one. This includes 30% of Millennial respondents

4. Performance
Companies with inclusive cultures are:
5. Profitability
Research found that companies that reported the highest levels of racial diversity generated nearly 15 times more sales revenue on average than those with the lowest levels of racial diversity.
6. Innovation
Companies with above average diversity in their workforce produced more revenue from innovation than companies with below average diversity.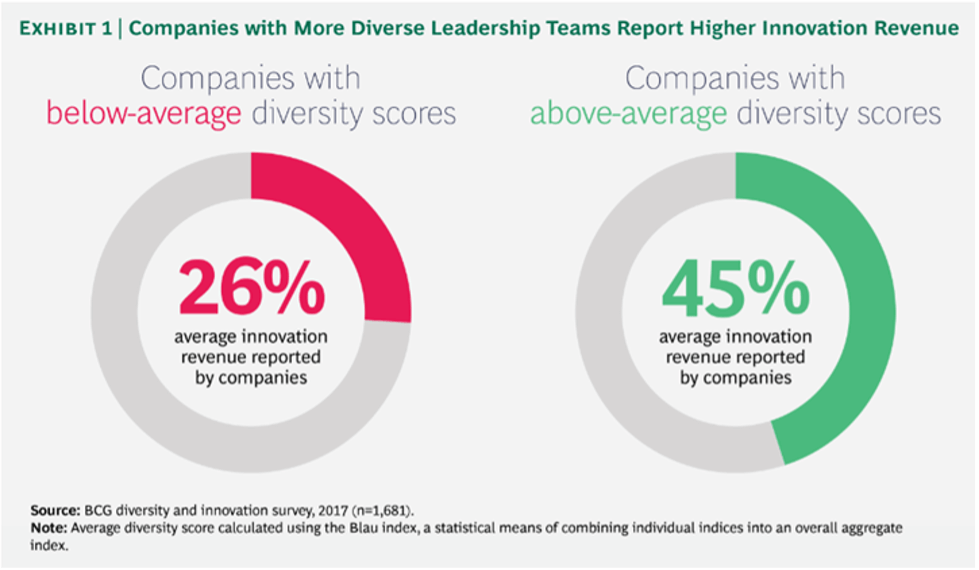 The 4 types of diversity
There are four types of diversity that a good diversity training program will explore:
1. Internal diversity
'Relating or belonging to or existing within the person', these are diversity types that a person is born into, and in most (not all) cases, cannot change. They include: race, age, ethnicity, national origin, sexual orientation, cultural identity, assigned sex, gender identity, and physical and mental ability.
2. External diversity
These are characteristics that influence a person and can be changed, although socio-political or economic systems may make that change difficult. They include: education, religion, spirituality, socioeconomic status, family status, citizenship, geographic location, and personal experiences.
3. Organisational diversity
These are factors relating to the work people do, and the organisation where they work. They include: job function, department, seniority, management status, and union membership. It's important to track this to ensure every department and job function has diverse inclusion.
4. World view diversity
Everyone's life experiences are unique. They shape us, and influence our world view diversity every day. World view diversity includes: political beliefs, outlook on life, cultural capital, and family upbringing. As workplace diversity increases, employees may have very different experiences and world views from their co-workers which may reinforce stereotypes.
Case study: Coca Cola
Coca-Cola sees diversity "as more than just policies and practices. It is an integral part of who we are as a company, how we operate, and how we see our future." Diversity education programs include:
Diversity training
The Diversity Speaker Series
A Diversity Library
Coca-Cola Millennial Voices, a group of young employees tasked with ensuring a healthy level of employee retention among millennial consumers and staff members
A parental benefits policy of six weeks of paid leave to all new mothers and fathers.

The different types of workplace diversity training
Basic diversity training
Any workplace diversity and inclusion training program that aspires to create a company culture of diversity, equity and inclusion needs to start with fostering empathy and respect for fellow workers. It needs to be an open and honest overview of all the issues around workplace identity and culture, and must cover:
Anti-racism
Anti-sexism
Gender identities and sexual orientation education
Cultural sensitivity training
The multigenerational workplace
HR compliance for HR professionals
Awareness training
The key tenet of awareness training is to ensure every employee understands what workplace equity is: everybody must be treated equally, whatever their different backgrounds, identity, or marginalisation. Awareness training will make sure everyone knows about and understands the experiences of people of different minorities and identities. An aware workforce will be able to:
Make decisions and solve problems collectively
Respect and value every co-worker
Celebrate everyone's differences
Represent formerly underrepresented people in the commercial world
Stamp out prejudice and be a model for change
Intermediate diversity training
Whereas basic diversity training and awareness training create an understanding of the issues around creating a diverse and inclusive workplace, the best diversity training programs go a step further. They give employees the tools not only to recognise ingrained personal behaviours but to acknowledge and modify them.  Intermediate diversity training helps to:
Identify unconscious bias and understand how to mitigate it
Be aware of microaggressions and eradicate them
Free the workplace from discrimination and stereotyping
Build a sense of belonging for people with diverse backgrounds
Encourage team cohesion and communication across all cultures
Mobile or online diversity training
The days of sitting in a training room with other employees being lectured about diversity, equity, and inclusion have been superseded by mobile learning and accelerated by the remote working necessities of the 2020 pandemic. Digital platforms are now a great way to deliver DEI training:
You can include remote team members
It is more accessible for people with disabilities, health issues and those in other countries
It can be recorded and is accessible at any time
Free eBook: How to apply DEI to your employee experience program
Case Study: Accenture


Image from Accenture
Accenture holds a company-wide celebration of International Day of Persons with Disabilities and helps its employees with support such as assistive technology, flexible working, and extra training. They have a tripartite approach to their diversity training:
Diversity awareness: to understand the benefits of working for a diverse organization
Diversity management: to help leaders manage diverse teams
Professional development: to enable women, LGBT, and ethnically diverse employees to build skills for career success
Why employee engagement is essential for creating a culture of diversity
The only way you'll really get to the bottom of DEI issues is to devise diversity training to eradicate them and create a truly inclusive culture is by asking your employees. You'll want to know not only the 'what' of the problem, but also the 'why', so you'll need to use a mixture of qualitative and quantitative data. Send out diversity and inclusion surveys which include demographic metrics and open text; so that employees will be able to articulate their perspectives on what is going on, and supplement these with focus groups with leaders, managers and direct reports.
It's essential for leaders to state:
why the research is being conducted
when the results will be communicated
what action will be taken as a result of the survey
How do you know if you have a diverse and inclusive workplace?
The answer to this question lies in data, both qualitative and quantitative. To get the fullest picture of how inclusive your company is, you'll need to combine data from your human resource department with operational (O) data and experience (X) data in the following scenarios:
1. All your business decisions have inclusivity at their core
One of the great things about inclusivity is that it brings diverse knowledge, experience and perspectives to the table when decisions are being made. Feedback from your employees is tremendously valuable, and can be collected from:
2. Every decision is conscious of bias now
Organisations can no longer hide behind 'unconscious bias' when making decisions. When managers understand privilege, history and discrimination, they are more likely to think twice before implementing blanket measures that disadvantage marginalised employees, e.g. punitive sanctions for absence or lateness will discriminate against people with disabilities, and parents or carers, who are generally women.
Combined HR, O-data and X-data can help inform the consequences of any business decision on marginalised employees.
3. There's diverse representation at every level
From the C-suite to the shop floor, your business employs people regardless of Protected Class: race, colour, religion or creed, national origin or ancestry, sex (including gender, pregnancy, sexual orientation, and gender identity), age, physical or mental disability, veteran status. When you focus on representation of diverse groups, rather than simply employment, underrepresented people will be visible in all areas of your organisation.
4. Your turnover is low
When employees feel included and that they belong in your organisation, they tend to be happier and stay. Turnover data from HR and responses from engagement surveys and exit interviews will tell you what you've been doing right (or wrong).
5. Your organisation is a community
When a company says it prides itself on being a family, that should be a red flag. Families can be warm and close, but they can also be dysfunctional, combative, controlling, exclusive and hierarchical. Look instead for a community, where people share and help each other, but also exist as individuals with their own lives and ambitions, bringing their authentic selves to work where they feel part of something bigger, with common goals. Employee feedback will reveal the nature of that community.
6. You anticipate everyone's needs
A new hire with a disability or neurodiversity should not need to ask for adjustments when they start their job. It's up to the organisation to remove the need for them to ask, by making resources and support available to all.
7. You never stop learning
Creating an inclusive workplace isn't a static, tick box exercise. It's a constant learning process, especially now in an uncertain, evolving world of change, injustice, fake news, and culture wars. You've analysed your existing systems, processes and structures to ensure that they're accessible to all employees – don't stop there:
Our step by step guide to get your diversity and inclusion training program started
1. Lead from the top
There's nothing more powerful for employees than seeing the C-suite demonstrating inclusive leadership through a  willingness to learn and undertaking diversity and inclusion training themselves. When leaders embrace an initiative to create an inclusive environment and advocate it to their teams, everyone feels part of it.
2. Survey your employees
You need to find out what diversity and inclusion looks like in your company at this point. Use surveys.  You'll be surveying more than basic demographics, so it's essential that you are transparent about why you are asking seemingly personal questions about likes and dislikes, family status, life experiences, religion, and opinions. Emphasise that you are asking these to improve DEI for everyone in the company.
3. Identify gaps
Analysed data from the survey will reveal which areas will need to be improved with training. There may be disconnects with personalities, work ethic, or attitudes towards the current culture. These disconnects may form the basis of workshops where employees can openly express what they feel about the company, and where training needs to focus. It may even contribute towards a cultural shift.
4. Focus on improvement goals
Once you have put training in place to address the gaps highlighted by your surveys and employee feedback, monitor improvements with regular pulse surveys – and act on anything that isn't contributing to improvement towards an inclusive environment.
5. Make diversity training programs flexible and accessible
A DEI training day that requires everybody to be on site from 9 to 5 in an office on the 10th floor? Really? To be truly inclusive, training needs to be accessible to all, and flexible to fit in with the needs of every employee. Migrate training courses online, with webinars, live streams, recordings, even one on ones. And the advantage of online training programs  – you can track activity to measure uptake, and understand how employees learn.
6. Tie inclusion initiatives to business goals
When you see an uptick in the results of DEI training, these should correlate with an uptick in retention, revenue, employee engagement and customer satisfaction scores. A culture of inclusion and belonging has wide-reaching business advantages.
Go beyond training and create an organisational culture of inclusion
One of the criticisms of the one-off, box-ticking workplace diversity training program is that it can reinforce the differences between people, rather than celebrating them. Rather than simply just organising training days or a three-hour workshop, diversity awareness and focus must be a part of a company's DNA, with events, celebrations, and learning experiences throughout the company year. Positive messaging about DEI is then reinforced naturally, rather than a staid lecture on all the things employees shouldn't do.
When you think that 76% of job seekers consider workplace diversity an important factor when considering employment opportunities, it's essential that your company is known for its impeccable DEI credentials.
Case Study: Johnson & Johnson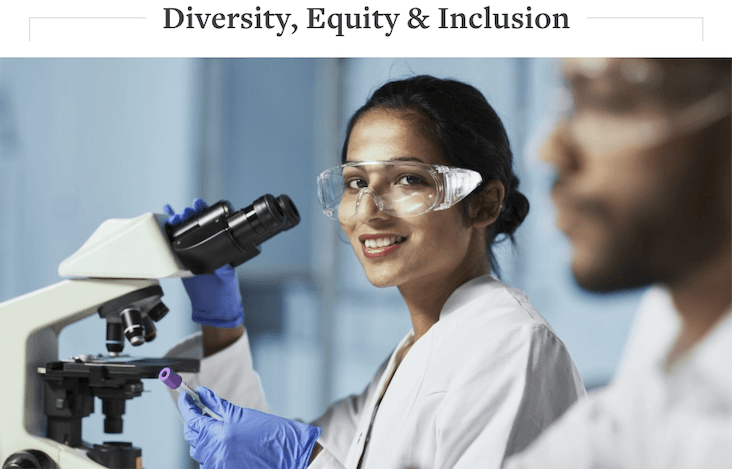 Image from JnJ.com
"Diversity, Equity & Inclusion at Johnson & Johnson is not just a commitment—it is the reality of how we live and work. The best innovations can only come if our people reflect the world's full diversity of individuals, opinions and approaches" says Alex Gorsky, Executive Chairman.
An impressive program of diversity initiatives includes:
Employee resource groups (ERGs)
Mentoring programs
'Diversity University' is a dynamic website that helps employees understand the benefits of collaborative working
The Chief Diversity Officer reports directly to the CEO and Chairman, so the whole operation is overseen by top-level management
Rewards and recognitions: S. Veterans Magazine cited Johnson & Johnson as the 'Best of the Best' for diversity efforts, and it has been one of only two companies that have been on the Working Mother 100 Best list for the past 28 years.
Why employee engagement is essential for creating a culture of diversity
The only way you'll really get to the bottom of DEI issues is to devise diversity training to eradicate them and create a truly inclusive culture is by asking your employees. You'll want to know not only the 'what' of the problem, but also the 'why', so you'll need to use a mixture of qualitative and quantitative data. Send out diversity and inclusion surveys which include demographic metrics and open text; so that employees will be able to articulate their perspectives on what is going on, and supplement these with focus groups with leaders, managers and direct reports.
It's essential for leaders to state:
why the research is being conducted
when the results will be communicated
what action will be taken as a result of the survey
How to tell if your diversity and inclusion training initiatives are successful
Your DEI initiatives should not stand in isolation from the rest of your company metrics. When you combine your operational (O) data with your experience (X) data you will get a complete picture of how diverse and inclusive your workplace culture is. The key metrics to look out for are:
Leadership diversity percentage: Is your management diverse at all levels, from the C-suite to line managers?
Retention: Are you keeping good people because they feel they have equal access to opportunities to upskill and advance in their careers?
Training program engagement: what is the uptake for your educational, continuous learning and mentorship programs? Has engagement increased as a result of diversity and inclusion training?
Employee feedback: How do your employees feel about the company culture around diversity, equity, and inclusion? How satisfied are employees with the DEI initiatives?  Which demographics are happiest with them, and which are not? Is the diversity and inclusion training sufficient? By identifying satisfaction gaps you can take action to close them.
Taking diversity and inclusion training a stage further…
Diversity training is more than just changing the hearts and minds of existing employees who may have had less exposure to a diverse mix of people. When companies are invested in creating a workplace culture of real belonging, they need to look at changing the demographic composition of their workplace, through:
Outreach (to diverse universities, colleges, and professional associations)
Mentorship programs for every employee
Hiring a diversity officer or focus group to manage and measure DEI strategies and outcomes
And finally…
Creating a diversity and inclusion training strategy that builds an organisational culture that everyone is proud of and feels they belong to is more of a marathon than a sprint. As long as you tie your DEI initiatives to your strategic goals, communicate clearly and transparently, offer ongoing training, learning and development, and measure your successes, that gold medal is in sight.