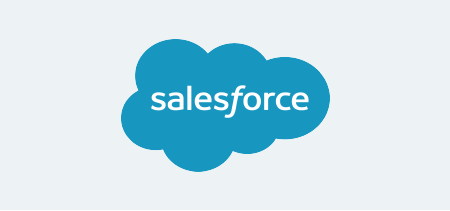 Integration
Salesforce
Get deeper insights into every customer and prospect with your Experience Data (X-Data) and Operational Data (O-Data) together through the Qualtrics-Salesforce integration.
Core Experience
Customer Experience
Salesforce CRM is the pulse of your business, but are you taking full advantage of everything it has to offer? Combine your Qualtrics customer feedback with Salesforce contact data in a single platform with the pre-built Qualtrics API integration. It makes data sharing fast and easy and brings the voice of the customer into your CRM. Gather customer feedback via email or SMS, create automated workflow triggers, and see all your X- and O-Data in a single view.
CRM DONE RIGHT
Create new leads in Salesforce based on customer feedback across web, mobile, and chat
Automate feedback requests in Salesforce based on account milestones to understand customer behavior across the entire sales cycle
Integrate powerful insights from Qualtrics with Salesforce to bring the entire customer view into a single platform
Gather genuine customer feedback via SMS text and email in real-time to unlock insights so your teams can take action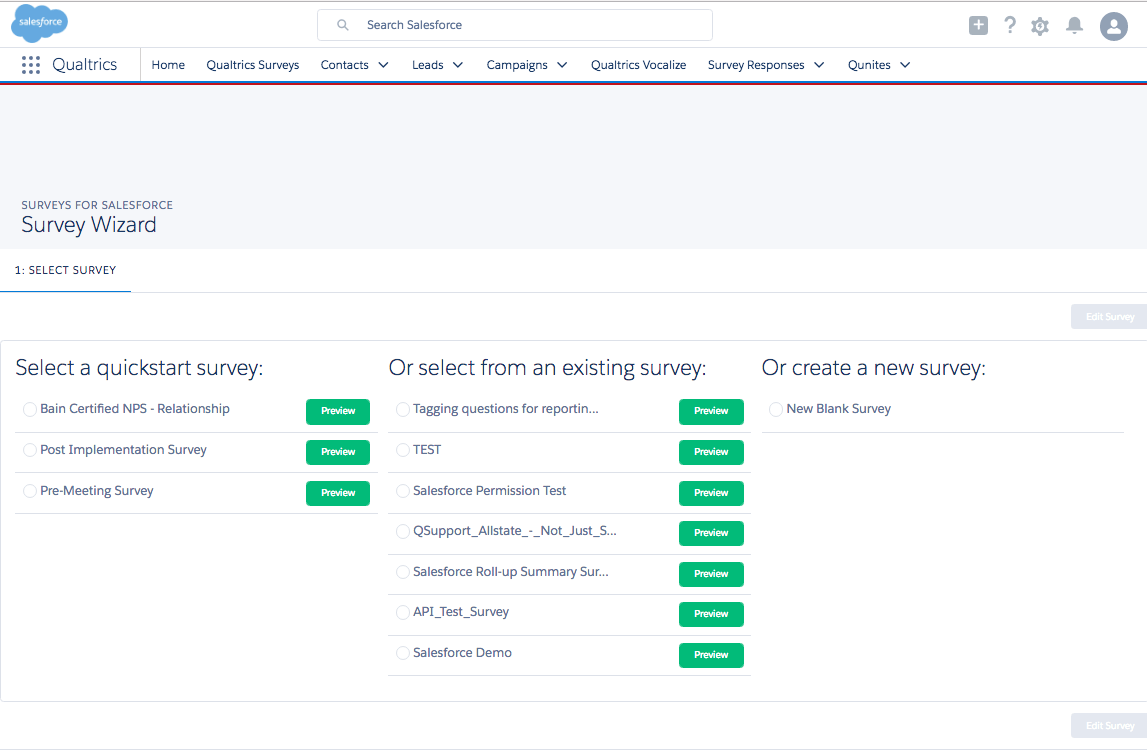 Outcomes Delivered
Customer Satisfaction — get feedback in real-time to address customer needs immediately and exceed expectations
Customer Loyalty — build trust with all account stakeholders by integrating all transactional and relational engagements in a single view
Sales Productivity — give your sales team the data and insights they need to win
Reduced cost to serve —automate workflows so your teams can focus on what's important: the customer
Category Tags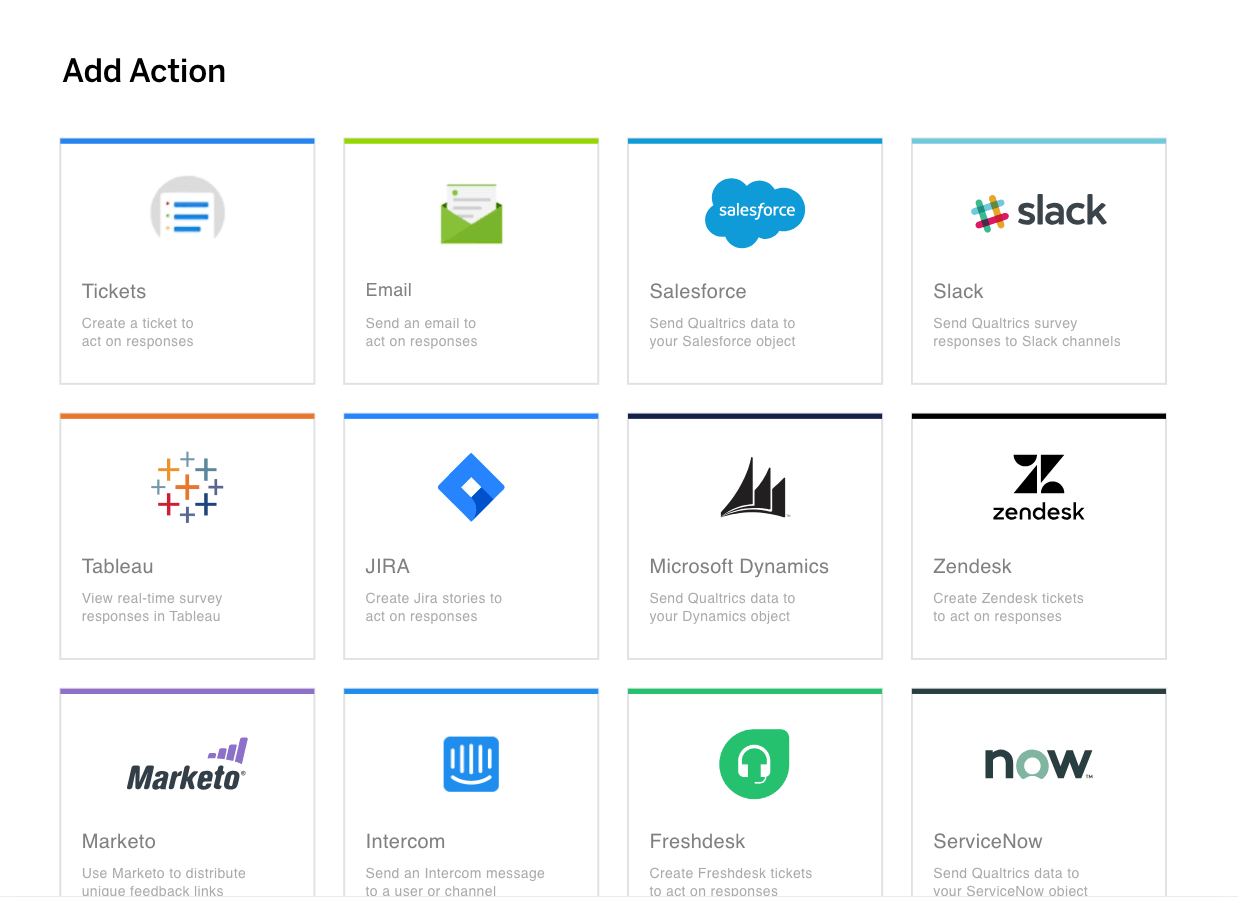 INTEGRATED PARTNERSHIP BY INDUSTRY LEADERS
Qualtrics and Salesforce are committed to building sales tools that make it easier to communicate with and understand customers, freeing up your sales team to get more done in less time. Take advantage of new features that bring all your sales data together with everything your customers are thinking and feeling.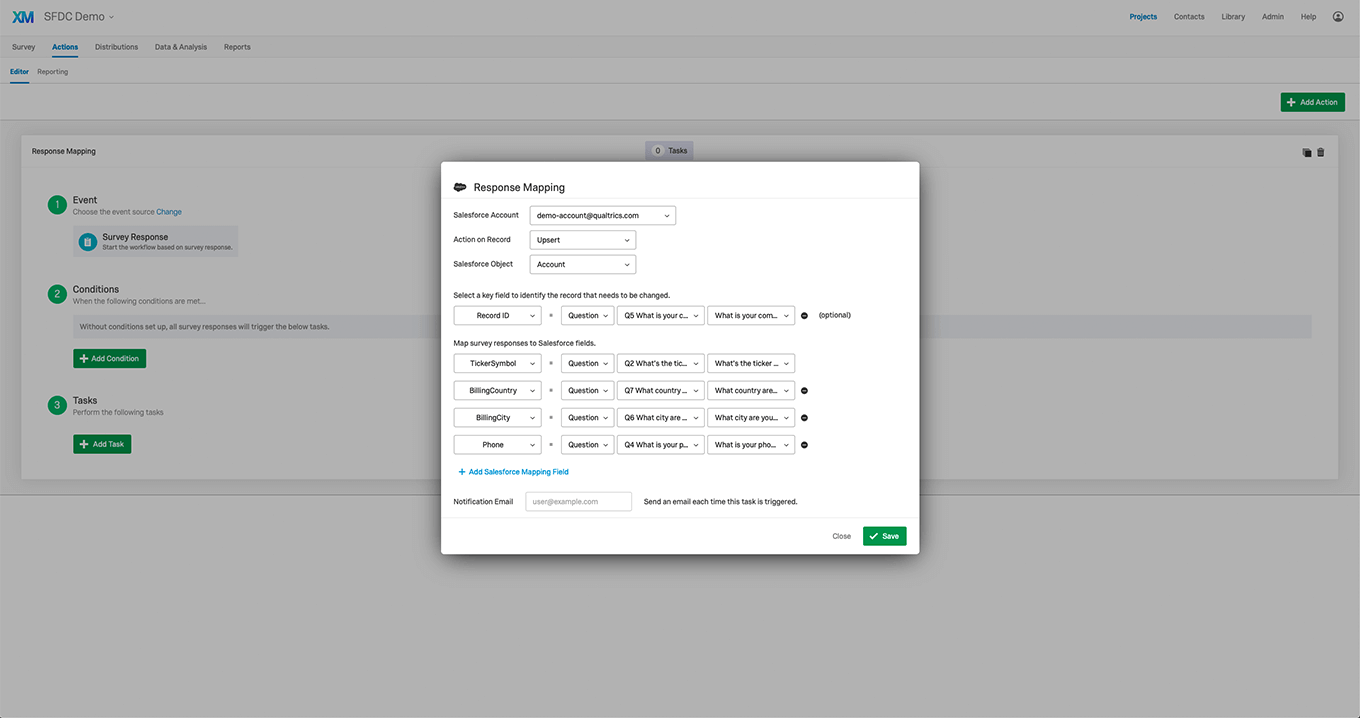 Simplify your sales process
Trigger automatic feedback requests following sales meetings, contract renewal, and post-purchase support to understand where you're performing (and where you're not)
Integrate both platforms in minutes with a pre-built, simplified installation process to start sharing breakthrough insights quickly
Send feedback requests via SMS text, email or webchat to meet your customers wherever they are
Share transactional and operational data between platforms and analyze it in seconds to get a full view of each client account relationship across all stakeholders
Access breakthrough insights through intuitive, role-based dashboards and automatically see the actions that will have the biggest impact on the customer experience
Close the loop quickly with notifications and alerts of poor customer experience on mobile and desktop to prevent customer churn before it's too late
Build a complete lifetime profile of every customer by saving every feedback engagement to understand the true customer relationship
Easily map Salesforce contacts to Qualtrics XM Directory to leverage the full capabilities of both platforms
Additional Resources
Solution Details
Required License: Customer Experience 1+
This integration is an add-on feature not included in the standard Qualtrics license. If you're an existing Qualtrics customer, contact your Account Executive. If you do not know your Account Executive, please request a demo above.
Languages
English
Category Tags
Not a Qualtrics XM Customer?
Qualtrics Experience Management Platform™ is used by the world's most iconic brands to
optimize the four core experiences of business.