---
What is a brand vision?
A brand vision is a brand's concept of its future. Where is the brand going? What does it want to achieve? What values does it want to stand for?
Encapsulated in mission and vision statements, the definition of a brand vision starts with a company's brand identity, market stance, and branding. It then maps the trajectory of its future course, influenced by its brand values. A brand vision should ideally establish a sense of purpose for the business and its target audience. What goal or problem is the business hoping to achieve? How will you get there?
Brand vision can help inform what actions you take in the present to get to your future goals, clarify your company mission, and develop a customer-centric company approach. It provides the framework for your future endeavours and crystallises your core values.
How is brand vision different from your brand identity?
Your brand identity includes your company's:
Values
Personality
How the brand is visually represented
Your brand vision includes your:
Goals for change and plans for development
Plans for achievements in x number of years' time
Growth and expansion plans
Market goals and positioning
Plans for future products or services
Targets for customer engagement
Your brand vision ideally is informed by your brand identity, but a vision statement more accurately captures the future position of your brand.
Why is a brand vision important?
It gives you a sense of direction
Without knowing where your brand is going, it's hard to form a clear view of what steps you should be taking now. Your company strategy should be based on a clearly-described mission statement that outlines how you want to be seen by the world, your customers, and those who work for you. It's an aspiration that can help drive employee engagement and convince customers to come on board if they resonate and recognise your vision.
It helps you differentiate and resonate
The importance of having a brand vision can be felt when planning your business strategy. It's the backbone of your differentiation with competitors and informs how you resonate with your customers. Without a clear vision statement, the purpose and personality of a brand can feel lost, and subsequent sales and marketing efforts can feel disjointed.
More than ever, customers are looking to connect with the brands they use. Our latest consumer trends research found that more than 60% of consumers think businesses need to demonstrably care more about them and would spend more as a result. With up to 9.5% of your revenue at risk from offering bad customer experiences, developing a brand mission that specifically meets your customer needs can help to build a lasting emotional connection. You'll be able to relate more effectively with your customer base, stand out from the crowd and build lasting loyalty.
Make your brand an icon with Qualtrics BrandXM™
How do you make your brand vision a reality?
To bring your brand vision to life, you'll need a direction, a plan, and a realistic understanding of where your brand currently sits in the minds of the public. A brand strategy, based on well-honed brand vision statements, can help you to propel your brand forward into business growth.
Here are the main steps to making your brand vision a reality:
1. Create your brand vision with vision statements
Your brand vision should be encapsulated in mission and vision statements. These documents help you to define your goals for your business and outline how you would like your brand to appear to the outside world and your employees.
In a nutshell, your vision statement should relay the future position you'd like your brand to occupy in the future.
Your mission statement defines how your brand currently defines itself, its goals and how it plans to reach these goals.
By using both the brand vision statement and mission statement together, you can chart a journey between where you are now and where you would like your brand to be. Successful brands use consumer research to get into the minds of their customers and competitors. Get to really know the space you're in to understand what consumers want, and how the vision of your brand in the future fulfils that desire.
2. Diagnose where you are now
Once your vision statement is set, you'll need to plan out the steps to achieving your goals. You will need to have a good understanding of your current brand image.
Using a brand diagnostic, you can identify gaps in the present perception of your brand by taking a point-in-time snapshot. You can understand how your brand appears across your marketing funnel, what converts passive onlookers into customers, and see where best to dedicate your budget to drive awareness of your brand's chosen identity.
3. Plan and enact your brand strategy for reaching your brand vision
With a strategy and vision statement in place, the next step is to plan how you will make your chosen brand image a reality. It is vital to use action and accountability to drive change – though creating your brand vision statement is important, identifying how you'll accomplish your goals, who will be needed, and what resources you'll need is key for carrying out your strategy.
Ideally, you'll be tracking your brand's progress in real-time to capitalise on trends, make fast decisions on intelligence, and pivot to more successful strategies. A brand tracking solution can trace your performance across a changing competitive landscape as you work to build your brand.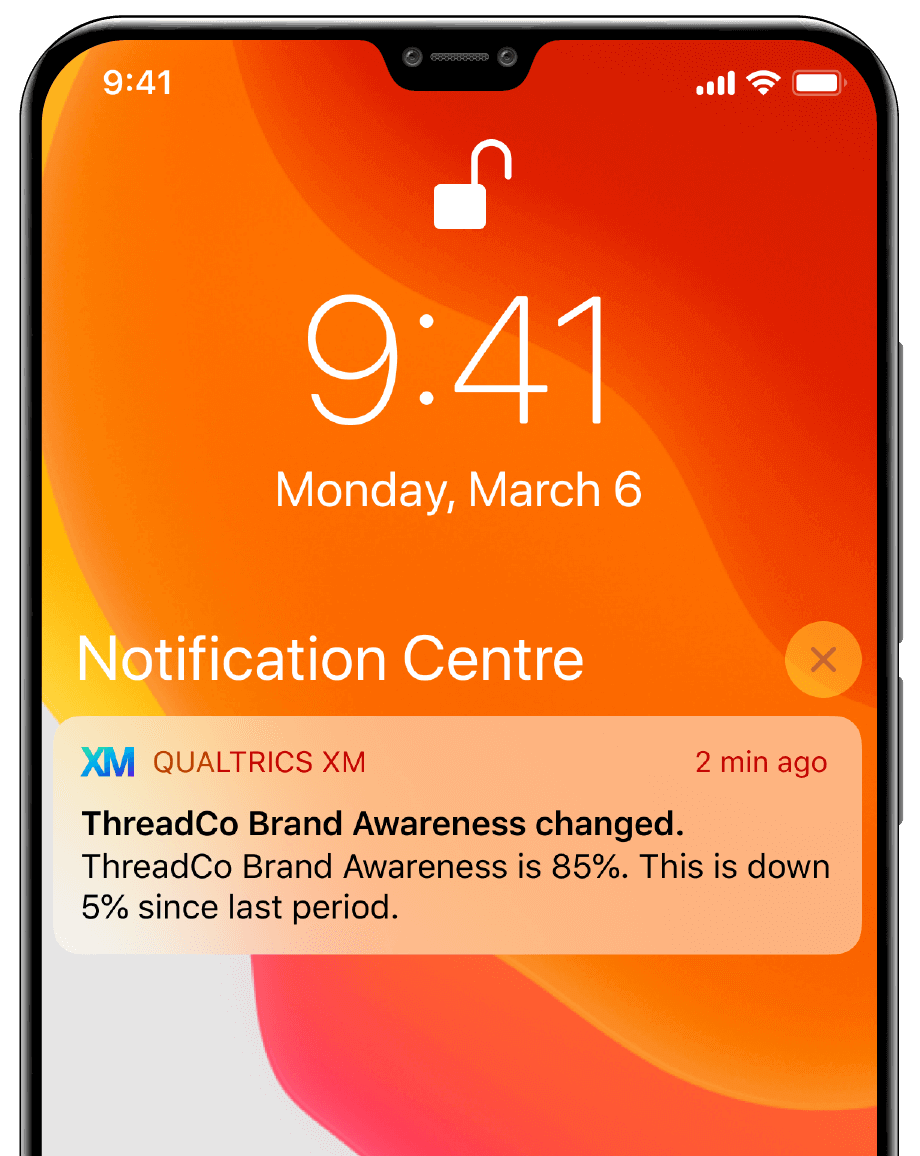 Brand vision statement example
Swedish furniture brand IKEA is a good example of how a huge company can cement its brand's purpose and extrapolate it across all of its customer experiences.
IKEA's vision statement is the following:
"To create a better everyday life for the many people."
This vision statement encapsulates the brand's values, which include: togetherness, caring for people and the planet, cost-consciousness, and more. As the founder, Ingvar Kamprad, explains, this translates into the company providing a range of functionally sound and well-designed home furnishings, at prices that customers of all financial situations will be able to afford.
A good vision statement describes the ultimate goal of a brand, and IKEA's example moves the brand from just providing affordable furniture at competitive prices to changing the lives of its customers for the better. This emotive approach helps to sell in the idea to customers, while also giving the company a goal to achieve and a moral purpose for employees to follow.
Tips for writing a brand vision statement
To create a vision or mission statement that accurately reflects your company as it is and where it would like to be, you'll need to deeply understand your company's identity and goals.
Here our guidelines for creating a strong brand vision statement:
1. Don't worry about having multiple elements
Ideally, your brand vision should fit neatly into a single statement. However, in reality, the search for the "perfect" vision statement can become a nightmare process that can leave you without a clear way forward.
David Allen Aaker, a brand theorist and Professor Emeritus at the University of California, Berkeley's Haas School of Business, offers the following advice: Create six to twelve "vision elements" that cover your value propositions, goals and future positioning. Prioritise the two to five elements that are the most convincing and differentiate your brand the most as your "core" elements, and the rest function as your "extended" elements. This way, you don't miss out on key ideas, but don't overstretch yourself attempting to define your brand succinctly.
2. Put your core values at the heart of your vision statement
A company's core values might be the difference between customers choosing your brand and going to the competition. Brand vision statements should clearly demonstrate what you value so your customers and employees understand what matters most.
3. Stay relevant to your market and sector
Though your vision statement should outline your goals clearly, it has to be as specific as possible to your business. If you have specific market or sector goals in mind, your vision statement should reflect these.
4. Remember, it's about aspirations for the future
Your vision statement should address the future of your brand, and be aspirational in nature. You might already be fulfilling part of your goals, but your vision statement forms the utopian future vision of your company. Where you want to be, and what you want to achieve, should be clear.
Increase the ROI of your brand vision
As with many internal branding efforts, it can feel difficult to pinpoint the exact ROI of having a brand vision and strategy. However, there are ways of understanding what brand actions drive your bottom line.
Using sophisticated software, you can see how your vision statements connect with consumer needs and meet fluctuating market demands by rapidly updating your strategy based on data led-insights.
For example, with Qualtrics BrandXM, you can:
Capture real-time feedback and more to understand how consumers see your brand
Get real-time insight into how your brand perception has changed and how your competitors are positioned
Unleash your curiosity with the ability to filter, drill-down and do on-the-fly analysis whenever a question comes up
Create custom dashboards to easily share insights across your business, making everyone in your team a brand leader
Simulate the impact of your brand tactics on your KPIs so you know how to maximise your efforts
Access experts who help you turn insight into action before your competitors do