Programa de experiencia del cliente digital
Mida y optimice la experiencia del cliente en cualquier plataforma digital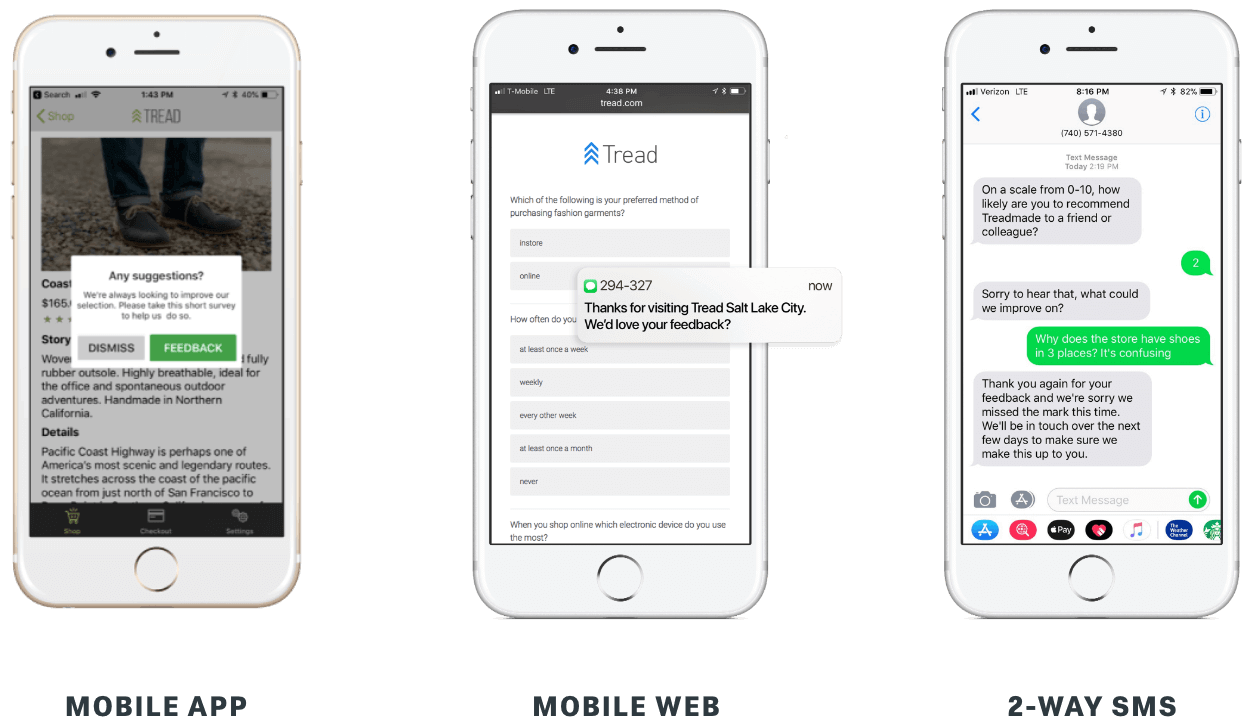 Mejore la experiencia del visitante, aumente la conversión e impulse el gasto medio del cliente con el programa de experiencia del cliente digital de Qualtrics. El programa le permite desde conocer la experiencia del cliente durante todo su viaje hasta impulsar la conversión por medio de mensajes interesantes dirigidos a un público objetivo. Todo sin necesidad de pedir ayuda de su equipo de TI o al soporte técnico.
Mejore la conversión con viajes digitales optimizados que aumenten la tasa de clics (CTR)
Haga que su sitio o aplicación sea más fácil de usar para mejorar la satisfacción del cliente (CSAT)
Obtenga una visión completa del viaje del cliente al reunir información de todos los canales y puntos de contacto en una sola plataforma
Realice encuestas de opinión digitales, promociones online dirigidas a un público objetivo y encuestas de satisfacción del visitante a través de una sola plataforma muy fácil de usar
Experiencias digitales innovadoras con 3 grandes beneficios
Interactúe con los clientes digitales de forma personalizada
Entable conversaciones con sus clientes como ellos prefieran, ya sea a través del sitio web, de dispositivos móviles, de la aplicación, de chatbots o de otros canales de opinión. Obtenga una visión completa de todos los canales y puntos de contacto en una sola plataforma.
Prediga el comportamiento online de los clientes
Manténgase un paso por delante de la competencia con los modelos predictivos de iQ. iQ le permite realizar predicciones para anticiparse a los problemas y priorizar las medidas con mayor impacto al combinar opiniones con datos operativos como los de sus análisis web (Google Analytics, Adobe Analytics).
Integre la experiencia del cliente en toda su organización
Comparta la información sobre los canales digitales en tiempo real con las personas adecuadas para que todos los miembros de la organización puedan tomar medidas para mejorar la experiencia. Qualtrics se integra a la perfección en las herramientas y procesos que utilizan sus equipos y hace de la experiencia del cliente una parte integral de su rutina.
Controle la experiencia dentro de la aplicación
Cree experiencias de marca para la opinión del cliente rápida y fácilmente desde la aplicación móvil. El SDK móvil de la aplicación de Qualtrics está disponible para iOS y Android y cuenta con un portal de diseño que le ofrece un control total sobre la experiencia dentro de la aplicación. Todas las opiniones, así como con los datos offline y del sitio web, se envían a Qualtrics Experience Management (XM) Platform para que pueda ver todos los canales en el mismo lugar.
Diríjase a los clientes adecuados con el mensaje correcto
Personalice sus mensajes con más de 20 variables de focalización diferentes que incluyen desde la geolocalización y la segmentación de clientes hasta el comportamiento en el sitio web. De esta forma, podrá ofrecer promociones personalizadas para impulsar la conversión y recoger opiniones adecuadas de la audiencia correcta en cada etapa de su viaje online. No necesita programar ni recurrir al equipo de TI: configure las variables, suba el diseño y comience a personalizar su experiencia digital.
Innovaciones listas para ser usadas (Out of the Box)
Vaya un paso por delante desde el primer día. Cree una estrategia de experiencia del cliente de talla mundial con una plataforma de experiencia del cliente que pone a su disposición conocimientos innovadores listos para usar. Las Certified XM Solutions están personalizadas para su sector y le ofrecen estrategias predefinidas de experiencia del cliente con contenido creado por expertos, flujos de trabajo y procesos de automatización integrados directamente en la plataforma de Qualtrics. Incluye programas de estrategias de experiencia del cliente relacionales y transaccionales durante todo su viaje diseñadas por expertos, con lo que ponerse en marcha le resultará más fácil y rápido.
Más información (EN)
¿Qué es la experiencia del cliente digital?
La experiencia del cliente digital se refiere a la forma en que las marcas conocen el viaje, el comportamiento y las motivaciones de sus clientes online. Debido a la gran cantidad de canales que existen, desde sitios web y aplicaciones móviles hasta redes sociales, smartphones y chatbots, es esencial que las marcas optimicen la experiencia en cada punto de contacto. Además, dado que los clientes rara vez se ciñen a un solo medio, la gestión de la experiencia digital debe reunirlos todos para poder ofrecer una visión completa de la experiencia a través de cada dispositivo y canal.
Aprenda a crear una estrategia de experiencia del cliente digital (EN)