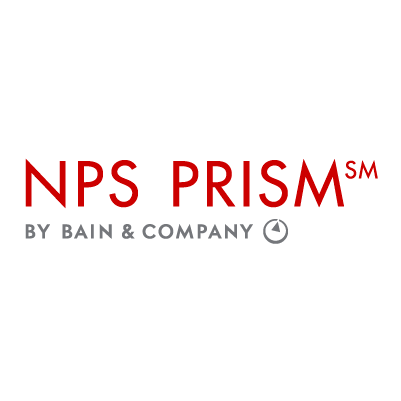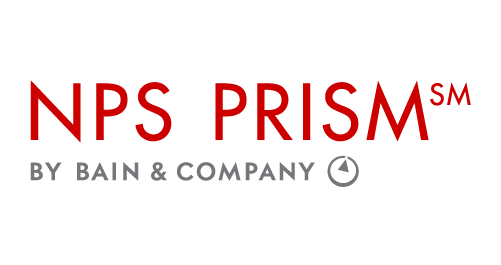 XM Solution Guided Program
Bain NPS Prism
NPS Prism provides Net Promoter Scores from tens of thousands of customers at the episode level, so you can determine where you're strong, where you lag, and how to prioritize to create optimal customer journeys.
Core Experience
Customer Experience
Created By
Bain & Company
Methodology
Net Promoter Score
NPS Prism is a breakthrough benchmarking tool from Bain & Company powered by Qualtrics. It captures tens of thousands of Net Promoter responses, from customers who do business with you and with your competitors. Because it captures feedback on every episode along their journey you can discover what customers like, what they don't like, and, most important, why. NPS Prism puts the power of data and analytics into your hands so you can build the best possible customer experience.
NPS Prism provides you with the episode-level insights you need to:
Model financial impacts of various CX initiatives
Scan customer feedback in their own words, to understand exactly how they feel about their interactions
Prioritize your development projects to focus on those with the biggest impact
Look outside your industry for additional sources of insight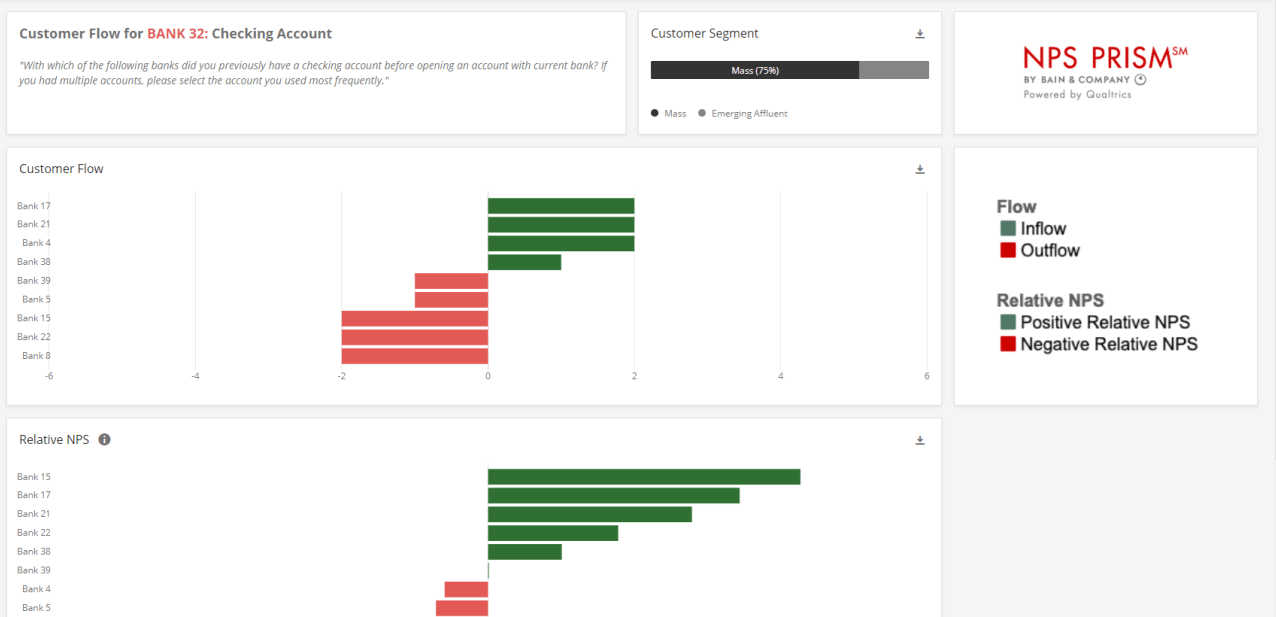 Outcomes Delivered
Insights to help you prioritize customer episode design.
Understanding of how you compare to your competitors on specific steps of the customer journey
Detailed customer feedback, including verbatim comments
Continually updated NPS benchmarks to guide ongoing customer experience efforts
Category Tags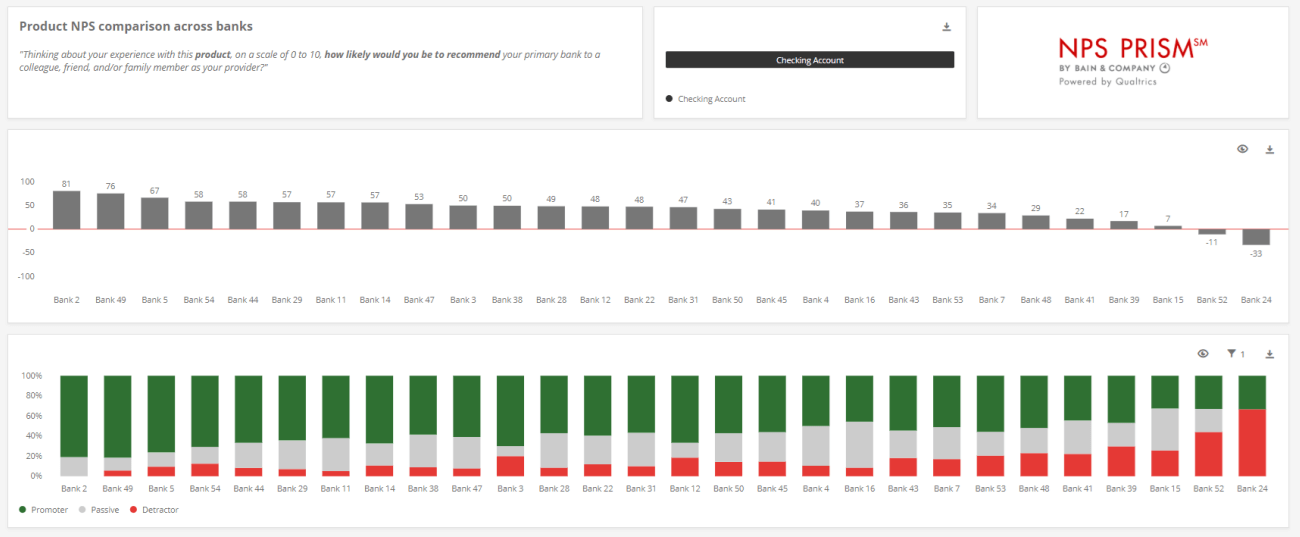 A unique benchmarking database
Tens of thousands of customer NPS responses
See how you compare to competitors on the interactions that matter most to customers
Drill down to understand customer sentiment in their own words
Database continually updated
Expanding to cover new geographies and industries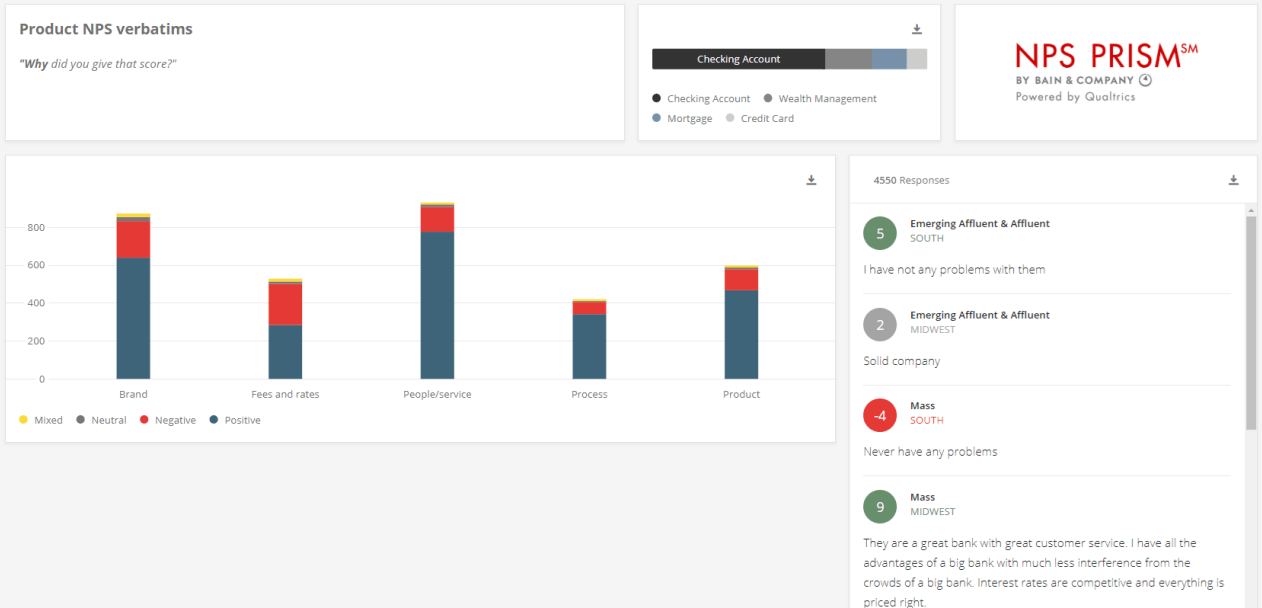 Deep industry expertise
NPS Prism was created by Bain & Company, inventors of the Net Promoter Score® and Net Promoter System®
Bain has worked with hundreds of companies on customer loyalty programs that incorporate NPS.
That same expertise is at the heart of this unmatched benchmarking service
What You Get
NPS Prism gives you the detailed data you need to prioritize your customer experience development projects so you can enhance the interactions that matter most to your customers and become a customer experience leader.
Easy to Use Dashboards
Intuitive interface displays four critical categories of benchmarks
Quickly spot and quantify gaps between your company and individual competitors
Model financial impact of specific actions
See customer verbatims to get a clear picture of what customers do and don't like
NPS Prism is designed for CMOs, CCOs and senior leaders focused on customer experience (CX) issues, providing the essential, detailed data than can drive a consensus strategy on establishing and executing the right CX initiatives.
Subscription Flexibility
Platinum, gold and silver levels let you tailor a subscription to your needs.
Additional Resources
Solution Details
Required License: Customer Experience
Languages
English
Category Tags
Not a Qualtrics XM Customer?
Qualtrics Experience Management Platform™ is used by the world's most iconic brands to
optimize the four core experiences of business.