---
What is customer centricity?
Customer centricity is the practice of putting customer experience first throughout an organisation's actions and attitude.
Often, it's seen as a brand culture or mindset shift, but in practice, it is more of a business-wide strategy that requires more than just considering what customers are looking for.
To do more than just keep customers in mind, businesses need to consider customer needs and wants as the most important factor when planning to take any action. From product development to the individual steps in the customer journey, customer centricity should permeate every facet of your business decisions and action.
Create a customer centric organisation with Qualtrics Customer XM
Customer centricity vs customer friendliness
Peter Fader, a Wharton marketing professor and author of The Customer Centricity Playbook and Customer Centricity, has suggested that often companies are customer-friendly, but not customer centric. Rather than focusing on individual customers, a brand's customer base is treated as a whole, with actions applied equally to each customer with expectations of similar outcomes.
Customer centricity, he argues, is about understanding customers on a granular level. Which are the most valuable customers, and what do they want or prefer? Which communication preferences do they have, what experiences do they expect, and what drives them to make the purchases they do?
By focusing on customer centricity rather than being customer friendly, brands can improve their ROI and provide better, more personalised campaigns and tailored customer experiences.
Why is customer centricity important?
Consumers now expect businesses to focus on the customer experience. They want their wants, needs, and opinions to be reflected in their relationship with brands, from customer centric marketing to interactions with customer service reps. In 2022, 63% of consumers told us that brands needed to do a better job of listening to feedback on customer experience. In 2023, we found that 36% of consumers are still not happy with the level of empathy shown in their customer service interactions with brands.
It's clear taking a customer centric approach is something that customers now expect. But how do you go about creating a customer centric culture, and what are the potential business impacts of taking this action? Read on to find out.
What are the business benefits of being a customer centric company?
Creating a customer centric organisation isn't just about customer benefits. A customer centric business can expect increased customer loyalty and subsequent financial returns, as well as greater competitiveness when it comes to new customer acquisition.
Customers will spend more when they feel heard
When businesses create meaningful experiences that take customer feedback into account, customers feel heard – and are willing to spend more. 62% of consumers said that businesses need to care more about them, and 60% stated they'd be willing to buy more if they did feel cared for. Putting customers at the forefront of your brand actions means customers have better experiences that better reflect what they expect.
Personalisation pays dividends
Providing a positive customer experience that is customer centric, rather than generic, is financially rewarding for businesses. Brands that grow more rapidly receive 40% more revenue from a personalised approach than their less successful rivals.
When your brand doesn't personalise services to customers, it means you risk infuriating your customer base and damaging customer satisfaction – 76% of customers get frustrated when they aren't given a personalised experience. Personalisation and customer centricity is key to keeping loyal customers and attracting new ones.
Customer centric businesses get ahead of their competitors
Research from the Qualtrics XM institute found that the gap in stock prices between customer experience (CX) business leaders and customer experience laggards grew from 24% points in 2019 to 66% points by the end of 2021. The cost of ignoring customer needs is clear – there is a financial impact when customer centricity isn't a key business value. Compete with your market rivals by joining the ranks of customer centric companies.
Increased customer loyalty and lifetime value
Customers that can see they are heard and appreciated by businesses are more likely to come back for similar experiences, rather than seeking new ones elsewhere. With the cost of acquisition likely being higher than the cost of customer retention, it makes sense to increase loyalty and customer value by investing in creating better, more customer centric experiences with your brand.
Creating and implementing a customer centric strategy for your organisation
When to create and enact a customer centric strategy
The right time to become a customer centric business is now – the best time was yesterday. However, customer centricity is not just a lip-service action – becoming a customer centric business means enacting change throughout your organisation. This requires planning and likely time to ensure that actions taken are worthwhile, both from a financial standpoint and as an enduring change.
How to create a customer centric strategy
To form a better understanding of what you need to do to become a customer centric organisation, you'll need to go through a few key steps.

Gather customer data
Examining your customer data and feedback is the best way to ensure you're heading in the right direction with your strategy. There's little use in creating a customer centric approach, only to find it doesn't meet customer expectations.
Your customer data can be collected from various sources within your organisation. These might include:
Customer survey feedback, such as Net Promoter Score (NPS) responses
Customer behaviour data, such as transaction history
Front-line feedback from customer service employees
Website analytics tools
Social media platforms
Third party review sites
Loyalty program data
Subscriptions to brand marketing, such as newsletters
Text analysis on call transcripts, chat, SMS, emails and other feedback
User testing results
Understand your customers through data-led insights
By gathering this information, you can begin to spot patterns and link customer's feedback in their own words with actions your company has taken. Feeding your customer data into a customer experience platform that can distill data into insights can be a faster way to see the patterns in customer behaviour and begin strategising the action that needs to be taken.
Insights you might pull out include:
Future predictions of customer needs, based on past behaviour trends
Which channels customers prefer to use, and for which activity (e.g. reaching out to customer service representatives)
What customer relationship actions will have the best ROI, with the greatest impact from the smallest effort
How to improve personalisation at scale by customer segmentation
How to retain customers beyond the first purchase and increase customer lifetime value
Develop your strategy and set goals
The data-led insights you develop as part of this process will give you ideas as to where you can make the most impact for the least amount of investment. Once you have a clear view of which actions will have the greatest results, you can develop your strategy and set goals.
For example, if your user testing and customer feedback has indicated that your payment page is confusing, you can reduce the number of drop-offs at that stage in the customer journey by making the page more user-friendly.
Your company actions and goals could be to:
Ask your web development team to work on user experience
Ask your marketing team to make it clear that feedback has been taken into account to your customers
Ask your customer experience team to gather more feedback post-action to see the impact that was made
Ask your customer service reps to flag payment issues in future
Review customer data post-action to see if this had a positive impact on sales and revenue, cart abandonment rates and customer calls
Monitor your KPIs such as customer satisfaction post-action for signs of improvement
Repeat the process of finding and taking action on customer insights
How to implement your customer centric strategy
Implementing your customer centric strategy is a company-wide process, and one that more companies will adopt as the benefits become clear. Get ahead of the competition by dedicating your brand to implementing a strategy that pays dividends. Here are our suggested actions:
Create a customer centric culture across the entire business
Overall, your business strategy should adhere to a customer centric company vision. This helps to make it clear to everyone within your business that your overall company goal is to put customer satisfaction first in every action taken.
Areas in which you could focus your strategy include:
Customer centric marketing, with the aim of encouraging customers to become promoters to others through word of mouth
Customer centric selling, with products and services offered reflecting what customers indicate they need and want
Customer centric thinking, encouraging suggestions and regular feedback from employees to help improve customer relationships
Build in customer centricity from day one
Your employees are often the best proponents of your customer centric approach, and it makes sense to instil a sense of customer centricity from the very beginning of their work with your brand.
You might try engaging in:
Customer focused hiring practices, finding employees that also share a customer centric approach to doing their work
Customer centric personnel development, with customer centricity built into your employee evaluations as a KPI
More customer focused onboarding practices, with your vision for customer centricity made clear
Common challenges for customer centricity
A lack of leadership buy-in
Customer centricity starts from the top down. Without leadership buy-in and guidance, brands can often find that customer centricity falls behind other priorities. To avoid this, you'll need to ensure that management engages with the idea of a customer centric culture, spreading support throughout their teams.
As managers, you'll need to make it clear that each customer centric action contributes to other business goals by connecting key customer centric objectives with business and organisational KPIs. Customer centricity isn't a one-off project, after all – it's an ongoing process that adapts as the market and consumers change. Leadership will need to ensure that initial dedication continues over time.
Organisational silos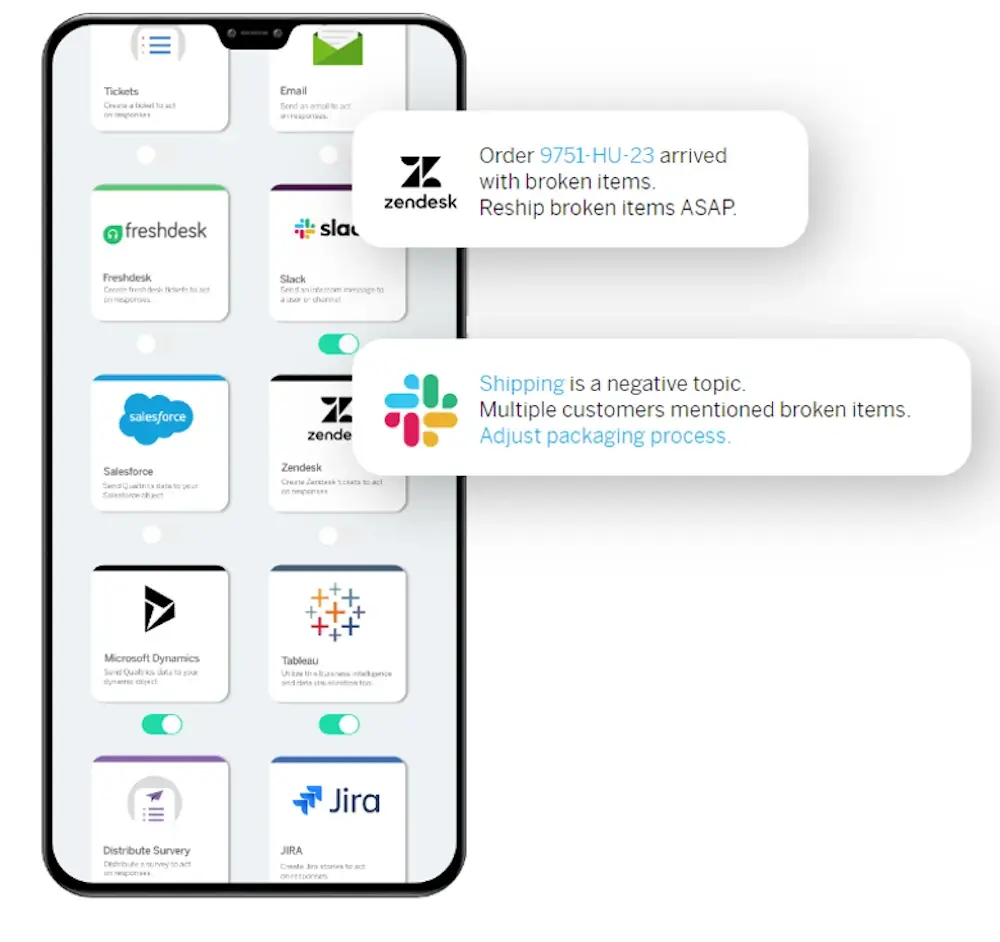 When a business's marketing, sales, operations, customer service function and more work in silos, it can be difficult to share one customer centric vision. Ensuring that vital customer relationship management isn't one team's responsibility, but everyone's, can help to foster customer centricity across the whole business. To help teams to communicate effectively for better customer success, create cross-functional groups across various teams and share insights from customer data widely. Your aim is to create a customer centric brand, rather than just implement customer-focused actions in individual areas.
A product or service focus, rather than a customer centric focus
Working on products or services in isolation from a sales and marketing approach doesn't reflect real-world customers. For example, take a customer who has purchased two different products with a financial organisation such as a bank. They don't want to have to deal with different teams for each individual product or service they use – they want a unified account overview, with customer service reps aware of all their past interactions with the business.
Moving away from a product or service focus towards customer centricity helps to break down silos, encourages customers to find new products and services from across your brand and helps you to condense operations. It's a win-win from a customer outcomes and a business point of view.
Inadequate or legacy technology
Bringing customer data together from disparate digital channels is difficult without the right technological support. Inadequate systems that can't analyze customer data in depth can limit the granular study of customer behaviour and drivers that's needed for a truly customer centric approach. When legacy systems aren't integrated, important information isn't delivered cross-team or is kept hidden in silos.
Analysis and the dissemination of vital insights to the right teams at the right time can be greatly supported with the right technology. A customer experience platform, such as Qualtrics Customer XM, can help you to not only gather all relevant customer data, but bring your teams together to work on customer centricity as a whole.
Measuring the success of your customer centric approach
Developing an action plan and goals is only part of creating customer centricity in your organisation. You will also need to measure the success you've had in meeting your goals. This will help you to make better future decisions, based on successful actions taken over time.
Important customer centric metrics that can be monitored over time could include:
Net Promoter Score (NPS): How likely is it your existing customers would recommend you to others before and after the strategy has been implemented?
Customer Satisfaction (CSAT) score: How satisfied are your customers with your products, service and experience?
Customer Effort Score (CES): How hard is it for your customers to complete actions, and how have your actions impacted this effort?
Your sales rate: Have sales improved since implementing your actions?
Your customer lifetime value (CLV): Has customer value increased following your customer centric approach?
Customer loyalty program signups: How successful has your customer loyalty program been post-strategy?
Customer support: Have customer support metrics (time to resolution, cost per serve) improved since enacting your strategy?
How to ensure your strategy evolves with customer needs
Customer centric best practices are to continually monitor progress, and evolve with customer needs over time. Becoming a customer centric business is an ongoing process that requires constant review.
Rather than taking a static or regularly-scheduled approach to evaluation, use real-time insights to ensure that your teams are working towards current customers' expectations. With constant monitoring, business-wide KPIs and an adaptive strategy, you can ensure that your brand is always evolving to meet customer needs.
This also helps you to meet new customers' expectations. By consistently analysing and predicting behaviour based on loyal customer trends, you can replicate successful actions for new customers and develop quicker steps to customer retention.
Creating customer centricity in your organisation with Qualtrics
Developing customer centric thinking across your organisation and understanding how your actions make an impact doesn't have to be difficult.
With the Qualtrics Customer XM platform, you can tailor each customer's experience at scale. Hear all customer feedback, no matter where it's shared. Use powerful analytics and predictive intelligence to collect vital data and transform it into targeted action for better business outcomes.