Customer Experience
Global consumer trends to watch out for in 2023
Consumers demanded better experiences in 2022, and businesses that listened were able to find success. In 2023, it will be no different - those that pay attention to consumer trends will reap the rewards.
Read on for our predictive insights for 2023 and prepare to exceed customer expectations.
The Qualtrics XM Institute spoke to over 33,000 consumers across 29 countries about what makes them loyal to brands. The answer? Brands need to be more human - and they'll reward companies that make them feel a real connection.
Download the full Global Consumer Trends 2023 report now
Why are global consumer trends important?
In times when the market is in flux or even on a downward trend, you need to understand what matters to consumers to be able to make an impact. A consumer trend often develops when there are consumer preferences or needs that are not being met, meaning there's opportunity for many brands to make their mark.
Often, it's not even what you're doing, but how you're doing it that breaks through to customers in a saturated market. Particularly after the global pandemic, customers are increasingly concerned in finding real experiences that satisfy, rather than just another transaction.
This sentiment is what's driving new shopping behaviors. Customers who rate an experience 5/5 stars are more than twice as likely to buy again, and 80% of satisfied consumers spend more.
Focusing your efforts on these consumer trends will help you to develop brand loyalty and develop a stronger edge over your competitors. Trust in consumer trends from consumers' own insights and reshape your customer experience to meet and exceed their expectations.
The global consumer trends of 2023
Trend 1: Find the human connection in physical and digital worlds
As in 2022, consumers want to find the human experience among the impersonal online shopping transactions that make up a lot of our digital interactions.
We examined one of the main areas of customer connection, the contact center, to see what matters most for consumers. As it turns out, the convenience of shorter wait times isn't the key factor that impresses customers - it's the human connection they feel when engaging with your brand.
Of the thousands of people we consulted, 6.2% said helpful agents made them happy in their contact center experience, and 5.2% said agent empathy made a difference. In comparison, only 2.7% valued low wait times.
Applying this same philosophy of human connection to other areas where your brand and customers meet will increase the likelihood to return, rewarding your business in consumer spend and customer loyalty.
Trend 2: Get closer to hold consumer interest
One area that needs to take center stage is the customer experience. Given that in 2022, 63% of consumers said that companies needed to do a better job of listening to feedback in this area, this isn't surprising.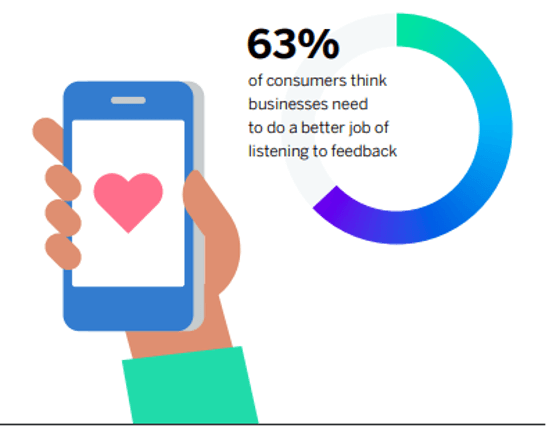 In these difficult periods, many consumers are evaluating not only the services they need, but what experiences those services provide. Long-term market share is actually won in a down market as purchasing decisions end up being about experience, not utility.
Our XM institute research shows this in stark detail. The gap in stock prices between CX business leaders and CX laggards grew from 24% points in 2019 to 66% points by the end of 2021.
The CX leaders were able to outperform the market because they focused on customer experience during the global pandemic, rather than operational wins.
Being closer to customers means you understand what matters to them most. Personalizing your offering to their needs and closing experience gaps as times change will be the make-it-or-break-it strategy for your brand's longer-term success.
Trend 3: Understand needs through genuine, human listening
Empathy is the overriding factor that customers desire in their experiences in the digital world, and it's something that's distinctly lacking in many customers' current brand relationships. In 2022, the call for better listening came through loud and clear.

For 2023, we found 36% of consumers are still unhappy with the empathy shown in their customer service interactions - but how do you go about building empathy at scale?
Understanding customers means more than just looking at post-purchase survey feedback. Deep connections are built with a thorough examination of your unstructured data such as contact center call transcripts, online reviews, social media posts, and more.
Not only that, but video - now the primary communication method for many consumers - is a vitally important untapped resource for consumer insight.
Discover more about building empathy at scale in our Global Consumer Trends 2023 report
What's changed from 2022?
In 2022, the world was still focused on adapting on the changed circumstances we found ourselves in after the global pandemic. The global consumer trends in 2022 gave the strong sense that customers were willing to break brand relationships to seek better experiences.
Trend 1: Customers have had enough, and they're willing to walk
In 2022, 9.5% of your revenue was at risk when you offered bad experiences to your customers. In 2023, there's still an 8% revenue loss risk - meaning it's still worth paying attention to consumer demands for better treatment..
Trend 2: Toss out the pre-2022 business plans
Everything was upended with the global pandemic, and understandably for many retailers and small businesses, the impact was devastating. However, even large businesses were impacted - and a lot of it was to do with a poor view of customer experience.

Prices and fees, customer service, product capabilities and ease of use were all flagged as problematic - meaning new customers and old were left unimpressed with the brand experiences on offer.
Trend 3: Consumers will stop engaging - unless you take action
Two thirds of consumers we surveyed in our Global Consumer Trends 2022 report believed that companies weren't good at listening to feedback.
Company failure to listen cost businesses money - and for consumers increasingly concerned with saving money themselves, brands that didn't listen lost out in a big way.
Trend 4: Treat customers as people, not commodities
Often, businesses can see customers as a number, a faceless generator of data on purchase behavior. Our 2022 Global Consumer Trends survey found this was highly detrimental to the customer experience, where consumers actively put their money behind brands that cared about them.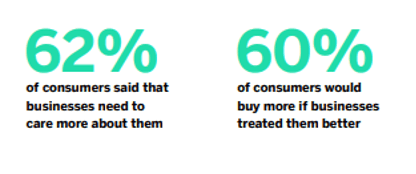 Global Consumer Trends 2023: the song remains the same
In 2023, the critical factors impacting customer experiences have changed, but the song remains the same - customers are looking for care and human empathy.
Geopolitical uncertainty, concerns about environmental impact and higher rates of inflation means that brands that fail to act in a human way will lose out. Keeping customers will be harder than ever - meaning the stakes are higher for every transaction.
Don't miss the connection
Consumers are urgently seeking brand relationships that are built on human connection. Digital transformation needs to be driven not only by consumer behavior, but this new appetite for a human-centered experience.
Read our report to discover our advice on building authentic relationships with customers in 2023 and reap the financial rewards.
Get insights into the future with the Global Consumer Trends 2023 Report