Software für Online-Umfragen
Die erste Wahl unter den Umfrage-Tools: über 1 Milliarde Umfragen pro Jahr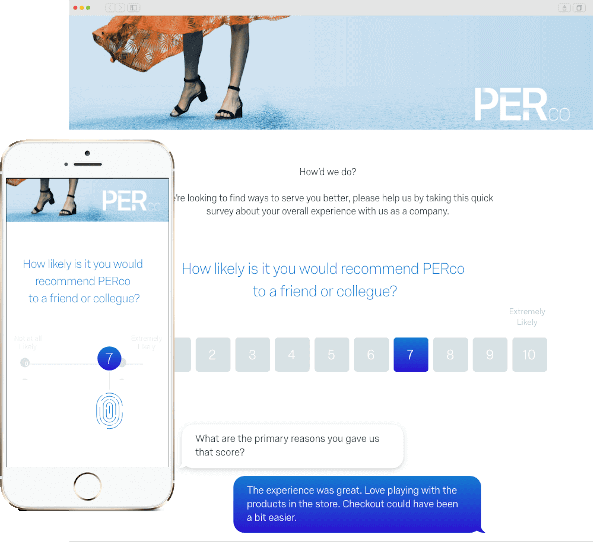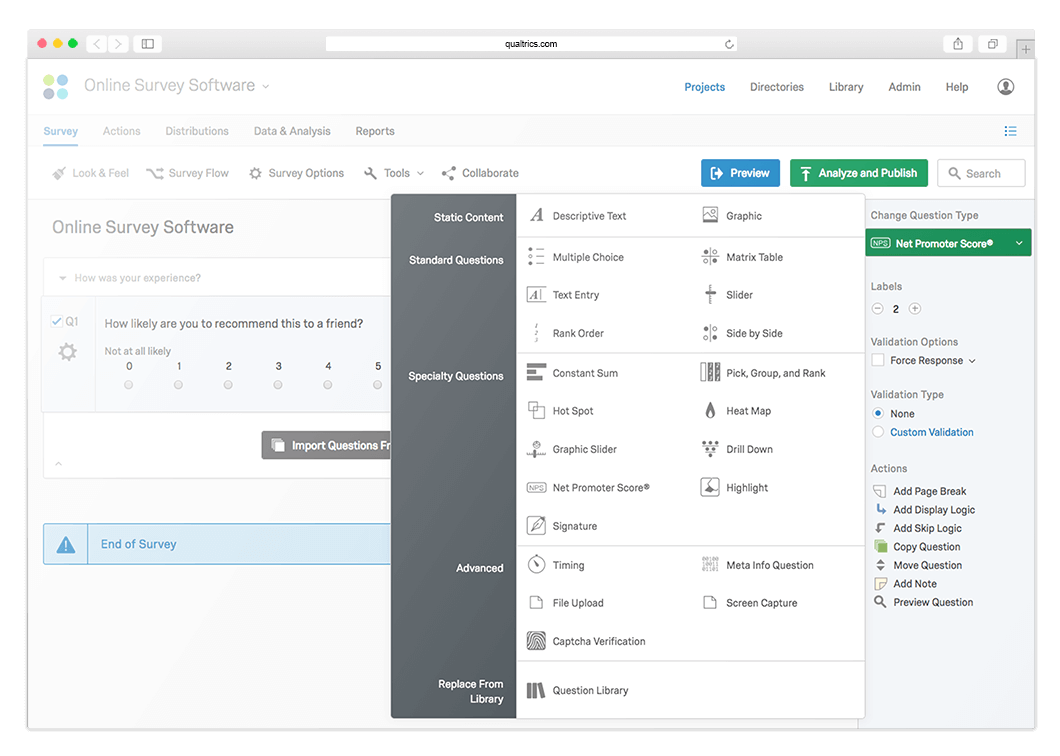 Sie wollen Märkte, Marken, Kunden und Produkte unter die Lupe nehmen? Unsere Umfragesoftware gibt Ihnen die Antworten auf Ihre wichtigsten Fragen. Das Tool erledigt sämtliche Recherchen für die weltweit größten Marken – vom einfachen Fragebogen bis hin zum detaillierten Forschungsprojekt. Entwerfen Sie Ihre Umfrage mithilfe unseres intuitiven Tools per Drag and Drop. Profitieren Sie von unserer effektiven Logik, über 100 Fragetypen und vorgefertigten Umfrage-Vorlagen (EN).
Erreichen Sie Ihre Teilnehmer immer und jederzeit, indem Sie alle Kommunikationswege nutzen: Verschicken Sie Ihre Umfragen per Mobilgerät, über Apps, Websites, Chatbots und viele andere Kanäle.
Erstellen und testen Sie die Umfragen in Echtzeit. Profitieren Sie von der nahtlosen Zusammenarbeit mit allen Teammitgliedern.
Gewinnen Sie mithilfe der prädiktiven und effektiven statistischen Analysen neue Insights.
Starten Sie voller Zuversicht in Ihre Kampagne und steigern Sie die Qualität der Umfrage – dank der iQ-basierten ExpertReview (EN).
Integrieren Sie Ihre Umfragen (EN) in bestehende Systeme wie Salesforce (EN), Marketo (EN), Adobe (EN) und viele mehr.
Das raffinierteste Umfrage-Tool ist gleichzeitig das benutzerfreundlichste
Einfaches Drag-and-drop-Prinzip auch bei den kompliziertesten Umfragen
Nutzen Sie über 100 Fragetypen und viele weitere Optionen, um Ihr Projekt aufzubauen und zu starten. Zu diesen Features gehören die erweiterte Anzeigelogik, die Optionen zur Verzweigung, Quoten, API-Integrationen in Salesforce und E-Mail-Trigger. Durch die intuitive Software und die Drag-and-drop-Funktion werden selbst die kompliziertesten Projekte zum Kinderspiel. Erstellen, starten und analysieren Sie mühelos Ihre Umfragen.
Ein stabiles Fundament für Ihre Entscheidungen
Treffen fundierte Entscheidungen  – auf Basis von Einblicken in Echtzeit und Berichten, die Sie in Sekundenschnelle weitergeben können. Wählen Sie aus 30 unterschiedlichen Grafiktypen eine Vorlage aus und geben Sie Ihre Berichte online weiter. Exportieren Sie Ihre Umfragedaten in beliebte Softwareformate und Programme wie Word, Powerpoint, PDF, CSV und SPSS.
Integrierte KI für alle Umfragetypen
ExpertReview analysiert alle Fragen in Echtzeit. Das Tool bietet Ihnen personalisierte Empfehlungen fürs Umfragedesign. Damit steigern Sie nicht nur die Rücklaufquote, sondern auch die Qualität Ihrer Daten. Sie wollen voller Selbstvertrauen in Ihre Kampagne starten? Sie können ganz beruhigt sein: Das iQ-basierte System basiert auf künstlicher Intelligenz und den Best Practices aus der Forschung. Wenn die Ergebnisse eintreffen, nimmt iQ eine detaillierte statistische Analyse und eine eingehende Textanalyse vor. Dadurch kommen Sie mit nur einem Mausklick direkt an die Informationen, die Sie brauchen.
Erstellen Sie noch heute Ihre Umfrage
Fragen und Antworten Ihres Zielpublikums, orts- und zeitunabhängig
Ganz gleich, wo Sie Ihre Daten sammeln wollen: Unsere Umfragesoftware hilft Ihnen weiter. Brauchen Sie einfach nur einen Umfragelink, den Sie überall einfügen können? Oder sind Sie auf der Suche nach einer erweiterten Integration für Ihr CRM, Ihre Textnachrichten (SMS) und Offline-Umfragen? Was auch ihr Ziel ist: Mit uns erreichen Sie Ihre Teilnehmer immer und überall.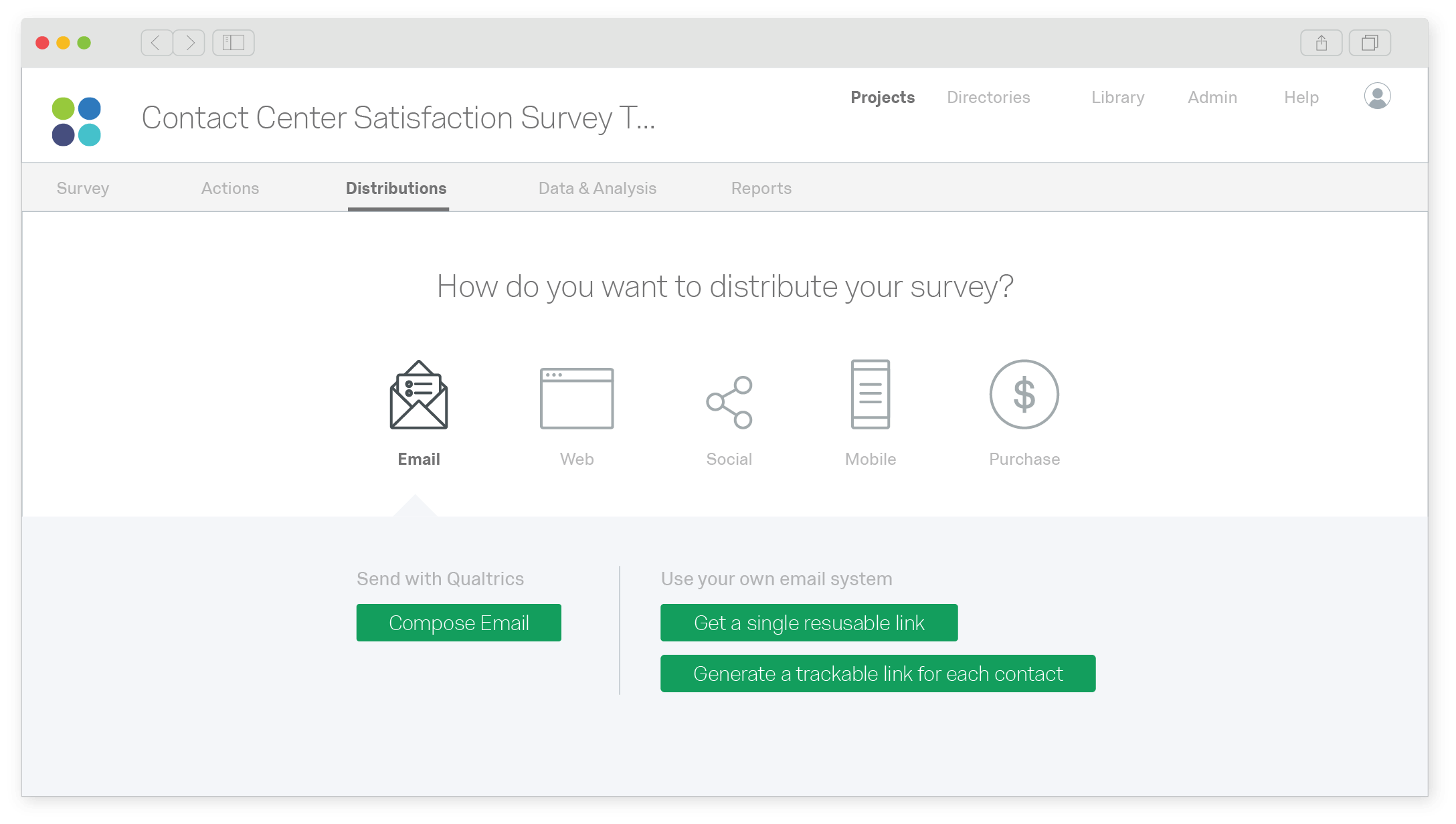 Die richtige Nachricht für den richtigen Kunden
Passen Sie Ihre Umfragen und Intercept-Befragungen mithilfe von über 20 unterschiedlichen Targeting-Variablen an – mithilfe von Geo-Daten, einer Kundensegmentierung oder des Kundenverhaltens auf der Seite. Das Ergebnis sind maßgeschneiderte Aktionen, die der Conversion Rate zugutekommen. Sie erhalten außerdem für jede Phase der Customer Journey vom gewünschten Publikum das notwendige Online-Feedback. Sie brauchen dafür keine Programmierkenntnisse und auch keinen IT-Support. Einfach die gewünschten Variablen einstellen, die erstellten Inhalte hochladen und die digitale Customer Experience anpassen.
Die einzige Umfrage-Plattform, die Sie brauchen
Von der einfach aufgebauten einmaligen Umfrage bis zum ausgeklügelten internationalen Experience-Management: Qualtrics passt sich an Ihre Projekte an. Unsere skalierbare Umfrage-Plattform deckt alles ab – ob Marktforschungsprojekt, Customer Experience, Produkttest, Employee Experience oder Marken-Tracking. Unsere Lösung ist die erste Wahl für über 11.000 Unternehmen und Organisationen in aller Welt. Über 80 Prozent der Fortune 100 vertrauen unserer Umfragesoftware. Wir kümmern uns um alle vier Eckpfeiler des Experience Management in Ihrem Unternehmen: Kunden, Mitarbeiter, Produkte und Marken.
Sehen Sie sich an, mit wem wir zusammenarbeiten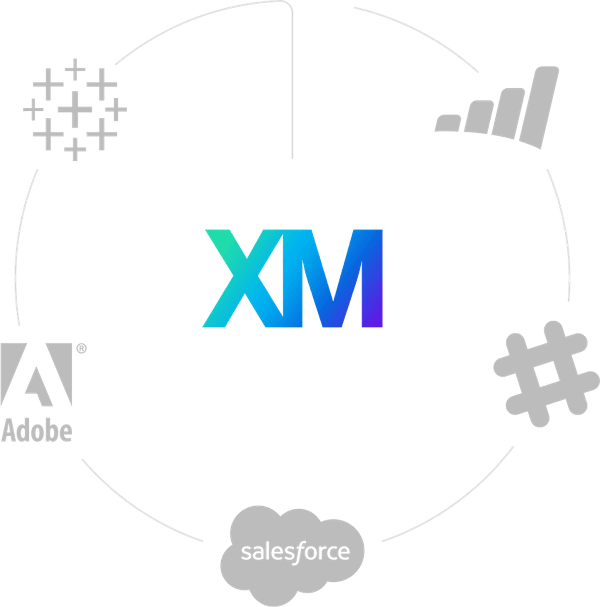 Professionelle Datensicherheit bei Umfragen
Alle Ihre Daten sind bei Qualtrics gut aufgehoben. Wir bieten Ihnen professionelle Sicherheitsfunktionen für Unternehmen – von der Datenverschlüsselung über die Redundanz und kontinuierliche Netzwerk-Überwachung bis hin zur Anmeldung per Single Sign-on (SSO). Wir beachten die Datenhoheit der USA, Kanadas, des Wirtschaftsraums Asien-Pazifik und der EU. Dadurch haben wir uns das Vertrauen von Unternehmen sowie multinationalen Banken und Regierungsbehörden verdient.
Darüber hinaus sind wir nach ISO 27001 zertifiziert und nach FedRAMP autorisiert (EN). Das Federal Risk and Authorization Management-Programm (FedRAMP) entspricht dem Goldstandard der Sicherheitszertifikate, den die US-Regierung bei SaaS-Anbietern anlegt. Sie können sich also sicher sein, dass Ihre Daten bei uns in guten Händen sind.
Erfahren Sie mehr zum Thema Sicherheit (EN)
Die bestbewertete Umfrage-Software
Die große Mehrheit hat entschieden. Qualtrics ist stolz darauf, der XM-Pionier und einer der führenden Anbieter in der Software-Kategorie Employee Experience auf der führenden Website für unabhängige Software Review zu sein.
Lesen Sie unvoreingenommene Bewertungen von echten Kunden und vergleichen Sie selbst.
Was ist eine Umfragesoftware?
Eine Umfragesoftware ist ein Tool, mit dem Sie online Umfragen entwerfen, verschicken und analysieren können. Dies ist die wichtigste Methode, um Feedback im gewünschten Umfang zu sammeln. Die hierfür eigesetzen Methoden reichen von der einfachen Umfrage bis hin zur detaillierten Marktstudie – oft als Teil eines umfassenderen Experience-Management-Programms, bei dem das Feedback der Kunden oder Mitarbeiter eingeholt wird.
Cloud-basierte Umfragelösungen haben den Prozess grundlegend verändert: Es ist jetzt viel leichter, schnell die Daten einer großen Zahl an Teilnehmern zu sammeln. Dafür wird der Prozess so automatisiert, dass die Umfragen über eine große Bandbreite an Kanälen verschickt werden – über Websites, Mobilgeräte, Apps, per E-Mail oder sogar per Chatbot.
Qualtrics hat seine Umfragesoftware 2002 eingeführt. Anfangs diente sie Wissenschaftlern dazu, detaillierte Nachforschungen anzustellen. Das waren Umfragen, die herkömmliche Online-Tools aufgrund der komplexen Anforderungen akademischer Untersuchungen nicht bewältigen konnten. Die wegweisende Lösung führte erweiterte Umfragefunktionen und Analyse-Optionen ein, die Marktforscher zuvor Wochen und Monate an Arbeit gekostet hätten. Wir haben den Prozess automatisiert und um die Drag-and-drop-Funktion erweitert – für optimale Benutzerfreundlichkeit.
Mittlerweile vertrauen über 11.000 Marken in aller Welt unserer Umfragelösung. Die Unternehmen verwenden das Tool für einmalige Marktforschungsprojekte genauso wie für umfassende Experience-Management-Programme.