Engineering Services, Qualtrics' innovation team, builds bespoke solutions for global brands
---
When a client needs capabilities that reach beyond Qualtrics' current platform, Engineering Services builds a one-of-a-kind solution that often becomes a new feature in the core product. Members of the Eng Services team own their projects from beginning to end, and have the freedom to explore new technologies as they build up expertise across an ever-expanding range of industries. We talked to software engineers Trever Hixson, Nayana Penmetsa (both in Provo, Utah), and Iain Maryanow (in Seattle), along with software development manager Jimmy White (in Dublin), about the team's tools and culture. Interested in joining them? See open roles to learn more.
---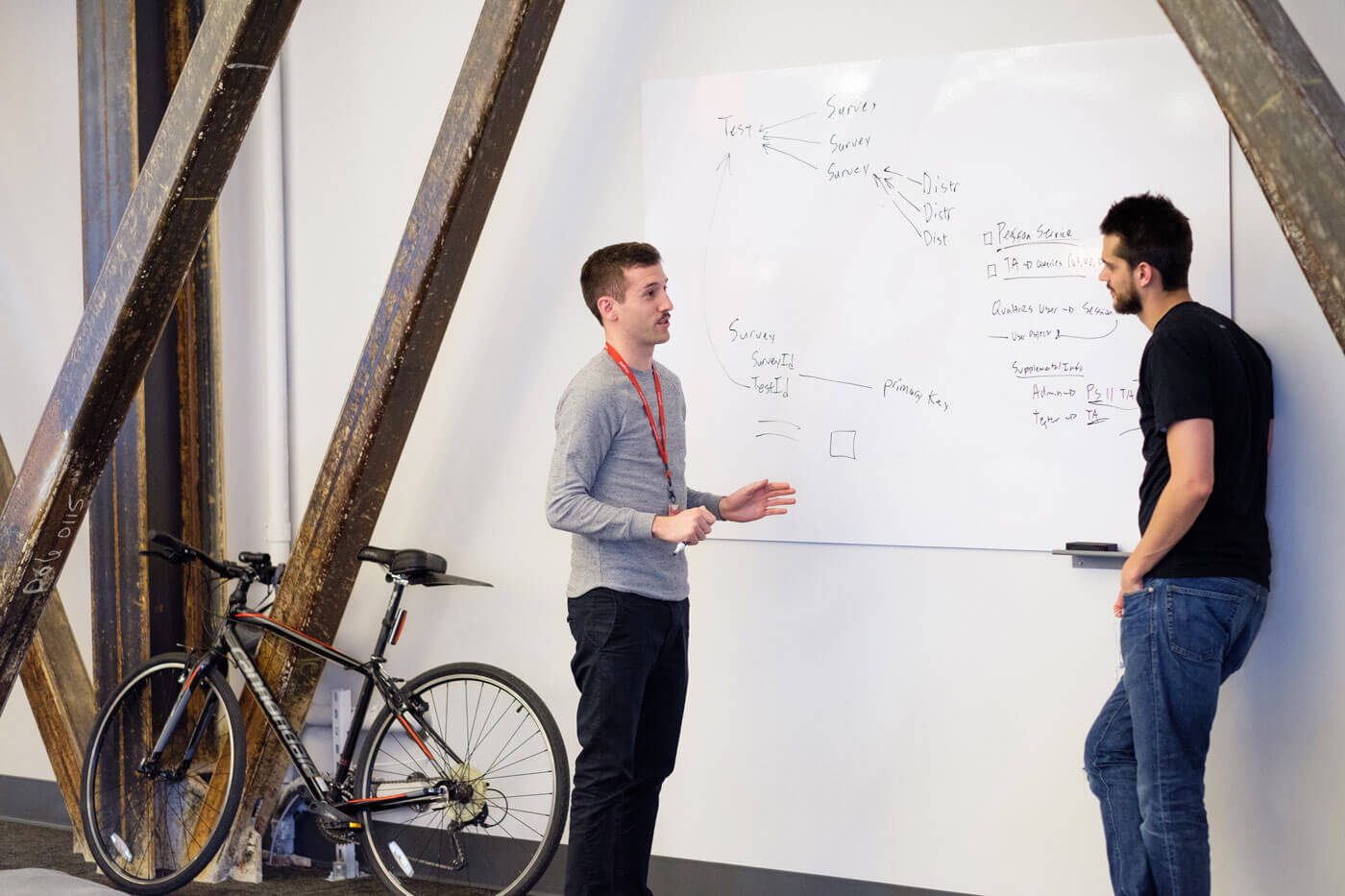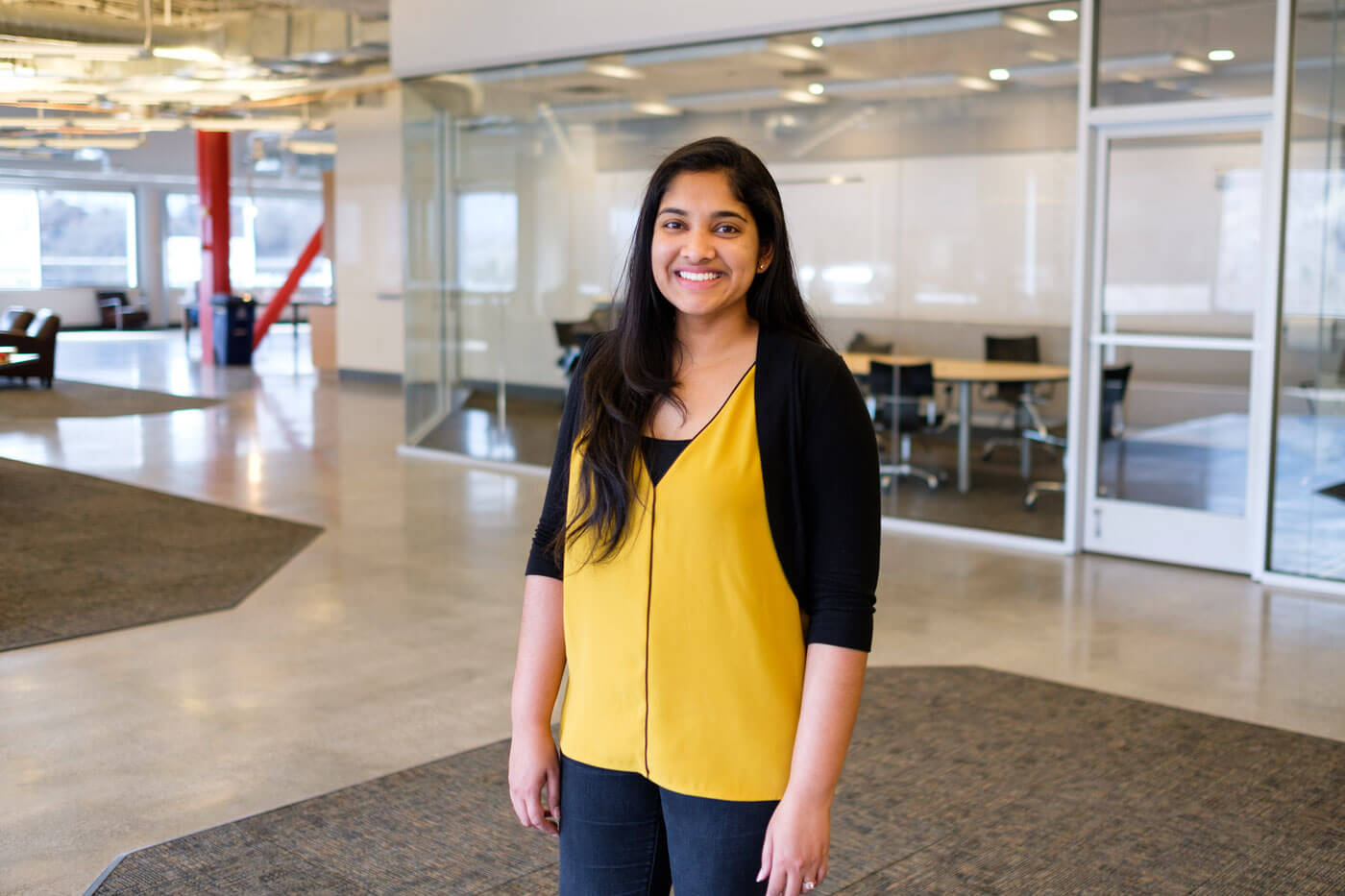 Nayana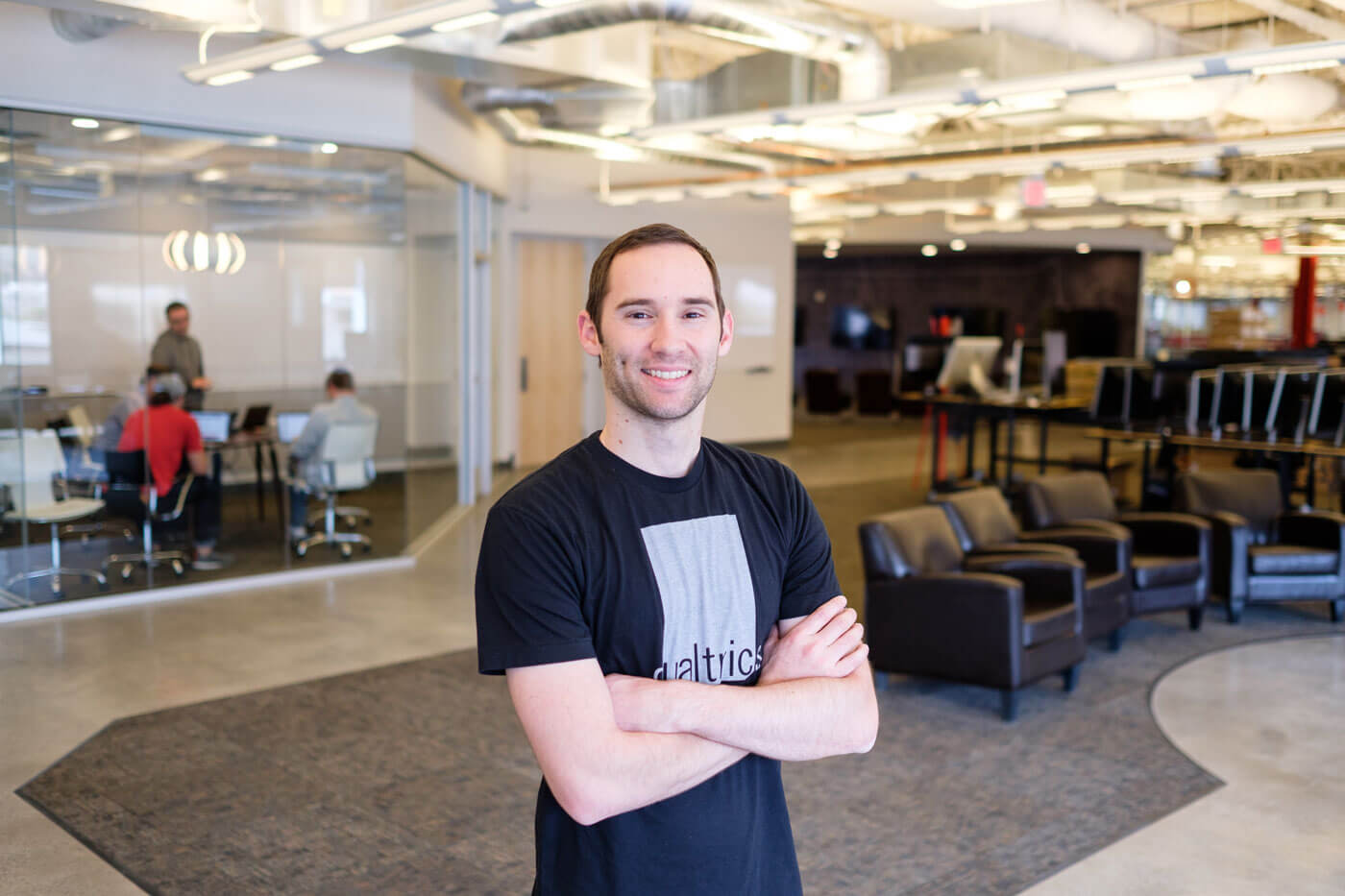 Trever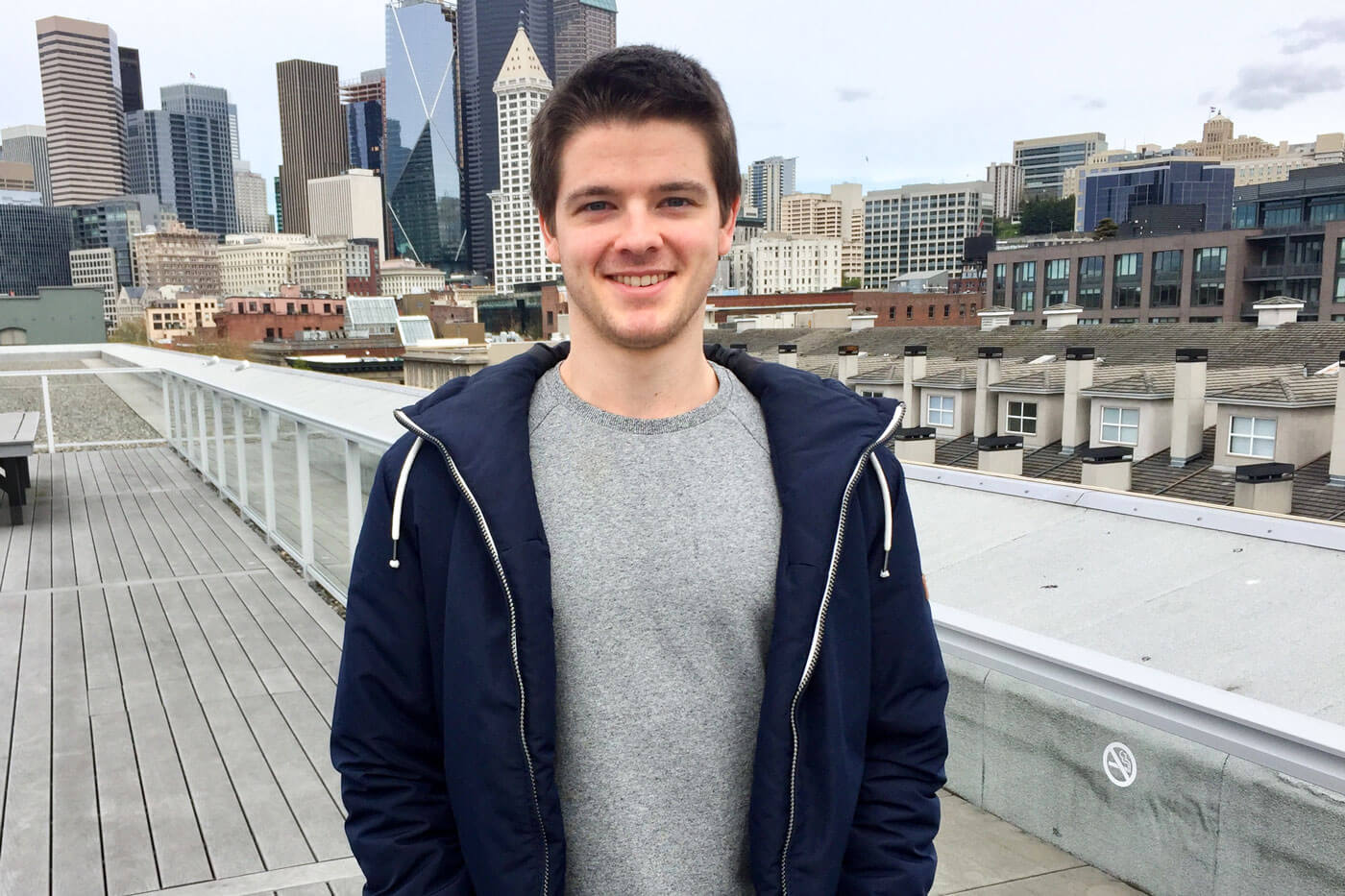 Iain
Let's start with an overview of what Qualtrics does, and who it serves.
Jimmy: Qualtrics is a Software as a Service platform that helps companies collect, analyze, and act on data related to their business. Every company in the world is a potential client for us; we can help anyone learn more about their customers, brands, products, and employees.
Trever: We're working in new industries all the time, and the Engineering Services team builds up expertise in each of them.
Nayana: Our team in particular works with some of the biggest brands from around the world: BMW, Ford, Yahoo, Kellogg's, Marriott, you name it.
What is the Engineering Services team responsible for?
Trever: When a client needs something that the Qualtrics platform doesn't yet offer, that's where we come in. We fill in the gaps between what our product can currently deliver and what the client needs.
Nayana: We like to think of ourselves as the innovation wing of Qualtrics. Initially, the solutions we build go to the clients who request them. But eventually, most of our projects get integrated into the product, which means millions of people are using the tools we've designed. For example, Qualtrics' Vocalize, which is now our fastest growing product, started here in Engineering Services as a dashboard.
Jimmy: I like to think of us as the Q Branch in James Bond. When Bond is facing his latest archenemy, he needs a special gadget to beat them, right? We provide the gadget. You might also call us MacGyver. But not reboot MacGyver. The original guy, with the proper theme song.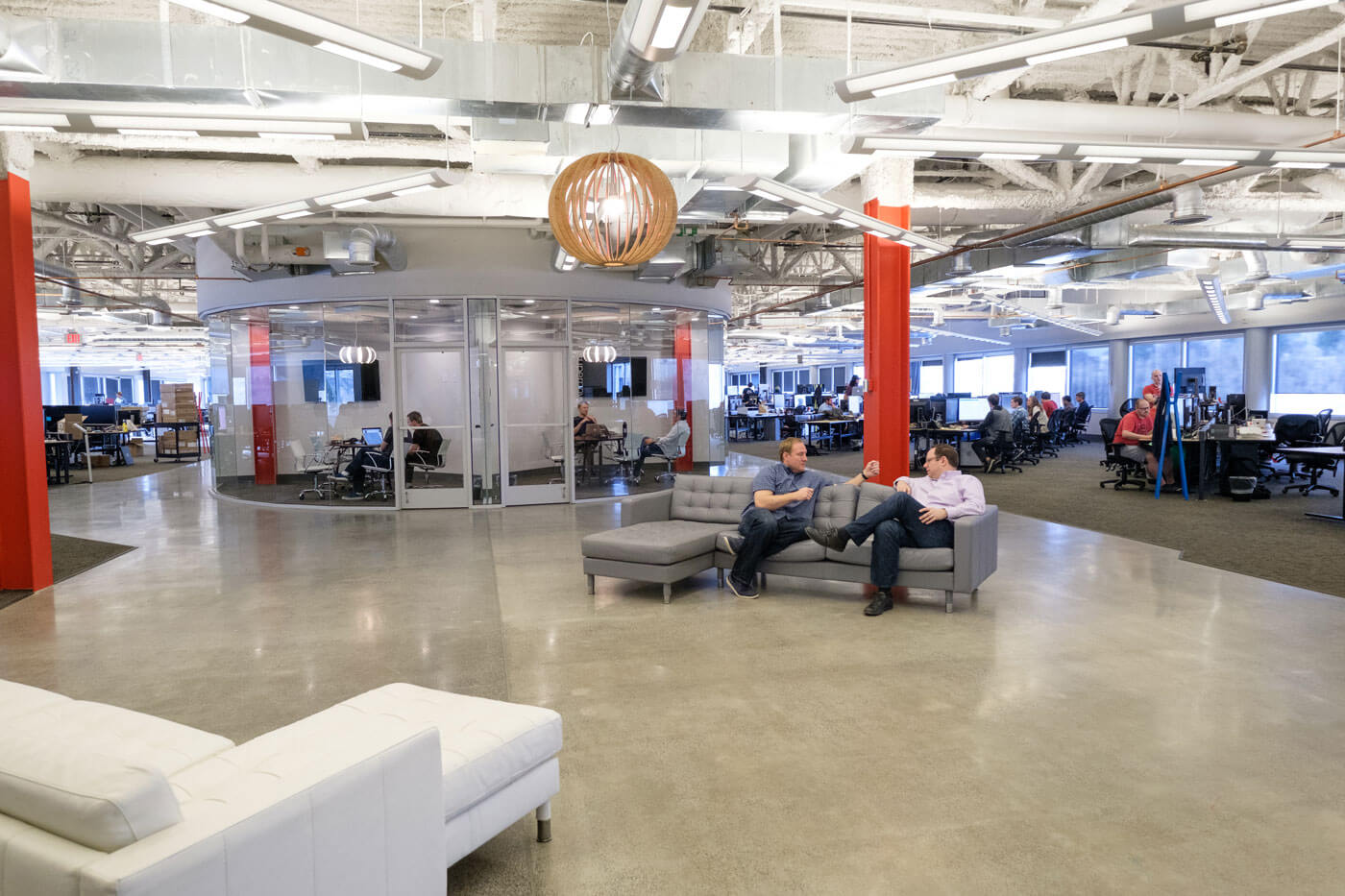 A typical day includes a nice balance of collaboration, heads down time, and, of course, the great outdoors.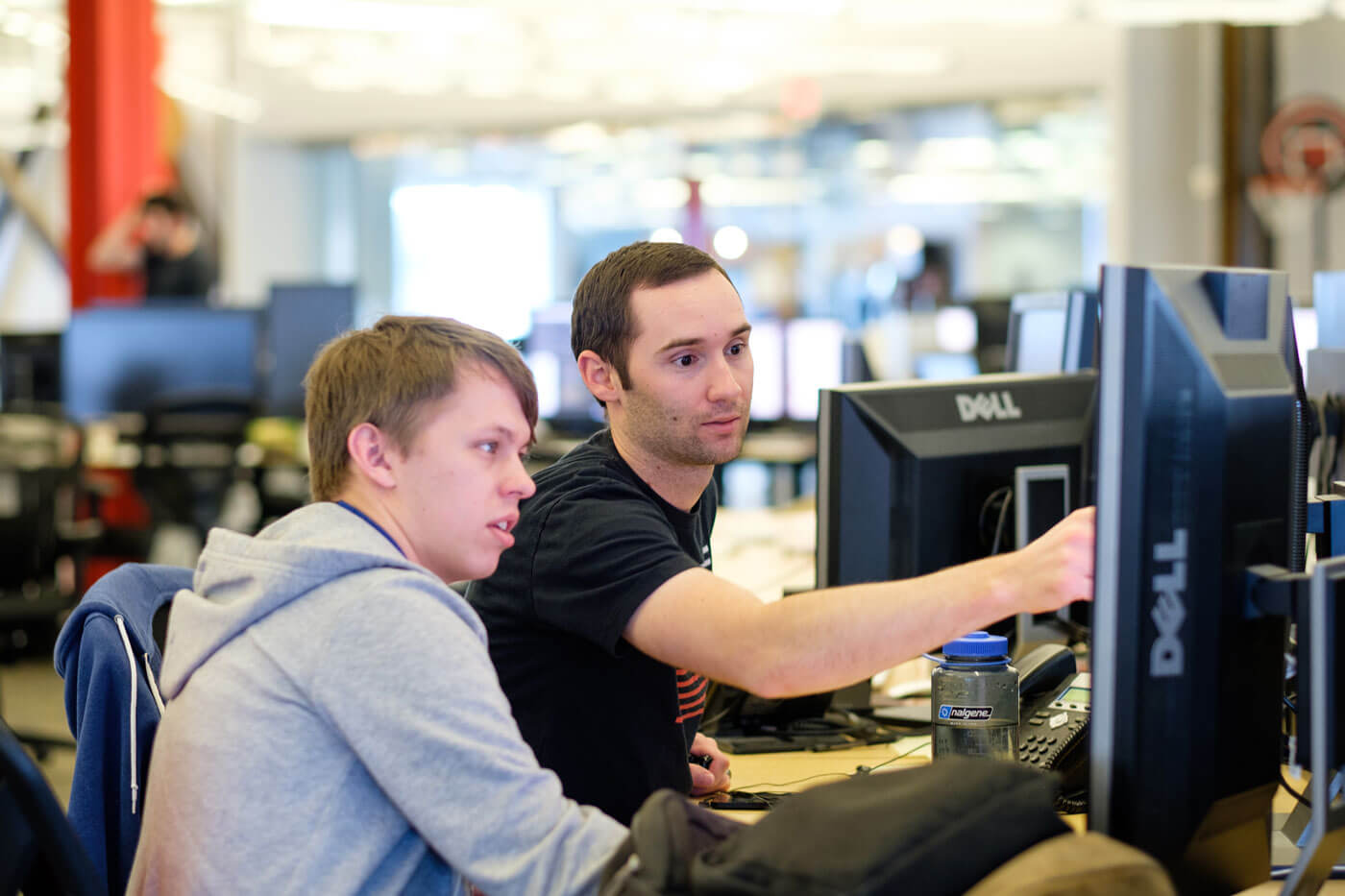 Collaboration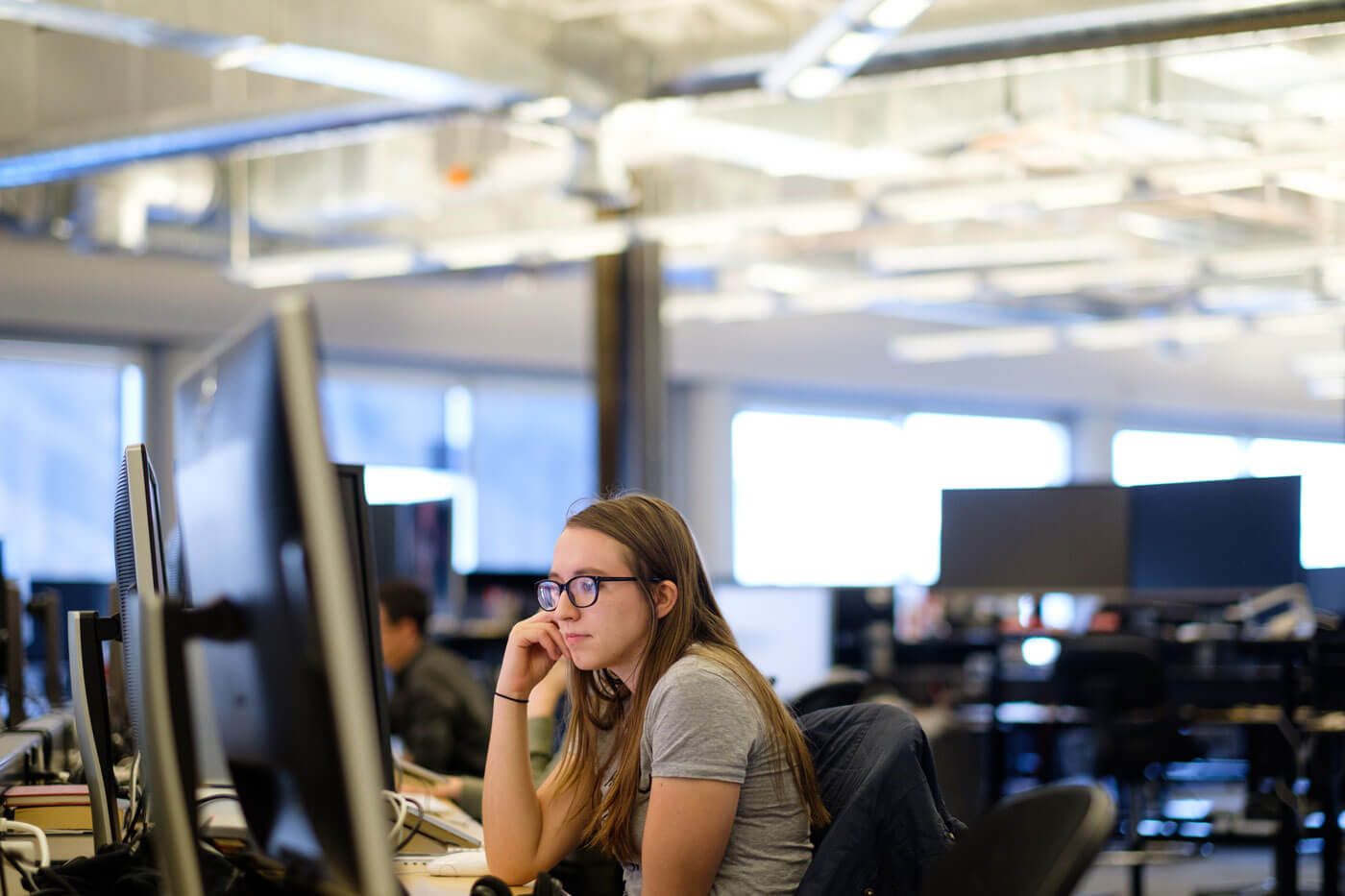 Focus Time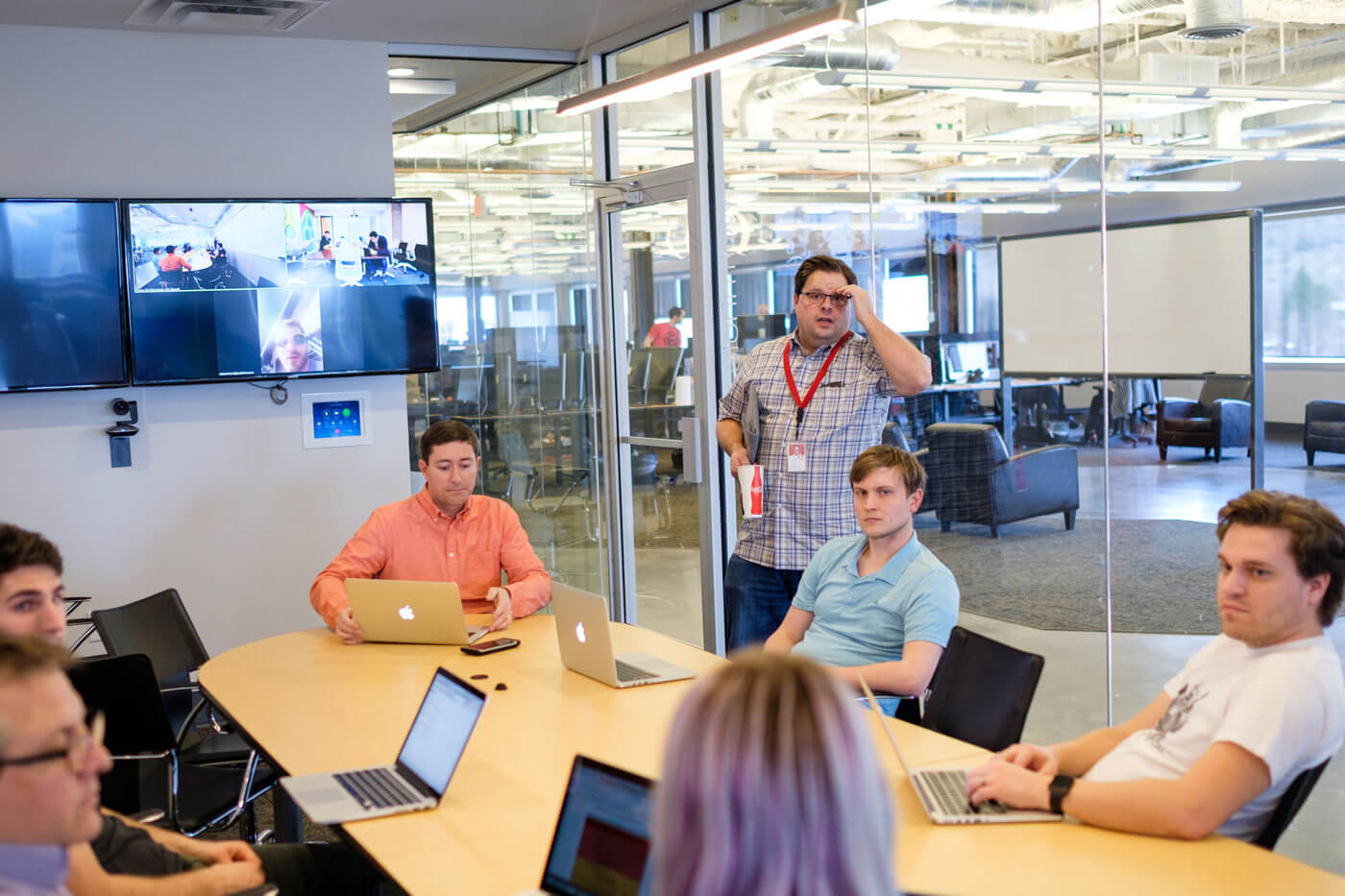 Head of Engineering John Thimsen (standing) engages in some Real talk.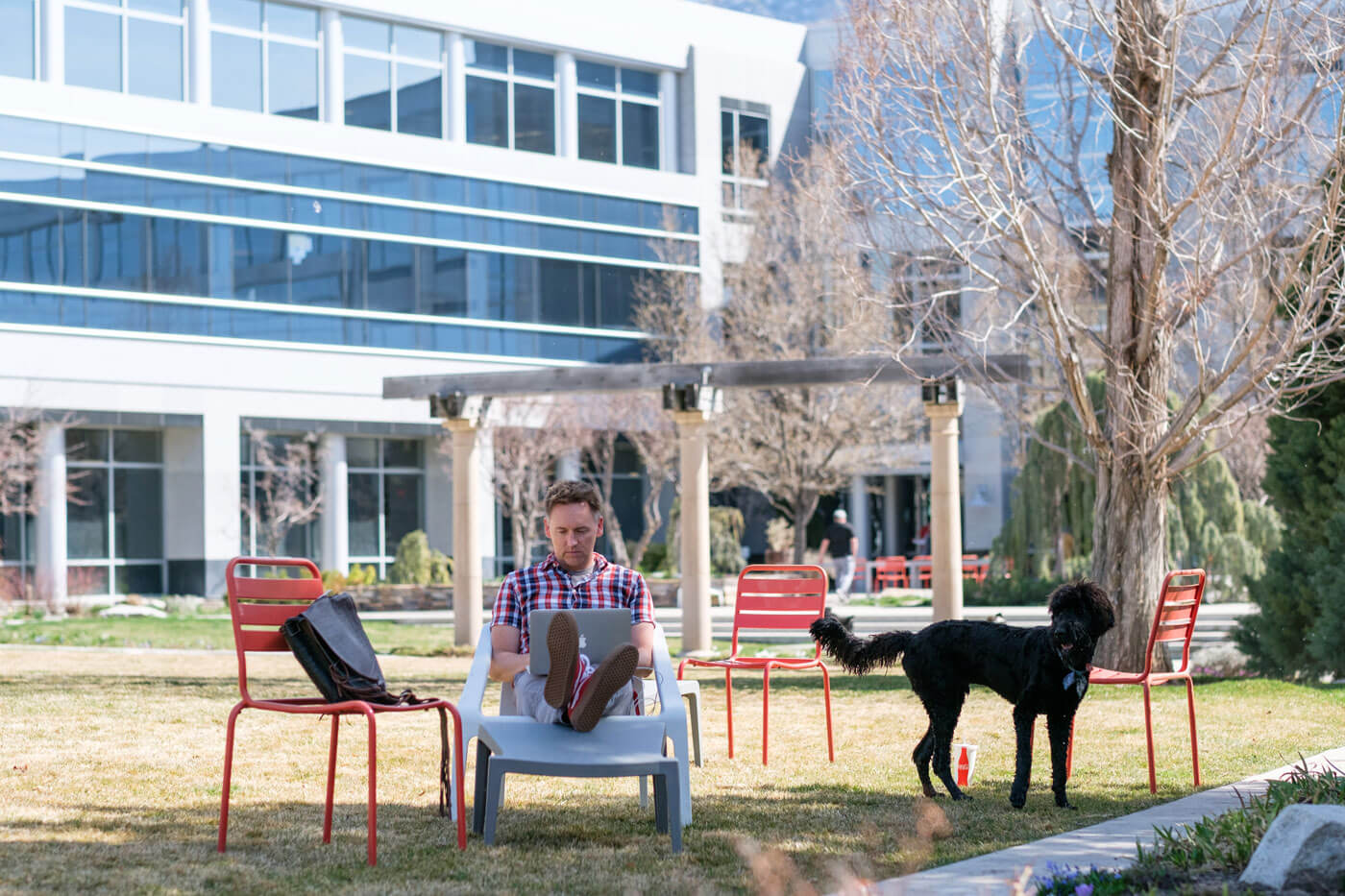 Bring your dog to work and take some heads down time outside.
Oh, of course. What kinds of solutions are you building?
Trever: Clients often come to us for help with reporting; they might need a certain type of chart or graph to display their data. For example, we recently helped a customer in the finance industry present financial analysis in charts that were specific to different industries. We designed this awesome web interface that let them filter and analyze the data in real time.
Nayana: The biggest companies have complex needs. So we package things into easy APIs and let them choose which tools they want to use for different services and customers. A client might have stores around the world, for example, and need to offer different surveys based on where the customer is located. And then they need all of that feedback to be immediately available on a dashboard.
Iain: I'm working on a project now for an automotive client where we're analyzing Japanese text, which has been wild. We're working with a company in Japan on the API, and they have one person who speaks English, and Qualtrics has an employee in Australia who speaks both English and Japanese fluently. So we're jumping through all sorts of language hoops. But it's interesting work, and something I never thought I'd be able to do this early in my career.
Jimmy: We get to dive into so many different fields; you never know what's going to land on your desk. One day you're working with a major news publication, the next you're making an app to help people with Parkinson's research. The diversity of the projects is part of what makes this team exciting. The pace isn't as steady as in Product, which I think is actually a nice change from the norms of software development.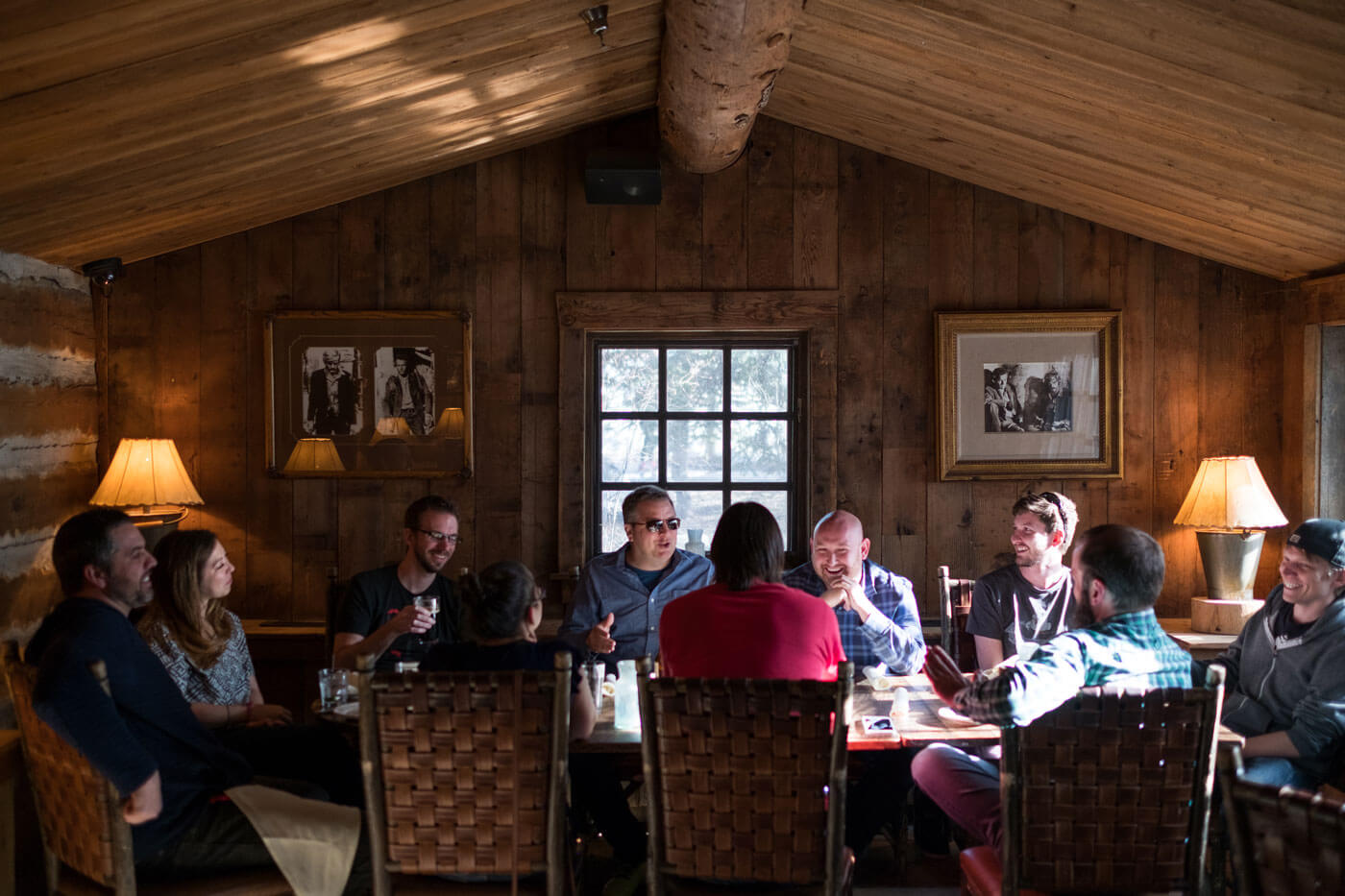 To celebrate a recent success, team members spend an afternoon at the Sundance Ski Resort, a 15 minute drive from the office.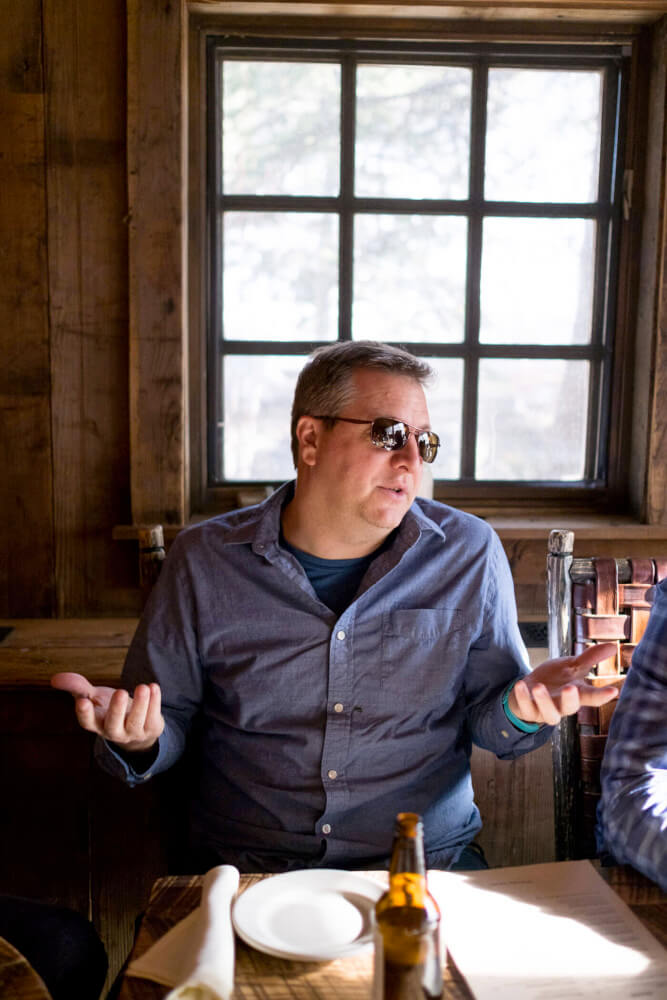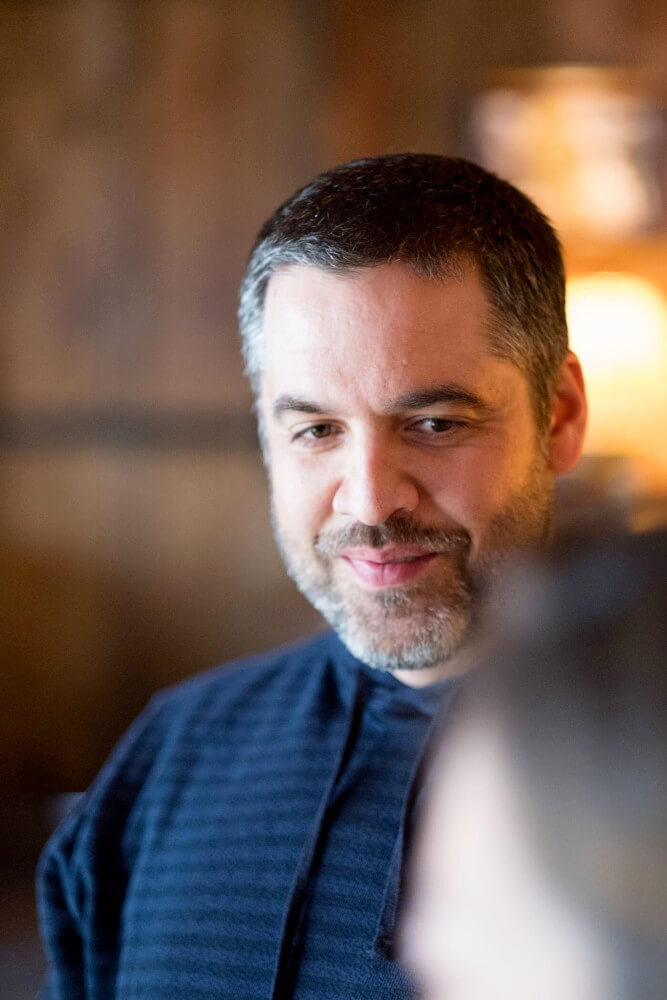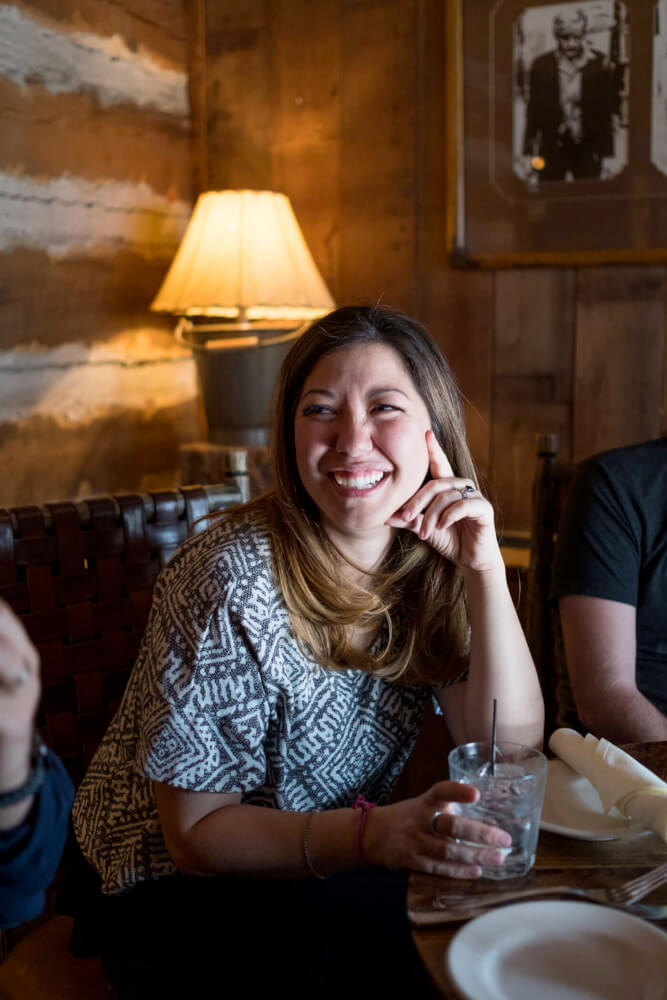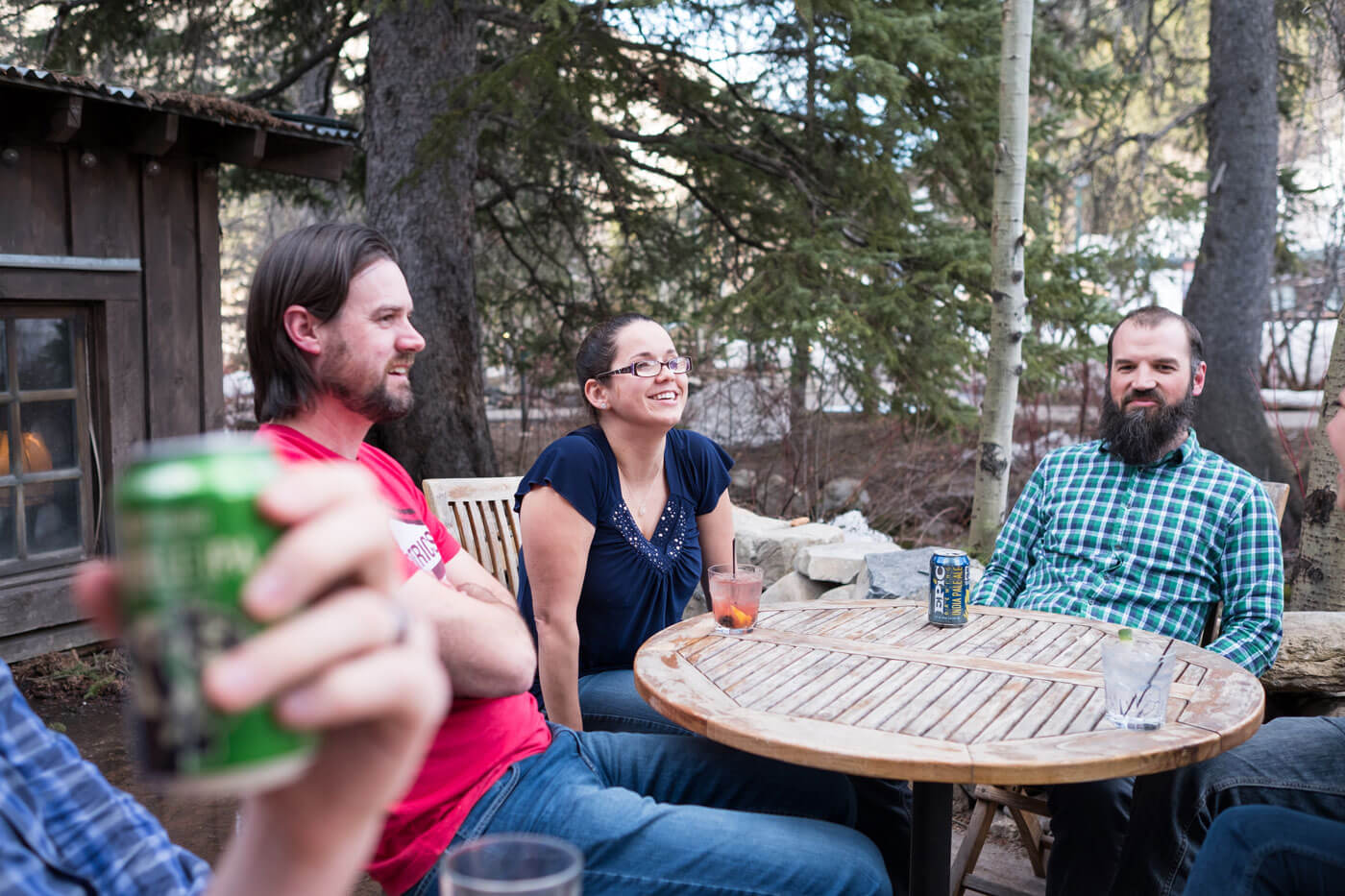 Can you tell us more about the Parkinson's app?
Jimmy: A professor at a leading university that licenses the Qualtrics platform discovered that dancing can help alleviate the effects of Parkinson's. As part of his research, he asked us to write an app that would play music and tap to the beat. A person with Parkinson's taps along, and the app records the difference between the two taps, within a millisecond. We got to solve for all sorts of technical challenges, and we knew that in some small way, we were benefiting Parkinson's research. It's exciting to get to work on something that helps you give back to the world.
Nayana: Absolutely. I tend to get bored easily, so I also love how every new project, client, and use case brings its own challenges. Our team has an attitude of, "Know what to do? Love it. Don't know what to do? Great — you'll learn." Everyone is so supportive, and we're always stretching and learning; it's just part of the job. I joined Qualtrics straight out of school, and I'd never heard of Provo until I interviewed here, but I immediately fell in love with the team and that attitude.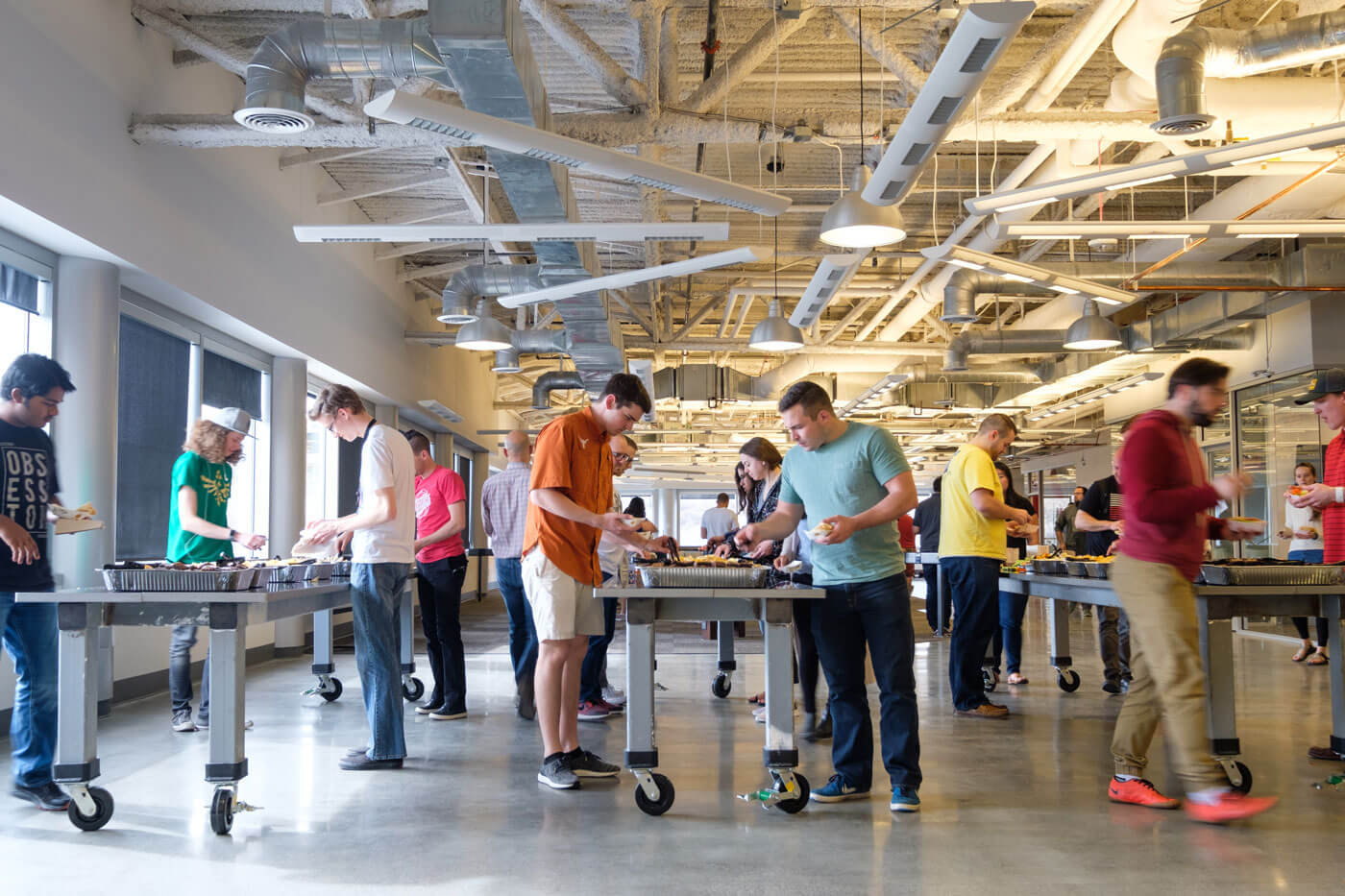 Lunch is catered Monday through Friday.
Team members enjoy time together in the hub.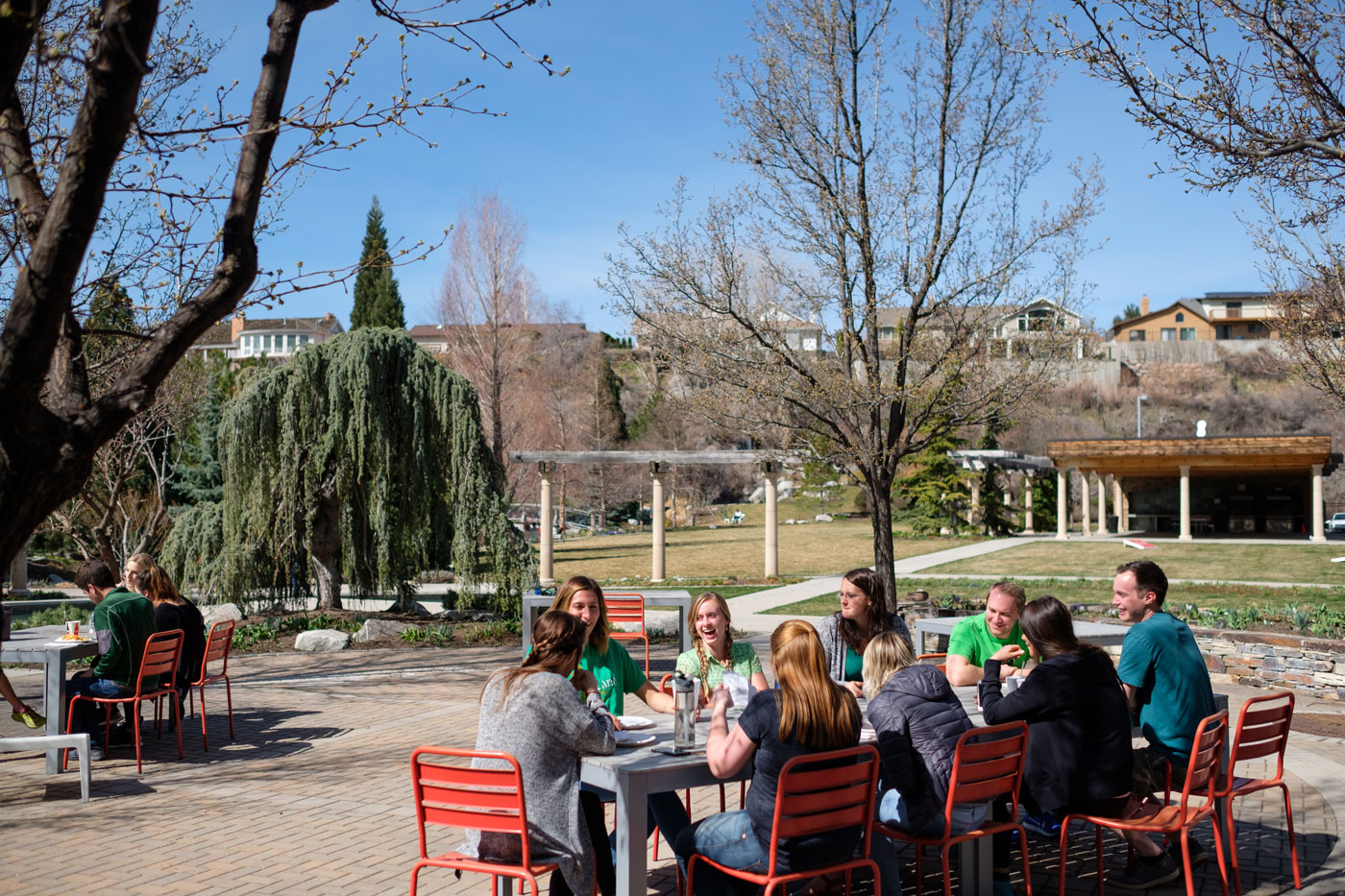 Team members enjoy time together outside.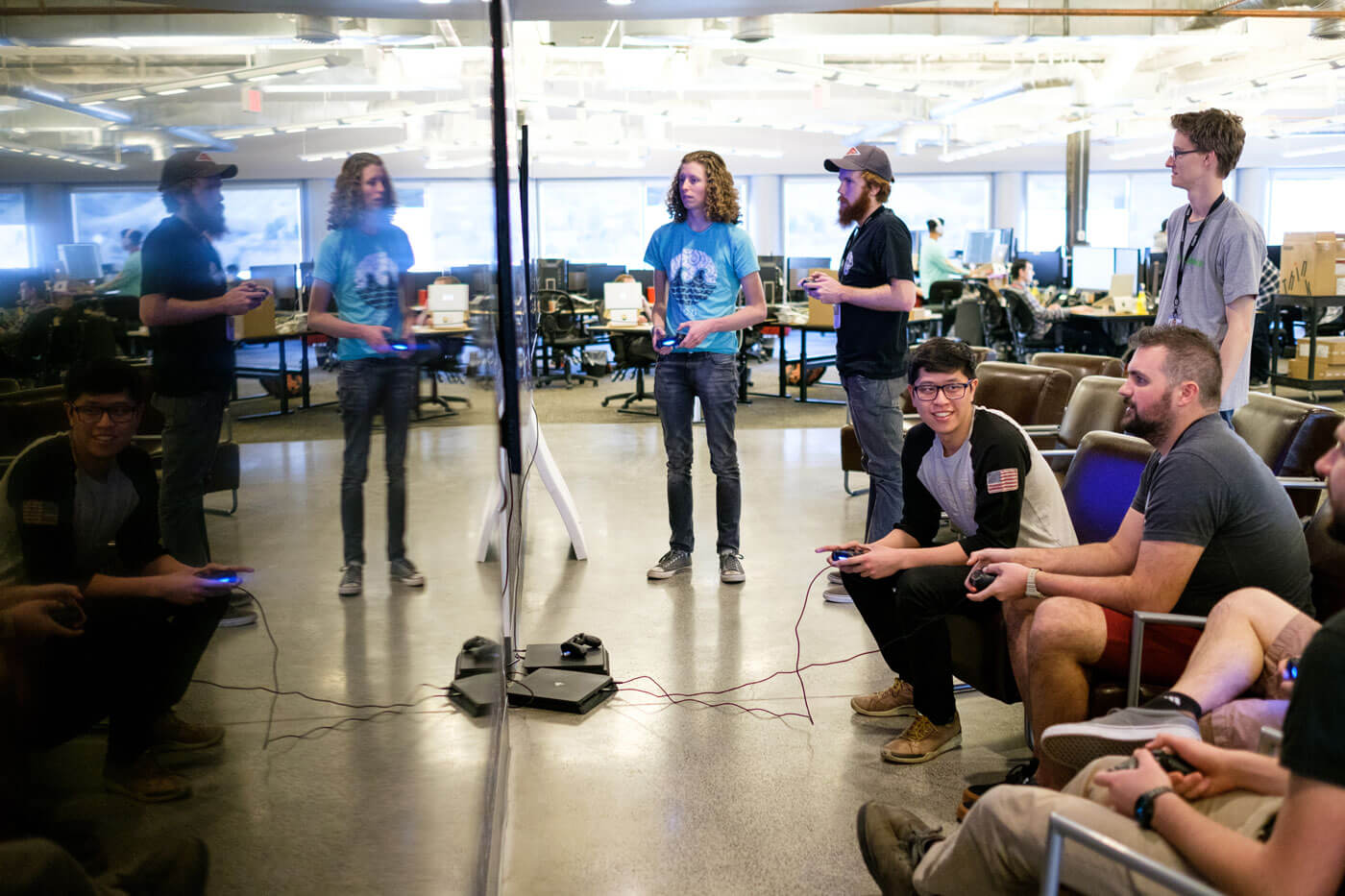 Product Engineering and Engineering Services join forces for a friendly lunchtime battle.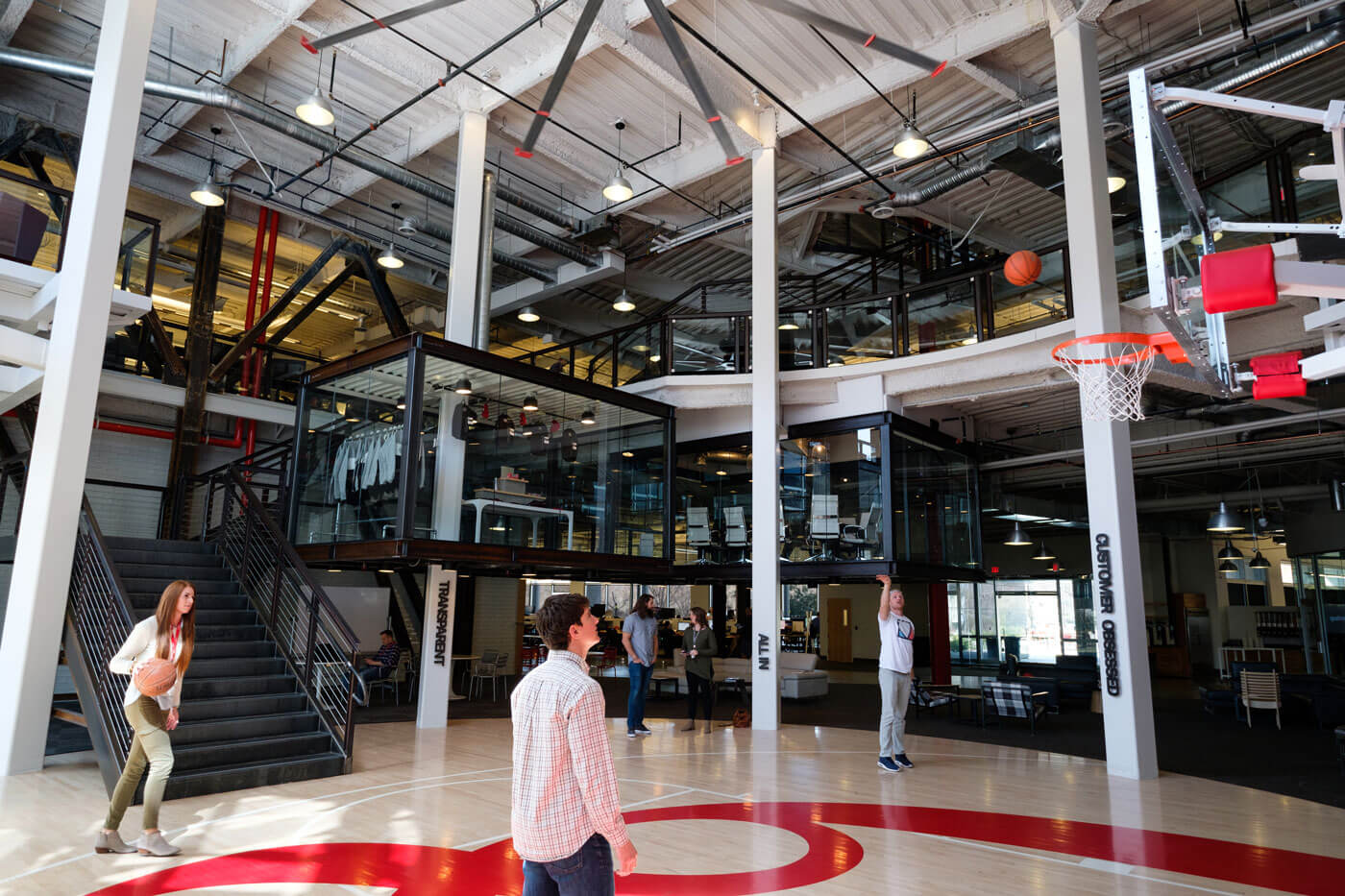 Nuthin' but net.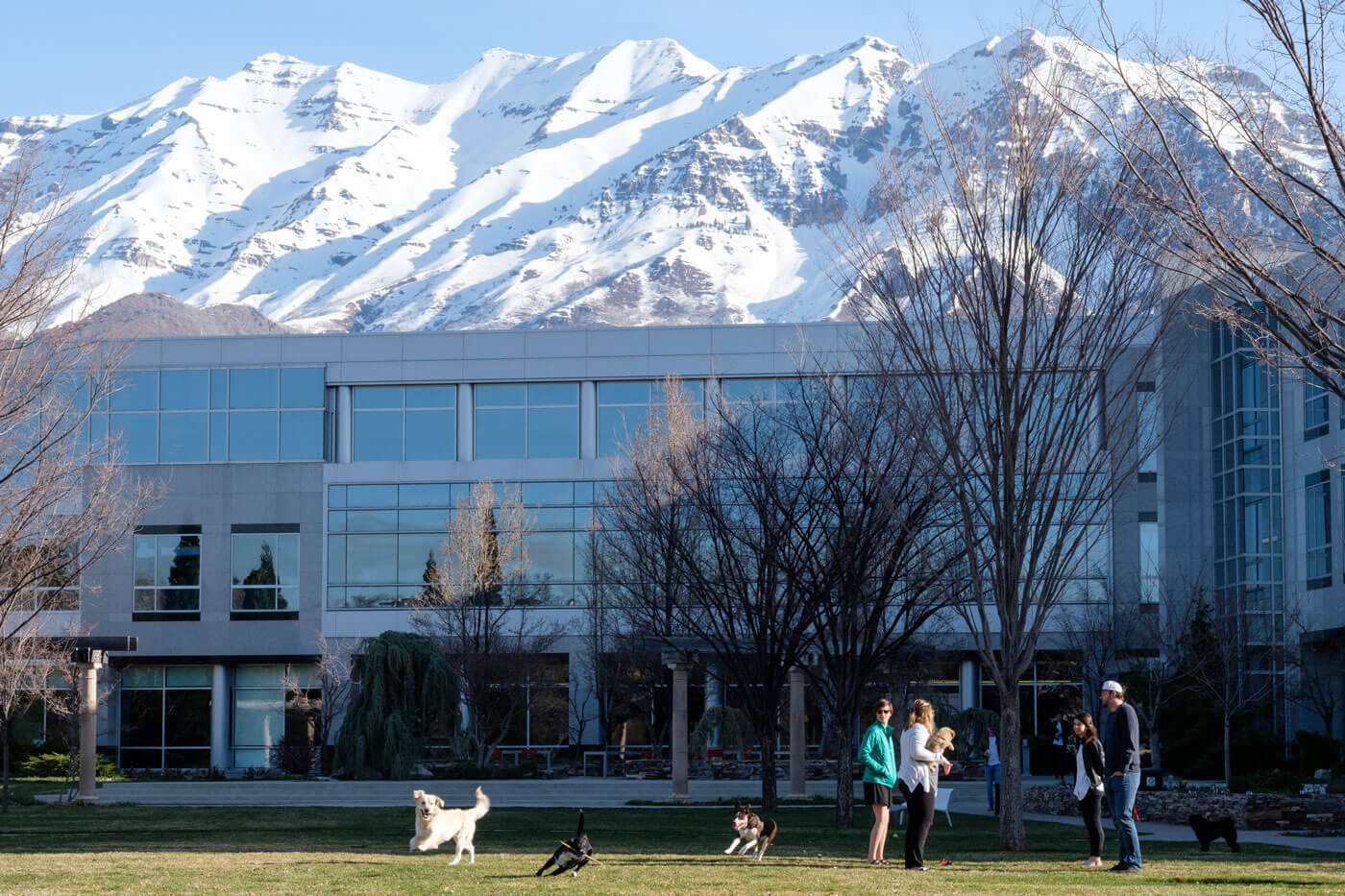 The Silicon Slopes IRL.
How do you work with Product Engineering to integrate new tools into the product?
Trever: Ideally, when we start to notice trends — if we're building something over and over again — we'll meet with Product to pass off our ideas.
Nayana: They'll also reach out to us when they hear about trends, and ask if it's something they should integrate. The Product Management team is super collaborative; they talk with us and Sales all the time.
Dan: We also value loyalty, as well as long-term planning for both yourself and your team. That's instilled in everyone who works here, and we talk with candidates about it. We might ask in an interview: Do you want to build your career here, or is Qualtrics just a stepping stone? Do you understand where we're headed, and do you know how you want to contribute?
Trever: We're still evolving and figuring out the process. We're growing quickly, both as a company and as a team, and we do have growing pains. But it's exciting that we get to help come up with solutions. Where else could I, a guy in my 20s, be part of that discussion?
Jimmy: Trever's being modest. He's a founding member of our department's technical council, and the entire purpose of that group is to improve our team from a technical and process perspective. But everyone contributes to that improvement — and in every discussion that I've been a part of here, decisions have been made for the right reasons. We think about what's best for the client and what's right technically. It's not just getting something done or hitting a deadline.
Iain: I like that our processes aren't set in stone. It keeps things interesting, and I want to think about problems, solve them, and learn, not just rely on a system to make my job easy.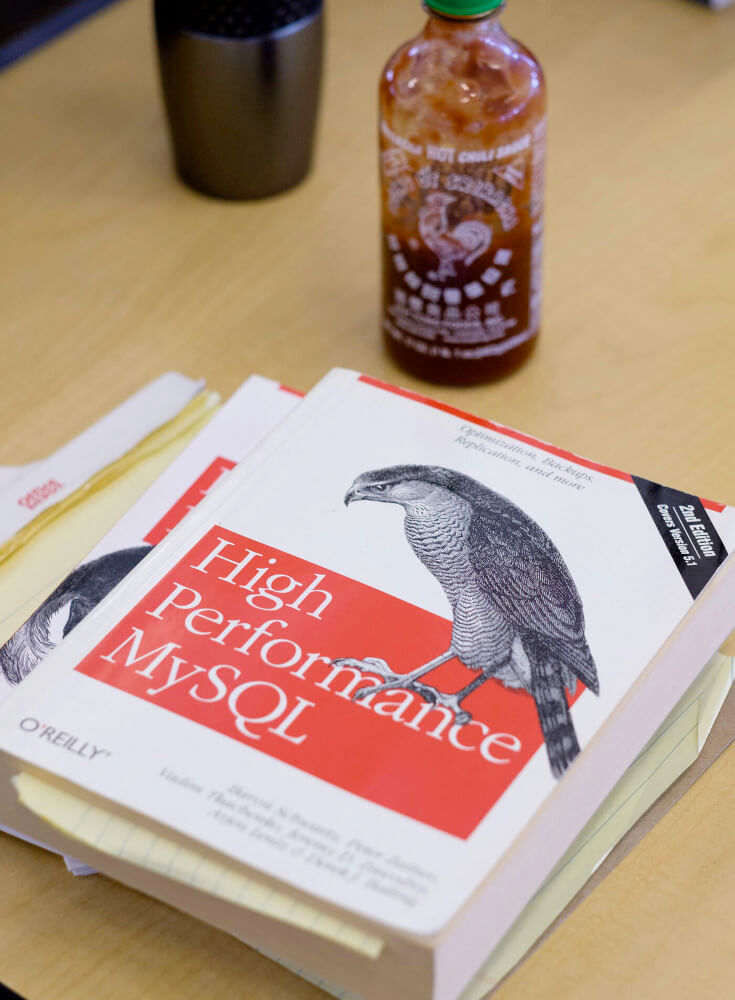 Spicy SQL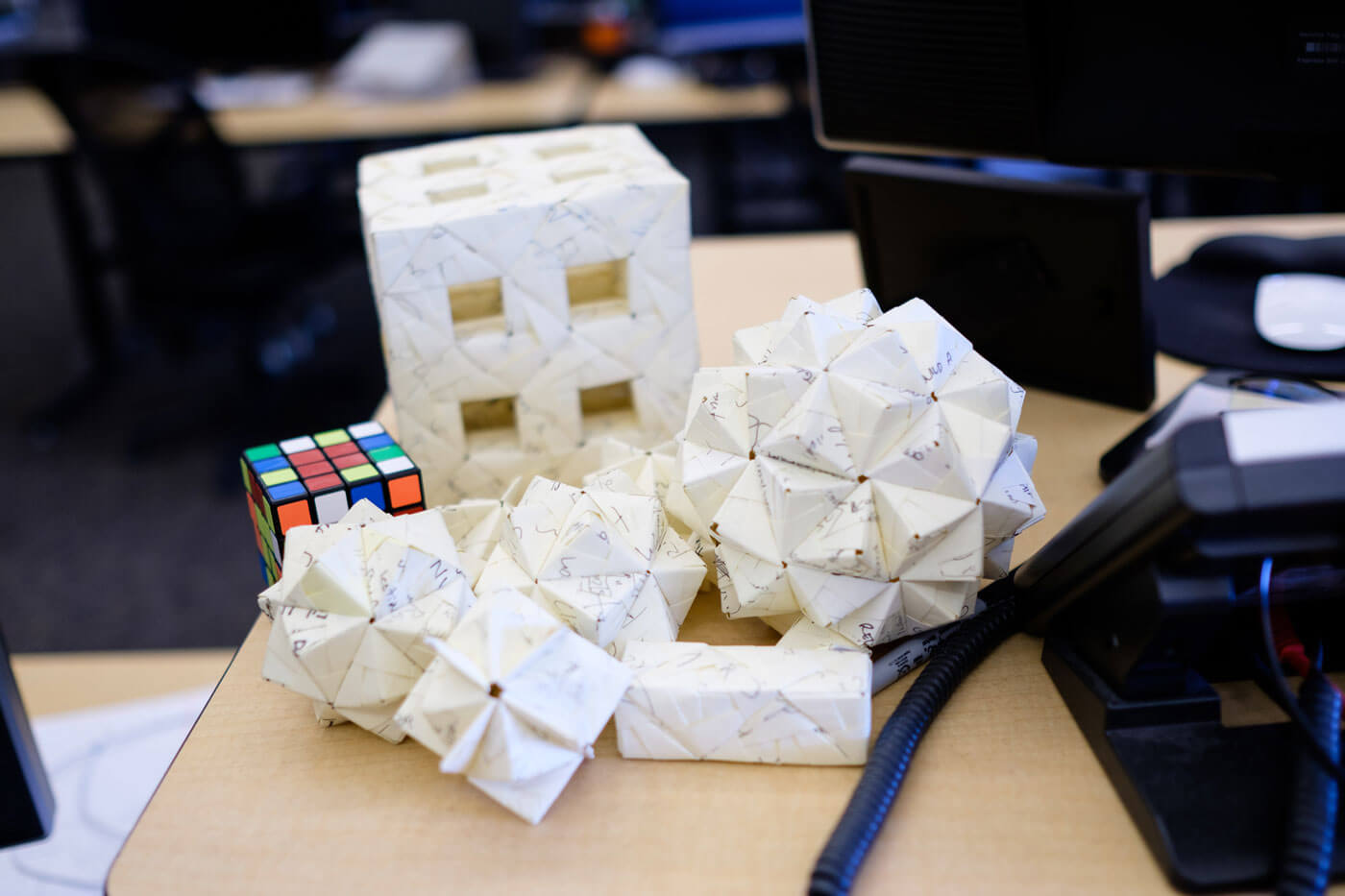 Cubes on cubes
Home is where the legos are.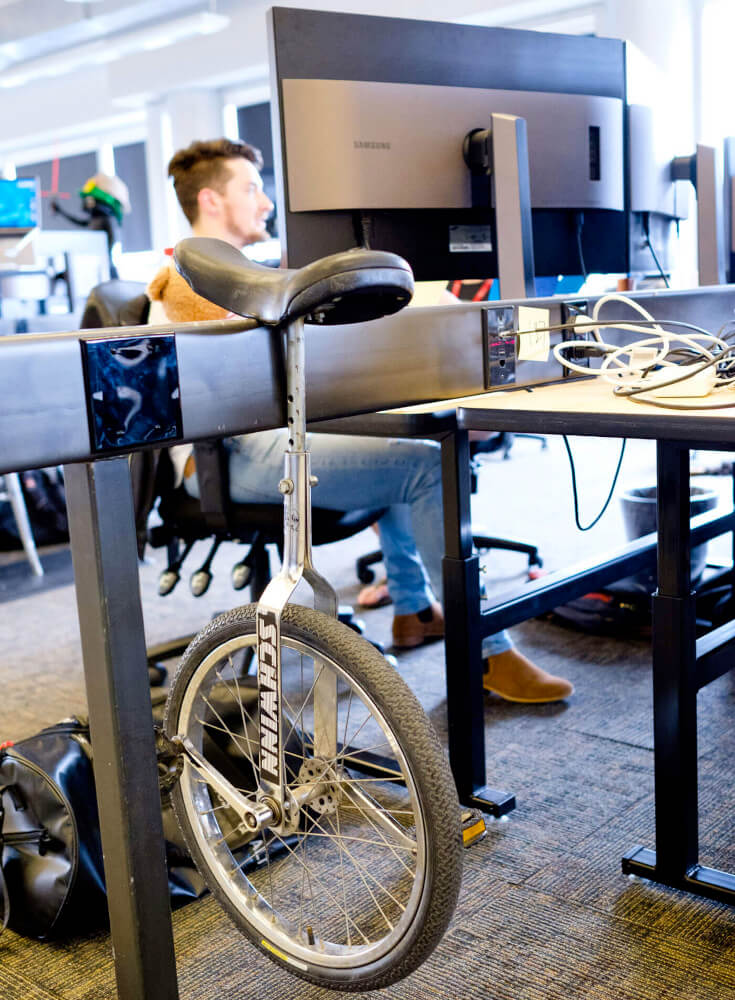 Eco-friendly transpo
What does an average day look like for you?
Trever: I've been here for three years and have worked on everything from small integrations that take a day to full-on global, enterprise applications that take years to set up and manage. So that's a tough question to answer, but that's part of what's cool about this team. Before Qualtrics, I had a traditional job in development and I was bored out of my mind. Two months in, I felt like I'd learned everything I could. It's different here; the range of projects has definitely stretched me. I'm still learning.
Iain: That's part of what drew me here; no one could tell me exactly what I'd be working on because no one is stuck in one specialty. I've learned a ton of languages and frameworks since joining Qualtrics.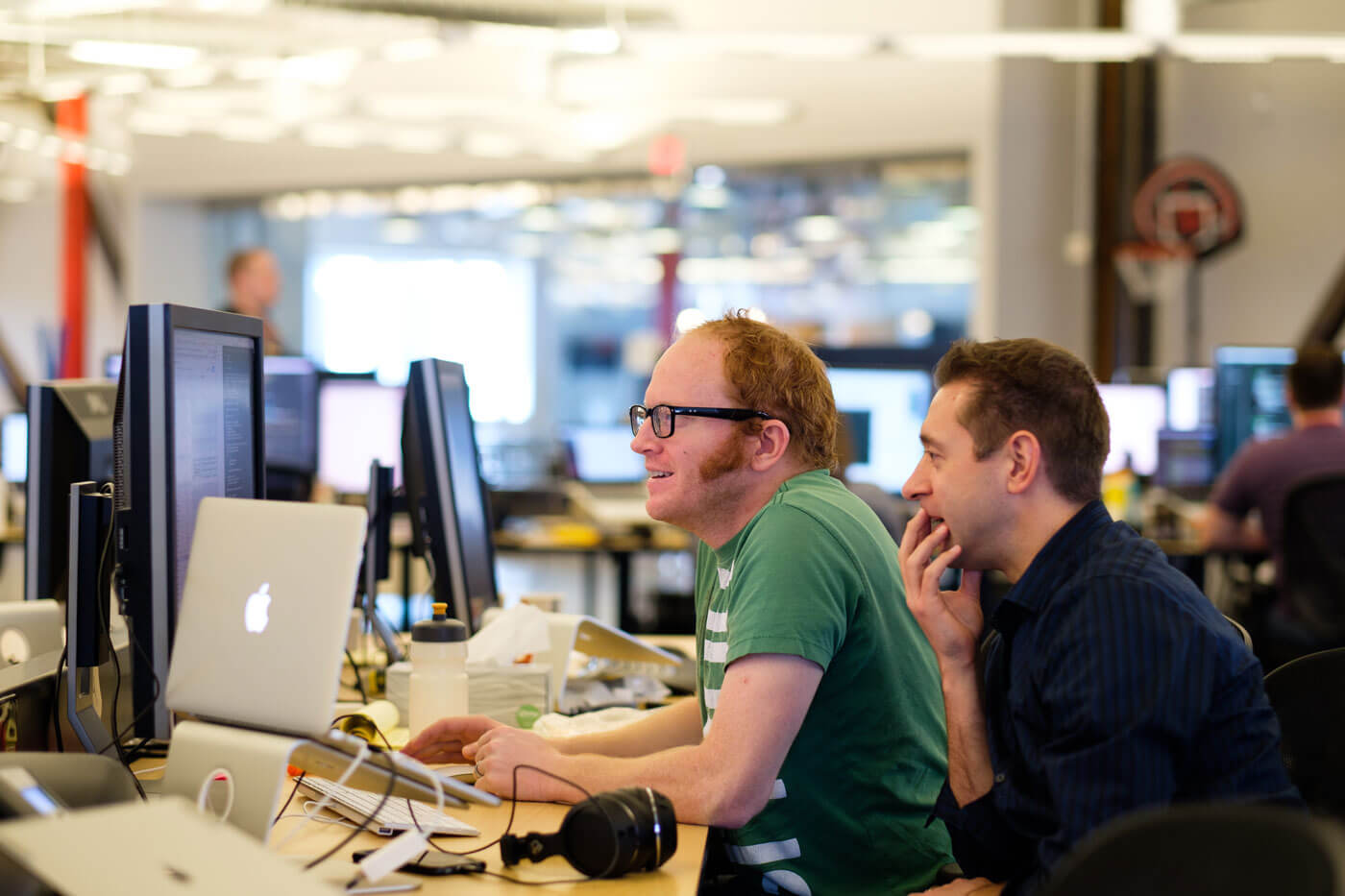 Open work spaces allow for conversation, iteration, and collaboration.
How do you balance collaboration and autonomy on this team?
Jimmy: Sometimes we work in teams and sometimes on our own. Both have their merits. Working alone can really push you out of your comfort zone in a way that accelerates professional growth. You can really own a project here, from design all the way through; you're gathering requirements from the client, developing the architecture, managing application development, leading deployments, and iterating on changes. You might even learn a new technology to meet a specific need.
Iain: We're given the freedom to explore solutions and learn whatever we need to learn. And you do have more of that flexibility when you're the sole developer on a project.
But teams provide great opportunities to learn, too. If someone on my team has experience in an area I'm interested in, I can jump in on that part of the project and learn from them. For example, this is my first engineering job out of college, and when I joined the team, I didn't have much web experience — but I came up to speed within a couple months. None of us are limited to one area. We all chip in and learn from each other.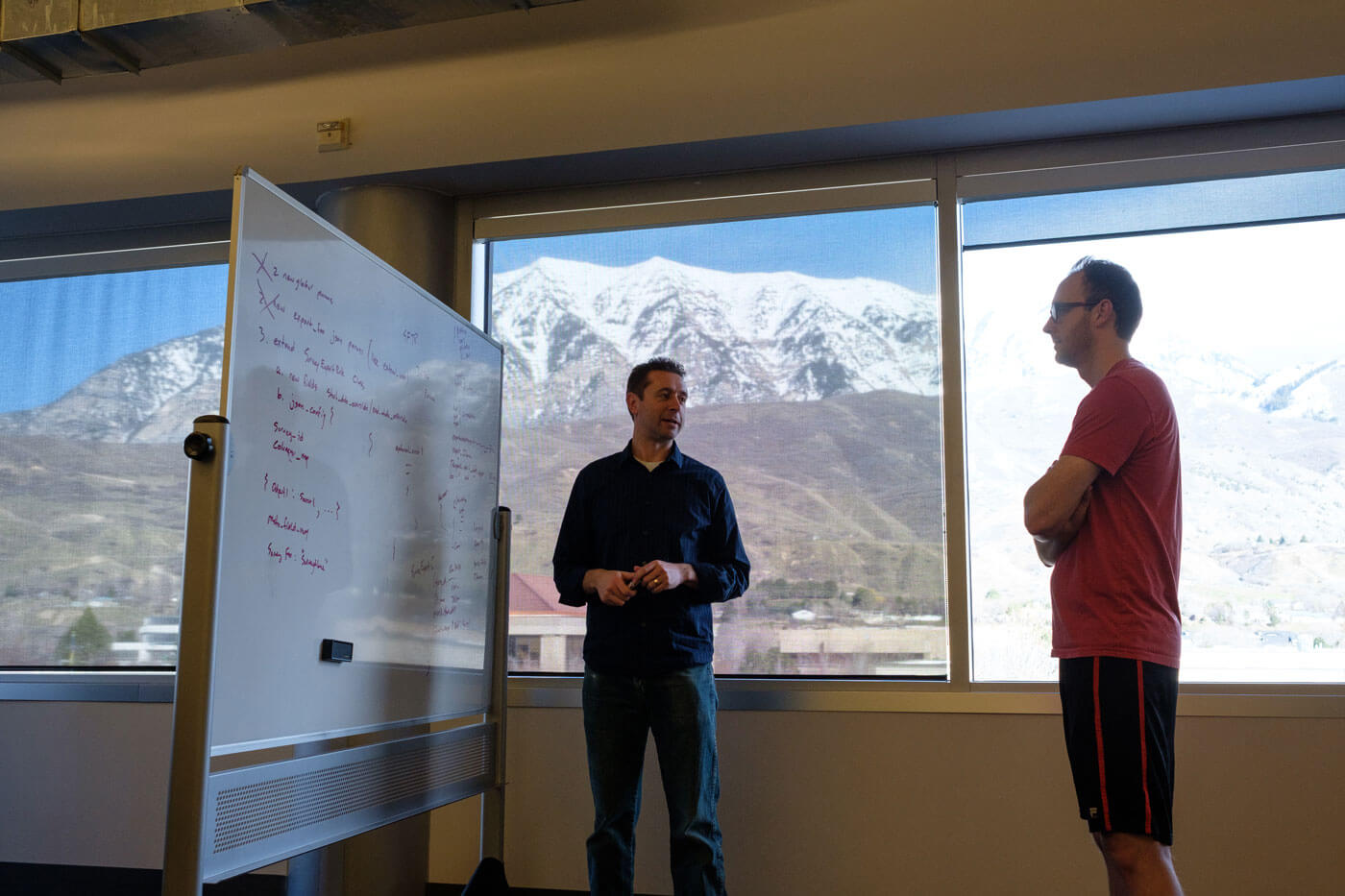 Team members work together to tackle projects.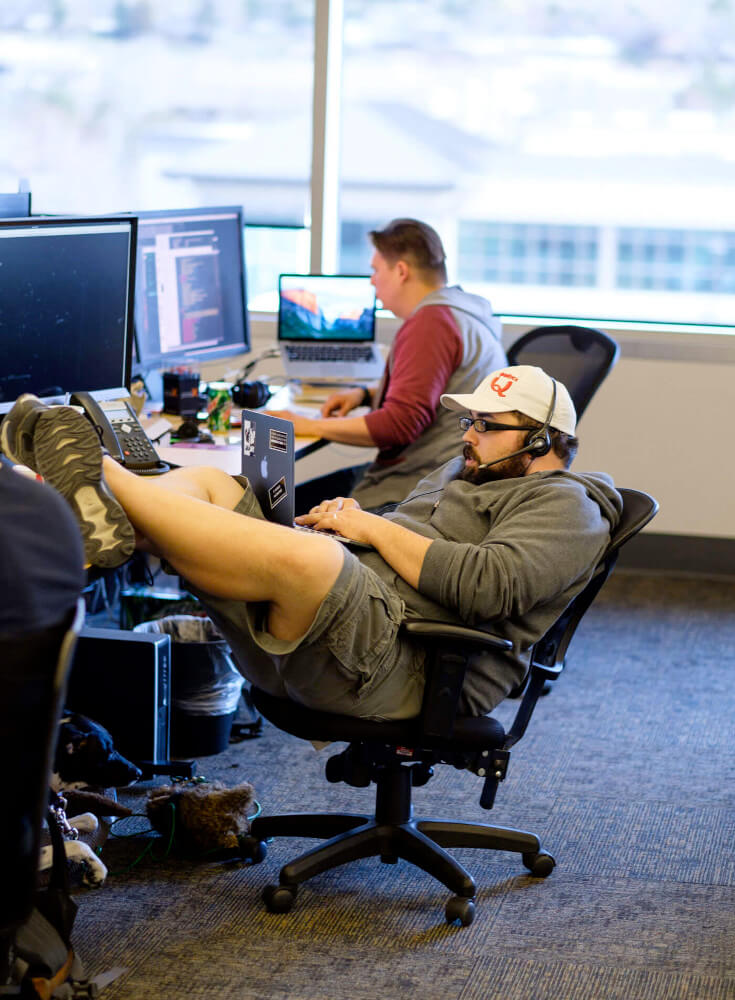 Or on their own.
What does your collaboration with clients look like?
Trever: Most of the time, we're helping non-technical clients. We need to understand their industry well enough that when they say, "This is what we're doing," we can fill in the gaps and figure out the specifications for what we need to build. We Google things all the time; one day you'll work on a product for the beverage industry and next you'll be on a project for the healthcare industry.
Jimmy: And you're coming up with not just one, but several solutions for a given client. So you have to be able to explain the options in a way that helps them choose the best options for a given situation. Learning the industry helps you communicate that, too.
Nayana: The industry knowledge is so helpful at every stage. I recently worked on a project where 15 teams from 15 countries were integrating Qualtrics on 15 different systems — and they needed a product that would work for all of them. You have to understand a project like that from a business perspective as well a technical perspective. And you also need to imagine how it will work a year from now.
After I designed the architecture for that project, I flew to Norway to meet with the IT leads from each country. It was intimidating at first, to be representing Qualtrics to these industry leaders. But studying the industry ahead of time made it so much easier for me to say with confidence, "Here's what we're going to build, and why it's the best solution."
How would you describe the culture or ethos of this team?
Nayana: We have a big emphasis on learning fast and getting things done. And, like most engineers, we love solving problems. The people on this team are so passionate, it often doesn't even feel like work. I like being surrounded by people who are always growing and challenging themselves, because that pushes me and I learn more than I would otherwise.
Jimmy: And you're coming up with not just one, but several solutions for a given client. So you have to be able to explain the options in a way that helps them choose the best options for a given situation. Learning the industry helps you communicate that, too.
Nayana: We come from diverse backgrounds and experience levels — there's so much you can pick up from the person next to you. And because everyone is so open and friendly, I don't hesitate to ask for help. When I talk to my managers, there's no "manager" vibe. They're my colleagues and friends. I've been here for three years now, and it feels like home.
Interested in joining the team?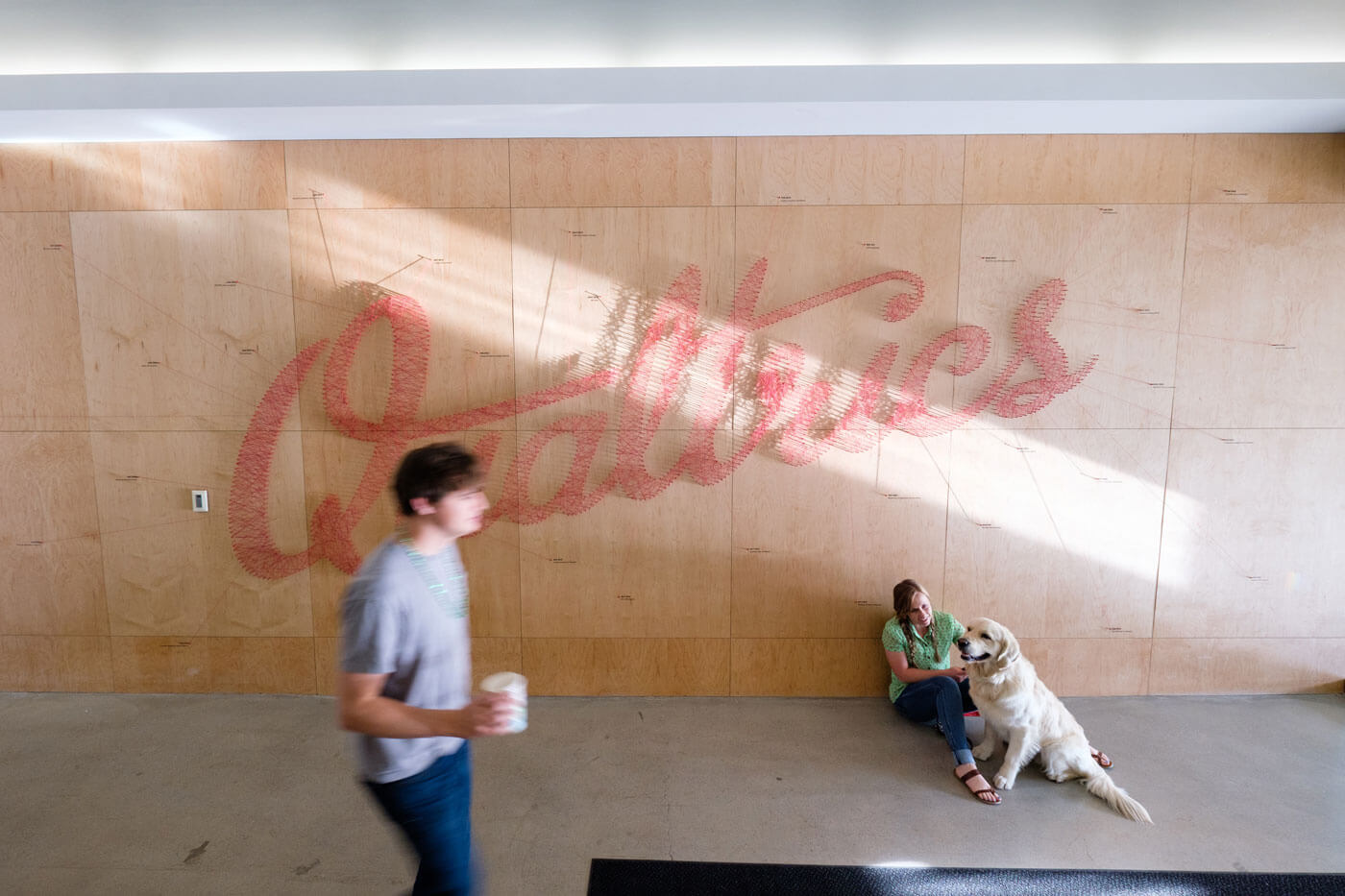 Your daily moment of zen.