XM for Customer Frontlines

Digital

Root out friction in every digital experience, super-charge conversion rates, and optimize digital self-service

Care

Uncover insights from any interaction, deliver AI-powered agent coaching, and reduce cost to serve

Locations

Increase revenue and loyalty with real-time insights and recommendations delivered straight to teams on the ground

XM for People Teams

Engage

Know exactly how your people feel and empower managers to improve employee engagement, productivity, and retention

Lifecycle

Take action in the moments that matter most along the employee journey and drive bottom line growth

Analytics

Whatever they're are saying, wherever they're saying it, know exactly what's going on with your people

XM for Strategy & Research

Research

Get faster, richer insights with qual and quant tools that make powerful market research available to everyone

User Experience

Run concept tests, pricing studies, prototyping + more with fast, powerful studies designed by UX research experts

Brand

Track your brand performance 24/7 and act quickly to respond to opportunities and challenges in your market

XM Platform

Explore the platform powering Experience Management

Teams

For Digital

For Customer Care

For Human Resources

For Researchers

All Teams

Industries

Healthcare

Education

Financial Services

Government

All Industries

Customer Experience

Employee Experience

Employee Exit Interviews

Net Promoter Score

Voice of Customer

Customer Success Hub

Product Documentation

Training & Certification

Community

XM Institute

About Us

Careers

Partnerships

Marketplace

X4 Summit

The annual gathering of the experience leaders at the world's iconic brands building breakthrough business results, live in Salt Lake City.
Employee Experience
Qualtrics and ServiceNow: Feedback-driven technology experiences for a new era of work
Technology has long been a central part of the employee experience. Qualtrics research shows that when employees are satisfied with their IT services and technology experience they are 158% more engaged at work and have 61% higher intent to stay.
However, the disruption we have all experienced over the past 20 months has hastened the digitization of the workplace, putting new emphasis on employees' technology needs and preferences. And in many cases, these needs aren't being met: A study by PwC showed that while 90% of IT decision makers say they listen to and consider employee feedback when introducing new technology, only half of their employee base agreed that was true.[1] This helps explain why 70% of employees say there is room for improvement with their digital tools and technology experience at work.[2]
Identifying and fixing IT service experience gaps is crucial for organizations to succeed in this new reality of hybrid work and to win the ongoing war for talent. But today's IT teams are burdened with a host of operational challenges, such as cost constraints and over-extended front-line workers, making it difficult to deliver compelling service experiences – especially to employees whose expectations are influenced by personal interactions with companies like Netflix and Apple. There are three key issues here:
Lack of experience data. Operational data like service usage, average handle time, and first-call resolution is important, but it must be complemented by insight into mindset and sentiment to paint a complete picture of the employee experience.
Organizations lack insights to move the needle on experiences at scale. Evaluating experiences against a single metric like satisfaction will do little to make a significant long-term impact. Using advanced analytics tools to know what high priority actions to take is when experience data goes beyond just a metric.
Inability to move from feedback to action. Capturing feedback is only useful if it's acted upon, but many organizations aren't sure how to do that effectively.
Delivering compelling experiences is not just about improving satisfaction or morale. It's critical to unlocking and enhancing the productivity of your number one corporate resource – your employees, while reducing service costs by eliminating inefficiencies. That's why Qualtrics and ServiceNow have teamed up to help IT leaders better listen to their employees, understand their needs, and act on those insights.
"The digital services and tools that employees use for work are pivotal to the overall employee experience in today's hybrid workplace. When employees are enabled with the right technology at work they are happier and more productive," said Bob Border, CIO, Ingredion Incorporated. "The Qualtrics and ServiceNow integration will enable our IT department to identify and close experience gaps that improve employee satisfaction, productivity and engagement."
From reactive to proactive and exceptional, feedback-driven service experiences
Leveraging the combined power of ServiceNow's digital workflows with Qualtrics' experience management technology, this integration provides a dynamic system of action to deliver compelling digital services and technology experiences for employees. Now IT can listen better to their employee feedback and needs, uncover key drivers of service satisfaction, and easily act on those insights. This also helps shift the internal perception of IT from being reactive to being a strategic partner across the organization and in support of the employee experience.
Listen – Capture valuable experience feedback alongside operational data across multiple touch points.
Understand – Use sophisticated analytics to learn how to improve employee experience.
Act – Automate immediate and long-term actions based on feedback and insights to close the feedback-service loop.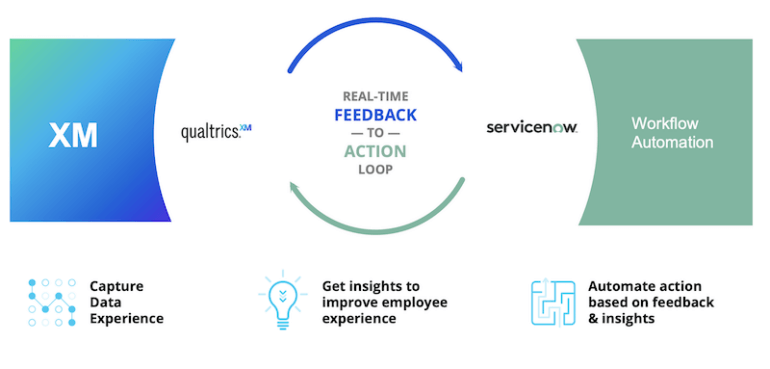 Making better IT decisions with an unified view of experience and operational data
Available in the ServiceNow Store, the Qualtrics Embedded Insights app gives IT the service experience and operational data in one view enabling them make informed decisions and take immediate action to respond to employee needs. Pre-built configurations between Qualtrics and ServiceNow allow organizations to see their experience data—how people think and feel—and operational data—i.e. number of service cases resolved, time to resolve cases—in one centralized view within their ServiceNow Workspace. Qualtrics Embedded Insights also helps IT that are using ServiceNow to identify opportunities to automate routine tasks through simple clicks, not new code. Agents can then provide personalized service for priority and complex issues, all within ServiceNow.

Putting the solution to work
The Qualtrics and ServiceNow integration plays a key role in improving the overall employee experience through technology. It also enables IT teams to become more efficient. According to research from Qualtrics and ServiceNow in June 2022, four in five (81%) IT professionals waste more than 10% of their workdays due to process and technology inefficiencies. IT organizations are paying attention to this. They're focused on reducing operational costs, consolidating IT systems and using feedback to improve employee technology experiences, especially as 88% plan to hire in 2022.[3]
Notre Dame utilizes Qualtrics and ServiceNow to automate and enhance the classroom technology experience. The Notre Dame A/V Technology team needed to develop a scalable solution for timely reporting and resolution of technology issues in the classroom. With the ETX integration, Notre Dame was able to enhance student learning, communication, and collaboration, as well as a reduction in errors and reworks that improved efficiency, effectiveness and transparency of tech support for classrooms."The Qualtrics and ServiceNow integration has played an integral role in automating our preventative maintenance process," said John Cheatwood, Senior Program Manager, University of Notre Dame. "We are now more efficient, effective and transparent in supporting classrooms, saving over 3,000 work hours across the Audio Video Technologies team in support of our learning spaces during the eighteen months since implementing the integration."
Here's how a few of our IT customers are already leveraging this collaboration to drive better service in their organizations.
Aerospace and defense company: When an employee opens a ticket using the self-service IT portal, a survey is automatically triggered to gather additional details. This helps not only solve the issue more effectively, but also helps drive future service improvements. As a result, the IT department is seeing a reduction in ticket volume as well as service costs.
Leading casual restaurant chain: When the employee survey gathers negative feedback (post an IT ticket close), an alert is triggered to a service coach to initiate post-incident discussions and additional training opportunities with the IT technician while the details are still fresh in his or her mind.
Global financial institution: To gauge employee preferences post-pandemic, leadership used Qualtrics to gather feedback on remote and hybrid working models. They learnt that 74% of global employees wanted to work a minimum of 50% of the time from home. They then pulled that feedback into ServiceNow to execute flexible working contracts with individual employees at scale. To date, they have completed these contracts with 84% of their employee base across eight countries.
Renowned University: To enhance classroom technology experience. "Technology plays an integral role in the classroom, giving students and faculty the tools to enhance learning, communication and collaboration," said Jon Cheatwood, senior technician at the University of Notre Dame. "The Qualtrics and ServiceNow integration has played an integral role in automating our preventative maintenance process. We are now more efficient, effective and transparent in supporting classrooms, saving over 3,000 work hours across the Audio Video Technologies team in support of our learning spaces during the eighteen months since implementing the integration."
 Ready to learn more?
Reach out to your ServiceNow or Qualtrics representative. Watch a 2 min overview video. Request a demo.
[1] Qualtrics + PwC study of IT Executives 
[2] Qualtrics Employee Experience Trends Report
[3] Methodology: This study was fielded by Qualtrics, in partnership with ServiceNow, between May 10-19, 2022. Respondents were selected from a randomized panel and considered eligible if they live in the United States, are at least 18 years of age and are employed full time or part time as an IT professional at a company with over 1,000 employees. The total number of respondents was 1,021. Respondents who did not pass quality standards were removed.
Related Articles