XM for Customer Frontlines

Digital

Root out friction in every digital experience, super-charge conversion rates, and optimize digital self-service

Care

Uncover insights from any interaction, deliver AI-powered agent coaching, and reduce cost to serve

Locations

Increase revenue and loyalty with real-time insights and recommendations delivered straight to teams on the ground

XM for People Teams

Engage

Know exactly how your people feel and empower managers to improve employee engagement, productivity, and retention

Lifecycle

Take action in the moments that matter most along the employee journey and drive bottom line growth

Analytics

Whatever they're are saying, wherever they're saying it, know exactly what's going on with your people

XM for Strategy & Research

Research

Get faster, richer insights with qual and quant tools that make powerful market research available to everyone

User Experience

Run concept tests, pricing studies, prototyping + more with fast, powerful studies designed by UX research experts

Brand

Track your brand performance 24/7 and act quickly to respond to opportunities and challenges in your market

XM Platform

Explore the platform powering Experience Management

Teams

For Digital

For Customer Care

For Human Resources

For Researchers

All Teams

Industries

Healthcare

Education

Financial Services

Government

All Industries

Customer Experience

Employee Experience

Employee Exit Interviews

Net Promoter Score

Voice of Customer

Customer Success Hub

Product Documentation

Training & Certification

Community

XM Institute

About Us

Careers

Partnerships

Marketplace

X4 Summit

The annual gathering of the experience leaders at the world's iconic brands building breakthrough business results, live in Salt Lake City.
Back to all Customer Stories
Sweat + Qualtrics
"Qualtrics gives us the full context of the digital experience and helps us adapt in the moment"
Sweat achieved
60%
response rates with in-app feedback
Overview
---
Recognizing that women were being underserved by the fitness market, Sweat brought to life a groundbreaking digital experience built for women, by women. But as its network of global users grew rapidly, Sweat needed to develop an ever-evolving understanding of women's needs—as well as the ability to deliver personalized journeys that reduce customer churn.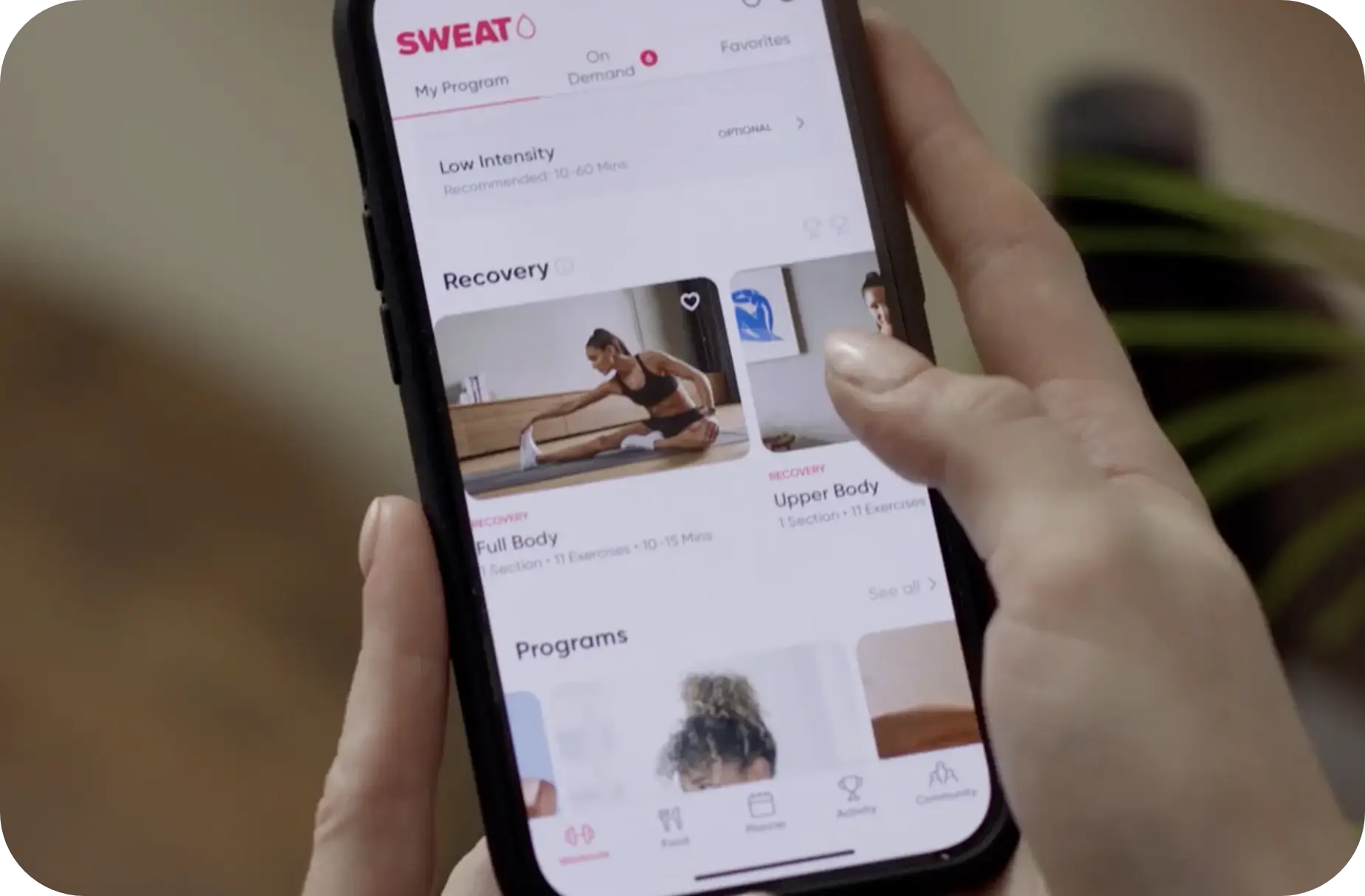 Creating a better fitness experience for women
In 2015, personal trainer Kayla Itsines discovered that the fitness experiences available to women were lacking—most regimens were created for and tailored toward men.
It was this core insight that sparked her desire to create fitness programs for every woman throughout their fitness journey. Ultimately that led her to co-found Sweat, which began serving up easy-to-follow workouts that could be completed anywhere on the Sweat App. The Sweat community grew rapidly. Now women in 145 countries around the world have turned to Sweat to stay healthy, connected, and reach their fitness goals.
Understanding individual journeys with Qualtrics Experience iD
Rapid growth comes with challenges—the Sweat team knows that as their reach and content expands, there's potential to lose touch with their passionate base, to overspend in the wrong areas, and to conflate one woman's needs and expectations with another's. In order to deliver consistently excellent, personally resonant experiences in real time, they needed to build an ever-evolving and contextual understanding of users.
Qualtrics empowers Sweat to engage a diverse community of women in order to pinpoint their areas of frustration, identify their underserved needs, and personalize their digital experiences according to what matters most. Because women can communicate seamlessly in the context of their digital experience, Sweat can count on high response rates (up to 60%) while also having the ability to collect feedback for specific users (i.e., first-time users) at targeted parts of the journey (like after completing a workout).
Using this rich information about their users, Sweat builds customer profiles & segments using Qualtrics Experience iD. With the ability to segment and drill deeper into the reports, the brand has genuine consumer insights at their fingertips that are seamlessly shared across their tech stack to create meaningfully personalized journeys. During onboarding for example, they've created comms interventions to scaffold their members, resulting in a 5% improvement in trial to paid conversions.
Making the right investments to retain more customers
In one example, the Sweat team learned that they needed to invest in the creation of shorter, 15-minute workouts to accommodate a segment of first-time users who were just starting out on their fitness journey. These shorter workouts encouraged women to integrate a fitness routine into their lifestyle, leading to increased engagement, as well as providing a tool to re-engage members who haven't completed a workout for a period of time. This initiative, along with further optimisation during onboarding, contributed to Sweat smashing previously seen highs in Trail2Paid conversion.
Additionally, by overlaying realtime in-app-behaviors to their NPS analysis, Sweat was able to identify higher value actions linked with promoters and, by extension, improved retention and LTV. These actions now form a critical part of their onboarding journeys, as well as aiding in the development and optimisation of content.
In fact, that kind of close collaboration between the content and product groups has become commonplace at Sweat as they grow an increasingly customer-centric culture. Teams are working together to build out on-demand workout programming that reflects a growing understanding of each woman's need for variety, drawing on insights that are readily available across the org—from trainers, to marketers, to engineers.
"We're able to hone in resources and ensure that the content we surface is really delivering on her needs, her preferences—so that she is encouraged to stay with her fitness regimen."
Carly Pevreall, Research & Insights Lead
Looking ahead
Following a boom for at-home-fitness solutions during the pandemic, Sweat hasn't been immune to the pressures of women returning to gyms and classes, let alone the raft of new entrants to the category. But their ability to deepen an already sophisticated understanding of women using Qualtrics' suite of tools; and their resolve to deliver the best fitness experience for every woman, throughout their personal journey, have ensured the strength of key performance indicators throughout their experience, driving their success into the future.

Building a healthier business with personalized digital journeys
Kayla Itsines
Sweat Co-Founder
As we've grown, we've definitely had to find other ways to understand and deliver on what women need from Sweat. Qualtrics has helped us do that.
Recognizing that women were being underserved by the fitness market, Sweat brought to life a groundbreaking digital experience built for women, by women. But as its network of global users grew rapidly, Sweat needed to develop an ever-evolving understanding of women's needs—as well as the ability to deliver personalized journeys that reduce customer churn.
sweat.com
Industry
Fitness
Region
Global
Company Size
Medium
Business Type
B2C
Build healthier customer experiences with Qualtrics