Gen X Created Tech Culture, but Two-Thirds Say Work Is Now Less Important to Them
After a year of layoffs, cutbacks, returning to the office and lost equity value, Gen X – the generation that created tech culture – has lost its zeal for the tech industry
Younger tech workers and Millennials still believe in the tech dream and find increased motivation in their company's mission
Even with a more distributed workforce, living in a technology hub still matters: Workers there are more worried about losing their job, and more confident they could find a new one
Last updated: August 29, 2023
---
PROVO, Utah & SEATTLE, August 29, 2023 – Two-thirds (68%) of Gen X tech workers say that work is not as important to them and achieving their life goals as it was before the pandemic, with 15% saying it has become far less important.
Gen X pioneered the distinctive work-hard, play-hard culture of the tech industry, but new data from Qualtrics shows that, among all generations of tech workers, their priorities have shifted the most and they are pulling back from work that promised lucrative compensation and perks.
Many tech workers switched jobs during the Great Resignation as they searched for higher pay and remote work. But more recently as the market shifted, tech companies saw their stock prices decline and many laid off employees in large numbers, ending a run of aggressive growth and hiring.
Gen X less motivated than younger employees at work
Half of tech employees say they are more motivated by their company's mission and values now than they were before the pandemic. However, Gen X tech employees, born between 1965 and 1980, don't hold that same level of motivation. Just 38% say their company's mission and values are more motivating than they were pre-pandemic.
Millennial tech workers born between 1981 and 1996, many of whom are now well established in their careers, are showing continued optimism about their future in the industry. About half (49%) of millennials say that work is more important to them than it was before the pandemic, and most say they aspire to work at a large, recognizable tech firm during their career. Nearly a third (30%) say, if they had to look for a new role, they would look for a job only at another tech company.
"As the industry and economy continue to shift, tech company leaders must renegotiate their relationship with employees," said Qualtrics Chief Workplace Psychologist Dr. Benjamin Granger. "Call it a 'mid-life crisis' for tech companies or just one more change brought on by the pandemic years, but there's clearly a shift in sentiment especially among the older, more tenured employees."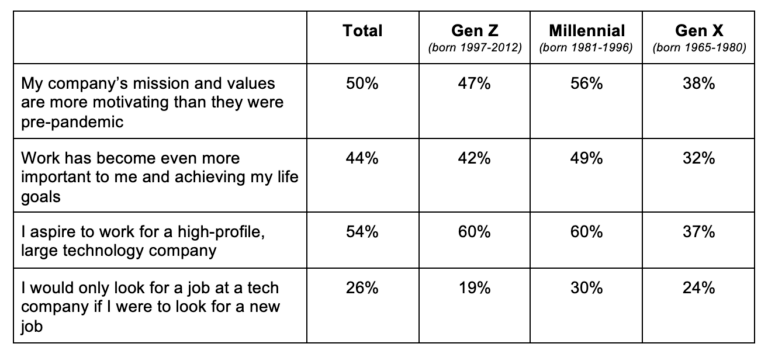 Workers in tech hubs and outside tech hubs have different outlooks
Working in an area with a high concentration of tech companies means both employees and the companies they work for have options – and that shows in employee sentiment toward the industry.
The prevalence of tech companies in tech hubs creates an environment where employees are more worried about their job security (41%), but are likewise more confident that they can find a new, better paying job if they need to (52%). Company leaders seem to recognize this as well; employees in tech hubs are more likely to say their leadership has done a good job of adapting to the changing relationship with work (65%) than workers in other parts of the country (55%).
The data shows that the enduring appeal of working in tech is especially prevalent in tech hubs. More than two-thirds of tech employees in these areas aspire to work at a large, high-profile tech company, while less than half of tech workers living in other areas share this goal.
As companies call employees back to the office, those in tech centers are more likely to say they're required to spend more time in the office than they were six months ago – and they are more likely to look for a new job because of it. More than half (61%) of the tech workers in tech hubs say they are actively looking for a new job or plan to in the next year because of these requirements, compared with 41% of tech workers in other areas.
"Living and working in areas dense with tech talent elevates the visibility of how the industry is changing, which can give it an outsized impact on employee perception, both positive and negative," said Granger. "Organizations need to pay close attention to their employees' needs to avoid attrition, especially for their top talent."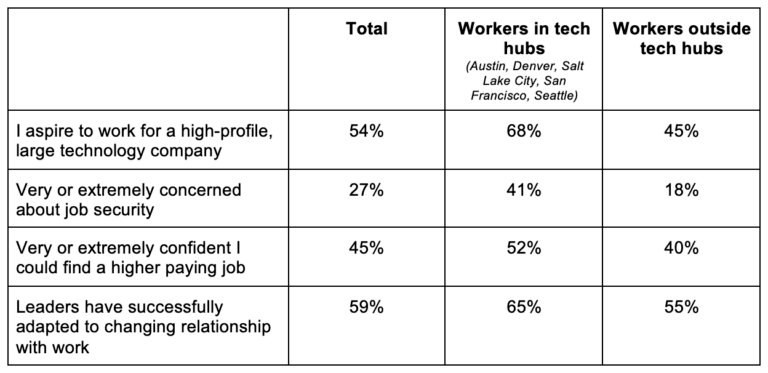 Methodology
This study was conducted in July and August 2023, among 1,000 US-based employees at tech companies.
About Qualtrics
Qualtrics, the leader and creator of the experience management category, is a cloud-native software provider that helps organizations quickly identify and resolve points of friction across all digital and human touchpoints in their business – so they can retain their best customers and employees, protect their revenue, and drive profitability. 20,000 organizations around the world use Qualtrics' advanced AI to listen, understand, and take action. Qualtrics uses its vast universe of experience data to form the largest database of human sentiment in the world. Qualtrics is co-headquartered in Provo, Utah and Seattle, and operates out of 28 offices globally. To learn more, please visit qualtrics.com.
---