XM for Customer Frontlines

Digital

Root out friction in every digital experience, super-charge conversion rates, and optimize digital self-service

Care

Uncover insights from any interaction, deliver AI-powered agent coaching, and reduce cost to serve

Locations

Increase revenue and loyalty with real-time insights and recommendations delivered straight to teams on the ground

XM for People Teams

Engage

Know exactly how your people feel and empower managers to improve employee engagement, productivity, and retention

Lifecycle

Take action in the moments that matter most along the employee journey and drive bottom line growth

Analytics

Whatever they're are saying, wherever they're saying it, know exactly what's going on with your people

XM for Strategy & Research

Research

Get faster, richer insights with qual and quant tools that make powerful market research available to everyone

User Experience

Run concept tests, pricing studies, prototyping + more with fast, powerful studies designed by UX research experts

Brand

Track your brand performance 24/7 and act quickly to respond to opportunities and challenges in your market

XM Platform

Explore the platform powering Experience Management

Teams

For Digital

For Customer Care

For Human Resources

For Researchers

All Teams

Industries

Healthcare

Education

Financial Services

Government

All Industries

Customer Experience

Employee Experience

Employee Exit Interviews

Net Promoter Score

Voice of Customer

Customer Success Hub

Product Documentation

Training & Certification

Community

XM Institute

About Us

Careers

Partnerships

Marketplace

X4 Summit

The annual gathering of the experience leaders at the world's iconic brands building breakthrough business results, live in Salt Lake City.
Qualtrics Launches Digital Experience Metrics, Allowing Companies to Tie Customer Sentiment Directly to Their Bottom Line
Last updated: March 17, 2022
---
Companies can now use Qualtrics to quantify the financial impact of customers' digital experiences and compare them to others in their industry
As customer sentiment improves, customers spend up to 37% more on a purchase, Qualtrics research shows

PROVO, Utah and SEATTLE (March 17, 2022) — Qualtrics (Nasdaq: XM), the leader and creator of the experience management (XM) category, is launching Digital Experience Metrics (DX Metrics), a simple, science-backed framework designed to measure how a customer's digital experience across an organization's website, mobile apps, digital marketing, and social channels impacts how much they spend.
As customers increasingly interact with companies through digital channels, businesses need a new approach to building deeper customer relationships by measuring how each customer feels about their digital experience and understanding where to take action. While online channels are inherently transactional, customers are more likely to come back when the experience is effortless and evokes a positive emotion.
DX Metrics, built into Qualtrics CustomerXM, includes a set of scientifically validated questions that measure three key aspects of any digital experience: emotion (measured by customer satisfaction), effort (measured by how easy or difficult was it to complete a task) and success (measured by task completion). New Qualtrics research, embedded and available within the DX Metrics, shows that increasing a customer's satisfaction score can increase their spending by up to 37%. Reducing the effort required to complete a task online can lead to a 23% increase in their spending.
This validated approach to measuring the three core aspects of the digital experience helps companies benchmark and compare their metrics against similar organizations in their industry, giving brands better visibility into their performance and opportunities to increase revenue. It also includes dashboard templates and recommendations to help marketing and product leaders understand how certain factors, such as the account creation process or web checkout user experience improvements, impact customer sentiment the most, and which actions they can take to improve each factor.
DX Metrics serves as a foundation for an organization's digital experience program. As organizations adopt the benchmark, they can understand the key drivers behind their metrics and combine this data with customer feedback across support conversations, chat, social media posts and other unstructured channels from XM Discover to create competitive advantages.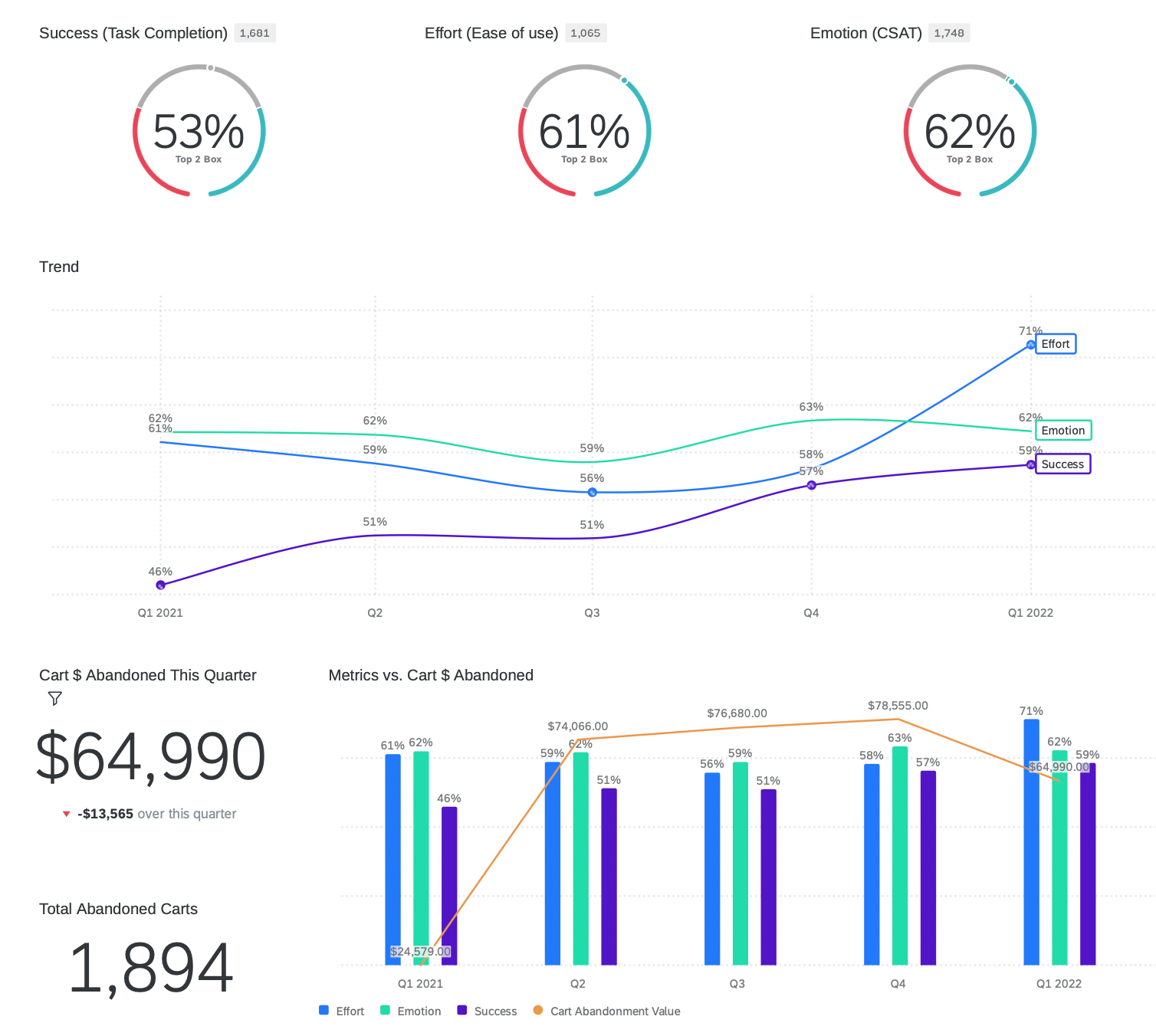 "Creating great experiences, even in traditionally impersonal digital channels, is a critical differentiator for every business today," said Brad Anderson, president of products and services at Qualtrics. "Digital Experience Metrics connect customer sentiment to financial impact, helping organizations understand how investing in better digital experiences based on individual feedback can impact their bottom line."
According to Qualtrics research, the industries with the most room for improvement include automotive, healthcare and hospitality. The table below outlines the average expected revenue lost from digital channels, sorted by industry, that could be recovered by improving the digital experience with things like better UX and personalized content and customer journeys: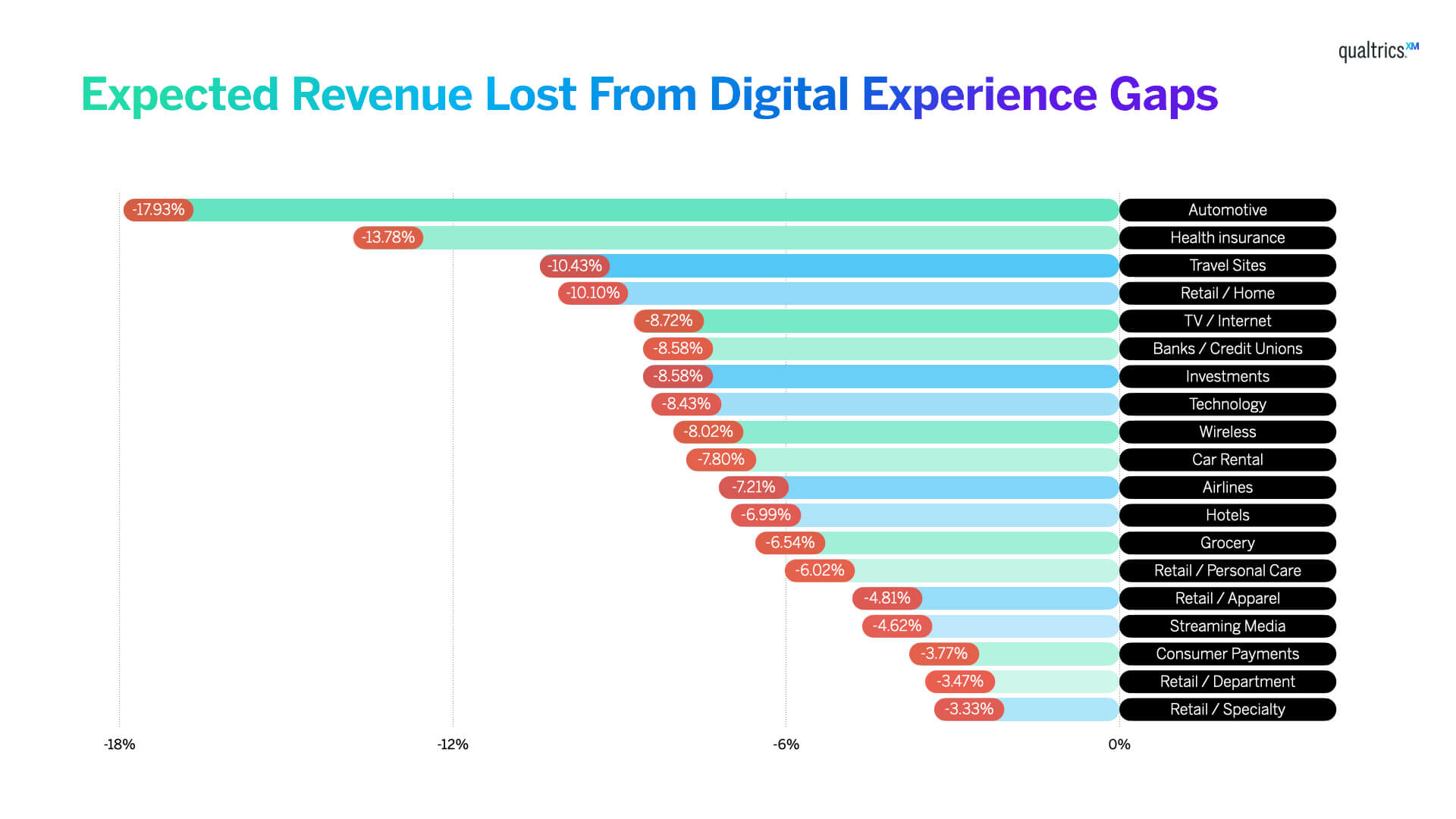 Creating personalized experiences based on digital insights

The data gathered in DX Metrics and digital XM solutions flow into Qualtrics Experience ID, a single, unified view of the preferences people are sharing with a brand. With more than five billion Experience IDs on the Qualtrics XM Platform™, organizations can confidently benchmark their performance against their peers and get a 360-degree view of each customer's expectations and interactions with their brand, allowing them to deliver personalized experiences over time, at scale.
For more information about Digital Experience Metrics, please visit the Qualtrics Blog.
Availability

Digital Experience Metrics will be generally available in Q2 2022.
Methodology

Qualtrics XM Institute conducted digital customer research in the fourth quarter of 2019, 2020 and 2021. Respondents were selected from a randomized panel and asked to rate certain website experiences that had taken place in the last 30 days with 150 companies in 15 commerce-focused industries. Respondents were considered eligible if they live in the United States and were at least 18 years of age. The total number of respondents was 50,000.
About Qualtrics

Qualtrics, the leader and creator of the Experience Management (XM) category, is changing the way organizations manage and improve the four core experiences of business—customer, employee, product and brand. Over 16,750 organizations around the world use Qualtrics to listen, understand and take action on experience data (X-data™)—the beliefs, emotions and intentions that tell you why things are happening, and what to do about it. The Qualtrics XM Platform™ is a system of action that helps businesses attract customers who stay longer and buy more, engage employees who build a positive culture, develop breakthrough products people love and build a brand people are passionate about. To learn more, please visit qualtrics.com.
---