Retail Workers, Employees at Large Companies Struggle Most With Workplace Technology
Last updated: February 28, 2023
---
Employees in IT and software services are best equipped to handle system-wide changes while service industries are less likely to avoid disruption
Workers at midsize companies are most likely to say their technology beats their expectations
PROVO, Utah & SEATTLE, Feb. 28, 2023 – Retail workers are struggling to work productively with technology at a time when rapid changes to the work environment have made digital service more important than ever, according to new data from Qualtrics (Nasdaq: XM).
Depending on the industry, employees have very different experiences with the technology they use at work, and how well it meets their needs. The pandemic accelerated technology use at work, but many companies cobbled together short-term solutions that now need to be updated, consolidated, or standardized. A recent global study from Qualtrics XM Institute found that 89% of IT leaders believe it is extremely or very important for their company to improve its ability to respond to unexpected events, with 51% of them saying it is extremely important.
Key insights on employees and workplace technology show that employees in different industries have varying experiences with the technology they use at work. Listening to employee feedback on how well it meets their needs can help prevent symptoms of burnout.
● Overall, only 34% of employees say the technology their workplace provides exceeds their expectations. Less than a quarter (24%) of retail employees agree, but 39% of workers in information technology or software and services say their work tech exceeds their expectations.
● 54% of employees say they are rarely disrupted by major system changes, but only 49% of retail workers say the same.
● Workers at mid-sized companies are most likely to say their technology at work exceeds their expectations.
This data is from a study of more than 35,000 employees from nine countries that will fuel Qualtrics' benchmark insights, which allow organizations to compare their performance and identify opportunities across industries and geographies.
System interruptions are hard to avoid in customer-facing industries
One of the pain points caused by technology is its constantly changing nature, which forces users to adapt and update their own processes for using it. Less than half of retail workers say they're rarely disrupted by system overhauls, and only 51% of employees working in the hotels, restaurant and leisure services say they are rarely affected by major system changes. Disruptions in these industries can extend to affecting services for the consumers they serve. By comparison, 58% of people working in IT and 57% of software services employees can avoid similar interruption.
"Post pandemic, getting the right technology is one of the biggest challenges facing companies as they try to keep their employees productive and engaged," said Qualtrics Chief Workplace Psychologist Dr. Benjamin Granger. "It can be tempting to try to solve problems by introducing new technologies, but sometimes consolidating platforms to streamline processes is a better solution. Using tech that doesn't meet their needs or slows their productivity can be frustrating and contribute to employee burnout, so regularly listening to employees who use the tech tools is essential."
Mid-sized companies find the sweet spot while small and extra-large businesses share similar struggles
Technology needs differ by company size, and workers at companies with 5,000 to 9,999 employees fare best with their workplace-provided tech. These employees are much more likely to say their technology exceeds their expectations – 42% say so, compared with the 34% of employees worldwide. System-wide changes are also less likely to affect their ability to work, as 60% say they are rarely disrupted by changes.
Despite the difference in their workforce sizes, employees at small organizations (fewer than 500 employees) and extra-large ones (more than 50,000 workers) report similar challenges with their workplace technology. Less than one in four employees say their technology exceeds their expectations, and less than half say their work is rarely disrupted by system-wide changes to their technology.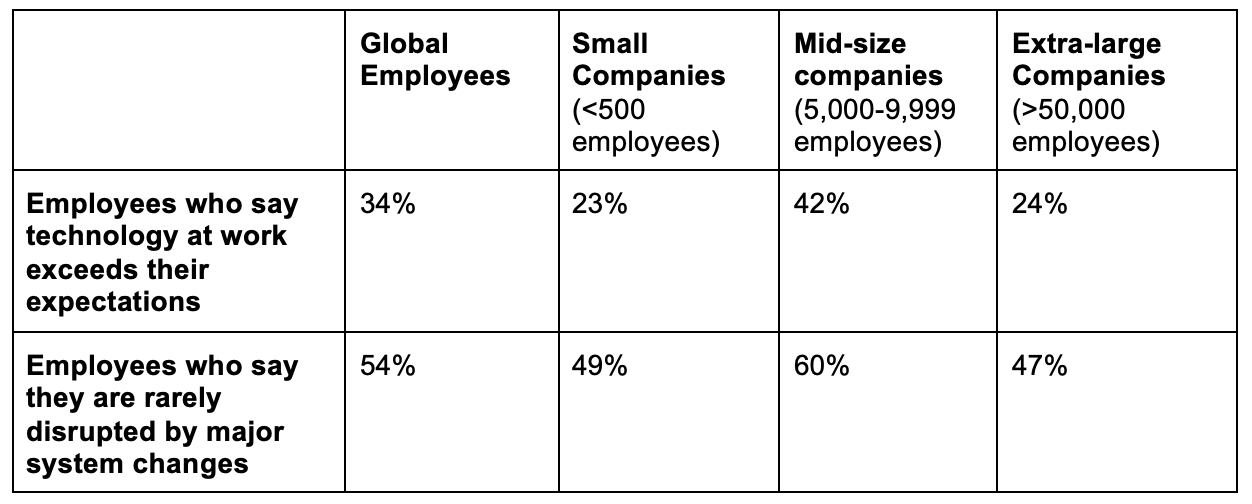 Methodology
This data comes from a study of more than 33,000 employees in 25 countries conducted in Q3 2022. Respondents were 20 years or older and roughly representative of local demographics. All were full-time employees at companies with 100 or more employees.
About Qualtrics
Qualtrics, the leader and creator of the experience management category, is a cloud-native software provider that helps organizations quickly identify and resolve points of friction across all digital and human touchpoints in their business – so they can retain their best customers and employees, protect their revenue, and drive profitability. More than 18,750 organizations around the world use Qualtrics's advanced AI to listen, understand, and take action. Qualtrics uses its vast universe of experience data to form the largest database of human sentiment in the world. Qualtrics is co-headquartered in Provo, Utah and Seattle, and operates out of 28 offices globally. To learn more, please visit qualtrics.com.
---