Qualtrics XM Platform™ Wins Temkin Group Customer Experience Vendor Excellence Award
Last updated: April 6, 2018
---
Qualtrics, the leader in experience management, has again been recognized with the Temkin Group's sixth annual Customer Experience Vendor Excellence (CxVE) Award. The award highlights organizations that help companies deliver superior customer experience through innovative products and services.
The award is indicative of the XM Platform's ability to unlock human-factor data including the beliefs, emotions, and sentiments that explain why things are happening, not simply what is happening. The Qualtrics predictive intelligence layer, Qualtrics iQ, allows organizations not only to improve the experiences they have delivered in the past, but predict how changes will influence customer satisfaction in the future.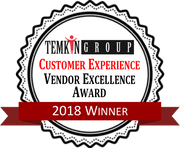 Qualtrics wins 2018 Temkin Group Customer Experience Vendor Excellence Award.
"Qualtrics established the experience management industry and is the leader in enterprise customer experience. We are grateful for this recognition, which reflects on the incredible things our customers are doing with the Qualtrics platform," said Ryan Smith, co-founder and CEO of Qualtrics. "It's more important than ever before to anticipate what your customers want and provide them meaningful experiences. Qualtrics is helping over 9,000 companies do that every single day."
The Qualtrics Experience Management (XM) Platform™ helps organizations manage the four core experiences of business—customer, employee, product, and brand experience—on a single platform. The platform allows organizations to uncover key business drivers, predict future customer needs, and retain employees and customers.
In its sixth year, Temkin Group's CxVE Awards recognizes companies that provide products and services that help companies improve the customer experience they deliver. The nominations are judged based on their capabilities, results, and client case studies. The scoring also includes feedback from their clients.
To learn more about Qualtrics visit qualtrics.com, or connect on Twitter, Facebook or LinkedIn.
About Temkin Group
Temkin Group is widely recognized as a leading customer experience research and consulting firm. Many of the world's largest brands rely on its insights and advice to steer their transformational journeys. Temkin Group combines customer experience thought leadership with a deep understanding of the dynamics of organizations to help accelerate results. Rather than layering on cosmetic changes, Temkin Group helps companies embed practices within their culture by building four critical competencies: Purposeful Leadership, Employee Engagement, Compelling Brand Values, and Customer Connectedness. The firm's ongoing research identifies leading and emerging best practices across a wide range of activities for engaging the hearts and minds of customers, employees, and partners.
About Qualtrics
Qualtrics is a single system of record for all experience data, also called X-data™, allowing organizations to manage the four core experiences of business—customer, product, employee and brand experiences—on one platform. Over 9,000 enterprises worldwide, including more than 75 percent of the Fortune 100 and 99 of the top 100 U.S. business schools, rely on Qualtrics. To learn more, and for a free account, please visit www.qualtrics.com.
---