Customer Experience
Introducing district-level dashboards to the national COVID-19 school response dashboard
Today, Qualtrics is introducing district dashboards in preview, the latest iteration of the National COVID-19 School Response Dashboard. Earlier this fall, we partnered with Brown University Professor Emily Oster and various school superintendents and principals associations to unveil the dashboard – the first nationwide effort that systematically maps schools' responses to the pandemic across the U.S.
The district dashboards are privately accessed, available only to the participating school district. Each district dashboard displays information similar to the types of data available on the public national dashboard, such as percentage of confirmed cases, daily case rate, and mitigation strategies. Additionally, each district's (or school's*) specific information is benchmarked against other districts or schools in their geographic region (at the state level), and districts or schools with characteristics similar to their district, such as student demographics or community size.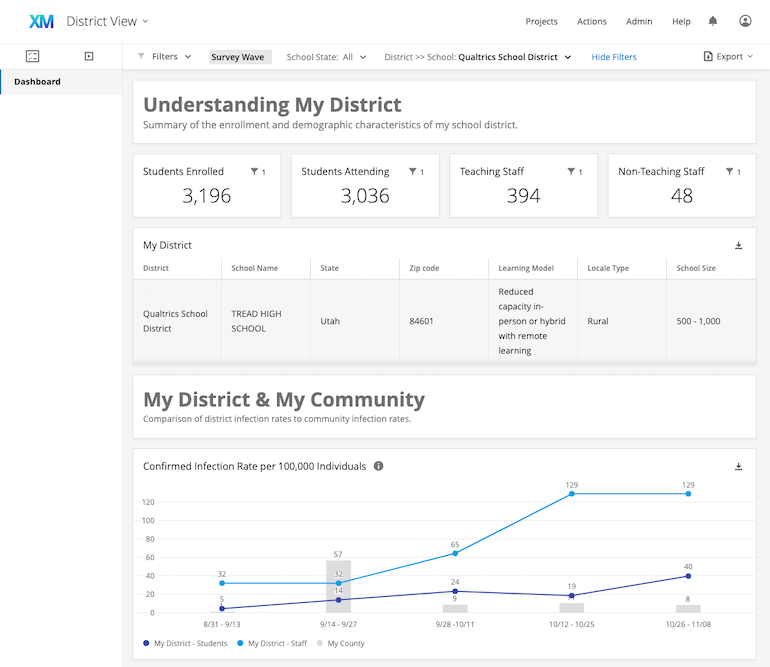 For example, a district will be able to compare their daily case rate to the community case rate in their county, and districts with similar demographics in other parts of the U.S. For example, a district that reports a student infection rate of 14 per 100,000 can see their student infection rate compared against community infection rates in their county. Additionally, districts will be able to compare the infection rates with the community rates for groups of districts with similar characteristics in other parts of the U.S. For example, a district in a rural locale can view infection rates for all other rural districts as compared to rural community rates.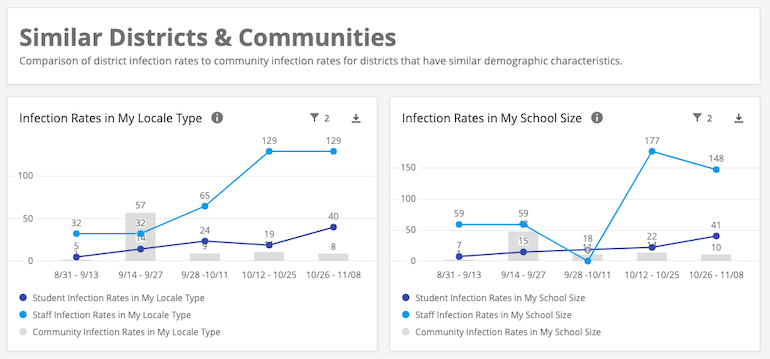 District dashboards will enable district administrators to better understand the state of their community's health and outcomes relative to their broader geographic community and districts with similar characteristics. Any community case data reported on the dashboard is based on publicly available data as reported by public health resources.
District dashboards are free to any participating district in the national dashboard. If you'd like to learn more about the National COVID-19 School Response Dashboard, participate in this initiative, or get in touch with a team member, visit covidschooldashboard.com.
Who will have access to view the district dashboards?
The primary point of contact reporting to the national dashboard will have access only to their district's dashboard.
How many districts participating in the national dashboard will have access to their own district's dashboard?
Our goal is to provide all participating districts in the national dashboard have access to their own district dashboard. We have just introduced the preview of the district dashboard and will begin rolling them out to individual districts.
Can my district modify or customize data that we see on our district dashboard?
No, the district dashboards provide information based on self-reported data by the district and/or school, and publicly available data.
Will every district dashboard have school-specific information within their district?
School-level data will only be available if it was self-reported in the enrollment or biweekly surveys.
* School-specific data is available only to districts who have reported this information.