XM for Customer Frontlines

Digital

Root out friction in every digital experience, super-charge conversion rates, and optimize digital self-service

Care

Uncover insights from any interaction, deliver AI-powered agent coaching, and reduce cost to serve

Locations

Increase revenue and loyalty with real-time insights and recommendations delivered straight to teams on the ground

XM for People Teams

Engage

Know exactly how your people feel and empower managers to improve employee engagement, productivity, and retention

Lifecycle

Take action in the moments that matter most along the employee journey and drive bottom line growth

Analytics

Whatever they're are saying, wherever they're saying it, know exactly what's going on with your people

XM for Strategy & Research

Research

Get faster, richer insights with qual and quant tools that make powerful market research available to everyone

User Experience

Run concept tests, pricing studies, prototyping + more with fast, powerful studies designed by UX research experts

Brand

Track your brand performance 24/7 and act quickly to respond to opportunities and challenges in your market

XM Platform

Explore the platform powering Experience Management

Teams

For Digital

For Customer Care

For Human Resources

For Researchers

All Teams

Industries

Healthcare

Education

Financial Services

Government

All Industries

Customer Experience

Employee Experience

Employee Exit Interviews

Net Promoter Score

Voice of Customer

Customer Success Hub

Product Documentation

Training & Certification

Community

XM Institute

About Us

Careers

Partnerships

Marketplace

X4 Summit

The annual gathering of the experience leaders at the world's iconic brands building breakthrough business results, live in Salt Lake City.
Qualtrics 5 For The Fight Campaign Named a World Changing Idea Awards Finalist By Fast Company
Last updated: April 10, 2018
---
Qualtrics, the leader in experience management, has been selected as a finalist for Fast Company's World Changing Ideas Awards for its groundbreaking campaign to accelerate funding for cancer research, 5 For The Fight. The award honors businesses, policies, projects and concepts that offer innovative solutions to the issues facing humanity.
Qualtrics introduced the power of crowdfunding to cancer research on a global scale with the 5 For The Fight campaign, making it easier and more effective for individuals to contribute to creating a cure than ever before. The campaign gets its name because it invites everyone to donate $5 to the fight against cancer in honor of someone who has been touched by the disease. Donors write the name of their loved one on their hand and share on social media using the hashtag #5ForTheFight. One hundred percent of every donation goes to cancer research.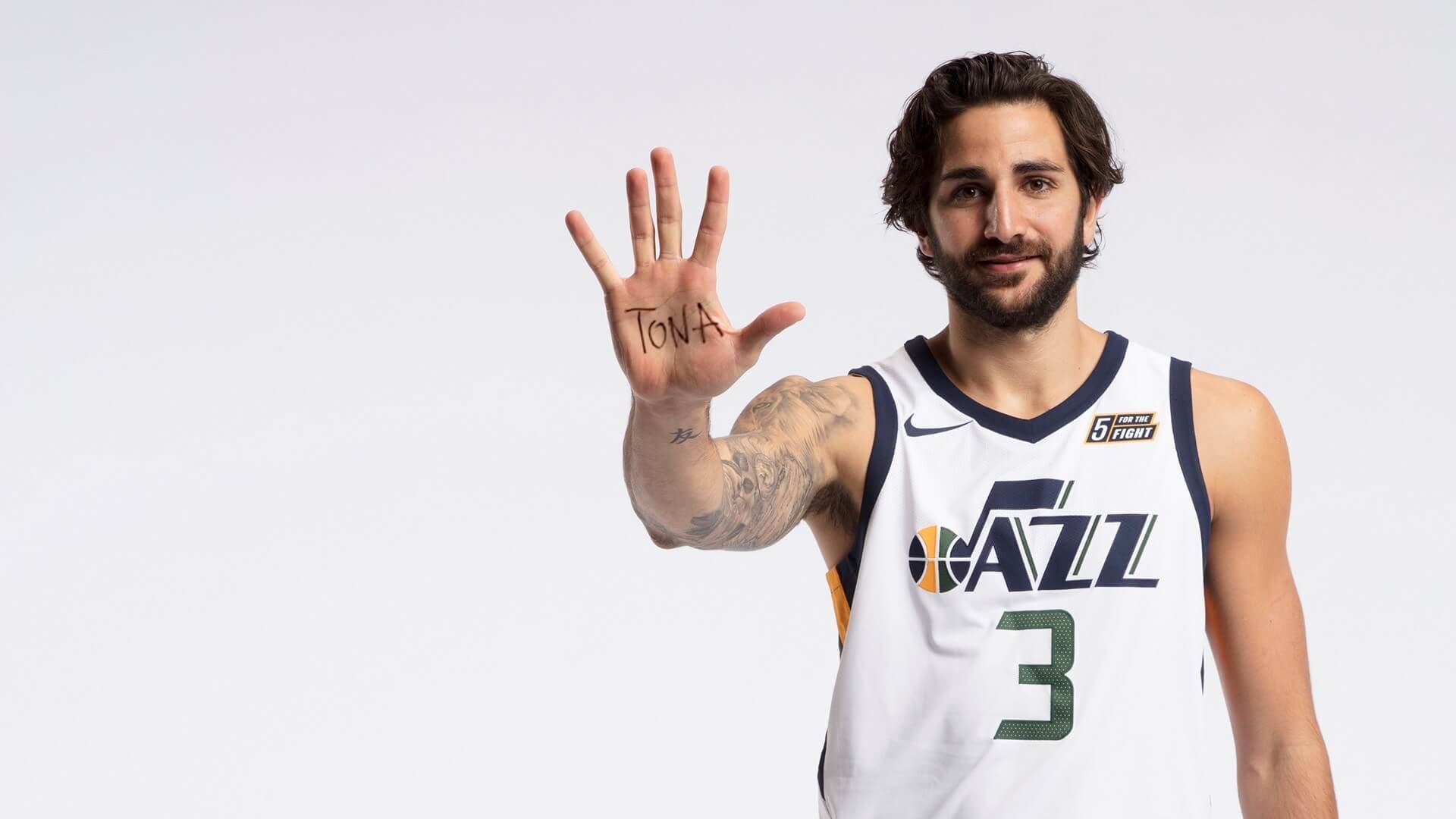 Utah Jazz Point Guard, Ricky Rubio, has led the way as the organization's first ambassador.
In addition, Qualtrics established a first-of-its-kind partnership among North American professional sports teams by placing the campaign's logo on the jersey of the NBA's Utah Jazz. Beginning with the 2017-2018 season, the NBA announced a major shift to its policy regarding players' jerseys, allowing each team to have a sponsored patch on its jerseys. Teams began debuting their patches in early 2017. Qualtrics sponsored the jersey patch for the Utah Jazz, but instead of putting its logo on the jersey, the company donated the patch to 5 For The Fight to help accelerate the pace of crowdfunding for cancer research. At the time of the sponsorship announcement, Qualtrics announced a goal to raise $50 million for cancer. Since then, Utah Jazz Point Guard, Ricky Rubio, has led the way as the organization's first ambassador.
"To be included in this global recognition is a huge honor. It recognizes the trailblazing work Qualtrics has done to allow everyone to be involved in creating a cure for cancer," said Lori Kun, head of social impact for Qualtrics. "We are grateful to the thousands of people who have embraced this idea and who are supporting 5 For The Fight's mission to accelerate the pace of cancer research and increase the funding pipeline for the world's leading scientists."
Qualtrics has been committed to cancer research from its beginning when one of its founders was diagnosed with cancer. Thankfully, he recovered and the company's support of cancer research has continued to grow as the company has grown.
Today, 5 For The Fight invites individuals and organizations across the world to join in the cause. To learn more and to donate, please visit https://5forthefight.org/. #5ForTheFight
About the Fast Company World Changing Ideas Awards
World Changing Ideas is one of Fast Company's major annual awards programs and is focused on social good, seeking to elevate finished products and brave concepts that make the world better. A panel of judges from across sectors choose winners and finalists based on feasibility and the potential for impact. With a goal of awarding ingenuity and fostering innovation, Fast Company draws attention to ideas with great potential and helps them expand their reach to inspire more people to start work on solving the problems that affect us all.
About 5 For The Fight
In 2016, Qualtrics launched 5 For The Fight, a global campaign inviting individuals to donate $5 to cancer research in honor of someone who has been touched by cancer and companies to donate $5 per product or invite employees to donate $5 a pay period. The 501c3 was created by Qualtrics and 100 percent of every donation goes to cancer research. With Qualtrics as the sponsor, 5 For The Fight is featured on the Utah Jazz NBA jersey patch. The organizations are collaborating with others to raise $50 million to help eradicate cancer. To learn more and to donate, please visit https://5forthefight.org/. #5ForTheFight
About Qualtrics
Qualtrics is a single system of record for all experience data, also called X-data™, allowing organizations to manage the four core experiences of business—customer, product, employee and brand experiences—on one platform. Over 9,000 enterprises worldwide, including more than 75 percent of the Fortune 100 and 99 of the top 100 U.S. business schools, rely on Qualtrics. To learn more, and for a free account, please visit www.qualtrics.com.
---