XM for Customer Frontlines

Digital

Root out friction in every digital experience, super-charge conversion rates, and optimize digital self-service

Care

Uncover insights from any interaction, deliver AI-powered agent coaching, and reduce cost to serve

Locations

Increase revenue and loyalty with real-time insights and recommendations delivered straight to teams on the ground

XM for People Teams

Engage

Know exactly how your people feel and empower managers to improve employee engagement, productivity, and retention

Lifecycle

Take action in the moments that matter most along the employee journey and drive bottom line growth

Analytics

Whatever they're are saying, wherever they're saying it, know exactly what's going on with your people

XM for Strategy & Research

Research

Get faster, richer insights with qual and quant tools that make powerful market research available to everyone

User Experience

Run concept tests, pricing studies, prototyping + more with fast, powerful studies designed by UX research experts

Brand

Track your brand performance 24/7 and act quickly to respond to opportunities and challenges in your market

XM Platform

Explore the platform powering Experience Management

Teams

For Digital

For Customer Care

For Human Resources

For Researchers

All Teams

Industries

Healthcare

Education

Financial Services

Government

All Industries

Customer Experience

Employee Experience

Employee Exit Interviews

Net Promoter Score

Voice of Customer

Customer Success Hub

Product Documentation

Training & Certification

Community

XM Institute

About Us

Careers

Partnerships

Marketplace

X4 Summit

The annual gathering of the experience leaders at the world's iconic brands building breakthrough business results, live in Salt Lake City.
Featured
Qualtrics announces XM/OS, the operating system for experience management
A little over a year ago, businesses were faced with making tough decisions about how to keep their doors open, how to adapt, and how to survive as the COVID-19 pandemic hit. While the last 18 months have been challenging for everyone, I've been inspired to see how businesses responded, adapting quickly to get a pulse on the changing needs of their customers and employees, and taking action to deliver new experiences not only to survive, but in many cases thrive in these challenging times.
For all the ways the pandemic has transformed nearly every aspect of our lives, one thing remains constant — every interaction a customer has with your business is an experience. And every experience is an opportunity—to acquire a new customer, develop a new offering, or ensure an existing customer returns. Every experience is important, more than ever before.
In a world that's fatigued and yearning for positive experiences, companies need to not only understand what customers and employees want next, but they need to be able to personalize those experiences. They need insights into issues before they arise, so they can take action and make improvements before it's too late. And they need to empower a culture of action within their organizations so they can dynamically respond and improve experiences in real time.
Our customers have shown us that experience management is as critical to their organizations today as CRM and HR management. That's why today I'm excited to announce what Qualtrics has spent the past decade building - an end-to-end business operating system for experience management: the XM Operating System or XM/OS. It was built from the ground up to help you design the next set of experiences that attract new customers and employees, and then continuously improve each of those experiences to stay relevant, retain customers and employees, and become even more competitive across the four core experiences of your business — employee, customer, brand, and product.
It's a vital combination for success. The ability to quickly understand your customers' and employees' needs and adjust experiences in real-time is what keeps businesses alive in times of disruption. XM/OS is the only solution that can give you the agility and power to design meaningful experiences and continuously improve them.
XM/OS is the single, secure, cloud-native platform that enables our customers to bring together all of their experience data through a connected system, analyze it with powerful AI and machine learning tools, then quickly and easily take action to continually improve the experiences they deliver. At the core of XM/OS are three powerful interconnected services — XM Directory, iQ, and xFlow — that power all our apps, products and use cases and are backed by unbeatable enterprise-grade security, compliance, and governance trusted by over 13,000 companies and 80% of the Fortune 100.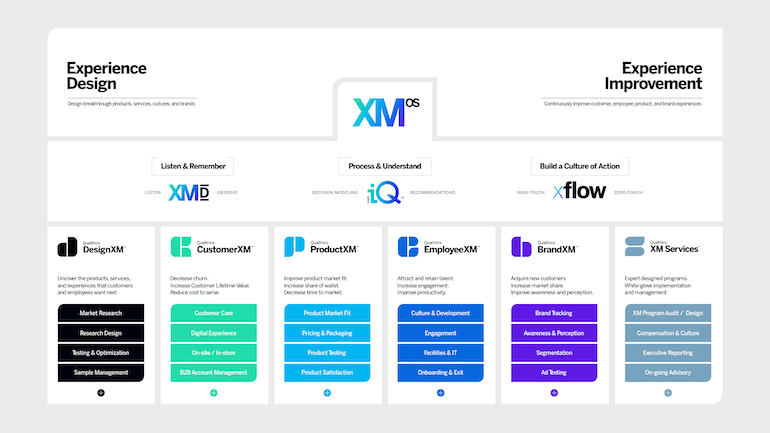 Below I'd like to share the incredible advancements we have made across these core services.
XM Directory - Listen to every customer, and remember what they need
As businesses continue to adapt, it's critical to have a pulse on the changing dynamics in your customer and employee-base. XM Directory centralizes all of your experience data and remembers each customer's and employee's unique needs and preferences. It's all stored in unique profiles, so you can personalize the experience by responding to individual preferences and sentiment at every touchpoint. XM Directory becomes even more powerful when you combine experience data with operational data such as customer demographics or sales history. With our cloud-native platform, Qualtrics is the leader for building rich, personal profiles giving companies a complete view of their customers and employees across multiple touch points providing truly personalized experiences driving loyalty and retention.
Our new Experience Journeys feature allows you to visualize and monitor customer interactions across each stage along the customer journey so you can take action in the moments that matter most to improve customer satisfaction and loyalty. And soon response and transaction-based segmentation will give you the ability to deliver more personalized experiences to your customers. This powerful segmentation will allow you to layer customer experience, demographic, and transactional data in a single view to group meaningful cohorts and turn them into fans or simply increase their lifetime value.

Learn more about Experience Journeys
With our certified questions feature built by our expert XM Scientists, companies will be able to easily understand experience data collected across the whole organization to compare it across teams and benchmark against industries. The feature also enables personalized experiences with intelligent customer dialogue to ensure only data that is needed is collected.
Learn more about certified questions
iQ - Understand what's happening, why it's happening, and take action
It's impossible to deliver meaningful experiences to customers and employees without understanding the sentiment, beliefs, and emotions that drive them. Only when you understand that can you truly anticipate what they want next. XM/OS delivers these intelligent insights through iQ, our AI-powered analytics suite that leverages machine learning, trained exclusively on the extensive experience data, mountains of it. As the market leader in listening to and collecting data, we have more experience data than any player in the market, and that's where this exceptional machine learning comes from.
Text iQ, our advanced AI and natural language processing tool that helps you understand deep customer sentiment and emotion from open text just got even more powerful. Our text analytics experts have taken world-leading methodology and translated it into code to deliver a self-service tool that's not reliant on service managers for set-up, management or expansion. And with a number of industry-leading machine learning updates and improvements to our algorithm, Text iQ is designed to be the most accurate and intuitive sentiment analysis solution in the industry - with accuracy 15% above the best hyperscalar algorithms. Plus, with more than 50 out-of-the-box topic libraries across 25 industries now available, as well as our new iQ Topics feature that leverages machine learning and industry expertise to continually and automatically refine iQ topics, based on real-time feedback, not only will Text iQ save you days on manual tasks, but companies can be confident they're listening to the right signals and taking action at scale.

xFlow - Build a culture of action
In the new way of work, where speed and agility can make or break a business, the ability to take action before an experience breakdown even occurs is game changing. With xFlow, a powerful low code/no code workflow automation engine with 130+ out-of-the-box extensions into your existing systems of record such as your CRM and HR systems, now anyone in your organization can scale experience management programs and turn insights into action. xFlow complements the systems your teams already use, so there's minimal disruption to rolling XM out to the entire organization.
Our new pre-built workflow templates make it simple for anyone to create workflows, empowering anyone in your organization to drive scale, efficiency and action across experience management programs. We've launched twenty-four templates for the most common use cases across the four core experiences areas, including automating Zendesk ticketing when negative feedback is received, or sending a Slack message to a product team when new web feedback comes in.

The connected technology between XM Directory, iQ and xFlow means the three core services work hand-in-hand. xFlow now triggers actions based on trending topics and sentiment in Text iQ, enabling organizations to react instantly to changing needs and wants. And soon, you'll be able to set segment-based actions in XM Directory to notify the right teams when specific changes occur within segments. For example, if a negative response is received from a "high value" customer segment, you can automatically trigger a notification to the customer support team.
XM/OS is uniquely positioned to solve the key challenges companies are struggling with around the world today.
The XM/OS platform is connected. It drives customer and employee acquisition, retention and growth through one unified system connecting and centralizing anyone's ability to listen, understand and act. Whether you are a CEO, a head of customer support, or support agent you have a single and complete view of your customer and the right insights to take action at each altitude.
It's intelligent, like a crystal ball for experience management, that saves you time and money with machine learning and automation to deliver predictive insights, to the right change agent, at the right time. So if you're an HR representative for example, you can receive notifications of trending topics and sentiments around key issues like DE&I or safety within your organization, enabling you to step in and take action before they become issues.
It's adaptive, driving speed and agility and scaling experience-centric cultures across organizations through purpose-built solutions, a flexible and highly customizable platform, and unmatched integrations into the systems your organization uses every day. Whether you're a site manager looking to set up a feedback program or a product manager setting up a product review program, we have purpose-built XM solutions to help you get your program off the ground effectively and efficiently.
It's trusted, because it does all of this, while reducing your risk exposure through enterprise-grade security, compliance and governance.
As the way we work continues to adapt, new expectations will arise, and people will demand new experiences from the companies they work for and buy from. XM/OS is the only system that helps you keep your gaze on what's ahead while continuously actioning on the now through an empowered, experience-centric organization.
Learn more about XM/OS or book a demo to see how it works.
Book a demo to see how XM/OS works