Experience Management
COVID-19 has changed how we do everything – here's how Conjoint and MaxDiff can help you respond
Life as we knew it before COVID-19 will take time to return, and even when it does we're likely to be in a 'new normal', as the crisis impacts consumer behaviors going forward. Find out how Conjoint/MaxDiff can help you use real-time feedback to develop the products and services your customers need both now, and as you emerge from the other side of the coronavirus crisis.
In a matter of weeks, COVID-19 has completely changed society, and most likely will continue to shape new behaviors and norms in the months and years to come.
People are changing the way they shop, how they can travel, where they eat, how they work, and how they stay in contact with loved ones.
In short, our priorities have shifted — and no one knows for how long.
Across every industry, how you respond to the crisis and these seismic shifts in behavior will have a lasting impact on how your brand comes out the other side.
Our Conjoint/MaxDiff tool can help you collect and analyze data to make critical business decisions, rooted in scientific values and shaped by your values, to respond to these challenges.
It puts respondents through real-world experiences that are extremely familiar to them to gauge their interest in various product attributes.
By leveraging the native instincts we all have, it yields incredibly accurate and insightful findings on selection and trade-off behavior, helping you to identify the actions to take to pivot your business in response to changing consumer behaviors.
Learn how conjoint analysis and MaxDiff work
Here's our guide to how Conjoint/MaxDiff can help in your industry.
Retail
Conjoint is a powerful tool to research benefits, customer loyalty/rewards programs, feature prioritization, packages and deals, — and in the current crisis, there are two key areas where the insights generated can help retailers adapt to changing behaviors:
Switching to digital experience — as brands shift rapidly to take their operations online during the crisis, there are inevitably going to be consumer trade-offs.  Conjoint/MaxDiff can help you manage those trade-offs from physical to digital with ease, showing you the relative value of your brand as well as the role that brand plays in purchase decisions and perception.
Customer care – Conjoint/MaxDiff can help improve your support and care operations, with insight into what components of your customer care program are most important to your users, as well as what elements they'd be willing to pay more for.
Hospitality
Food and beverage companies, cruise lines, airlines, and hotels are facing some unique challenges as people are forced to stay home. Even as restrictions are gradually lifted, there's likely to be longer term impacts on how consumers interact with the hospitality industry.
Conjoint/MaxDiff is a vital tool to help you understand how consumers' needs are changing and make decisions going forward that solidify trust in your brand:
Customer loyalty — identify what to prioritize in your customer loyalty programs from rewarding customers, to future deals and expanding user credit with additional perks.
Product innovation — innovate and adapt to market changes by checking in with your customers regarding menu changes, new hours, staffing changes, and new product offerings such as 'staycation' services.
Building future deals and packages — with the insights that conjoint provides, you can gauge the price sensitivity and price elasticity of various offerings.  Real life trade-offs typically involve evaluating perceived value vs the price being charged, and so price is included as a key attribute in most conjoint analysis studies.
Tailoring packages for maximum ROI - hospitality offerings usually involve a matrix of different features and services, and so it's essential to understand how consumers respond to different combinations. Conjoint Preference Share extends the benefits of conjoint analysis to go beyond just which combinations are preferable, but which options within each offering are the most effective. It's a great way to forecast demand and tailor your packages to find the right balance between customer demand and high ROI.

Retail Banking and Financial Services
Just like the retail industry, financial services companies are pivoting more to digital offerings during the current crisis, and once again conjoint/MaxDiff has a key role to play in helping you take the right actions:
See how market changes impact products — see how the development of new products, tools and services will be impacted under different economic conditions 
Understand and close product gaps — identify what products customers may need in a changing market, as well as see the impact of changes to your digital interface on your key customer metrics.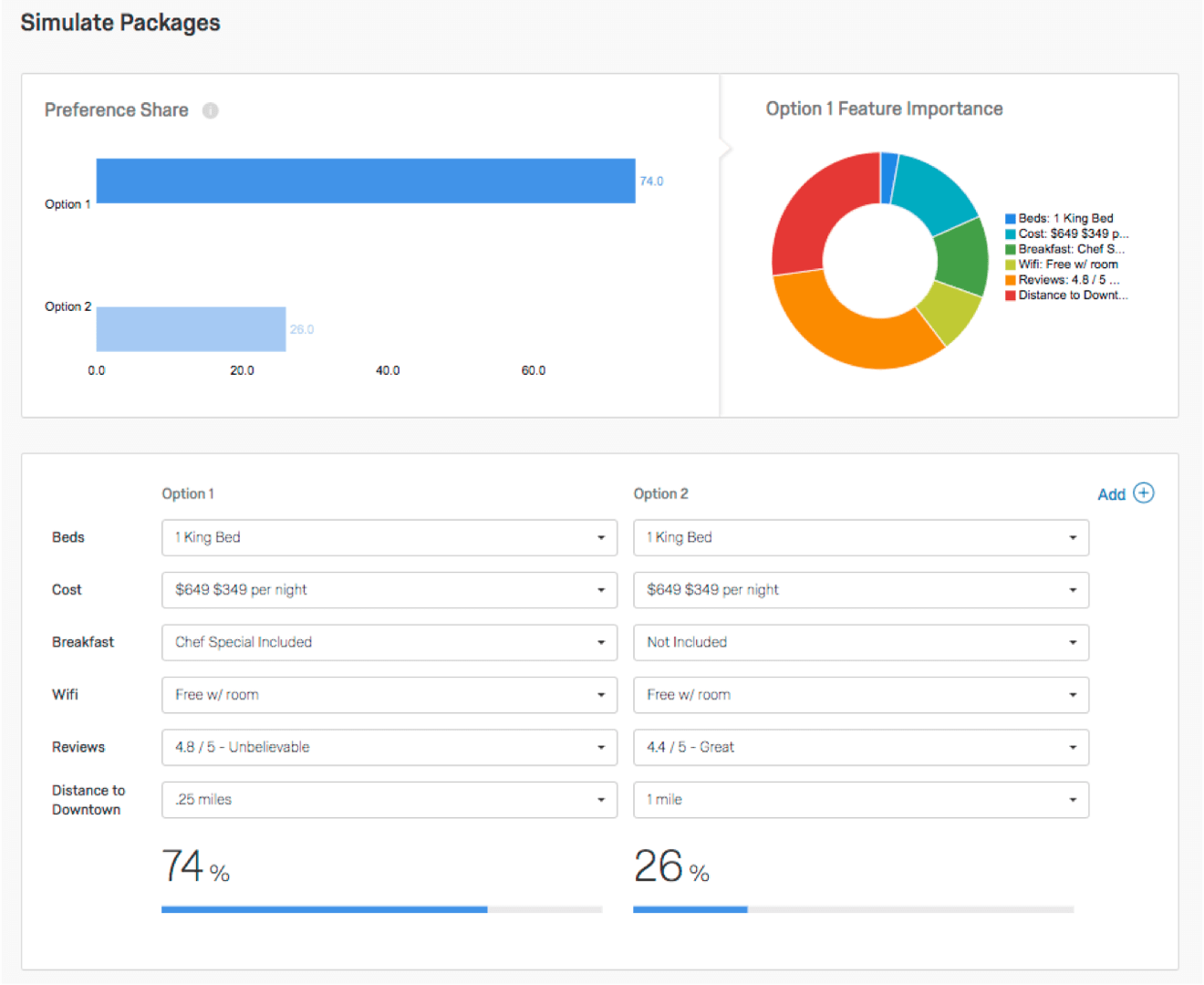 Experience Management — your key to taking action during a crisis
Conjoint/MaxDiff is just one tool in your armory when it comes to responding to a crisis using Experience Management (XM) and delivers vital intelligence on which to base your decisions and actions going forward.
It starts with stepping in and listening to what your customers are saying at every touchpoint, monitoring sentiment and taking action to respond to their concerns.
As customers' priorities and behaviors change as the crisis evolves, it's vital to maintain that listening, and use tools like Conjoint/MaxDiff to identify emerging signals on the horizon that can inform the actions you take as you ramp up to return and we enter a 'new normal'.
At Qualtrics, we've opened up a number of our XM Solutions for free, to any business to help navigate your way through the crisis and take the actions you need to emerge stronger into the next phase.
Check out our free COVID-19 XM Solutions