---
What is inclusive leadership?
Inclusive leadership is all about actively encouraging communication and collaboration with every member of the team when making decisions and solving problems. A diverse team is a treasure trove of knowledge and experience, and inclusive leaders use every team member's perspective to ensure tasks are successful.
Inclusive leaders are aware of their biases — but they counteract them by listening to and taking into consideration the views of other people: employees, peers, direct reports, colleagues and collaborators. These leaders are effective and confident, but they don't let their egos get in the way of working collectively with their team.
And guess what? An inclusive leadership style goes down well with most employees. After all, who doesn't enjoy being listened to and consulted on professional matters?
And an inclusive leadership style is not only great for everyone to work with, it delivers solid business results. Research shows, according to one study, that organizations with diverse and inclusive teams are:
70% more likely to corner new markets
36% more likely to outperform profitability targets
75% quicker getting goods and services to market
19% more innovative
Free eBook: How to be an inclusive leader
What does inclusive leadership look like in a business?
Dr Terri Cooper, formerly Principal and Chief Inclusion Officer of Deloitte Consulting, identifies  four global business megatrends that companies must take into account to keep a competitive advantage:
Diversity of markets: Emerging markets responding to a surge in demand.
Diversity of customers: Customer expectations and demographics are changing.
Diversity of ideas: the nature of competition and consumption is changing, with disruptors taking advantage of deregulation, technology and connectivity to challenge traditional business models.
Diversity of talent: Age and education profiles, as well as post-pandemic expectations of hybrid working, equal opportunities, remote global mobility and work/life balance mean a wider talent pool.
With these challenges, it makes sense that companies need a diverse workforce with inclusive leadership to navigate the future of work. When done effectively, inclusivity increases the group's overall intelligence as it draws on different identities, ideas, and knowledge to solve problems and develop the best employee experience possible.
The benefits of inclusive leadership for a business are:
Innovation developed using every team member's knowledge and experience
More diverse perspectives as every employee's voice is heard
Better workplace relations because of open and safe communication
Happier, engaged employees who feel listened to, valued, and that they belong
Trust built between teams and their leaders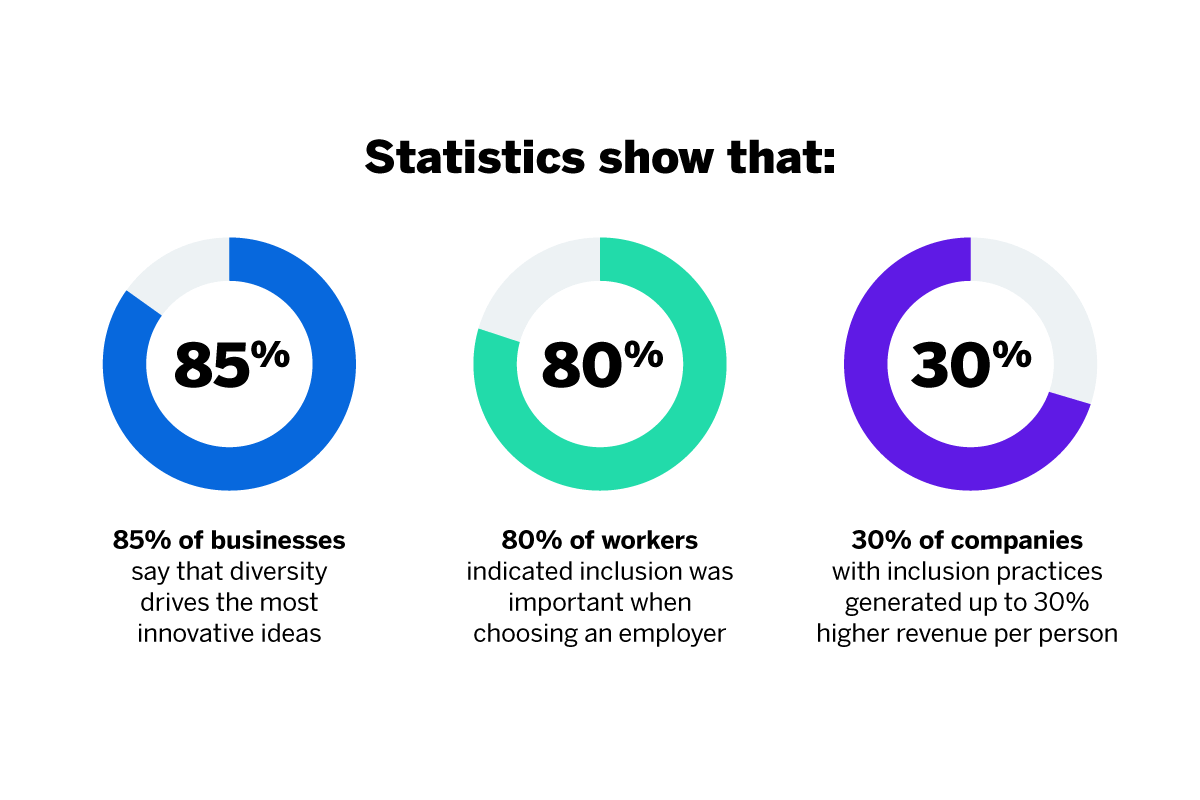 The 'Six C's' – signature traits of inclusive leadership
Luckily, there's a formula you can follow to make sure you're on track with your inclusive leadership development:
1. Commitment
Staying the course with inclusivity isn't easy, but it's essential. Bring it up at management meetings, absorb it into business plans, set it as a business priority target, measure it, and then take action on the data. Leaders also need to commit to taking responsibility for the task and believe in change and improvement. Truly committed inclusive leaders succeed because diversity and inclusion objectives align with their own values, so they can also see the business benefits.
2. Courage
Diversity, equity and inclusion legislation is a result of people being courageous and standing up to an unfair status quo — but it still takes courage to point out mistakes, imperfections, inequalities, outdated attitudes and behaviors that are non-inclusive. Some may consider this professionally risky, but true leaders will speak up for inclusion.
And with courage comes humility – inclusive leaders will acknowledge their vulnerability, limitations, weaknesses, and mistakes, reaching out to their diverse teams to help them better understand and lead with sensitivity and empathy.
3. Cognizance of unconscious bias
We all carry personal biases — whether from our upbringing, education, family and friends, or life experiences. The important thing is that we recognize our own biases and are aware of our own behaviors, attitudes towards and treatment of others, and exercise self-control.
Inclusive leaders acknowledge their biases, put processes in place to ensure they don't influence decisions about other people and implement decision-making processes that are informed, transparent and consistent. Inclusive leaders are able to take emotional intelligence up a gear to emotional maturity.
4. Curiosity
Everyone has a background, a story, likes and dislikes, norms and values — and inclusive leaders do their best to learn more about each employee, from what they need to produce their best work to what makes them tick.
Leaders do this by non-judgmental listening, respectful questioning, asking for opinions and feedback, and including diverse perspectives when innovating and decision-making.
5. Cultural intelligence
Curiosity leads naturally to cultural intelligence, another important trait of an inclusive leader. Taking an interest in the cultures of their team, and being willing to adapt behavior appropriately with people from different cultural backgrounds helps achieve harmony.
Inclusive leaders actively look for opportunities to engage positively with other cultures and use the knowledge gained to make everyone celebrate their cultural differences and feel they belong.
6. Collaboration
A diverse thinking team has its own 'group intelligence' and is greater than the sum of its parts. To tap into the power of group intelligence, an inclusive leader will:
empower individuals to feel they can speak up and contribute
ensure a safe environment where people feel comfortable
give freedom to handle situations in their own way
assemble teams who will work respectfully together
anticipate conflicts
take appropriate action if conflicts occur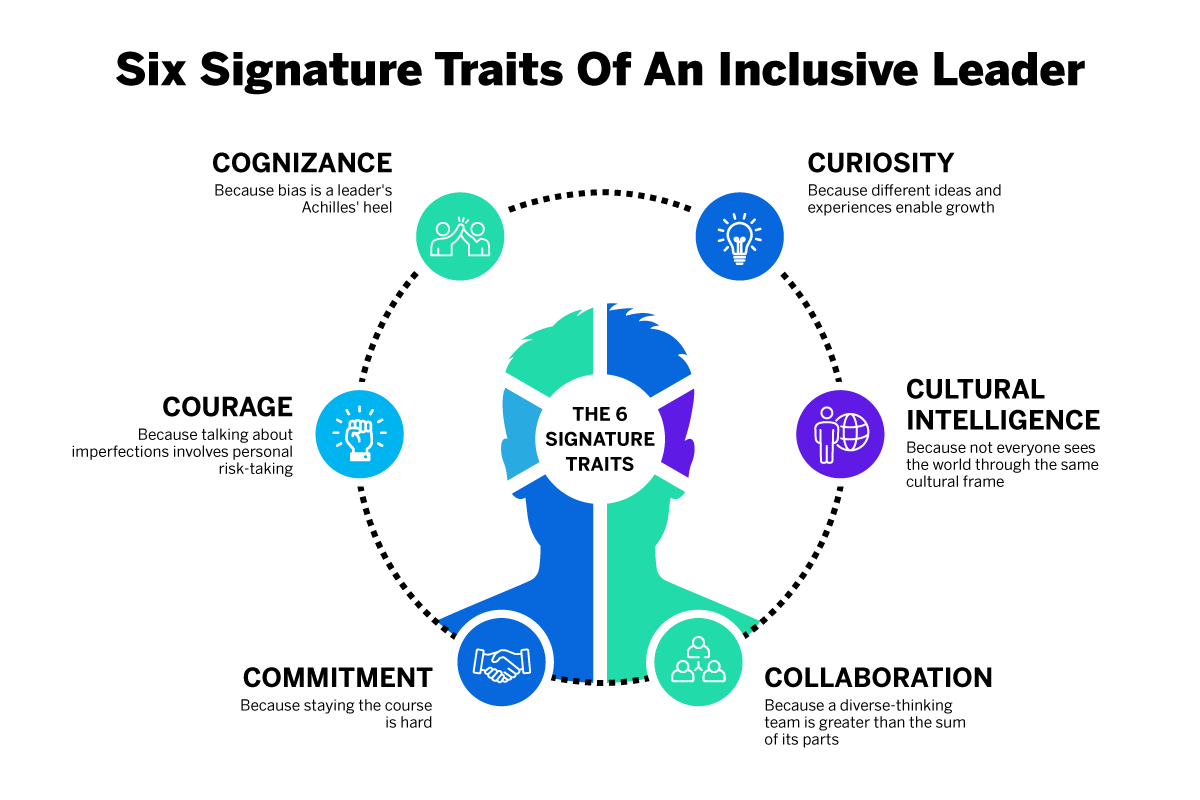 How to encourage leaders to be more inclusive
Managers are the people who can make (and, we hope, not break) a culture of inclusion and belonging. They're uniquely positioned to model inclusion, helping to cultivate and sustain a diverse workforce where everyone feels they belong.
Sure, your managers can attend a one-hour seminar on 'how to be an inclusive leader', but it's significantly better if inclusivity is woven into the whole tapestry of your organization.
Encourage business leaders to:
Make diversity and inclusion a personal priority
Focus on awareness of personal biases, and humility
Build authentic social connections with individuals and groups different from themselves
empower and develop others and foster opportunities for creativity and innovation
Use inclusive language that makes people feel included, safe, and that they are all working towards a common goal
Include diverse voices in decision-making, so that all voices, perspectives, and personalities, are involved in decisions that affect the team
Take a listen-first approach, then observe and act
Demonstrate an open mindset and a keen curiosity about others.
How can you measure inclusive leadership?
As we've seen, listening is one of the most important things an inclusive leader can do. And listening to your employees' experience is easily done through surveys: engagement surveys that gauge employee experience, pulse surveys that tackle specific issues, and 360 surveys  that measure leadership competencies.
Even better, a tailored DEI solution that runs either as a standalone program or is embedded into your current employee experience program will give you accurate metrics about the effectiveness of  your inclusive leadership. An embedded DEI solution can integrate with your people analytics tools and show how inclusive your company is.
By focusing on underrepresented groups, you can identify attrition, absence rates, promotion rates, bullying and harassment complaints, gaps in training and opportunities and other critical insights. The best solutions further enable you to identify the actions that have the highest impact on driving powerful, measurable, and systemic change.
Questions to ask in a survey for inclusive leadership
A good DEI survey will use a Likert scale (strongly agree, agree, neither agree nor disagree, disagree and strongly disagree). It'll typically include questions on fairness and equality, belonging, diversity, comfort, management support, promotion opportunities, thoughts and opinions, and attitudes to discrimination and harassment.
Ensure you include these three pivotal questions:
I can be myself at work
I feel as if I belong at this company
I believe everyone can succeed at this company and realize their full potential here, no matter who they are or where they are from
Answers to these three questions will give you a sense of how much employees feel they belong. Belonging is the Holy Grail of employee experience, and the higher the scores, the more effective your inclusive leadership.
Inclusive leadership traits: what to look for when hiring
Obviously, the perfect candidate with inclusive leadership behaviors will demonstrate all the 6Cs. Nobody's perfect, but if someone ticks the following boxes, recruit them quickly.
Visible commitment
A candidate should demonstrate an authentic commitment to DEI, making it a personal priority, willing to challenge the status quo, cultural stereotypes, and hold others accountable. They're willing to celebrate diverse teams, foster engagement, and build shared goals.
Humility
Modest about their capabilities, this person admits to and owns their mistakes, and creates space for others' contributions. They leave their ego at the door and champion great ideas regardless of who came up with them.
Listening with empathy
This person listens at every opportunity to hear from different sources or types of diversity. They openly welcome cross-cultural interactions and value different perspectives and experiences.
Deep self-awareness
This person takes personal responsibility for their own limitations, biases, and gaps in their knowledge, and supports others to do the same.
Curiosity about others
Here's an open-minded person who wants to understand their diverse teams without judgment and with empathy.
Cultural intelligence
This candidate has a broad worldview and is attentive to other people's cultures and beliefs. You can rely on them to behave appropriately with cultural intelligence when interacting with diverse employees, clients, and customers.
Effective collaboration
This person gets people working together by empowering them, embracing the diversity of thought and psychological safety, and focusing on team cohesion.
Enhance inclusivity across your organization
In our eBook on How to be an inclusive leader, we explore how you can make meaningful progress on your inclusion initiatives and build the future of work. It isn't just about developing a look-good, feel-good strategy — it's about making inclusion a key differentiator and driver of positive employee performance and change.
Download our ebook and learn:
3 dimensions of inclusive leadership
How to build and develop inclusive teams
Guidelines for more inclusive decision-making and meeting etiquette
What it means to be an anti-racist leader