---
Primary vs secondary research: in a nutshell
The essential difference between primary and secondary research lies in who collects the data.
Primary research definition
When you conduct primary research, you're collecting data by doing your own surveys or observations.
Secondary research definition:
In secondary research, you're looking at existing data from other researchers, such as academic journals, government agencies or national statistics.
Free Ebook: The Qualtrics Handbook of Question Design
When to use primary vs secondary research
Primary research and secondary research both offer value in helping you gather information.
Each research method can be used alone to good effect. But when you combine the two research methods, you have the ingredients for a highly effective market research strategy. Most research combines some element of both primary methods and secondary source consultation.
So assuming you're planning to do both primary and secondary research – which comes first? Counterintuitive as it sounds, it's more usual to start your research process with secondary research, then move on to primary research.
Secondary research can prepare you for collecting your own data in a primary research project. It can give you a broad overview of your research area, identify influences and trends, and may give you ideas and avenues to explore that you hadn't previously considered.
Given that secondary research can be done quickly and inexpensively, it makes sense to start your primary research process with some kind of secondary research. Even if you're expecting to find out what you need to know from a survey of your target market, taking a small amount of time to gather information from secondary sources is worth doing.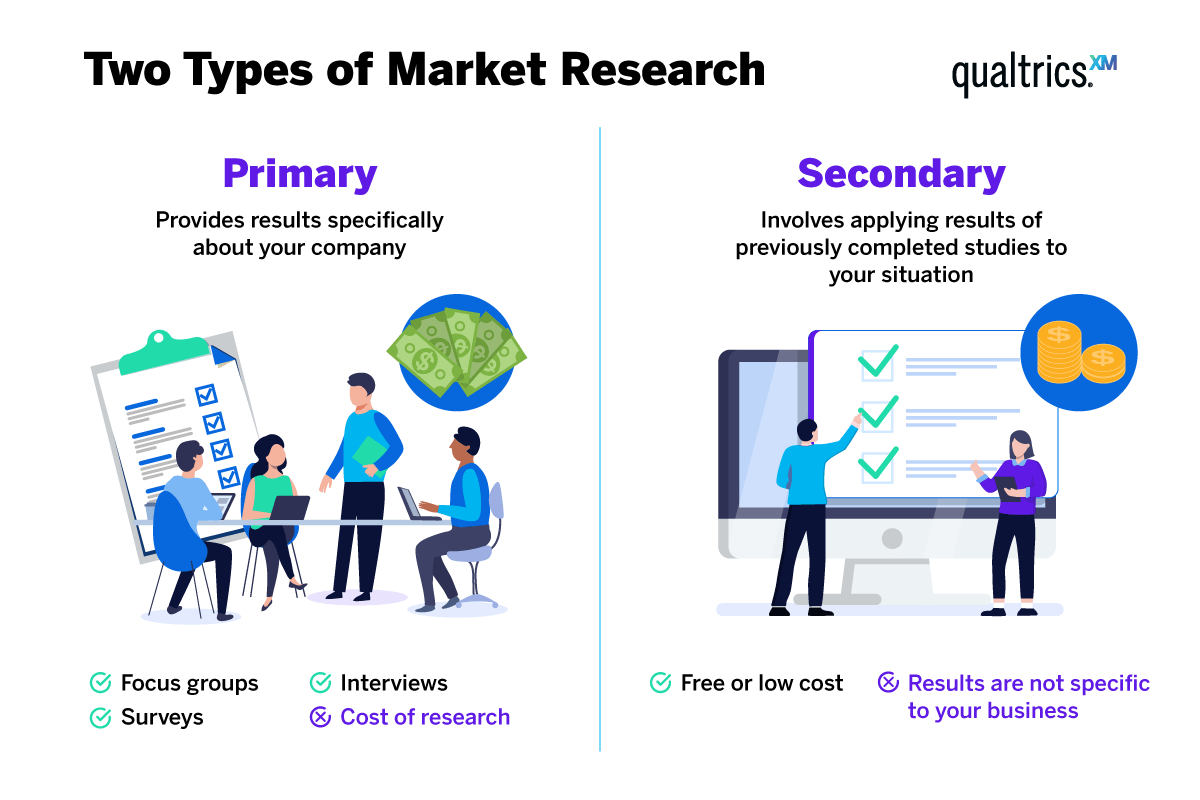 Primary research
Primary market research is original research carried out when a company needs timely, specific data about something that affects its success or potential longevity.
Primary research data collection might be carried out in-house by a business analyst or market research team within the company, or it may be outsourced to a specialist provider, such as an agency or consultancy. While outsourcing primary research involves a greater upfront expense, it's less time consuming and can bring added benefits such as researcher expertise and a 'fresh eyes' perspective that avoids the risk of bias and partiality affecting the research data.
Primary research gives you recent data from known primary sources about the particular topic you care about, but it does take a little time to collect that data from scratch, rather than finding secondary data via an internet search or library visit.
Primary research involves two forms of data collection:
Exploratory research
This type of primary research is carried out to determine the nature of a problem that hasn't yet been clearly defined. For example, a supermarket wants to improve its poor customer service and needs to understand the key drivers behind the customer experience issues. It might do this by interviewing employees and customers, or by running a survey program or focus groups.
Conclusive research
This form of primary research is carried out to solve a problem that the exploratory research – or other forms of primary data – has identified. For example, say the supermarket's exploratory research found that employees weren't happy. Conclusive research went deeper, revealing that the manager was rude, unreasonable, and difficult, making the employees unhappy and resulting in a poor employee experience which in turn led to less than excellent customer service. Thanks to the company's choice to conduct primary research, a new manager was brought in, employees were happier and customer service improved.
Examples of primary research
All of the following are forms of primary research data.
Primary research methods
There are a number of primary research methods to choose from, and they are already familiar to most people. The ones you choose will depend on your budget, your time constraints, your research goals and whether you're looking for quantitative or qualitative data.
Surveys
A survey can be carried out online, offline, face to face or via other media such as phone or SMS. It's relatively cheap to do, since participants can self-administer the questionnaire in most cases. You can automate much of the process if you invest in good quality survey software.
Interviews
Primary research interviews can be carried out face to face, over the phone or via video calling. They're more time-consuming than surveys, and they require the time and expense of a skilled interviewer and a dedicated room, phone line or video calling setup. However, a personal interview can provide a very rich primary source of data based not only on the participant's answers but also on the observations of the interviewer.
Focus groups
A focus group is an interview with multiple participants at the same time. It often takes the form of a discussion moderated by the researcher. As well as taking less time and resources than a series of one-to-one interviews, a focus group can benefit from the interactions between participants which bring out more ideas and opinions. However this can also lead to conversations going off on a tangent, which the moderator must be able to skilfully avoid by guiding the group back to the relevant topic.
Secondary research
Secondary research is research that has already been done by someone else prior to your own research study.
Secondary research is generally the best place to start any research project as it will reveal whether someone has already researched the same topic you're interested in, or a similar topic that helps lay some of the groundwork for your research project.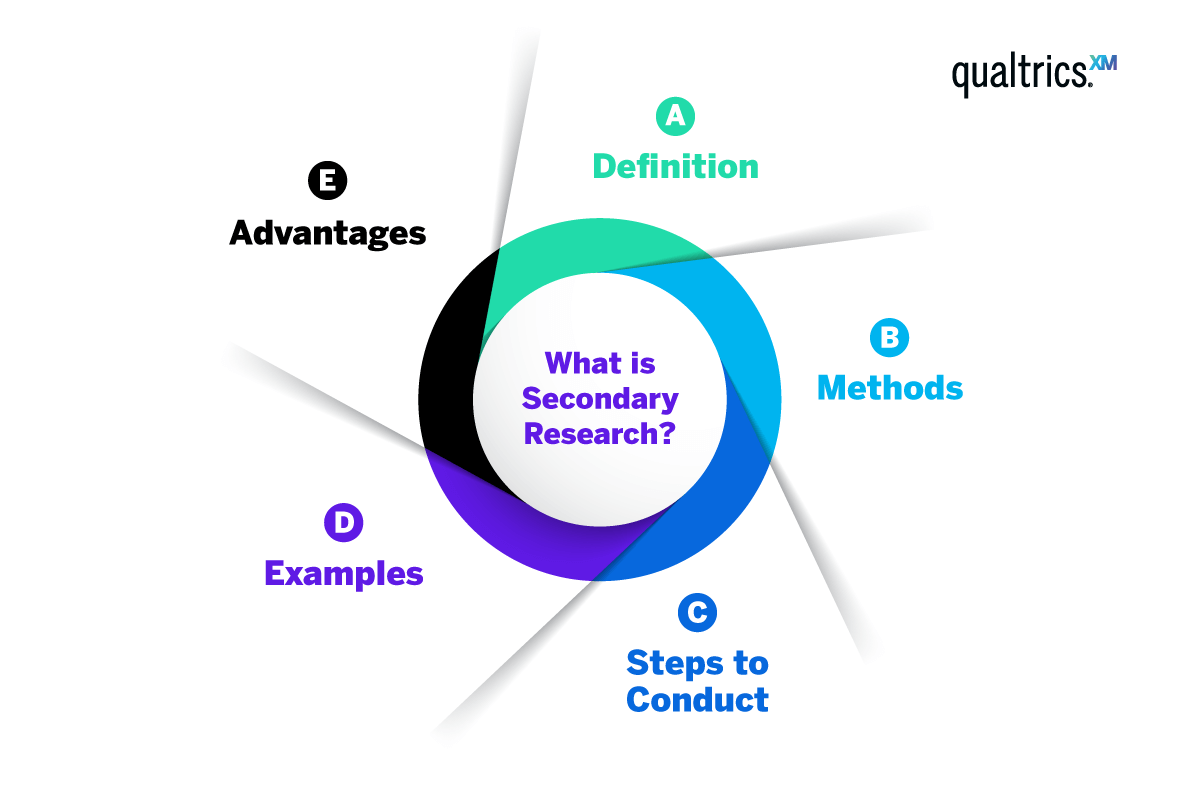 Even if your preliminary secondary research doesn't turn up a study similar to your own research goals, it will still give you a stronger knowledge base that you can use to strengthen and refine your research hypothesis. You may even find some gaps in the market you didn't know about before.
The scope of secondary research resources is extremely broad. Here are just a few of the places you might look for relevant information.
Books and magazines
A public library can turn up a wealth of data in the form of books and magazines – and it doesn't cost a penny to consult them.
Market research reports
Secondary research from professional research agencies can be highly valuable, as you can be confident the data collection methods and data analysis will be sound
Scholarly journals, often available in reference libraries
Peer-reviewed journals have been examined by experts from the relevant educational institutions, meaning there has been an extra layer of oversight and careful consideration of the data points before publication.
Government reports and studies
Public domain data, such as census data, can provide relevant information for your research project, not least in choosing the appropriate research population for a primary research method. If the information you need isn't readily available, try contacting the relevant government agencies.
White papers
Businesses often produce white papers as a means of showcasing their expertise and value in their field. White papers can be helpful in secondary research methods, although they may not be as carefully vetted as academic papers or public records.
Trade or industry associations
Associations may have secondary data that goes back a long way and offers a general overview of a particular industry. This data collected over time can be very helpful in laying the foundations of your particular research project.
Private company data
Some businesses may offer their company data to those conducting research in return for fees or with explicit permissions. However, if a business has data that's closely relevant to yours, it's likely they are a competitor and may flat out refuse your request.
Learn more about secondary research
Examples of secondary research data
These are all forms of secondary research data in action:
A newspaper report quoting statistics sourced by a journalist
Facts from primary research articles quoted during a debate club meeting
A blog post discussing new national figures on the economy
A company consulting previous research published by a competitor
Secondary research methods
Literature reviews
A core part of the secondary research process, involving data collection and constructing an argument around multiple sources. A literature review involves gathering information from a wide range of secondary sources on one topic and summarizing them in a report or in the introduction to primary research data.
Content analysis
This systematic approach is widely used in social science disciplines. It uses codes for themes, tropes or key phrases which are tallied up according to how often they occur in the secondary data. The results help researchers to draw conclusions from qualitative data.
Data analysis using digital tools
You can analyze large volumes of data using software that can recognize and categorize natural language. More advanced tools will even be able to identify relationships and semantic connections within the secondary research materials.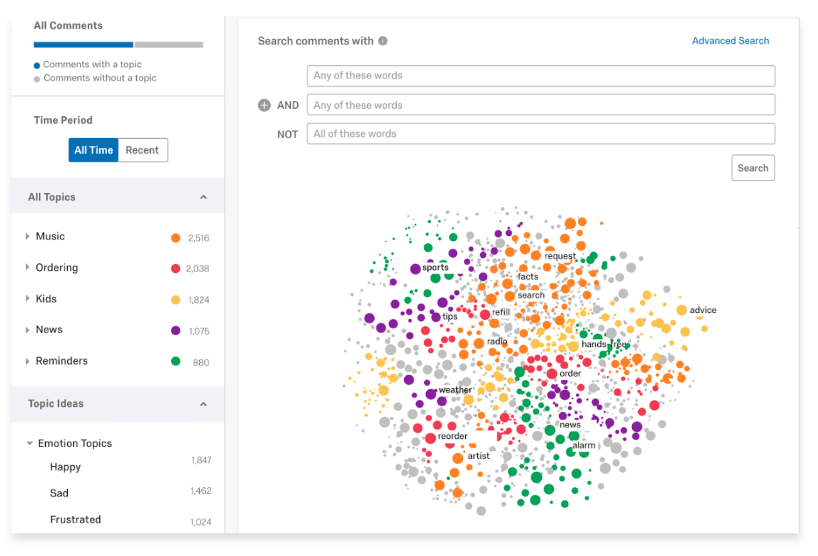 Comparing primary vs secondary research
We've established that both primary research and secondary research have benefits for your business, and that there are major differences in terms of the research process, the cost, the research skills involved and the types of data gathered. But is one of them better than the other?
The answer largely depends on your situation. Whether primary or secondary research wins out in your specific case depends on the particular topic you're interested in and the resources you have available. The positive aspects of one method might be enough to sway you, or the drawbacks – such as a lack of credible evidence already published, as might be the case in very fast-moving industries – might make one method totally unsuitable.
Here's an at-a-glance look at the features and characteristics of primary vs secondary research, illustrating some of the key differences between them.
| Primary research | Secondary research |
| --- | --- |
| Self-conducted original research | Research already conducted by other researchers independent of your project |
| Qualitative and quantitative research | Qualitative and quantitative research |
| Relatively expensive to acquire | Relatively cheap to acquire |
| Focused on your business' needs | Not focused on your business' needs (usually, unless you have relevant in-house data from past research) |
| Takes some time to collect and analyze | Quick to access |
| Tailored to your project | Not tailored to your project |
What are the pros and cons of primary research?
Primary research provides original data and allows you to pinpoint the issues you're interested in and collect data from your target market – with all the effort that entails.
Benefits of primary research:
Tells you what you need to know, nothing irrelevant
Yours exclusively – once acquired, you may be able to sell primary data or use it for marketing
Teaches you more about your business
Can help foster new working relationships and connections between silos
Primary research methods can provide upskilling opportunities – employees gain new research skills
Limitations of primary research:
Lacks context from other research on related subjects
Can be expensive
Results aren't ready to use until the project is complete
Any mistakes you make in in research design or implementation could compromise your data quality
May not have lasting relevance – although it could fulfill a benchmarking function if things change
What are the pros and cons of secondary research?
Secondary research relies on secondary sources, which can be both an advantage and a drawback. After all, other people are doing the work, but they're also setting the research parameters.
Benefits of secondary research:
It's often low cost or even free to access in the public domain
Supplies a knowledge base for researchers to learn from
Data is complete, has been analyzed and checked, saving you time and costs
It's ready to use as soon as you acquire it
Limitations of secondary research
May not provide enough specific information
Conducting a literature review in a well-researched subject area can become overwhelming
No added value from publishing or re-selling your research data
Results are inconclusive – you'll only ever be interpreting data from another organization's experience, not your own
Details of the research methodology are unknown
May be out of date – always check carefully the original research was conducted