Employee Experience
How to build a benefits program with employee feedback
In a recent survey by Glassdoor, 60% of people said that benefits and perks were a big factor for them when considering a new job offer. And 80% of employees said they'd choose additional benefits over a pay rise.
The obvious follow-up question for any HR team is: what benefits do people want? For example, what's actually equitable to a salary rise? Free breakfast every day, a better dental plan, flexible working?
The problem's compounded by the fact that every industry, company and employee is different, so it's impossible to find an objective list of the top benefits. That's why the best HR teams in the world are taking things into their own hands and building bespoke plans that are just right for their employees.
At the X4 Summit, Blackrock explained how his team had taken such an approach. In the last few years, Blackrock humanized its talent strategy and built a benefits program based on employee needs. Off the back of a survey that achieved a 60% survey response rate, they built an entire 3-year benefits strategy.
If you want to watch the entire X4 session from Matt Breitfelder, Chief Talent Officer at Blackrock, click here.
Here are the steps you can follow to do something similar.
1. Ask for feedback (and ask the right questions)
Obviously, the first step in building an employee benefits program based on what your employees want is asking for their feedback. But how you do it is important.
When asking your employees about which benefits they'd like, you should limit choices to what you as a company can actually offer. Because you can quickly lose your employees' trust when they ask for a certain benefit, and the company fails to deliver it. For example, improved healthcare plans may not be on the cards right now due to cost. So it's best to not ask your employees if they want it.
However, that doesn't stop you gathering suggestions in open-ended questions, as it can signal to you where you should go in future. Or unearth benefits your HR team hadn't considered but which are very doable.
2. Analyze the responses and weigh the costs & benefits
It's impossible to deliver everything your employees want, whether that's because of the cost or the amount of time it'd take to implement.
So every HR team needs to prioritize what it chooses to offer employees. But it can be challenging to understand the relative impact and cost of each benefit. For example, would free breakfasts make people more productive or likely to stay? Would an improved dental plan cost a lot but not actually improve engagement that much?
In the past, that kind of analysis would have been a long and expensive consulting project. But now, you can identify the perfect benefits package in just three simple steps with the Qualtrics Benefits Optimizer. It's built on the same engine as our tools that help product designers design the perfect product, by analyzing the trade-offs people are willing to make. It means you can present a range of different benefit packages, ask employees which one they prefer, and then see your optimal package automatically created for you. It makes it faster and easier than ever to understand the perfect package to offer your employees.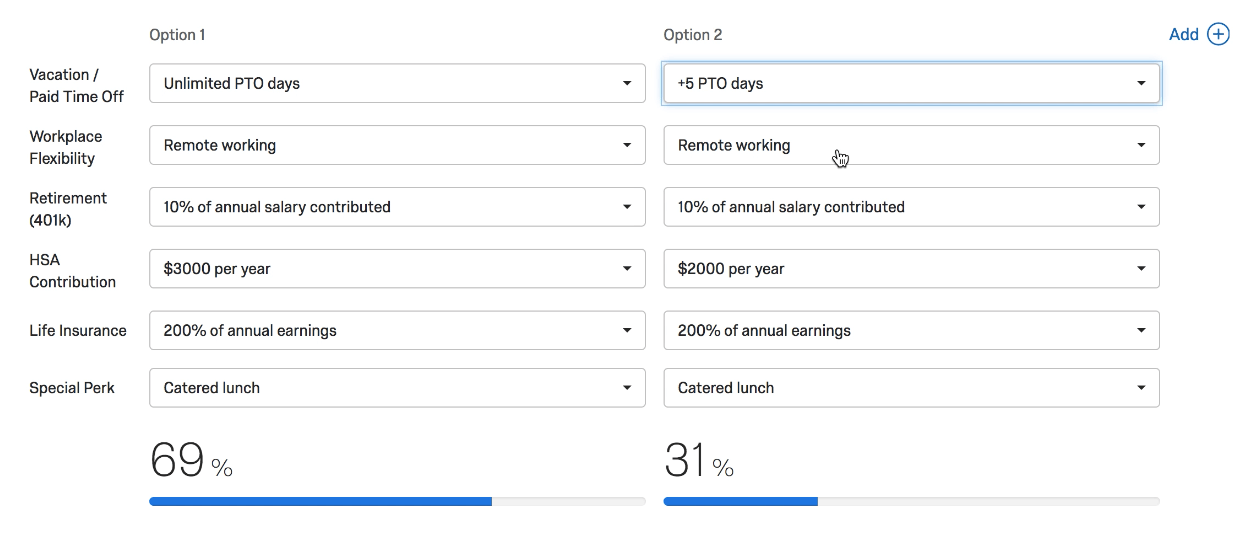 3. Make benefits specific to regions, departments and employees
You can layer in segmentation into your analysis, too. For example, do your 18-25-year-old employees prefer different benefits to your Baby Boomers? This kind of insight can help you build a more bespoke benefits plan for different employees at different stages of the employee lifecycle.
If you're not ready to personalize for different employees, consider doing it a department-level, or even just at a region-level.
Some regionalization will likely already be forced on you — for example, local regulations might mean you have to offer certain benefits in some countries. But in other cases you might identify the fact that different countries prioritize very different things, due to cultural and societal differences.
4. Get your comms right
How you communicate new and existing benefits is crucial to their ultimate success.
For example, Blackrock's retirement contribution plan used to have the snappy title "Company Retirement Contribution". In surveys, employees complained of either not understanding what the plan was, or not seeing its relevance to them. The company renamed it 401k Boost and saw a big uptick in employee contributions, with survey feedback suggesting it now sounded like a great perk.
5. Show results
All of this work can't happen behind the scenes. You need to show progress and showcase benefits that were created as a result of employee feedback. At Blackrock, any employee-inspired benefits or improvements are tagged with a 'You told us. We took action' sticker.
You could do something similar, pairing it up with strong leadership comms and cascading information to managers, so they can share feedback and actions with their teams.
If you want to watch the entire X4 session from Matt Breitfelder, Chief Talent Officer at Blackrock, click here. If you want to learn more about how Qualtrics can request a demo below. 
See how you can optimize your benefits with Qualtrics
Related articles