Employee Experience
Rethinking the candidate experience
With ever-changing employment trends impacted by the pandemic, how can you ensure you are constantly improving your candidate experience? See how our new way of thinking about the candidate acquisition process can improve your hunt for talent. 
Pandemic employment trends
The war for talent is back on in a big way. Where have all the Uber and Lyft drivers gone? Why can't restaurants seem to hire any bussers? Why are entry-level plumbers making over $200,000 a year in some boom markets? The effects of the pandemic have been widespread, and there are debates of whether there is actually a worker shortage, or whether current unemployment benefits are too attractive for some workers to pass up. This means that employers may need to hike salaries in order to attract people back to work.
Even though the unemployment rate has come down considerably since the beginning of 2021, labor market challenges are a major disruptive product of the Global Coronavirus Pandemic. A recent study from Pew Research Center outlined that 66% of unemployed workers seriously considered changing their field of work to one that is more stable and less likely to expose them to dangerous scenarios like COVID-19. So it may not be that there are no workers available, but rather all the deck chairs have now moved around and workers are not going back to their previous occupations.
Employment trends effect on business
As a consequence of the labor market disruption, companies seeking to hire top talent must demonstrate a heightened sense of commitment to prospective employees. This effort requires a level of transparency about who the company is, what they value, why they matter, and how they care about customers and employees alike. But it goes even further, in that it must also be accomplished in a way that is perceived as personalized, fair, clear, attractive, timely, and in a simple and seamless technological experience.
This is an important point because the candidate experience is largely rooted in rejection. So companies need to tell a candidate they are attractive, but mostly in a way to say "no, thanks" without having a negative impact on that candidate's brand loyalty or purchasing habits. Research from IBM Smarter Workforce Institute indicated that job applicants who do not receive a job offer are 80 percent more likely to apply again if they already had a positive impression of the hiring organization. Yet, to date, most employers have been ill-equipped to capture more high-quality data about their hiring process. This data would enable them to make better, smarter, and faster decisions about how they engage talent and increase their top-of-funnel numbers to ensure a fuller talent pipeline and to do so in a way that encourages interaction and feedback from candidates. This has been a real miss in these programs when one considers that research from Career Builder indicated that 65% of applicants would be less likely to buy from a company if they did not hear back following the interview.
Additional research from ERE.net suggests only an 8% click-to-apply ratio, meaning only 8% of candidates who look at the job will ultimately apply for it. This means in the absence of a more robust talent pipeline, the opportunities to solicit input about the efficacy of the recruiting and hiring process are severely truncated. This is particularly true if one considers how candidate experience has traditionally been measured - usually with a single survey administered toward the end of the hiring process.
This is largely problematic because it is a method that is wrought with bias and a lack of fidelity in obtaining actionable data. Let's explore this in more detail.
The Society of Human Resource Management (SHRM) indicates in their global benchmarking research that the average time to fill a position in 2021 is 36 days. Workable finds that for engineering candidates the average is 49 days. Consider that these are pre-COVID data, so it is likely much longer in 2021.
Candidate experience data collection
A lot can happen in several months. For example, one recruiter could go on holiday or parental leave resulting in a new recruiter to handle the balance of the process. If the engineering candidate receives a single survey toward the end of the process (i.e., post-offer) with a question that reads "My experience with my recruiter was positive" with a Strongly Disagree to Strongly Agree Likert-type scale and they had a great experience with the first recruiter and a poor experience with the second one - how will they respond? It is likely the candidate may split the difference and put in a neutral response, or potentially succumb to recency bias associated with the most current recruiter - which is providing no value to the candidate, the recruiter, the hiring manager, or the talent acquisition leaders.
Assume the same candidate happens to go through the process and receives an offer he or she likes - the potential for biased ratings is as strong there as giving the survey to a candidate who received an undesirable offer or was dismissed from the process. Again, we find ourselves asking candidates to provide data that may be weak at best and dangerous at worst, should a company make sweeping changes to its talent acquisition methods using low-quality data.
In 2020, Qualtrics teamed up with dozens of companies and their talent acquisition teams to combat three primary objections our clients were bringing to us: (1) Have a solid methodology and point of view about talent acquisition, (2) have content to help get the process started, and (3) have the right technology to be able to measure the right moments that matter across the entire candidate lifecycle. Below is how we have segmented the recruiting process based on feedback from these companies. In this model, we propose taking smaller, lighter-weight opportunities to engage candidates throughout the process as it occurs, rather than waiting until the very end.
Candidate acquisition process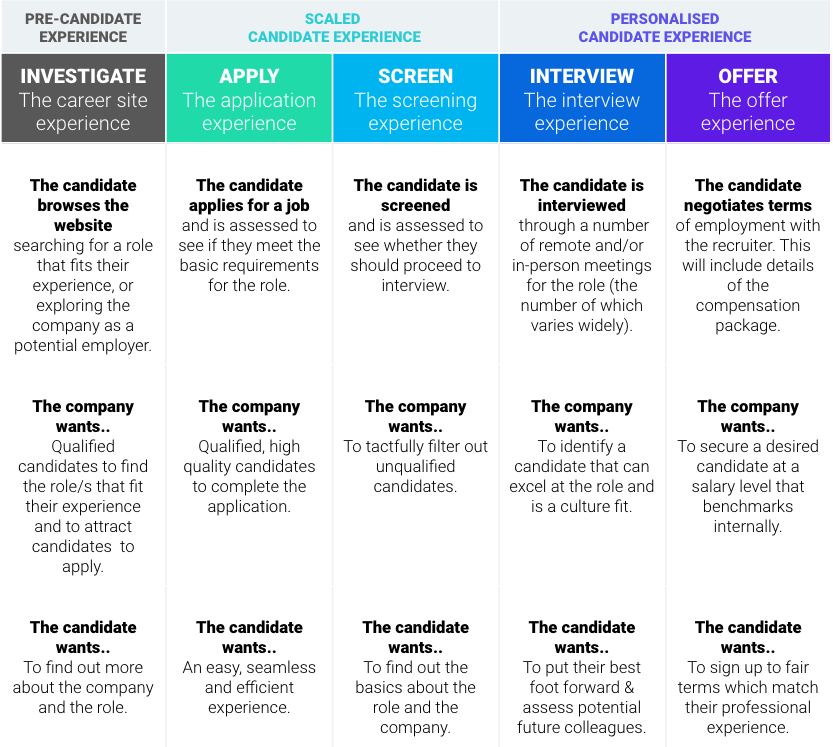 Why is this a better way of assessing and taking action on candidate experience? Current research indicates that 78% of employers think they do a good job setting expectations upfront and communicating with candidates, whereas only 47% of candidates agree (Career Builder). If one considers some conservative estimates of roughly 2% of people who apply getting hired for the job, let's consider how this plays out in the example below: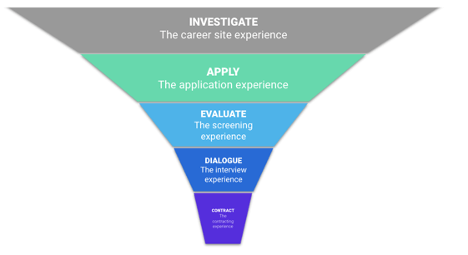 The old way
1000 job views > 80 applicants > 16 candidates > 5 finalists > offer survey > only 2 opportunities for feedback on the entire recruiting process
The new way
1000 job views > 1000 opportunities for Career Site feedback > 80 opportunities for application process feedback > 16 opportunities for Recruiter Feedback > 5 opportunities for Interview feedback > 2 opportunities for offer process feedback
By segmenting the recruiting process into its primary phases and capturing data at each phase, you increase the opportunities for gaining feedback across the process by over 550X, compared to a single, biased measurement at the end of the process. The gains from more useful data and verbatims supplied by candidates help uncover specifics on how to have a more attractive and positive process in the upper 3rd of the talent pipeline. This affords the opportunity to increase the odds of having more qualified finalists and hires.
Basic survey Best Practices rules still apply here, however - companies must be willing to take action on the results from which they are learning. Because there will be a shift from biased results that have historically been stacked in the favor of positive outcomes, companies should prepare to learn that perhaps their employer brand, career site, and application process, maybe aren't as good as they initially believed. But for those companies who want to gather data to help them evolve into next-level places of employment, this approach will yield a goldmine of data to perfect the process.
Improve your hiring process with our Candidate Experience Playbook