Customer Experience
When should customer satisfaction be measured?
Proper timing of customer satisfaction surveys depends on the type of product or service provided, the type and number of customers served, the longevity and frequency of customer/supplier interactions, and the intended use of the results.
Three very different approaches to measuring customer satisfaction exist. Each produces meaningful and useful results and are appropriate for different situations, uses, and needs.
1. Measuring customer satisfaction with post purchase evaluations
Post-purchase evaluations reflect the satisfaction of the individual customer at the time of product or service delivery (or shortly thereafter).
This type of satisfaction survey is typically used as part of CRM (Customer Relationship Management) and VOC (Voice of the Customer) systems. Each focuses on securing a long-term relationship with the individual customer.
2. Measuring customer satisfaction with periodic satisfaction surveys
Periodic satisfaction surveys provide an occasional snapshot of customer experiences and expectations and are conducted for specific groups of consumers on a periodic basis.
3. Measuring customer satisfaction with continuous satisfaction tracking
Continuous satisfaction tracking is often part of a management initiative to assure quality is at high levels over time.
Benchmarking satisfaction as an NPS (Net Promoter Score) would be an example. You can base tracking on post-purchase evaluations or a succession of regular customer satisfaction surveys (conducted daily, monthly, quarterly, etc.).
Moving forward...
Regardless of the approach, satisfaction surveys provide an understanding of customers' expectations and satisfaction.
They usually have multiple questions that address satisfaction on many different levels, such as overall satisfaction, satisfaction with different service providers from the organization, satisfaction with individual product and service attributes, and satisfaction with the benefits recorded as a result of purchase.
In fact, according to Mckinsey, improving aspects of the customer journey as mentioned above can have a big impact on the business overall.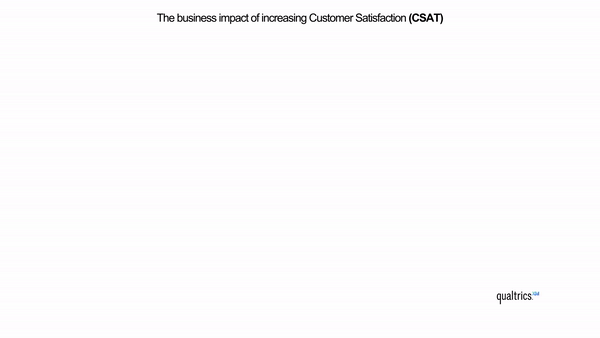 Satisfaction measurement is like peeling away layers of an onion-each layer reveals yet another deeper layer, closer to the core.
Qualtrics now offers XM Solutions, automated projects to make measuring the customer experience easier than ever. Each project includes a configuration wizard, expert-designed methodology, and automated reports.
We have projects for Transactional Customer Effort Score, Customer Satisfaction, Relationship NPS, Transactional NPS, and Event Feedback. These projects are included as part of your standard Qualtrics license.
Start measuring customer satisfaction with our free survey template