---
In the battle of the brands, you want yours to make a lasting impression on customers – both existing and potential. Getting your distinctive brand voice right is an essential part of creating a unique and strong brand.
And research shows that customers really notice what makes brands stand out on social media posts:
40% say: memorable content
33% say: distinct personality
32% say: compelling storytelling
Your brand voice can cover all those bases – when you get it right.
Free eBook: How to build a world-class brand tracker
What is brand voice? 
Brand voice is the unique personality that your brand presents to the world. It must run consistently through all your communications (social media, website, blog posts, emails, advertisements) no matter which teams are handling which channels, and it mustn't change.
For example, a company selling streetwear will adopt a voice with more urban slang than a company selling hiking outerwear, and one manufacturer of family estate cars will speak in a different brand voice from another manufacturer of two-seater sports cars.
Why does brand voice matter?
You want your company to endure. To go the distance, it will need to have a distinct sense of purpose, and loads of personality. You want customers to get to know, love, and remain loyal to your company's personality, as they would an old friend. And old friends generally remain constant; they don't chop and change their personality or do unexpected things. So you need to make your brand messaging consistent and repeatable so your customers continue to know and like what you're about – this is what brand voice does.
In the fast-moving digital world, logos, visual identity, and products can make your business stand out for only so long. Well-written content that expresses your brand can keep it in the spotlight for as long as possible. To do this, it needs the same care and attention from your content marketing team that your other teams devote to all other aspects of your brand.
What is the difference between brand voice and tone?
You know your oldest friend's personality: how they feel and react to things; what makes them laugh; what makes them cry; how they live their life. But you also know how they respond to life events, saying different things in different situations: at a party, at work, with parents, with children, in a crisis, at a funeral. This is their tone, which they adapt to each situation – their personality remains the same.
When you apply this analogy to your brand:
Brand voice: is your company personality. It is consistent across all channels and doesn't change.
Brand tone: is the emotional response of your brand voice. You make it appropriate to the situation that you're communicating or writing about. It demonstrates that you understand what your target audience is feeling, and can empathize appropriately.
Our tips for creating a strong brand voice
Don't be afraid of giving your brand a big personality: just make sure it's unique and appeals to your target audience. Your brand voice will convey that personality everywhere it speaks, in assets such as:
Advertising (online, TV, cinema, radio)
Company website
Social media posts
Internal communications
Emails
Video
Newsletters
Press and PR releases
In-store signs
Here's how to do it:
1.   Align brand voice with your company's mission statement and core values
Start with this document, as this defines your personality traits. You'll be able to identify specific pieces of vocabulary and phrases that you can reference to speak to your customers.
2.   Be authentic
86% of consumers say that authenticity is a key factor when deciding what brands they like and support. It's important to stay emotionally true to your brand's mission and core offerings as you develop your voice, rather than try to fit in with fleeting trends.
3.   Audit your current brand voice
You'll have your own methods of communicating with your target audience. Review every asset and pull out your top performers in terms of likes and interaction. Analyze why they resonate with your audience:
Do they speak your target audience's language?
How closely do they fit with your brand purpose and values?
Do they have themes and features in common?
Do they tap into trends or the zeitgeist?
Are they more interesting or written better?
Could they be improved even further?
Which successful aspects could be replicated across the whole brand voice?
4.   Identify your target audience 
You wouldn't use street slang to sell stairlifts to pensioners, and you wouldn't use phrases from the 1980s to sell skateboards to teenagers. You identify your target audience first so you can choose the appropriate language that resonates with them, and make people feel your brand is for them.
5.   Create buyer personas
Once you know who your target audience is, you can create buyer personas. These are fictitious characters, but they're drawn from your market research data as typical customers. They're influential in helping you create the right brand voice that will appeal to them. Think about:
What is the buyer like?
Do they like more serious or humorous content?
Do they listen to influencers?
Do they like short or long content?
6.   Survey your target audience
There's a very simple way to find out what your target audience thinks of your brand voice: ask them.
With our free Qualtrics Surveys Account you can easily send out short brand perception and customer feedback surveys, asking the following about your brand voice:
How would you describe [our brand]
What would [our brand] sound like, if it were a person?
Do you feel our tone of voice is appropriate?
7.   Create a house style guide for brand voice
This document, containing brand guidelines, will be your cross-departmental bible for making sure everyone is communicating consistently in the brand voice.
Consistent presentation of a brand can see revenue increase by 33%.
Within your style guide, draw up protocols for writing all your communication assets and make sure everyone has easy access to it. It's also worth running a training session or two on using brand voice for both your in-house and remote content creators.
We suggest you choose between 3 and 5 main characteristics that you want your brand voice to convey. Describe what you mean, then go further with do's and don'ts, and some best practice samples, so the writers know exactly what you want, as in the example below:
You can also create a tone framework, so the brand voice can come across whatever the context, e.g:
Media communications: authoritative, concise, clear, expert
Social media communications: playful, humorous, casual, empathetic, use emojis and GIFs
8.   Review and move with the times
Language and communication evolve rapidly; what sounded smart and sassy two years ago may sound dated today. Be prepared to review your brand voice regularly, maybe once a year, when rebranding products or services or when your marketing strategy takes a change of direction.
Free eBook: How to build a world-class brand tracker
Some examples of great brand voice
Harley Davidson 
Harley-Davidson traditionally appealed to men (although their campaigns are increasingly directed at women) who see themselves as a bit of a rebel, an outlaw, pushing against authority, and capable of handling a powerful machine. Harley's slightly sweary, to-the-point, aggressive brand voice captures the iconic Easy Rider vibe.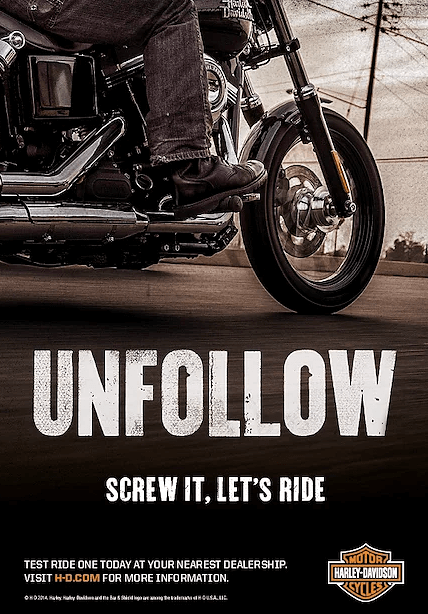 Source: https://creativepool.com/harleydavidson/projects/harley-davidson-print-campaign-for-harley-davidson
Skittles
Skittles are multi-colored candy, but their weird, wacky brand voice, absurd humor, and rainbow references elevates them to something different and memorable: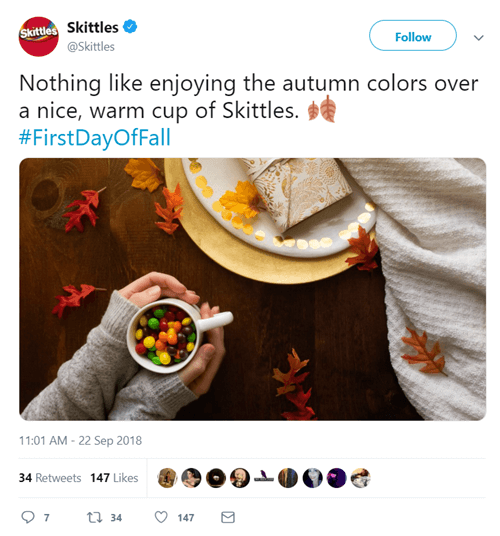 Source: https://www.insightsforprofessionals.com/marketing/leadership/brands-winning-unique-tone-of-voice
Slack
A messaging app for business that connects people and information, it's essential that Slack's brand voice is clear, warm, and human. They excel at conversational tones that are friendly and chatty, making the user feel included: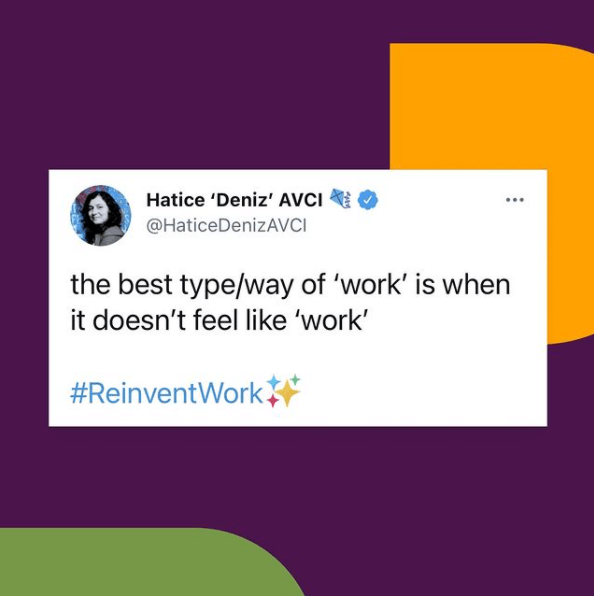 Source: Slack Instagram feed snip
In conclusion, once you've determined the essence of your brand, developed a voice that reflects it, and are consistent with that voice throughout all your communications, people will sit up and take notice of it.