---
What is brand monitoring?
Brand monitoring is the act of collecting and measuring mentions of your company or brand across as many channels and touchpoints as possible – with a view to turn them into useful data.
You can think of brand monitoring as the method for answering a deceptively simple question:
What do people think of our brand?
Feedback and brand mentions could come from social media networks, website articles and their comments, YouTube videos, or in more direct feedback via forms and contact center engagement.
Software-based brand monitoring tools are often used to collect and collate all these disparate pieces of information and combine them to deliver an overview of key metrics like brand reputation.
Brand monitoring can help you understand how marketing campaigns land, how your products are viewed in their segment, and how you're being perceived. So it's a major first step to making the right business decisions and reaching your brand goals.
But what are the concrete benefits of online brand monitoring, and why should you invest in brand monitoring tools?
Discover how Qualtrics can make brand monitoring easy
Why is brand monitoring important?
Keeping your ear to the ground across every touchpoint has several benefits, and will deliver feedback and insight that's vital when it comes to building brand recognition, brand awareness, brand sentiment, and brand loyalty. Staying relevant is also easier when you've got a firm fix on the dynamics of the markets you operate in.
Here are some examples of why brand monitoring is important:
Crisis management
Sometimes reputational crises occur that need to be combated urgently – miss your window and your brand sentiment could suffer in a way that's hard to row back from.
Online brand monitoring on a constant, real-time basis can help you identify these trending moments as they occur, and manage things before they escalate. With brand mentions and relevant keywords tracked not just across social media platforms, but across your customer feedback forms and more, you'll be able to see if a crisis is brewing.
Addressing customer pain points
Brand monitoring is a great way to highlight and fix customer pain points. If you're listening to what your customers are saying about you, you'll learn the areas of the purchasing journey that people have found tough.
Maybe the checkout process is so fiddly that people are tweeting about it. Maybe your delivery methods are eliciting feedback-form submissions. Effective brand monitoring will let you know, and imply direct actions as a result.
Building customer relationships
When you're listening to what your customers (and potential customers) are saying about you, you'll highlight opportunities to engage with them.
That might mean surfacing user-generated content (UGC) from brand-loyal advocates and fans that you can champion and share on your channels, or it could mean nurturing a greater sense of community by actively responding to conversations that are happening about you, rather than with you. The key is to monitor conversations and brand mentions proactively.
Building your brand reputation
Growing your brand's reputation is a slow, ongoing, and never fully completed process, but you won't know that you're making strides in the right direction unless you're actively monitoring sentiment online.
With a brand monitoring strategy in place, you'll be able to assign quantifiable values to things like brand reputation and track its growth over time.
Keeping an eye on the competition
You can monitor more than just your brand – you can also initiate brand monitoring on your competition as well. This allows you to see what your competition's customers are talking about, the pain points you can help resolve, and how to elevate your brand reputation beyond your peers'. Your competitive analysis will become richer with the addition of competitor brand mentions and the discussion around their business.
Capitalizing on opportunities
When you monitor your brand, you're able to better see opportunities as they develop and capitalize on them. Finding topics that are emerging that align with your brand values and creating products or services around them can help you to dial quicker into what your customers want. Sometimes these opportunities come from monitoring your competitor brands and see what their customers are missing from those experiences, and sometimes it's from monitoring what your own customers are talking about.
Making your money go further
By using brand monitoring, you can see how well your marketing has been received and find new topics to cover to help convince potential and current customers and clients to engage with your brand. Any information you can surface – preferences for product features, responses to marketing campaigns and more – can help you to craft better messaging, add targeted product lines and more. The more information you can glean and utilize, the better your audience will receive your output and the more likely it is that you preserve and grow your revenue.
What you should monitor
Knowing what to monitor is as important as knowing where to direct your focus. You can attain a fuller view of your brand's reputation, feedback, and share of voice by tracking the following:
Brand mentions, hashtags and product names
Perhaps the most obvious thing to listen for, but also the most important. Monitoring brand mentions will give you a clear view of every time you're directly referenced by customers and in the media. A higher volume of brand mentions usually indicates a better company share of voice, and contributes to higher brand visibility. Your social media share of voice is calculated solely on the mentions of your brand and products and the use of your brand hashtags.
Including product names in your brand monitoring will scoop up any brand mentions that don't necessarily include your brand name, but be sure that – with both – you're including alternative/incorrect spelling and phrasing in your parameters.
Industry terms and keywords
If you're using brand monitoring to influence marketing campaigns or as part of market research, it can be useful to look beyond your brand and products to the wider industry.
Tracking industry-specific terms, keywords and emerging trends is a great way to stay ahead with your offering, as well as to cross-reference your standing and relevance within your sector.
Competitors
Competitor monitoring can be a useful way to see how your results stack up against the rest of the market. You can track not only your brand name, but others' as well.
Most brand monitoring platforms offer some degree of competitor benchmarking that will help you understand your share of voice, as well as how your overall brand sentiment compares to your nearest competitors.
Sentiment
Broadly speaking, sentiment analysis looks at whether people view your brand positively, negatively, or neutrally, but that data can come from a variety of sources.
Modern brand monitoring tools can go beyond simple web or social media monitoring, in some cases offering text parsing to detect sentiment, or – as with Qualtrics Experience iD – natural language detection that even encompasses contact center calls and customer survey results. Combining data from as many sources as possible is the best way to get a thorough overview of sentiment.
Channels to watch for brand mentions
Customers and publications are having online conversations with and about you on a huge range of channels, so any brand monitoring tool in your arsenal should be aimed to track brand mentions across as many touchpoints as possible.
Owned media
Your official pages – whether website, social media or other – needs monitoring, not only for brand mentions but for responses to your brand's output. Keeping a close eye on activity on brand pages can help you to mitigate negative commentary and promote positive interactions more easily.
Search results
Brand monitoring tools that can track your brand's share of search results (or how much your brand is searched relative to your competitors) are vital for an accurate view of brand health. Real-time brand intelligence tools help you keep an eye on any change to your market share, and any potential reputational issues you may need to tackle. With search being a vital mid-funnel metric (and good indicator of whether customers will be buying your products or services), it's important to include this channel in your monitoring.
Social media platforms
Social media channels like Twitter have become many consumers' go-to platforms for customer feedback, complaints, and praise, so social media listening is a must.
Your brand monitoring efforts need to be laser-focused on all the key social channels – including influencers who can recommend or dissuade large audiences. This can be particularly useful if you're looking for influencer marketing opportunities or want to monitor how effective marketing campaigns with influencers have been.
Video and Podcasts
Scanning for written brand mentions is one thing, but knowing what people are saying about you on YouTube or in popular podcasts is just as important.
Modern brand monitoring tools can scour video and audio media for brand mentions or product mentions too, adding to your overall understanding of brand reputation.
News media
Listening to what journalists and professional bloggers say about you is just as important as customer feedback. Sentiment from the press can be hugely influential, but it can also provide you with ways to actively market your products – for instance sharing positive reviews.
Online forums
With 430 million monthly active users, Reddit is one of the web's biggest platforms, but its value as a source of sentiment analysis is often overlooked in brand monitoring efforts.
Similarly, we recommend putting question-and-answer platform Quora on your radar. Do that, and answering any brand-related questions you can legitimately get involved with can become a key part of your SEO and content marketing strategies.
Review sites and aggregators
Detractors can often be turned into advocates through deft customer service responses, but you'll need to meet them where they are.
Monitoring review aggregators like TrustPilot, Google Reviews, and Yelp is a surefire way to learn what's working and what needs addressing – on both a brand reputation and a customer experience level.
Collected data
As mentioned, monitoring brand mentions isn't just about tracking your brand name – sometimes you're tracking product mentions or related topics as well. This means that the data that you collect – customer feedback responses, customer care center phone call transcripts, live chat transcripts – can also be mined for brand insights.
Become a brand tracking expert with our free guide
Examples of a great brand monitoring tool
Here are just a few brand monitoring tools to take a look at, ranging from simple tools to track brand mentions to complex, omnichannel brand monitoring tools.
Free brand monitoring tools
Google Alerts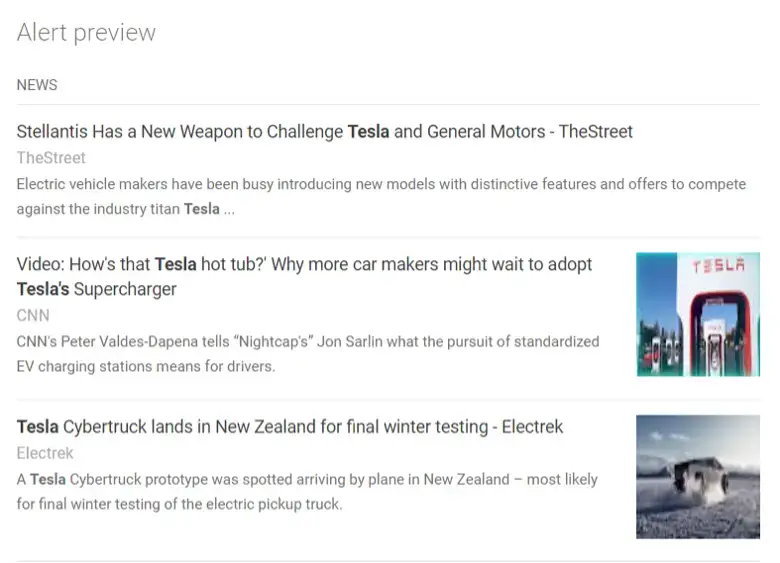 Google's free Google Alerts brand monitoring tool allows you to monitor the web for brand mentions in a simple way. All you need to do is enter keywords you want to monitor – along with your email address – and you can set up instant or collected results of brand mentions that occur across the web. This can cover news items, blog posts and other content that has a mention of your brand in it, but not social media posts.
However, as this tool is free and relatively simple, it only really gives you notifications of when a brand mention occurs, with no other analysis provided. The aggregated mentions are useful if you want to see a general overview of what's being said about your brand, but it can miss out on critical information such as trends in mentions or if there is chatter on social media about your brand. This type of tool might be useful for competitor analysis, but may not be sophisticated enough to be really effective for brand monitoring in depth.
TalkWalker Alerts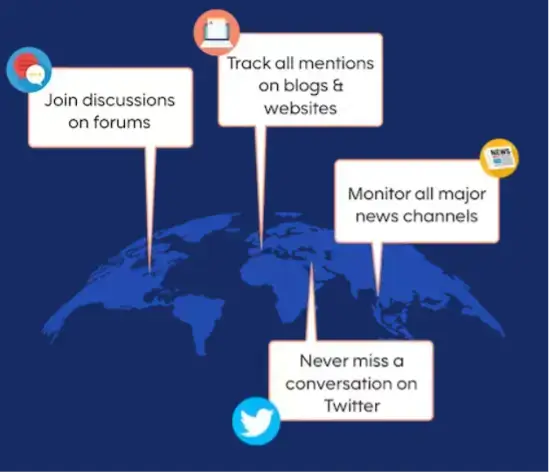 This brand monitoring tool allows you to monitor blogs, forums, websites and Twitter for brand mentions, with the option to filter by type to give you a more narrow view of what's come up. It's a free alternative to Google Alerts that covers more ground, but again, it doesn't give you analysis or insights – it just provides you with an aggregated overview of what's happening. It also only covers Twitter out of all the social media outlets available.
Simple brand monitoring tools
Brand Mentions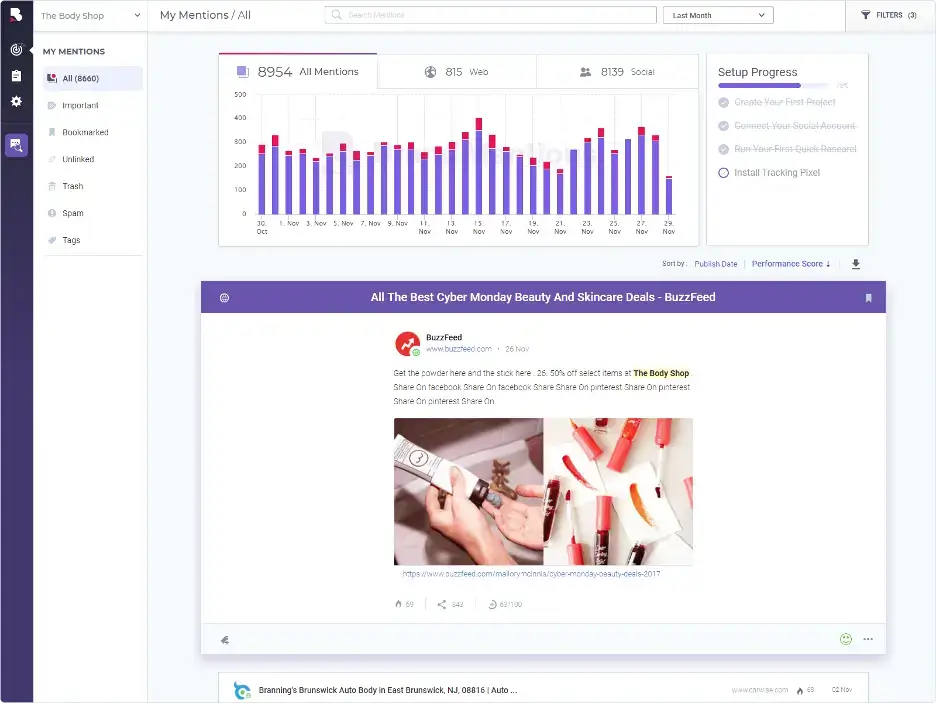 This brand monitoring tool gives you real-time or daily updates of brand mentions anywhere on the web and social media. It's a simple tool, but can help you get a read on where your brand is being mentioned, by whom and in what context.
Mentionlytics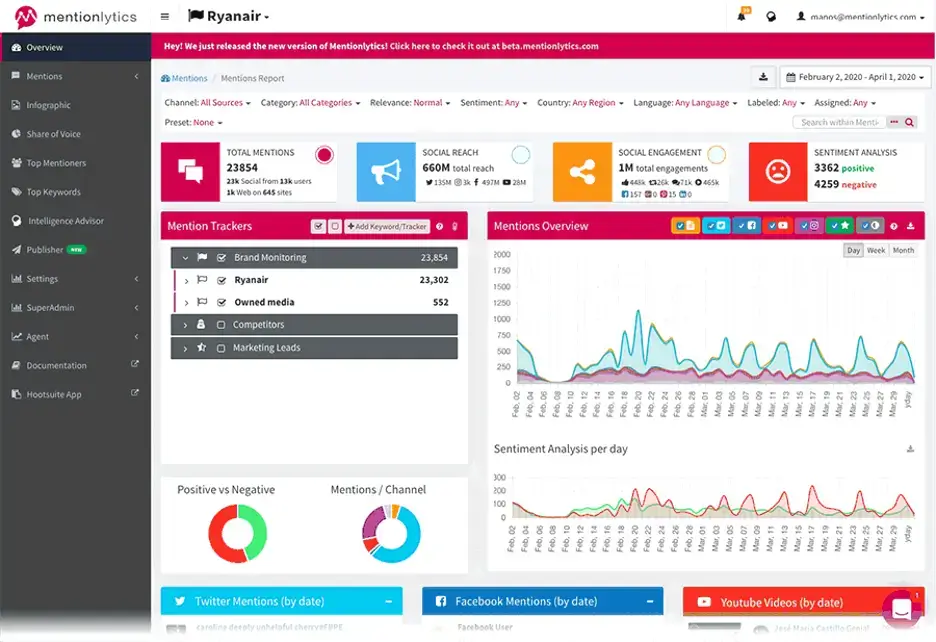 Mentionlytics helps you to pinpoint where your brand is being mentioned across the web and social media channels, with competitor monitoring and influencer search as additional services. With real-time updates, you can stay on top of your brand perception easily.
Sophisticated brand monitoring tools
Qualtrics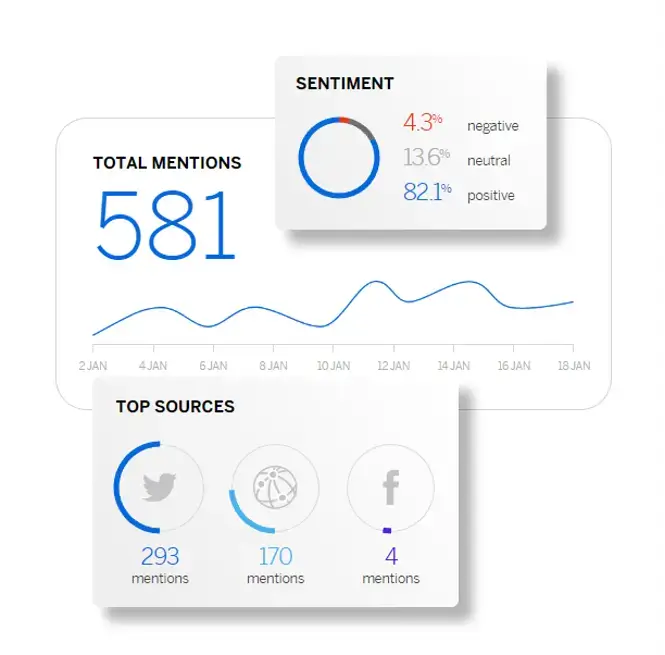 Qualtrics Brand Experience Management tools offer a real-time, holistic approach to brand monitoring that uses machine learning to identify issues and find solutions, as well as spot important changes in behaviors, attitudes and sentiment. From unsolicited data gleaned from advert responses and social media mentions, to solicited customer feedback forms and phone call transcripts, this brand monitoring tool is able to provide instant insights on what is happening in real-time, but also offers predictive insights to help you plan for the future. With sentiment analysis, social media monitoring, brand management and more brought into one platform, you're able to see the full view of your brand's profile.
Best of all, everything is scalable and connects with our overall Experience Management (XM) platform – letting you build your dream business through intelligent, data-driven insights on your customers, your employees and your brand.
Brandwatch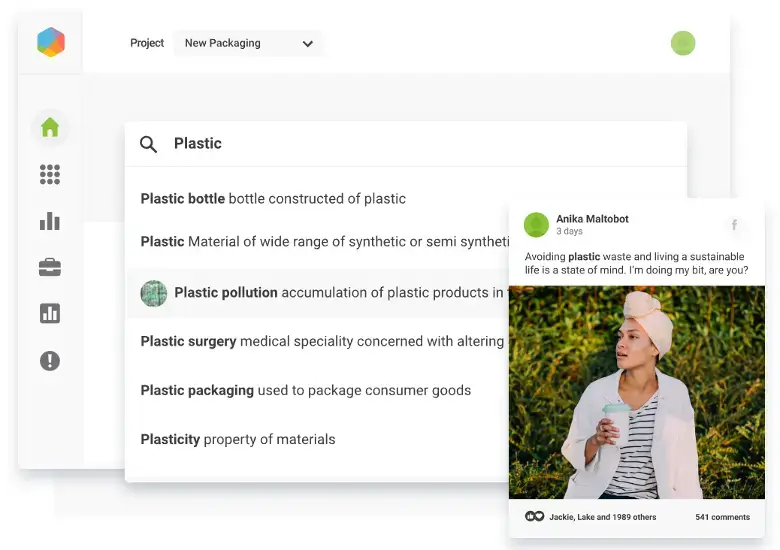 Brandwatch's brand monitoring software offers comprehensive scanning of conversations on any brand or topic across every digital touchpoint including social media, with a focus on the written word. It's a popular brand monitoring tool, being able to not only track brand mentions but provide real-time analysis on the data it collects to help you build customer personas and more.
Hootsuite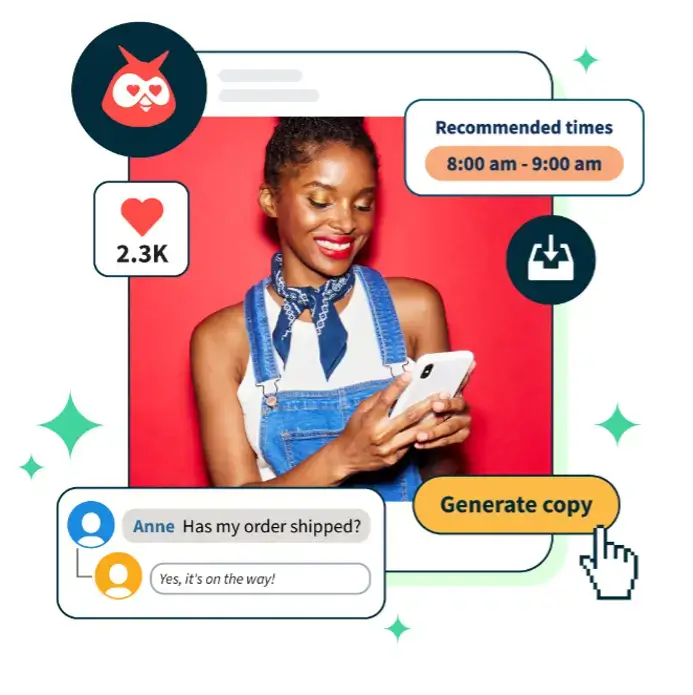 Hootsuite is a social media management tool through and through. It offers post-scheduling and link-building alongside a suite of social listening abilities. However, as it's primarily a social listening tool, it doesn't have the analytics capabilities of a full-scale brand monitoring tool – it can't find brand mentions on the web, for example.
BuzzSumo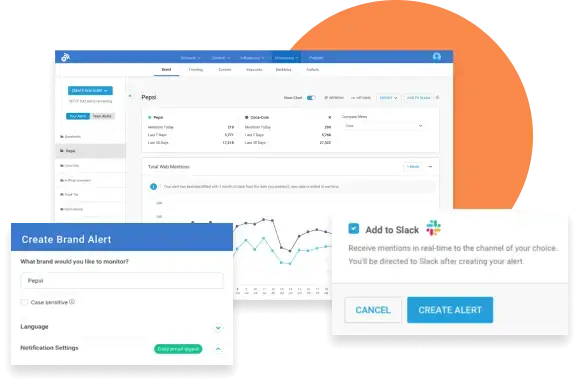 This brand monitoring tool has several features for tracking your brand across digital touchpoints, including domain alerts (when brand mentions occur on a specified domain) and link alerts (for when a backlink is posted to your website). It also has real time mention notifications and much more to help you keep an eye on your brand online and on social media channels.
SproutSocial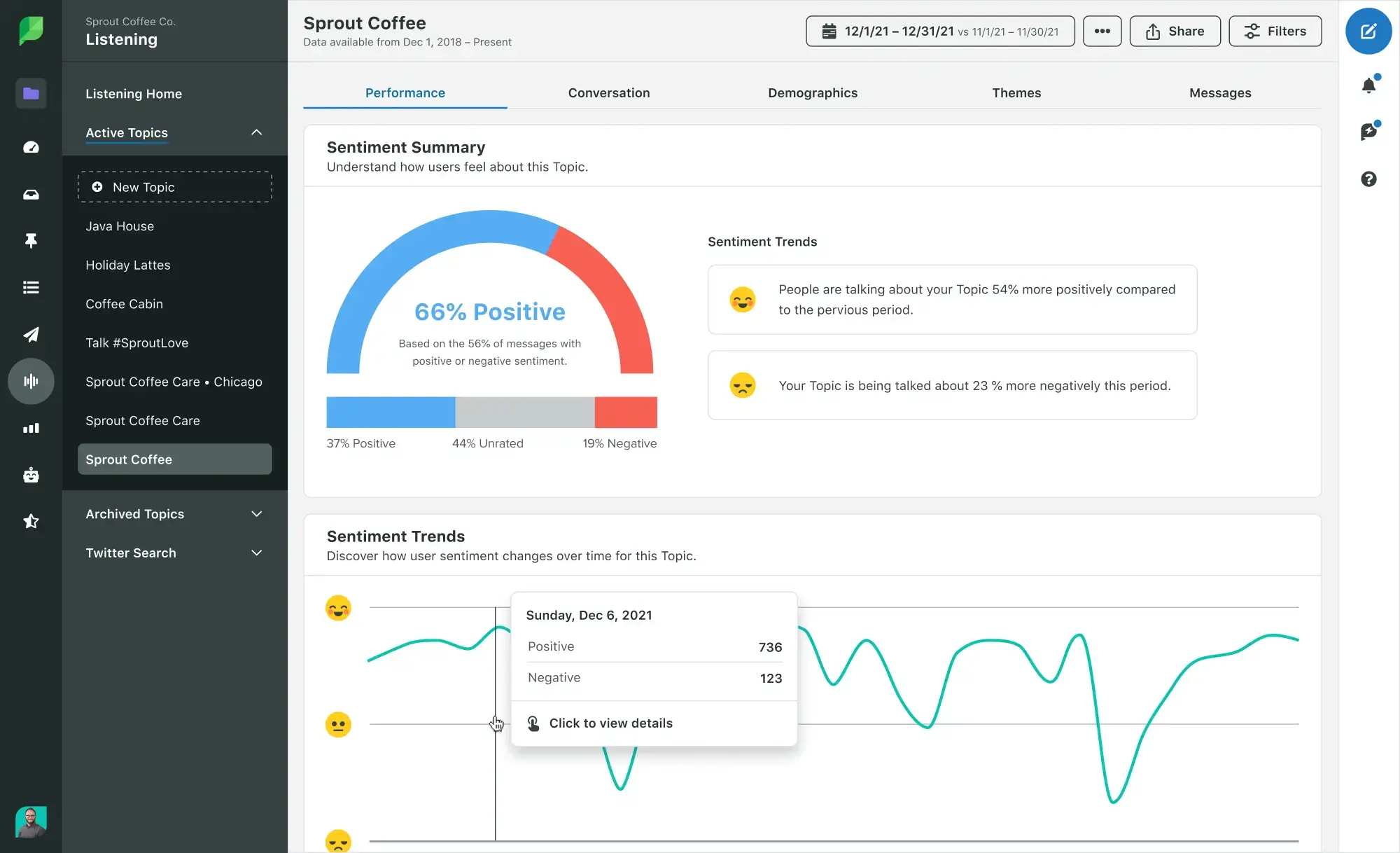 SproutSocial is a popular social media management platform that has social media brand monitoring built in. With analytics across popular social media channels, it captures insights and analyzes them using AI and machine learning and displays them on easy-to-use dashboards and reports. Its focus on social media monitoring does mean that you can lose out on wider insights from the web, but it's a good place to start if social media listening is more of your focus.
Brand24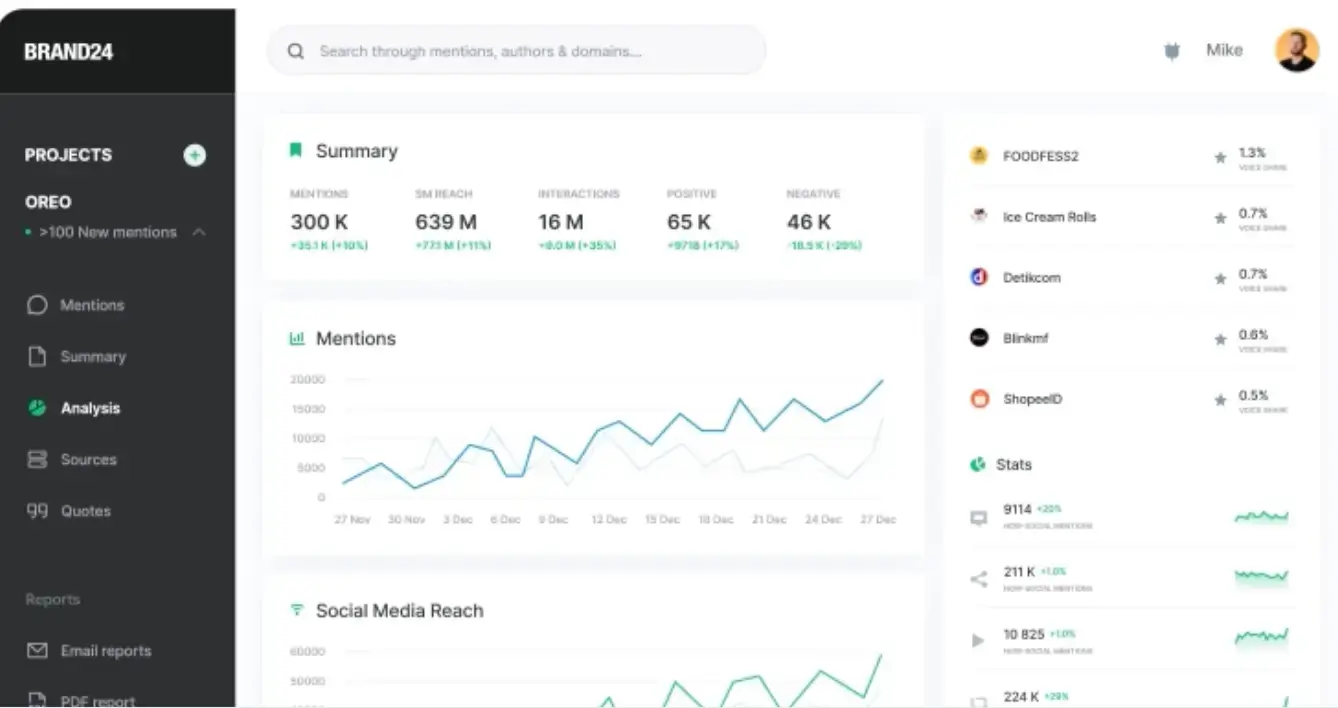 Brand24's brand monitoring platform is able to track mentions across the web and social media, offering you an in-depth view of your brand's reputation, industry trends and more. It can analyze sentiment as well as providing real-time tracking of your web and social mentions. Features such as measuring brand reach make it a popular option for those looking to track their brand's online presence and understand how their brand sits in the wider market.
Ahrefs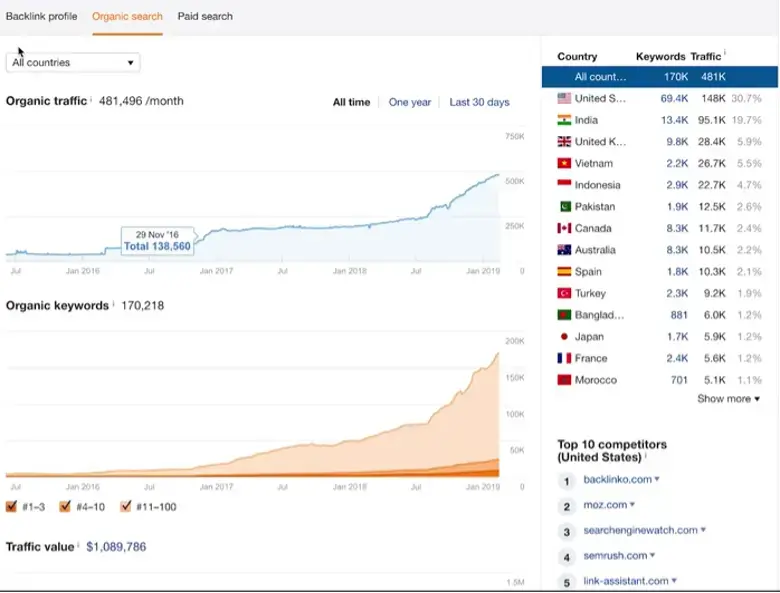 This SEO platform allows you to perform brand monitoring across search results, giving you in-depth insights into how keywords and backlinks have an effect on your brand presence across the global internet. You can set up brand mention alerts across several languages and specify domains to target. However, its social media brand monitoring capabilities are limited, as its main focus is to help brands to solidify their presence on search engine results pages. However, you can use it to help target your marketing strategy and inspire your social media campaigns.
IPSOS Synthesio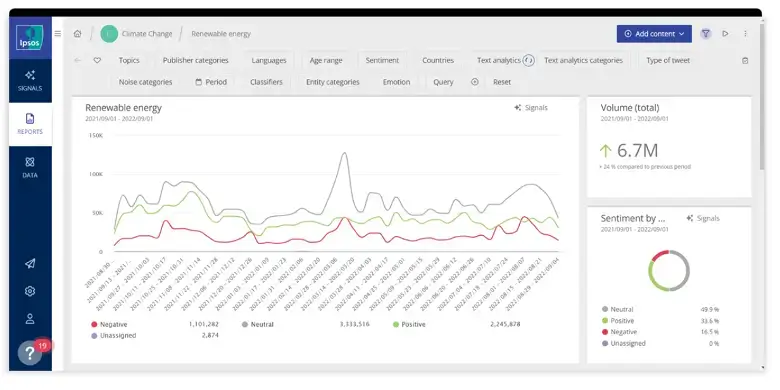 This AI-powered consumer intelligence platform provides brand monitoring to help users spot trends, track customer interests and keep an eye on competitors from one platform. It provides coverage of digital touchpoints and social media channels, including TikTok.
Netbase Quid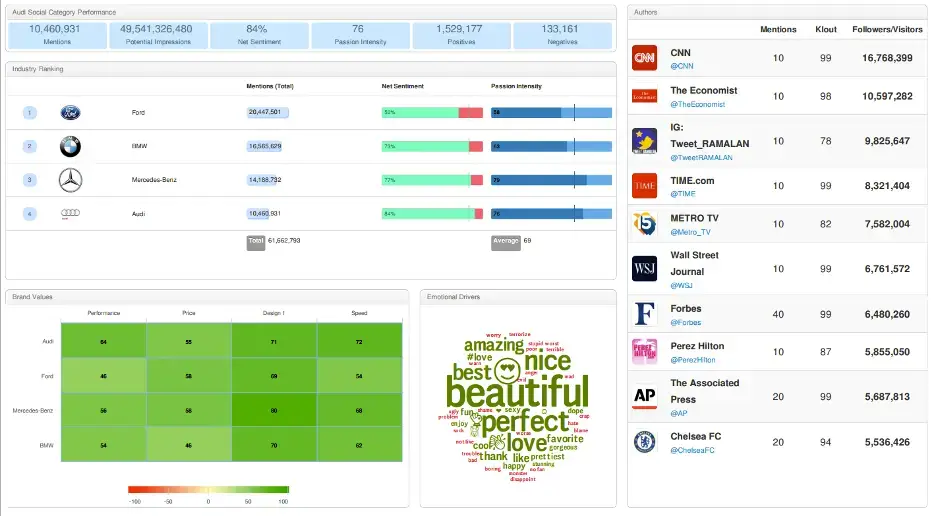 This consumer and market intelligence software helps you to monitor your brand's health, increase your campaign performance and better handle crises. It includes social media analytics, image analytics and more for a 360 approach to monitoring.
Digimind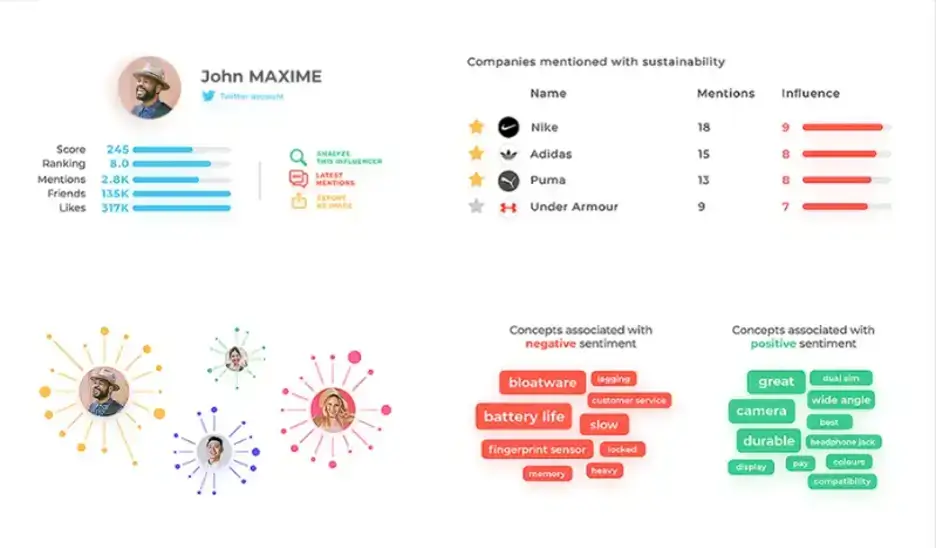 Digimind offers real-time analysis of topics with dual AI integration, utilizing AI Sense and ChatGPT to offer in-depth social listening and analytics. Its software is equipped with competitor analysis, influencer identification technology and campaign analysis among other useful tools.
Brand monitoring made easy
Our brand monitoring software allows you to take a comprehensive view of not just your potential customers' conversations on social media and the web, but your employees and stakeholders' mentions as well. By blending internal data with external analysis, you're able to get a fully holistic view of how your company appears both inside and outside your business. This in turn allows you to create unforgettable brand experiences and propel your brand ahead of your competitors.