---
What is brand monitoring?
Brand monitoring is the act of collecting and measuring mentions of your company or brand across as many channels and touchpoints as possible – with a view to turn them into useful data.
You can think of brand monitoring as the method for answering a deceptively simple question:
What do people think of our brand?
Feedback and mentions could come from social media networks, website articles and their comments, YouTube videos, or in more direct feedback via forms and contact center engagement.
Software-based brand monitoring tools are often used to collect and collate all these disparate pieces of information and combine them to deliver an overview of key metrics like brand reputation.
Brand monitoring can help you understand how marketing campaigns land, how your products are viewed in their segment, and how you're being perceived. So it's a major first step to making the right business decisions and reaching your brand goals.
Become a brand tracking expert with our free guide
Benefits of brand monitoring
Keeping your ear to the ground across every touchpoint has several benefits, and will deliver feedback and insight that's vital when it comes to building brand recognition, brand awareness, brand sentiment, and brand loyalty:
Crisis management
Sometimes reputational crises occur that need to be combated urgently – miss your window and your brand sentiment could suffer in a way that's hard to row back from.
Brand monitoring on a constant, real-time basis can help you identify these trending moments as they occur, and manage things before they escalate.
Addressing customer pain points
Brand monitoring is a great way to highlight and fix customer pain points. If you're listening to what your customers are saying about you, you'll learn the areas of the purchasing journey that people have found tough.
Maybe the checkout process is so fiddly that people are tweeting about it. Maybe your delivery methods are eliciting feedback-form submissions. Effective brand monitoring will let you know, and imply direct actions as a result.
Building customer relationships
When you're listening to what your customers (and potential customers) are saying about you, you'll highlight opportunities to engage with them.
That might mean surfacing user-generated content (UGC) from brand-loyal advocates and fans that you can champion and share on your channels, or it could mean nurturing a greater sense of community by actively responding to conversations that are happening about you, rather than with you. The key is to monitor conversations and mentions proactively.
Building your reputation
Growing your brand's reputation is a slow, ongoing, and never fully completed process, but you won't know that you're making strides in the right direction unless you're actively monitoring sentiment online.
With a brand monitoring strategy in place, you'll be able to assign quantifiable values to things like brand reputation and track its growth over time.
Brand monitor channels
Customers and publications are having online conversations with and about you on a huge range of channels, so any brand monitoring tool in your arsenal should be aimed to track brand mentions across as many touchpoints as possible.
Social media platforms
Social media channels like Twitter have become many consumers' go-to platforms for customer feedback, complaints, and praise, so social media listening is a must.
Your brand monitoring efforts need to be laser-focused on all the key social channels – including influencers who can recommend or dissuade large audiences.
Video and Podcasts
Scanning for written mentions of your brand is one thing, but knowing what people are saying about you on YouTube or in popular podcasts is just as important.
Modern brand monitoring tools can scour video and audio media for mentions of your brand or products too, adding to your overall understanding of brand reputation.
Brand mentions in news media
Listening to what journalists and professional bloggers say about you is just as important as customer feedback. Sentiment from the press can be hugely influential, but it can also provide you with ways to actively market your products – for instance sharing positive reviews.
Forums
With 430 million monthly active users, Reddit is one of the web's biggest platforms, but its value as a source of sentiment analysis is often overlooked in brand monitoring efforts.
Similarly, we recommend putting question-and-answer platform Quora on your radar. Do that, and answering any brand-related questions you can legitimately get involved with can become a key part of your SEO and content marketing strategy.
Review sites and aggregators
Detractors can often be turned into advocates through deft customer service responses, but you'll need to meet them where they are.
Monitoring review aggregators like TrustPilot, Google Reviews, and Yelp is a surefire way to learn what's working and what needs addressing – on both a brand reputation and a customer experience level.
Become a brand tracking expert with our free guide
What you should monitor
Knowing what to monitor is as important as knowing where to direct your focus. You can attain a fuller view of your brand's reputation, feedback, and share of voice by tracking the following:
Brand mentions and product names
Perhaps the most obvious thing to listen for, but also the most important. Monitoring brand mentions will give you a clear view of every time you're directly referenced by customers and in the media.
Including product names in your brand monitoring will scoop up any mentions that don't necessarily include your brand name, but be sure that – with both – you're including alternative/incorrect spelling and phrasing in your parameters.
Industry terms
If you're using brand monitoring to influence marketing campaigns or as part of market research, it can be useful to look beyond your brand and products to the wider industry.
Tracking industry-specific terms and emerging trends is a great way to stay ahead with your offering, as well as to cross-reference your standing and relevance within your sector.
Competitors
Competitor monitoring can be a useful way to see how your results stack up against the rest of the market.
Most brand monitoring platforms offer some degree of competitor benchmarking that will help you understand your share of voice, as well as how your overall brand sentiment compares to your nearest competitors.
Sentiment
Broadly speaking, sentiment analysis looks at whether people view your brand positively, negatively, or neutrally, but that data can come from a variety of sources.
Modern brand monitoring tools can go beyond traditional surveys, in some cases offering text parsing to detect sentiment, or – as with Qualtrics Experience iD – natural language detection that even encompasses contact center calls. Combining data from as many sources as possible is the best way to get a thorough overview of sentiment.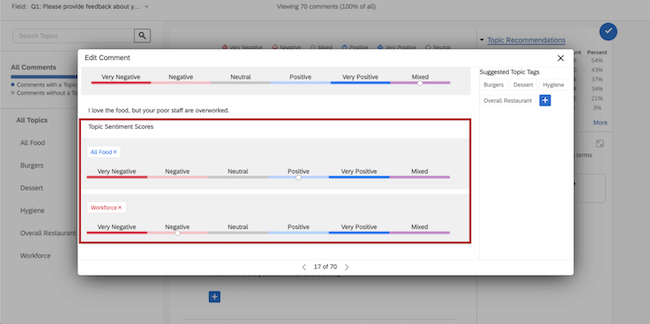 How to select a brand monitoring tool
Ready to get started? We've got a few quick tips for how to choose a brand monitoring tool that's right for your needs…
1. Define your brand monitoring goals
The more data points you can measure, the better, but it's always best to be focused. If your goal in the first instance is to see how your latest social media campaign went down, for instance, then choose a brand monitoring tool centered on social.
If you're looking to benchmark against your competitors, you'll need to ensure your chosen platform is fit for purpose.
2. Outline a budget
Never sign up for a brand monitoring platform or suite that will cost you more than it's worth for your business's bottom line.
Decide how much you're prepared to spend – both in terms of subscription fees and in-house employee time – and compare pricing models across accordingly.
3. Choose something scalable
As your brand grows, so will your brand monitoring goals – so it's best to look for brand monitoring tools that can grow with you.
Many offer scalable solutions that can be added to and enhanced with more robust tools, but some have limits rooted in one kind of brand monitoring. It's good to set out with a roadmap in mind so that you don't end up with several platforms that become a pain to switch between.
Example brand monitoring tools
Here are just a few brand monitoring tools to take a look at…
Brandwatch
Brandwatch offers comprehensive monitoring of conversations on any brand or topic across every digital touchpoint, with a focus on the written word.
Hootsuite
Hootsuite is a social media management tool through and through. It offers post-scheduling and link-building alongside a suite of social listening abilities.
Qualtrics
Qualtrics Brand Experience Management tools offer a real-time, holistic approach to brand monitoring that uses machine learning to identify issues and find solutions. Everything is scalable and connects with our overall Experience Management (XM) platform – letting you build your dream brand through intelligent, data-driven insight.