Brand Experience
Your guide to developing a digital brand strategy
Have you ever wanted a guide that can carry you through the entire branding process?
A guide that not only defines your brand but also helps you steer the ship as you navigate brand identity, offers, and positioning?
If you're looking to solidify your online presence, captivate your target audience, and grow your business, you need to have a digital brand strategy in your arsenal.
And lucky for you, we have just the information you need to make it happen.
In today's article, we'll walk you through what a digital brand strategy is and how it can help your business. We'll also show you how to develop your own digital brand strategy in seven simple steps.
What is a digital brand strategy, and how can it help my business?
Here's what you need to know about a digital brand strategy:
Brand strategy means creating a unique identity that helps you differentiate your business from competitors. Focusing on awareness and positioning to increase customer loyalty are the main pillars of a brand strategy.
Digital strategy refers to the tools, budgets, assets, and other details it takes to implement your brand strategy. Driving growth via sales, lead gen, and conversions are the main components of a digital strategy.
If you marry the two, guess what you have? A digital brand strategy.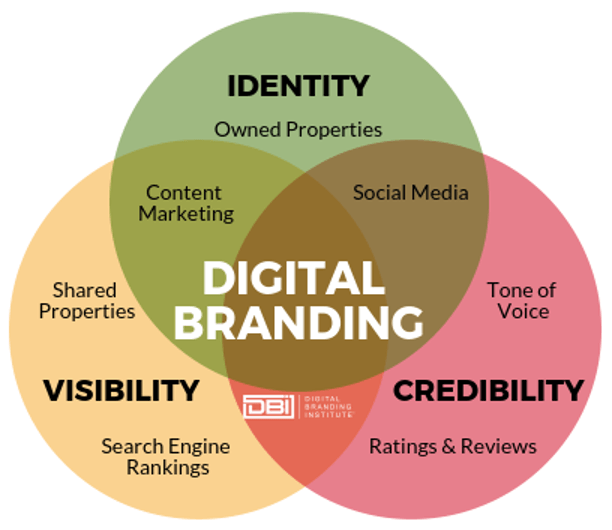 Image Source Digital Brand Institute 
A digital brand strategy is effective because it helps you navigate the online landscape with ease. It also helps you position your brand in the best light so clients and potential customers perceive it exactly the way you'd like them to.
For instance, Justin Grossbard from Compare Forex Brokers positions his brand in a much different light than Addison Rae from Item Beauty does.
Since Justin's business depends on delivering expert financial advice, his digital brand strategy focuses on guest authoring for online finance publications and offering insight into the foreign exchange market.
On the other hand, Addison's strategy for Item focuses on beauty advice, lifestyle, and tutorials on Tiktok and Instagram.
In other words, Justin uses a thought leadership approach in his digital brand strategy, and Addison uses an influencer brand and lifestyle approach.
The approach you choose will depend on your goals and ultimately solidify your brand's online identity.
In the next section, we'll explore this further as we help you outline your goals and develop your digital brand strategy.
How to develop a digital brand strategy in 7 simple steps
In this section, we'll walk you through how to create your very own digital brand strategy guide in a few short steps.
1. Solidify your brand mission and outline your goals
In this first step, dedicate a block of time to solidify your brand mission.
Open a Google Doc or note-taking tool, and document the following:
Brand purpose: Why do you do what you do? What inspired you to create your brand? What do you hope to accomplish? What does having a meaningful brand mean to you?
Mission: What's your brand's mission statement? What's your end goal? What metrics would define your success long-term? How do you define brand success?
Vision: What's your vision for your company? How do you envision your business unfolding behind the scenes and online?
Values: What specific values does your brand encompass? What about creating a tagline that emphasizes these values?
Next, use the information you jotted down to outline your goals.
When defining your goals, make sure they're ambitious, clear, and actionable.
Use the template: "specific actionable goal" + "why" to get laser-specific on your goals.
Here's an example: "We'd like to place an extra focus on top-of-funnel (ToFu) freebies to skyrocket our brand recognition."
Finally, set KPIs in line with your goals.
Here are some of the most common ones: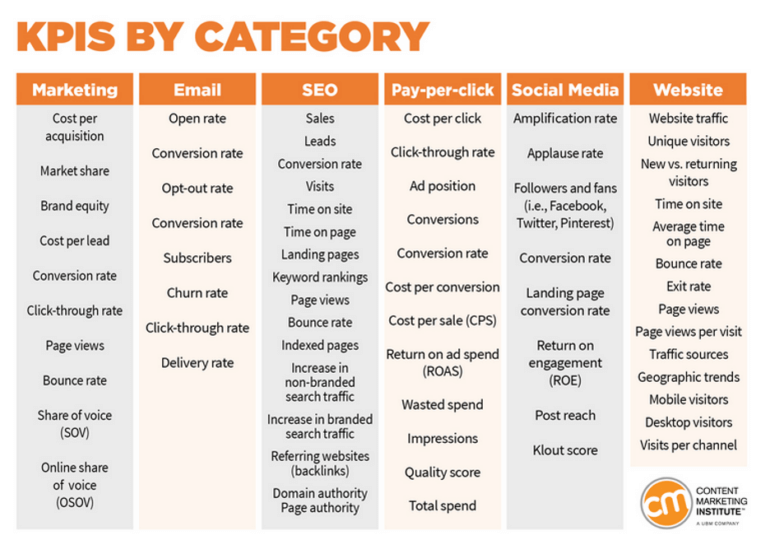 Image Source: Content Marketing 
2. Define your target audience
In step two, get specific on your target market.
In your notes, document who you help and why.
For instance: "We help single parents organize their schedules so they can spend less time taking care of logistics and more time making memories with their kids."
Next, take this exercise a step further by:
Outlining detailed buyer personas
Describing your audience's needs, consumer habits, and pain points
Segmenting your audience into target groups (for instance: cold leads, warm leads, and hot leads, or ToFu, MoFu, Bofu)
3. Decide on the core pillars of your brand image and recognition
How do you want your brand to be perceived? What specific messaging and imagery would help your target audience recognize your brand?
In this step, decide the core themes that will make up your brand image and digital marketing strategy.
Here's what you need to decide:
Brand voice
How would you like to position your brand? What kind of brand messaging details would you like to adhere to?
Be sure to consider any communication guidelines you'd like your brand and team to follow. Don't forget to stress the importance of maintaining brand consistency across all messaging and communication efforts.
Brand style
What kind of look and feel are you going for? What color palette are you going to use? What aesthetics and brand elements does your digital presence need? Don't forget about choosing a good logo that's timeless and memorable, too.
Website details
How do you want your website to look? How can you captivate your audience when they visit your primary landing page? What content marketing focuses are most important for your blog?
Make sure your tab names are optimized for readability. For instance, choose simple terms like "courses" over "learning material" and "home" over "main page." This way, your audience always knows exactly where to go for what — and your website will feel intuitive.
Take StuDocu's tabs, for example: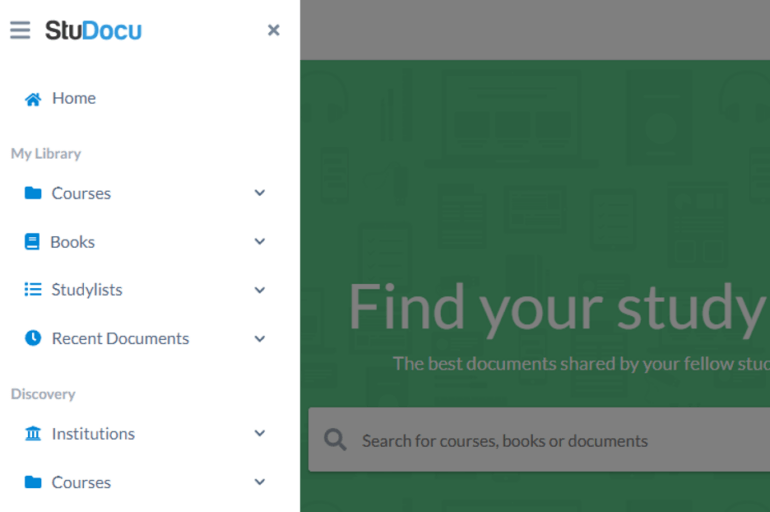 StuDocu's tabs are clear and easy to understand. Since there's no mistaking what each tab means, visitors can glide through the site intuitively. This is also an easy way to get some extra points in the user experience department. Consider using landing page software to optimize lead generation and user experience.
Visuals
What kind of visual assets will encompass your digital branding strategies?
For instance, do you want to implement lifestyle photos? Do you want to create a video promo you can repurpose for ads, your "About" tab, and social media? Do you want to integrate infographics and custom illustrations on your blog?
Document everything you wrote in this section under "brand image" in your notes.
4. Define your value
Defining your value is all about having a unique identity that differentiates your business from competitors when working on your digital strategies.
In this section, run through the following checklist to define your brand's value:
Competitor analysis: How do you stand apart from the rest of the competition? What pain points do you solve that your competitors don't? What makes you a strong digital brand?
Qualities and benefits: What makes your business unique? How do you add value to your audience's lives? Why should your audience care about what you do? What specific benefits can your audience walk away with after engaging with your brand?
Offers: What specific products, programs, packages, and services can you offer to potential customers? How are they better than the competition? Why should your audience care about your offers?
5. Choose your technologies
What kinds of digital tools will you need to implement your brand strategy?
Do you need to use a background changer to repurpose the same image in different contexts? Do you need a graphic design tool to create online flyers and posters? What about tools for email marketing and social media management?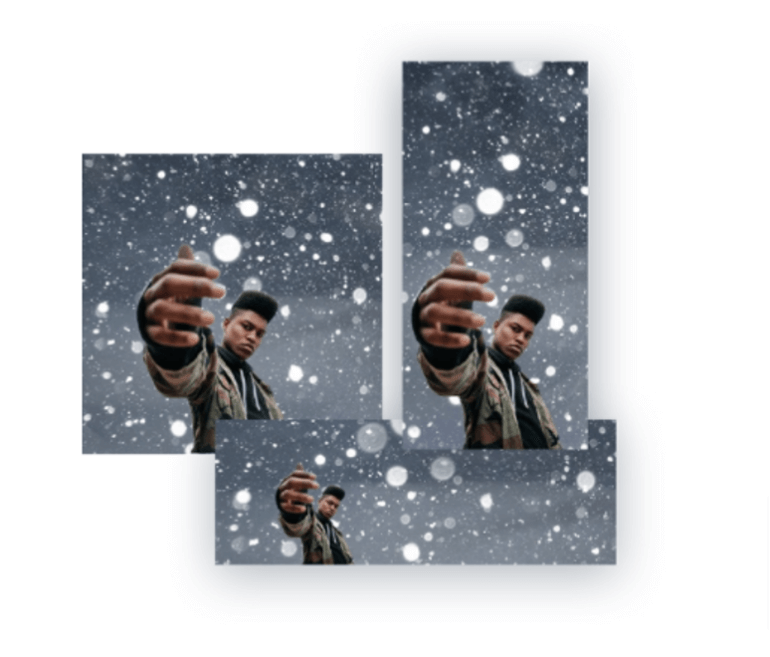 Image Source: Picsart 
We also recommend picking tools that help you mitigate cybersecurity threats, which are common in the digital marketing space. Tools like virus protection software, a Virtual Private Network (VPN), and virtual desktops can help keep your business safe from cybersecurity attacks.
Feeling stuck on which tools to choose? We recommend mapping out your business operations, defining your workflows, and then choosing tools that compliment your workflow needs.
6. Map out your product and marketing tactics
What product and digital marketing strategies would best suit your target audience and company goals?
If building awareness is a key goal, and your audience loves consuming information, you might want to focus on blogging, hosting product demos, and list-building tactics. For example, If you have a subscription-based business model, consider working towards getting subscription revenue forecasting. Based on that insight, you can choose just the right growth marketing tactics.
If you sell a complex product, you might decide to focus on optimizing funnels, running pay-per-click ads, and hosting webinars.
Be sure to get specific about each online marketing tactic, too.
For instance, if blogging will be one of your main tactics, map out the types of articles your blog will focus on.
If publishing one-on-one interviews with industry leaders will be one of your brand-building activities, map out a list of potential interviewees.
Spend a little extra time in this section to make sure you're choosing the best tactics in line with your goals. You can also meet with a marketing consultant for more insight into which tactics to choose.
When you've finalized your tactics, document them in the "marketing tactics" section in your notes.
7. Define team responsibilities and training metrics
And finally, consider your team's role in everything you just planned. What will their key responsibilities be? What kind of training will they be expected to go through and why?
Ultimately, your digital brand strategy doesn't just impact the way your customers see you. It impacts how your employees see you, too.
That's why we encourage you to make digital brand strategy training a core component in your standard HR management process.
Not only will this allow team members to do their jobs better, but it'll also help them understand your mission and align with the company's vision.
Be sure to document the team responsibilities and training metrics you've outlined here in your notes.
Finally, give your entire strategy a look over and finalize your plans in an official team document.
Wrap up
If you've been yearning for a guide that can help you navigate your company's online presence, we hope this article is just what you needed to read today.
In today's article, we shared what a digital brand strategy is and how it can help your business. We also shared how to develop your own digital brand strategy in seven simple steps.
Ready to implement your digital brand strategy? Be sure to leave a comment below, letting us know how it goes.
Craving more actionable advice like this? Head to our blog to devour more juicy tips like these.
Related Articles